HIGHLIGHTS

Jio has announced a new Jio PostPaid Plus offer for JioFiber users.

The service is said to bring additional benefits for JioFiber users.

The benefits include family plans, priority SIM-setup service and more services.
Reliance Jio recently made a bunch of announcements at its 42nd Annual General Meeting. One of the key announcements at the event was the introduction of a special mobility service called Jio PostPaid Plus for users of the company's upcoming JioFiber internet service. The new Jio PostPaid Plus service is touted to deliver a "platinum-grade service and product experience." It is a priority SIM-setup service, which will be made available for JioFiber users at home and users will also be able to move to the Jio network. This option also comes with Family plans that will enable one data plan and data sharing with family members.
Jio PostPaid Plus users are said to get international roaming at lower costs but details about this are yet to be released. Jio also said that its PostPaid Plus users will get phone upgrades at 'preferential' rates, which sounds like a phone upgrade plan. More details on this are said to be released on September 5 via Jio.com and the MyJio App but you can stay tuned to Digit.in for the latest information. This new Jio PostPaid Plus service will be available for JioFiber consumers. The company has also revealed more details on its internet service.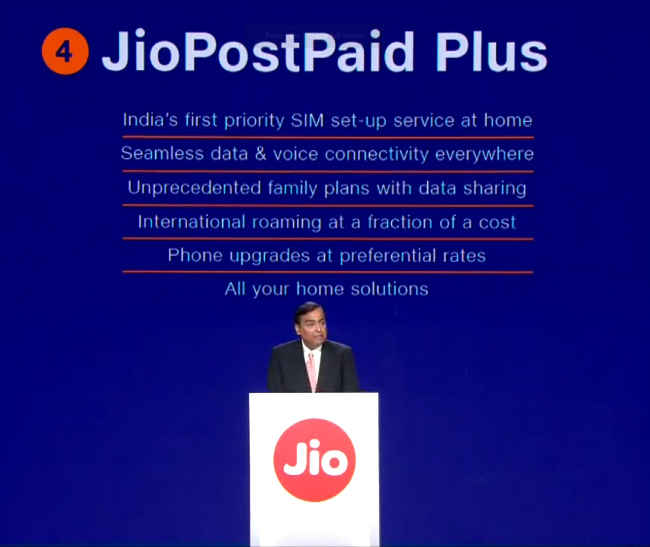 Reliance's JioFiber service will roll out on September 5 and is said to offer internet speeds starting at 100Mbps and will go up till 1Gbps. As for the plans, Jio says that its JioFiber plans will be priced between Rs 700 and Rs 10,000. JioFiber plans will also offer a bundled subscription to OTT platforms. This means that one could get access to online media streaming services like Amazon Prime Videos, Hotstar, and Netflix with a JioFiber connection. However, the telco is yet to confirm what services will be made available. You can read our in-depth coverage on JioFiber announcements here. Jio also announced a console-like gaming service via its Jio 4K Set Top Box. You can read more about it here. You can find out more about Jio's set-top box that enables console-like gaming here.