With annual plans, called Jio-Forever plans, subscribers will also get a 4K set-top-box free.
Reliance Jio finally announced the commercial roll-out of the much-awaited JioFiber internet service. When everyone thought that Reliance Industries Limited (RIL) Chairman Mukesh Ambani was done with the announcement, he dropped what we call a 'freebie' to all those who will subscribe to the internet service's annual plan. On the stage, Ambani said that JioFiber customers who opt for the company's annual plans, which is called Jio-Forever plans, will get an HD or a 4K LED television and a 4K set-top-box free.
"...but, there is ONE MORE THING. The experience of JioFiber and Jio set-top-box really comes to life when combined with an LED television," he said at Reliance 42nd Annual General Meeting (AGM). The company's top executive added that the company is calling this the 'JioFiber Welcome Offer' and he also invited the people to "make the most of the 'JioFiber Welcome Offer' and "sign-up for JioFiber as soon as it is available in your neighbourhoods."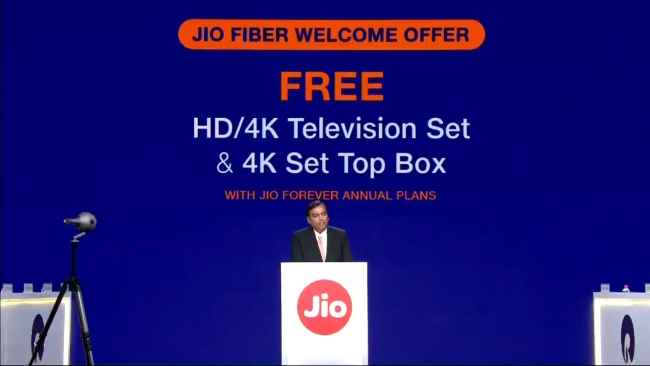 While the details of the offer are not yet confirmed, it is presumed that those who opt for more affordable annual plans will be entitled for an HD LED TV. Others, who opt for costlier annual plans could get a 4K TV. Further, it is also assumed that all the customers who subscribe to the annual plans will get the free 4K set-top-box. It is speculated that there should be a cap or some sort of segregative point to distinguish between the subscribers who get the HD or 4K TV.
Reliance Jio announced that its JioFiber internet service will be commercially rolled out on September 5. The JioFiber service will offer speeds starting at 100Mbps and will go up till 1Gbps. It is also confirmed that the plans will be priced between Rs 700 and Rs 10,000. The JioFiber plans will also come with bundled with subscriptions to most leading premium OTT platforms like Amazon Prime and such. Ambani said that this will also help users of different video streaming platforms to keep track of multiple subscriptions in an inexpensive and less cumbersome fashion.