Want to modernise your banking loan application?
Build an application that analyses credit risk with #IBMCloud Pak for Data on #RedHat #OpenShift
Click here to know more
Advertisements
There have been numerous instances where devices from different smartphone manufacturers have either caught fire, burst into flames or allegedly exploded. Most notable of all these cases has to be the Samsung Galaxy Note 7 debacle, which was a lesson not only for the South-Korean smartphone maker but for every other company in the business. Now, as per a Gadgets Now report, another such case has come to light and this time, it's a Xiaomi smartphone that allegedly caught fire. Ishwar Chavhan, a resident of Mumbai has alleged that out-of-the-blue, his Xiaomi Redmi Note 7S caught fire.
As per the report, Chavhan purchased the Redmi Note 7S from Flipkart in October and it was working as expected. However, on November 2 at around 5 PM, the handset was kept on a table and caught fire on its own, its owner claims. The device was neither charging nor was it dropped. However, the owner claims that a faint smell of something burning caught his attention and he noticed his device had caught fire. Five days after contacting Xiaomi customer care, the company apparently got back to him saying there was some defect with the battery. However, later, in a statement, the company said that the damage caused was due to external force.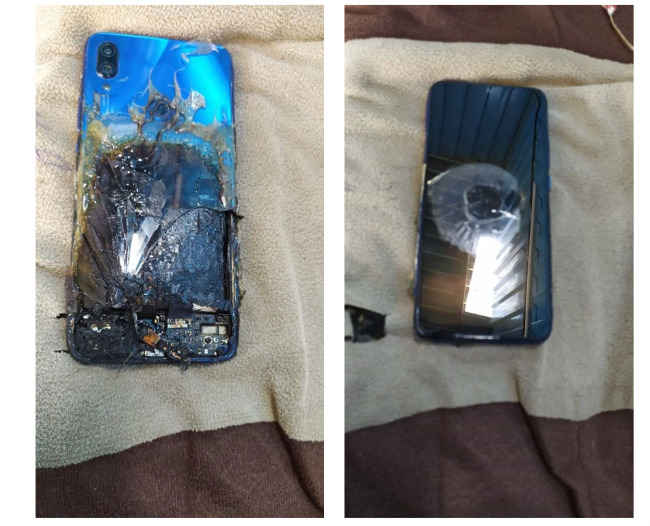 Xiaomi's statement reads, "At Xiaomi, quality of our products is of utmost importance. The trust that Mi Fans have shown in the brand for the past 5 years is a testament to that. We also take pride in having one of the strongest after-sales networks in the country with an aim to solve customer issues seamlessly. In this particular case, after careful examination, it was concluded that the damage was caused due to external force, and thus, classified under 'customer induced damage." Update: Xiaomi reached out to us and sent the same quote, however, the last sentence has an addition, which is, "...it was concluded that the damage was caused due to external force, and thus, classified under 'customer induced damage, as agreed to by the concerned user." It seems like Chavhan has confessed that there was some damage due to external force, which caused the device to catch fire.
As per the Gadget Now report, Chavhan posted his ordeal on Facebook but we were unable to find the associated account. Additionally, it looks like there the affected person's Twitter account from where he tweeted about the incident apparently doesn't exist.