Redmi has already confirmed that the Redmi Note 8 Pro will come equipped with a 64MP camera sensor. In the latest development, the company has now delved out some information about the images that will be clicked by the phone. It posted two images on Chinese social media network covering two aspects of the camera. The first is the camera's ability to retain detail even at 25x zoom, and the second is the resolution of the images clicked from the phone. The company says that the 64MP camera will take pictures with a resolution of 9248x6936 pixels, which is 25x the resolution of Full-HD, 7.7x higher than 4K, and 2x higher than 8K resolutions.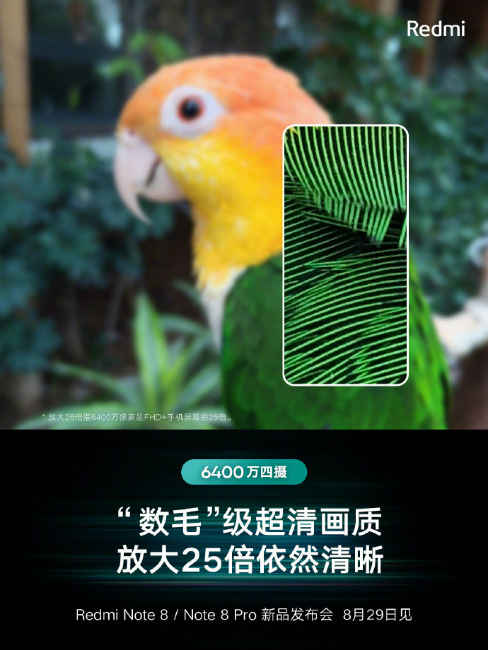 In a previous report, it was touted that the upcoming phone will also feature a fingerprint sensor on the back and not sport an in-display fingerprint sensor. This suggests that the phone will most likely belong to the mid-range segment. The image shared by Redmi also gives a look at the phone's rear panel that features four cameras. Three cameras are vertically aligned together in a module, while another sensor sits on the right with an LED flash. We have seen a similar design in the recently-launched Galaxy Note 10+.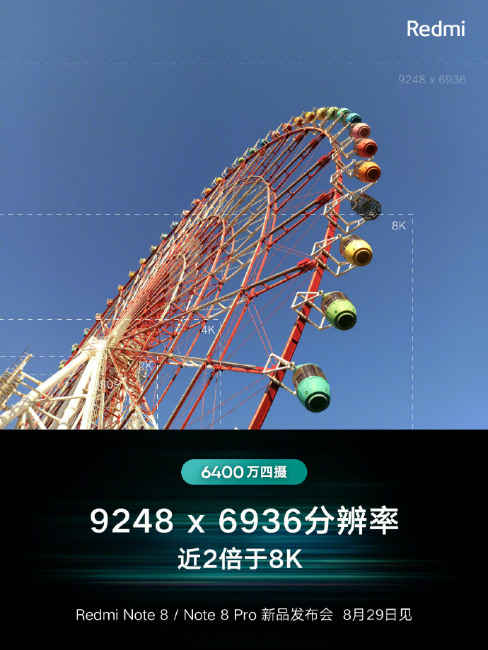 Further, Redmi is likely to bring the NFC or Near Field Communications connectivity option back with the Redmi Note 8 series. A promo video, which was leaked earlier this month, suggested that the handset could come with NFC capabilities, which makes sense since, alongside QR code, AliPay and Apple Pay require the option to facilitate payments. However, the promo video doesn't confirm whether both the phones in the Redmi Note 8 series will get the option.
Earlier this year, Redmi General Manager Lu Weibing claimed that the upcoming Redmi Note 8 smartphone will "take pictures more clearly, and last longer. Screen ratio is higher and the hand feel is better" From this, it was pretty clear that the company is looking to make improvements in key departments, such as camera, battery life, display and ergonomics. We now have some information on the camera, but the company is yet to delve out any info on the battery. Lu Weibing noted that the smartphone will have charging capabilities faster than 10W.