HIGHLIGHTS
OnePlus teases Always On Display ahead of OxygenOS 11 launch

CEO Pete Lau posted a teaser video on Weibo

OnePlus AOD to support multiple themes
The OnePlus Always On Display feature has been teased ahead of the debut of OxygenOS 11 based on Android 11 in a brief video which revolves around how OnePlus designed the always-on functionality in collaboration with Parsons School of Design. The video shows the inception of this upcoming feature and how it reached its final design.
OnePlus CEO Pete Lau took to Weibo to post a video giving us our first look at the OnePlus AOD and the different prototypes. However, the highlight of the design has to be the one they are calling Time. This always-on display theme has been created by OnePlus in collaboration with Parsons School of Design in the US. This particular theme comes with a timeline design which displays certain UI elements on the screen when the phone is locked. The Time theme for AOD has a very minimal design with a single gradient line in the middle. This line basically depicts the user's full day with the time moving across the line as the day ends.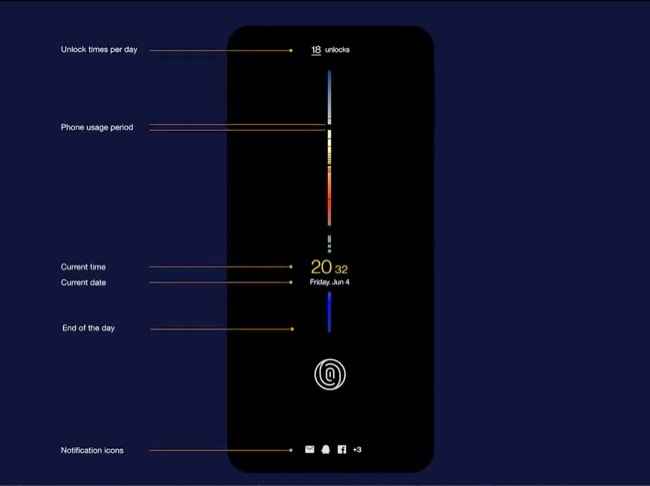 Additionally, the Time theme monitors and notes every time the user unlocks the phone and leaves markings on the straight line. The gap between two points on the timeline denotes the time spent on using the phone. Moreover, this design will also display the number of unlocks in a day at the top along with notification icons on the bottom.
CEO Pete Lau has also indicated that the OxygenOS 11 interface is being revamped with an asymmetrically-designed layout grid which is similar to magazine layouts. The dark mode is also expected to be optimised by Dutch UI designer Léandro Tijink. Other features suggested by the community include enabling pass protection for hidden pictures in the gallery that will practically allow users to set fingerprint security for accessing protected images on the phone. OnePlus will be revealing the HydrogenOS 11 in China next week and we can expect OxygenOS 11 to follow suit.