Expanding its G-Series smartphone line-up, LG has now launched the G8S ThinQ for select markets, including Europe, Latin America, Africa, and the Middle East. The device follows the LG G8 ThinQ that was launched at MWC Barcelona earlier this year. The LG G8S ThiQ is basically a watered-down version of the LG G8 ThinQ. It borrows some of the features, like Z Camera and Hand ID from the flagship and comes equipped with some enhanced specifications, which include a wide-angle camera with 137-degree field of view. The South Korean company has announced that the pricing and details of availability of the handset will be announced locally.
LG G8SThinQ features and specifications:
The LG G8S ThinQ sports a 6.2-inch FHD+ OLED FullVision display with an aspect ratio of 18.7:9 and 2248 x 1080 pixel resolution. In comparison, the LG G8 ThinQ was launched with a 6.1-inch QHD+ OLED FullVision display with 3120 x 1440 pixel resolution and 19.5:9 aspect ratio. Both devices have Qualcomm Snapdragon 855 processor with 6GB of RAM and 128GB of storage under the hood. Apart from that, both devices run Android 9.0 Pie, have a fingerprint sensor on the back and sport the Z Camera that was first introduced in the original G8 ThinQ handset.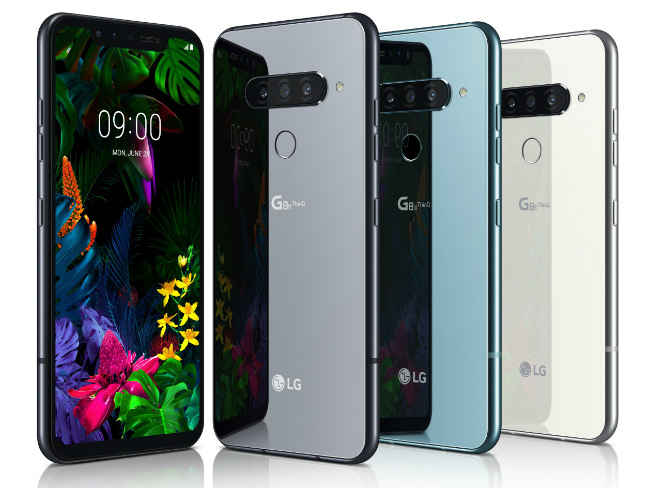 The Z Camera utilises Time-of-Flight (ToF) sensor technology for multiple secure biometric recognition options like Hand ID (watch video below) and Face Unlock. The Hand ID uses the Z Camera's ability to scan a user's circulatory pattern of the blood in hand using infrared light. LG says that with this tech tech, the phone can be unlocked in the dark just as accurate as during the day. The same technology is used in the Face Unlock feature, which is also claimed to be "extremely accurate and fast." LG says that the Z Camera's use of infrared light and 3D point clouds accurately traces the contours and features of the face. The third feature that utilises Z Camera is Air Motion. It is a touchless command interface that allow users to perform various actions without touching the screen. You just need to hover your hand over the Z Camera and perform tasks like answering calls, adjusting volume, snapping screenshots and switching between apps.
In the camera department, the phone borrows a refreshed triple camera setup. There is a 13MP super-wide sensor with an f/2.4 aperture lens, and 137-degree field of view. It is assisted by a 12MP standard sensor with an f/1.8 aperture lens and a 12MP telephoto lens with an aperture of f/2.6. On the front is an 8MP standard lens with f/1.9 and Z Camera. In comparison, the LG G8 ThiQ has a 16MP super wide sensor along with an f/1.9 aperture lens with 107-degree filed of view.. There's a 12MP standard lens with an f/1.5 aperture and 12MP telephoto lens with f/2.4 aperture. On the front is an 8MP sensor with an f/1.7 aperture lens.
The handset is powered by a 3550mAh battery (LG G8 ThinQ has 3500mAh battery) that supports Qualcomm Quick Charge 3.0 technology. It is fitted with audio hardware like stereo speakers (instead of Boombox Speaker + Crystal Sound OLED Stereo Speaker in LG G8 ThinQ). The handset gets IP68 Water and Dust Resistance rating and MIL-STD 810G compliance. It will be available in Mirror Black, Mirror Teal and Mirror White colours.