Apple has released the public beta of all its upcoming operating systems including iOS 14. iPadOS 14 Public beta and macOS BigSur Public Beta also live
Apple has announced at their annual World Wide Developer Conference that the public beta for iOS14 would go live in July, and the company has delivered on that promise. The public beta for both iOS 14 and iPadOS 14 is now live and available for all to try. The upcoming versions of the mobile operating system from Apple incorporates a number of great features that will definitely find takers with users of the iPhone and the iPad.
How to install iOS 14 on iPhone
If you're interested in testing out iOS14, here's a step-by-step process on how you can install it. However, do note that this is a beta software and contains bugs, which could lead to instability with certain apps. Additionally, do remember that a system backup created on iOS 14 will not work when trying to restore back to iOS 13.5. You'll be able to roll back the OS, but not be able to bring back your data. This is due to the fact that iOS does not allow backups made on a newer version of iOS to be used on an older version. With this in mind, let's get started.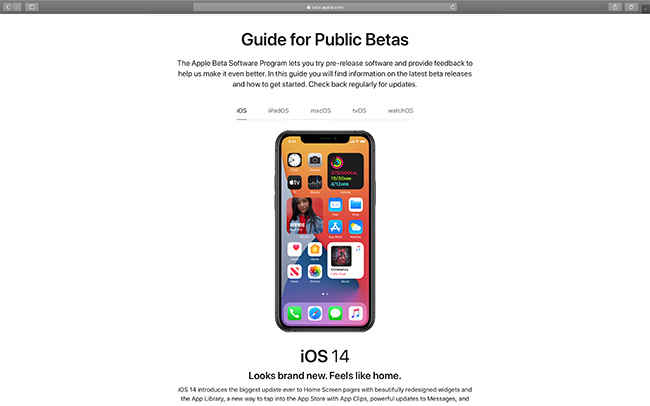 Step 1: Using the device you want to use the new version of iOS on, go to Apple's Beta website and login with your Apple ID.
Steps 2: Take a full backup of your device.
Step 3: Choose the device you want to enrol in the Apple Beta program, in this case, an iPhone or an iPad.
Step 4: Click on 'Download profile.' It will be towards a lower point in the enrollment page.
Step 5: Accept the download initiated by Apple's beta program website.
Step 6: On your iPhone, go to Settings > General > Profile and select the downloaded profile, click install.
Step 7: Reboot iPhone.
Step 8: Once the iPhone is rebooted, go back to Settings > General > Software Update.
Step 9: Download iOS 14 via OTA update.
That's it! The iPhone will download the newest version of iOS 14 Public Beta and install it on the iPhone. All you have to do now is patiently wait for the large download to finish.
The process remains the same for installing the public beta of iPadOS 14 and even MacOS BigSur. Do note that we do not advise on installing beta software on your daily driver, and while its still okay for smartphones, if your MacBook is crucial for your day-to-day professional work, we strongly advice not upgrading to BigSur Public Beta as it has a number of known issues such as problems with Messages app, the inability to resize calendar widgets or select accounts in calendar. There's even a bug where the Music app might crash when typing in the search bar. A full list of MacOS BigSur bugs can be seen here, and we strongly advice going through the list to make sure you won't be drastically impacted.
The final build of iOS 14 and iPadOS 14 is expected to be made available with the launch of the iPhone 12 series later this year in September.