Asus has refreshed the Scar and G series of its ROG Strix series of laptops with Intel's latest 10th generation CPUs and Nvidia's newest GPUs
Asus has been making big announcements all around, given that both Intel and Nvidia introduced new gaming-specific hardware as well. After introducing the new Zephyrus lineup, Asus gas also announced major upgrades to its Strix series. For starters, Asus has confirmed that they are dropping the Strix Hero lineup entirely, now leaving us with the Strix Scar and Strix G series of laptops. In India, Asus positions the Strix G series as entry-level ROG gaming machines whereas the Scar series is the high-performance beast. This year, Asus has globally announced the availability of ROG Strix Scar 15, ROG Strix Scar 17, ROG Strix G15 and ROG Strix G17.
Asus ROG Strix Scar 15 and Scar 17
The Scar series comes in 15" and 17" flavours, both powered by Intel's latest 10th generation processors. While the Scar 15 will top out at the Intel Core i7-10875H, an 8 core/16 thread processor, the 17-inch Scar 17 also offers the top-of-the-line Intel core i9-10980HK to users. The Strix Scar series is aimed at those gamers who are aspiring to get into esports or are already engaged in them. As such, you're looking at machines with a 300Hz refresh rate and Nvidia's top-of-the-line RTX 2080 Super GPUs. The Scar also offers the new Keystone II which when attached to the computer, can instantly boost performance and also give access to an internal "shadow drive." The Scar series also offers three NVMe slots, two of which can be configured in RAID 0 for storage of up to 1TB and the third slot is there for just expansion.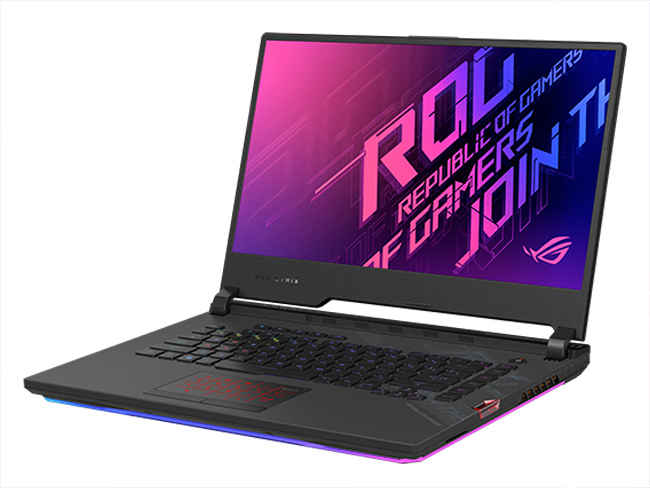 Asus ROG Strix Scar 15 & Scar 17
Asus ROG Strix G15 and G17
The Scar G series globally will be available in a similarly spec'd performance package as the Scar series. That is, processor selection going up to i7-10875H, GPU selection going up to Nvidia RTX 2080 Super and display with refresh rates as high as 240Hz on the 15-inch model and 144Hz on the 17-inch models. With the Strix G15, Asus has also introduced an Electro Punk variant, inspired by cyberpunk elements such as neon colours. The Electro Punk variant is black coloured, with pink trim for a rather unique look.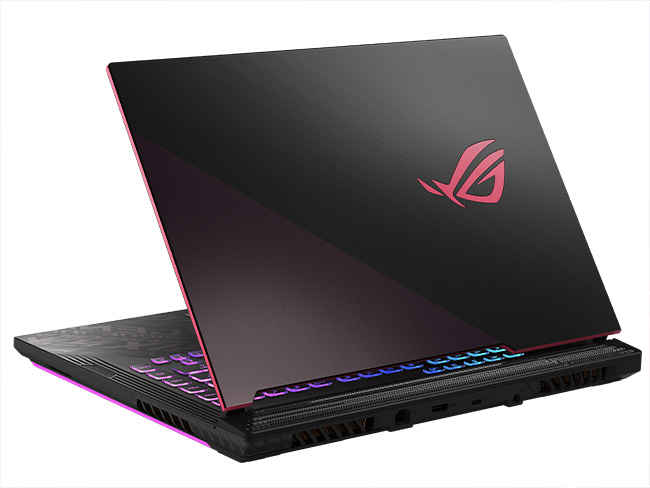 Asus ROG Strix G15 Electro Punk
You can see the basic specs of all the Strix laptops in the chart below.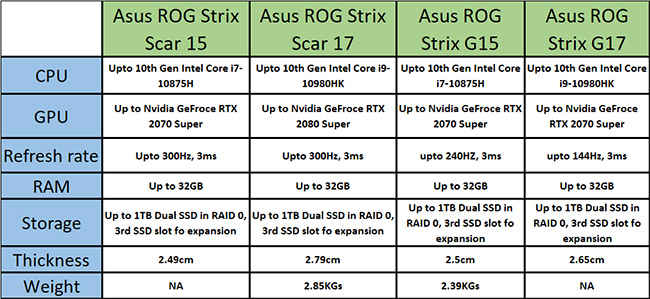 The above specifications are for the global product lineup, and from the past, we've learnt that Asus brings specific SKUs to India only, slotting their various gaming laptops into tiers. This makes sense since it would be weird to have a Scar 15, G15, Zephyrus S15, all with the same specs, but with variable pricing. As of now, there is no official word on when the new Scar and G series laptops will come to India and at what price points.