Uber, the on-demand taxi service, has slashed prices for its uberGO segment of cabs in 10 non-metro cities across India. Jodhpur and Udaipur have received the maximum amount of price cut, by up to 22%. In these two cities, the revised base fare will be Rs. 25, instead of Rs. 40. The charge per kilometre has also been slashed to Rs. 7/km from Rs. 8/km. In other cities like Nagpur, Indore and Vishakhapatnam, the amount charged per kilometre has been reduced to Rs. 5/km. Other cities that have received price cuts include Ahmedabad, Mangalore, Trivandrum, Pune and Ajmer.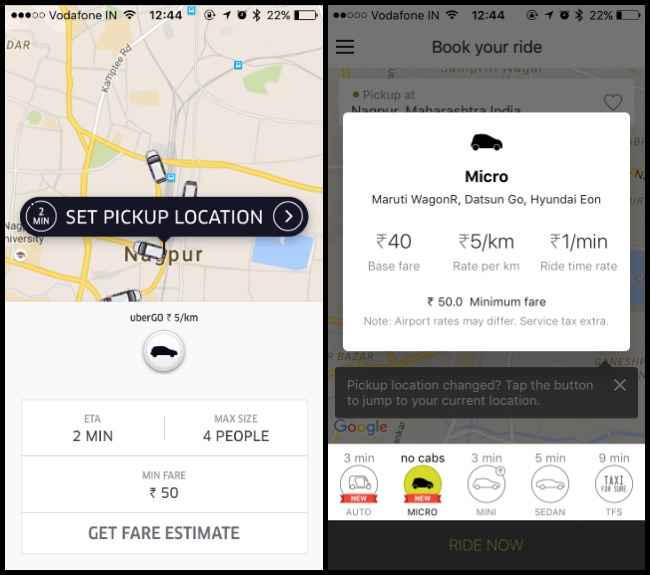 In comparison, Ola's least expensive cab service, Ola Micro, charges a base fare of Rs. 40, and ride rate of Rs. 6/km, in Jodhpur and Udaipur. In Nagpur, both the services charge Rs. 5/km, along with minimum fare of Rs. 50. With Uber's revised prices, the cab-hailing service will look at making better progress in non-metro cities, and match up with Ola's low cost services. On its official blog post, Uber stated, "We are decreasing uberGO prices by up to 22% making our service even more affordable for you to get where you need to go. The upside of these price cuts for riders is obvious as your Uber rides become even more affordable. But it's also important to note that with increased demand drivers get busier as well. More demand increases driver efficiency on the road, resulting in more trips per hour, and less idle time while driving on Uber."
It remains to be seen how Ola responds to Uber's revised pricing. With customers vying for better value for services, cab oeprators are also looking to provide better services like WiFi, to attract more riders.