Paytm was temporarily removed from the Google Play Store on Friday last week before being listed again later in the evening
Paytm was temporarily removed from the Google Play Store on Friday last week before being listed again later in the evening, albeit with some changes. Now Paytm is calling out Google for taking down the popular payment app over a UPI cashback offer that the company introduced on September 11. Paytm has accused Google of arm-twisting and foul-play as the latter's payment app, Google Pay is also hosting a similar cashback offer during IPL 2020.
In a blog post, Paytm shared a sequence of events as they unfolded on September 18, the day when the app got de-listed from the Play Store. "Google's recent action on de-listing Paytm app because of a cashback campaign is unjustified," says Paytm.
Paytm Cricket League was introduced on the Paytm app on September 11 and lets users collect stickers of famous cricketers by simply paying from the app. Under this offer, users could win upto Rs 1 lac cashback on doing transactions from the Paytm app and can also gift these stickers to their friends.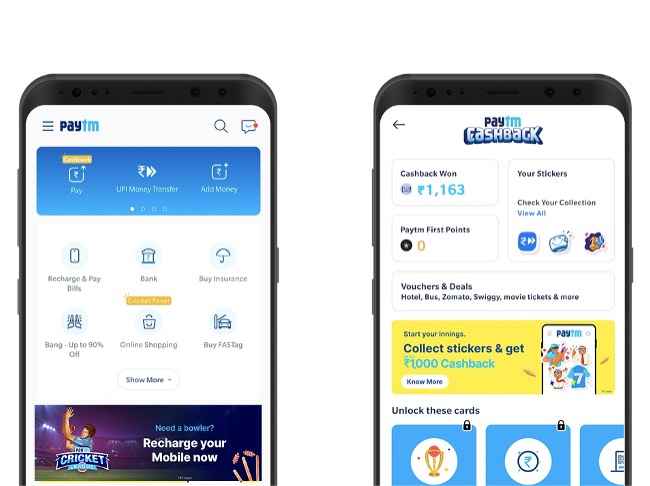 Paytm vs Google: What Paytm said?
While the Paytm Cricket League was active on the payment app until the morning of September 18, it was taken down on grounds of violating Google Play Store's gambling policies in India. In its post, Paytm cites the presence of UPI cashback offer and scratch cards feature on the app as the reason why Google de-listed it from the store.
In its explanation to Paytm, Google said, "Your app contains content that doesn't comply with the Gambling policy as it offers games with "loyalty" (e.g. engagement or activity) points that are accrued or accelerated via real-money purchases which can be exchanged for items or prizes of real-world monetary value." In the accompanying screenshots, Google highlighted certain terms and conditions of the Paytm Cricket League that it thinks violated its gambling policies.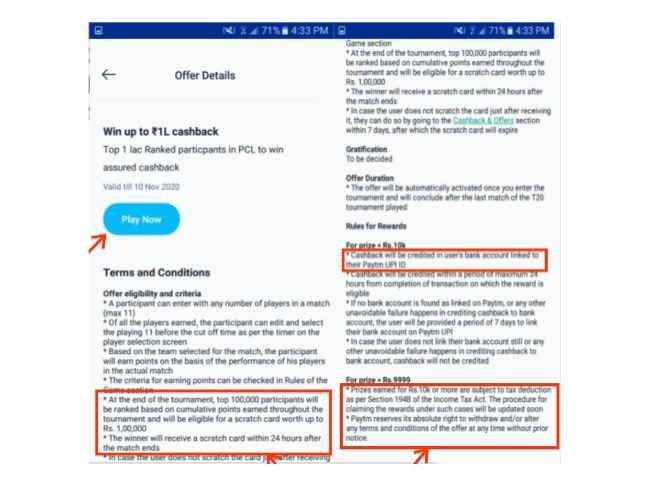 Having said that, UPI cashback offers are being hosted by most payments app to get more users to use their app. Interestingly, Google's payment service Google Pay is also hosting a similar offer called Tez Shots. In it, the company has introduced a small cricket game in the app that lets users play and earn "rewards" worth up to Rs 1 lac. Similar to Paytm's terms and conditions that Google feels it violated, Tez Shots conditions state that "any reward money" will be deposited into the user's "UPI enabled savings account".
However, unlike Paytm Cricket League, Tez Shots doesn't deal in collecting stickers of cricket players and exchanging it for a cashback which is likely the reason why Google is citing its gambling policy in this case. Having said that, fantasy sports isn't restricted in India and is not illegal in the country.
Taking a jab at Google, Paytm said, "Presumably, such cashback campaigns of Google Pay are not in breach of Play Store policies, or maybe they are, but a different set of rules apply to Google's own apps."
Paytm vs Google: What Google said?
In a new statement issued by a Google spokesperson, the company clarifies that cashback and stickers were alone, not responsible for the de-listing of Paytm from Play Store. "Offering cashback and vouchers alone do not constitute a violation of our Google Play gambling policies. Last week we reiterated our Play Store gambling policies. Our policies don't allow online casinos or support any unregulated gambling apps that facilitate sports betting, including daily fantasy sports in India," the statement reads.
This statement forms the argument that online casinos and unregulated gambling apps that let users participate in sports betting and daily fantasy sports are in direct violation of the Play Store policies. However, in India, fantasy sports is considered a "game of skill" and only "games of chance" are termed as gambling.
"We enforce our policies very thoughtfully to provide a safe and secure experience for consumers, while also giving developers the platform and tools they need to build sustainable businesses. In the case of repeated policy violations, we may take serious action, which may include terminating Google Play Developer accounts. Our policies are enforced on all developers consistently," the spokesperson added.
Google has not specifically disclosed the red flags that led them to de-listing the Paytm app from the Play Store. That said, there could be multiple reasons including the promotion of Paytm First Games' fantasy cricket league on the Paytm app. As revealed from the blog post by Paytm, Google had approached Paytm three times between August and September 2020 over "a separate matter" and that the company had "immediately complied" with the regulations by stopping the promotion of its gaming subsidiary on the primary app.
Paytm vs Google: Questions left unanswered
Paytm has accused Google of creating policies that are "over and above the laws of our country, and are arbitrarily implementing them" without any oversight. This ties directly into the larger debate that is being seen around the world over the immense power wielded by big technology companies like Apple, Google, Facebook and more that creates a kind of monopoly in the ecosystem.
Another question that warrants a re-look at the Google Play policies is the fact that while Paytm is not allowed to promote its gaming subsidiary Paytm First Games' fantasy league within its app, it can do a "paid promotion" of the same service on YouTube which is owned by Google.
Clearly, Google's decision to take down one of the biggest payment system's app in India off its app store hasn't gone down too well and more so with the Paytm First Games that recently onboarded Sachin Tendulkar as the brand ambassador to create awareness about fantasy sports in India.