Paytm and Paytm First Games app has been removed from the Google Play Store in India for violating gambling policies
[Update: September 18, 2020, 7:12 PM: Paytm app is now back in the Google Play Store.]
Paytm and Paytm First Games app has been removed from the Google Play Store in India for violating gambling policies. Paytm is one of the most popular payments apps in India that also offers e-commerce and financial services to over 400 million users (as of 2019). The Paytm app and Paytm First Games app were delisted from the Play Store in India on accounts of facilitating sports betting which is in direct violation of Google's gambling policy.
Paytm has posted a tweet on its official Twitter account confirming that the Android app is "temporarily unavailable" and assuring concerned users that their money is safe until the app comes back "very soon".
In a blog post, Google says, "We don't allow online casinos or support any unregulated gambling apps that facilitate sports betting. This includes if an app leads consumers to an external website that allows them to participate in paid tournaments to win real money or cash prizes, it is a violation of our policies."
Paytm has added a new fantasy cricket tournament in the Paytm First Games app and the app also promotes other fantasy sports as banners on the homepage. For instance, if you look in the screenshot below, the banner advertisement takes users to a third-party website. According to Google, this form of promotion puts users in potential harm and in such cases the app is taken down from the Play Store temporarily until it is restored and meets the guidelines.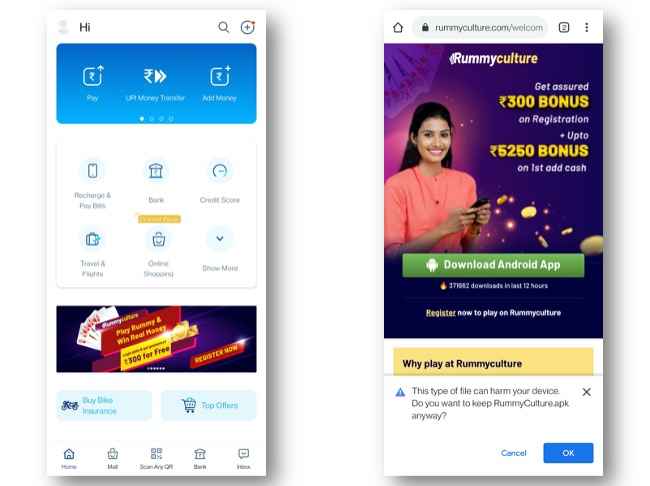 Paytm First Games app, on the other hand, offers fantasy cricket and football tournaments that involve betting with actual money. It raked in over 5 million app downloads during the Coronavirus lockdown. The app recently roped in Sachin Tendulkar as its brand ambassador for "creating awareness" about fantasy sports in India.
Having said that, fantasy sports isn't restricted in India and is not illegal in the country. In a blog post, Paytm says that its app was removed from the Play Store due to the new Paytm Cricket League that was launched. "The game allows users to get player stickers after each transaction, collect them and receive Paytm Cashback," reads the post. The company says that it has temporarily removed the cashback option so that the app can go back to being listed on the Play Store.