Christmas is right here and WhatsApp has released a Christmas sticker pack for users to kick off the festivities. However, if past months have taught us anything is the need to stay inside our houses due to the ongoing Coronavirus pandemic. As such, messaging apps like WhatsApp become essential for day-to-day communications which is why the popular instant messenger has added a bunch of new stickers to celebrate Christmas. Users can send the new stickers greeting to their friends and family members. The messaging app also offers animated sticker packs that can be used and can also download third-party stickers from the Play Store.
Here's how to send Christmas greetings to your friends and family and wish them a Merry Christmas. Additionally, WhatsApp has also introduced some new features and you can read all about it here.
How to send Christmas stickers on WhatsApp?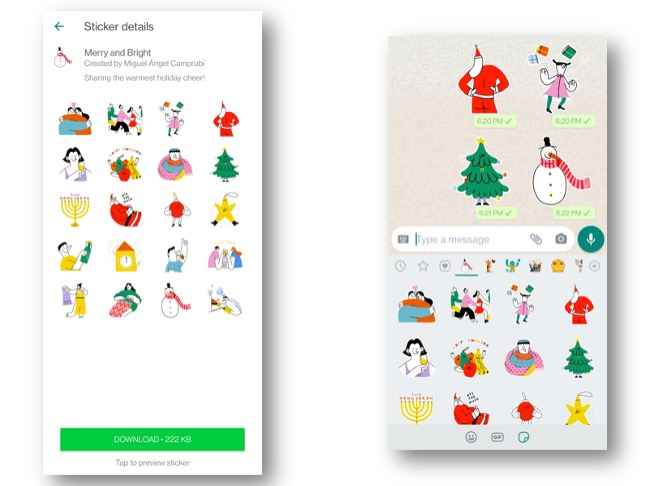 WhatsApp has released new Christmas sticker pack titled Merry and Bright that has been designed by Miguel Ángel Camprubí and includes 20 stickers. From Christmas tree to Santa Claus and more, the sticker pack covers Christmas as celebrated in different regions. Additionally, there are updates available to existing sticker packs with some of them receiving Christmas stickers as well.
WhatsApp has tons of stickers to choose from and users can download more sticker packs from the Google Play Store. However, third-party sticker apps are not supported on iOS yet. You can send Christmas greetings by using WhatsApp stickers by following these steps.
1. Open WhatsApp and select the chat you want to send the sticker to.
2. Tap the emoji button and then select the sticker icon.
3. Here you will see the list of stickers available on WhatsApp that you can browse through.
4. The search results will display some stickers for Christmas greetings.
5. Select a sticker from the list and you will be able to directly send it to the selected chat.
Another method involves downloading third-party stickers from the Google Play Store for Android phones.
1. Open the chat you want to send the sticker to.
2. Tap on the emoji icon and select stickers.
3. Tap the settings icon and select the browse tab.
4. Scroll down to the end of the list and tap the Play Store icon.
5. You will be redirected to the Play Store with a list of third-party stickers.
6. Search, choose and install the sticker pack of your liking or download Sticker Maker to create your own custom WhatsApp stickers for Christmas. You can also search for "Christmas WhatsApp stickers" on Play Store to get accurate app results.
7. To view the downloaded sticker packs, tap the Add icon and the sticker pack will be listed under My Stickers.