Highlights:
Facebook and its services suffer outage globally.
Europe​ seems to be the most-affected region.
Facebook is stil inaccessible for people in varius parts of the world, while many are facing issues with the platform.
People in New Zealand are calling the cops to complain​

People around the world thronged Twitter after Facebook and family of apps suffered an outage which started last night. While the services are now back up for some users, others are still experiencing issues with sending messages and/or media files on Messenger and WhatsApp or logging into Facebook. People from India claim that they have been experiencing issues since the past 16 hours and some are not yet able to log into the app, while others are facing problems in uploading videos and posting text on the platform. People from various parts of the world are still posting on Twitter that their accounts are not accessible.
According to a map by DownDetector, the platform that monitors posts on social networks and offer a real-time overview of status information and outages, the issues are mainly in the UK, the US, parts of Latin America, India and the Philippines. The South England area is seen to be most affected by the Facebook outage and the entire European region seems to have taken the biggest hit. There are some reports which mention that people who tried to use Facebook to log-in to other services failed to do so. Oculus is also down and people were not able to log in to any multiplayer games purchased through the Oculus store.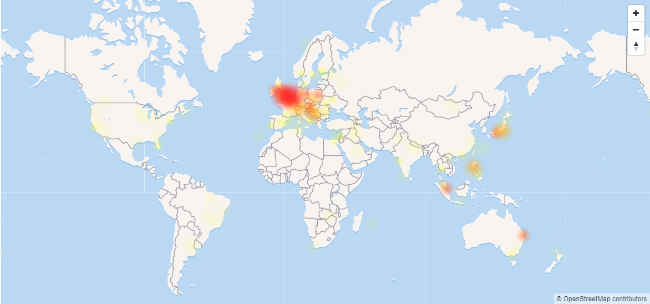 Digit.in spoke to some people who told us that they are unable to send images on WhatsApp even though the text messages went through. Some said they received photos several hours after they were actually sent by others. A few people complained of not able to share posts with friends and groups on Facebook Messenger. Meanwhile, Facebook and Instagram have acknowledged the issue and have said that they are working to resolve it.
Facebook has said that the company is still trying to 'resolve the issue' after a crash, further ensuring that 'the issue is not related to a DDoS attack'.
Instagram, however, has claimed that the service is now working fine.
Oculus has not given an update but they posted a tweet acknowledging the outage.
People called upon the police of Canterbury region in New Zealand seeking their help in resolving the problemFacebook outage issue.
Related Read:
Mark Zuckerberg envisions, promises privacy-focused social networking, explains Facebook's future plans in a 3200-word letter