Amazon Food, the food delivery service of India's major e-commerce platform Amazon has gone live in some parts of Bengaluru. The new venture goes heads up against the likes of Swiggy and Zomato who've been dominating the online food delivery business for a long time and have seen their fair share of wins and losses, especially during this Coronavirus outbreak.
The food delivery business has taken a massive hit with the on-going nation-wide lockdown, with Swiggy even announcing 1,100 job cuts in an attempt to downsize and cut back on surmounting losses in the wake of COVID-19 storm. That's why Amazon entry into the food delivery business is important because it can give a definitive boost to the whole ecosystem with its large scale user base.
Having said that, Amazon Food is currently live only in four areas of Bengaluru. There are, Haralur (560048), Marathahalli (560037), Whitefield (560066) and Bellandur (560103), with more cities being added in the next few weeks, according to a person who told this to The Economic Times.
"We are launching Amazon Food in select Bangalore pin codes allowing customers to order from handpicked local restaurants and cloud kitchens that pass our high hygiene certification bar. We are adhering to the highest standards of safety to ensure our customers remain safe while having a delightful experience," an Amazon India spokesperson said in a statement to media.
What is Amazon Food?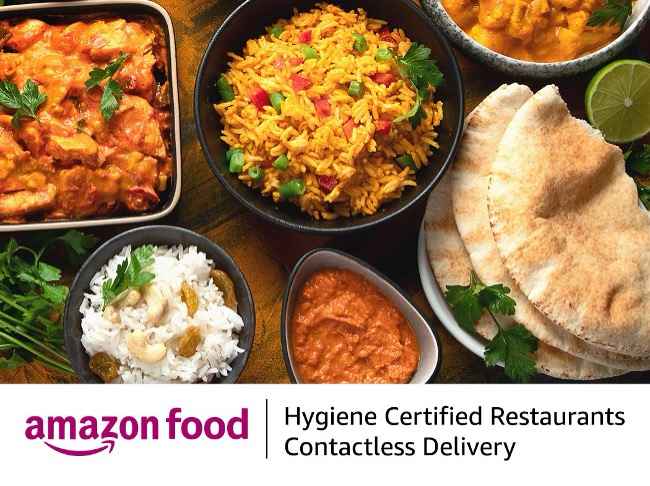 Amazon Food is the e-commerce giant's online food delivery service that's currently operational only is some parts of Bengaluru. It will go live and expand to other cities in the coming weeks, adding more restaurants to its catalogue.
There's no separate app you need to download to use Amazon Food and you will see a banner on the Amazon shopping app to access the list of restaurants delivering pre-prepared food to your region, once the service goes live in your city.
There's no known schedule for when the service will be operational in other cities across India but it's expected that Amazon will roll it out for everyone once it is able to get restauranters onboard its new food delivery platform.
How to place an order on Amazon Food?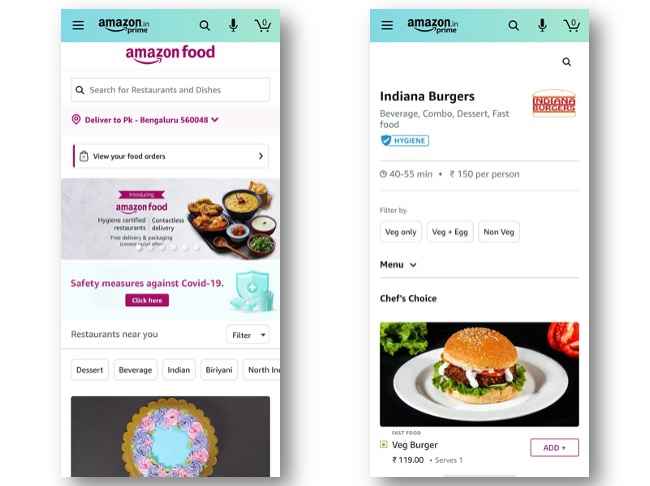 Amazon Food is currently live in four pin-codes of Bengaluru-- 560048, 560037, 560066 and 560103. The food delivery service is expected to go live in other cities in the coming weeks. Here's how to place an order on Amazon Food.
Open Amazon shopping app and scroll down to the "Just Launched" banner.

Tap on Amazon Food.

Select a restaurant from the list to browse through different food items.

Select the product and add it to the cart.

Tap on View Cart and Proceed to Checkout.

You'll see the exact details of the order including the price breakdown.

Go ahead and pay for the order. And that's all you need to do.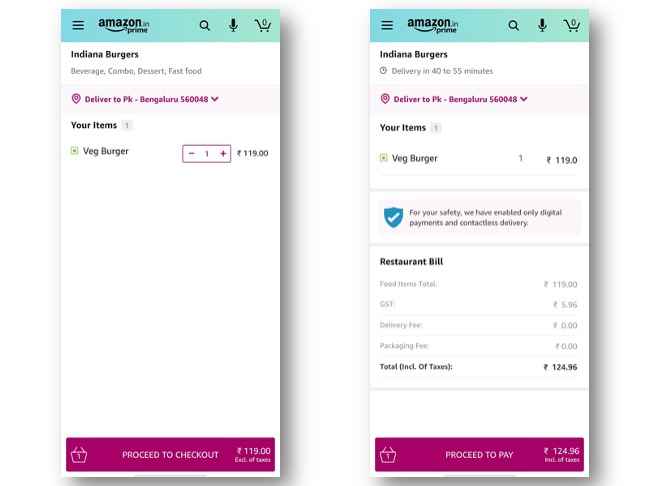 The interface of Amazon Food is similar to the Amazon shopping experience and users can order food from the app without any hassle. Currently, Amazon is offering free delivery of online food orders along with a promotional 20 per cent cashback. Once the service is able to attract a large user base, it's expected that delivery charges will be introduced.
Apart from the four areas the service is available in, there's no word when can we expect Amazon Food to launch in other cities. However, we'll keep an eye out for whenever a wider roll-out happens.