The Indian government has banned 59 apps over security concerns, leaving users to find alternatives. Check out our list of alternatives for TikTok, as well as file sharing apps Xender and ShareIt. In this lister we will be looking at alternatives for UC Browser.
Most of you are probably using Chrome, which is installed by default on most phones anyway. Two of the options that are better than Chrome are Opera and Firefox. The considerations for a good mobile experience are features oriented towards touchscreens, cloud based acceleration to reduce mobile data usage, a comfortable enough night mode, and the ability to surf with a single hand. Unfortunately, there is not one single browser that meets all of these requirements, with each one having their own strong points. Choosing a mobile browser depends on your usage pattern on the desktop as well, and if you want to continue browsing across platforms. If we had to chose, then best options are Opera Touch on iOS and Firefox Focus on Android. Check out the best mobile browsers and their strong points below.
Opera
Opera has a number of browser options on both platforms, and is not just one single app. The development is continuous and the browser keeps adding an increasing number of convenient features. If you want the best user experience, then this is the browser to go for. On Android, you have Opera, Opera Mini, Opera Beta and Opera Mini Beta. The beta versions obviously are buggier, but still very good and the bugs are only with the latest features. These versions are obviously for pro users. For those just looking for a good all round browser, then Opera is the way to go.
There are a few features that really improve the user experience. The first is an AI driven custom news feed, that you need to set up, but then gives you direct links from all your favorite sources in an easy to scroll list. Each of the features have tweaks that let you customise the experience further. For example, you can adjust the settings in the night mode according to what you find the most pleasing. The download manager is powerful, and allows you to share files from the browser itself. If you use Opera on a computer, then you can sync the bookmarks across both versions, so changes in one will be reflected in the other.
Opera Mini is the browser that is ideal for spotty 2G connections, or for those with long commutes. You can download pages and read them later. There is also an offline file transfer feature in Opera Mini. Then there is an integrated video player as well. These are the features that will be appealing to many local users.
For iOS users, Opera has a very special browser that offers a refined touchscreen experience. There is no Opera Mini available here. Opera Touch is just very minimal and leaves most of the screen estate for the web page, with the buttons being discreet. The entire user interface has been designed for a one hand experience, so it is really easy to use on the side while working on a computer, during a commute, or while relaxing on the sofa. There are gesture options for moving between tabs and accessing media controls. The best thing is the search, which allows you to use your voice or scan a QR code, and is really fast. You can sync bookmarks, nots and links with a web version, adding everything to what is known as the Flow. This is a helpful feature when you want to continue surfing on the go where you left off on your laptop.
All Opera browsers have ad blocking, free VPN and cloud based acceleration for loading web pages. The last part means that mobile data consumption is considerably reduced. These features put together mean that Opera is one of the best browser available for smartphones, and the different versions only compete with each other.
TL;DR: Built keeping touchscreens in mind, continuously gets new user friendly features, has an uncluttered interface, and works very well in tandem with the desktop version.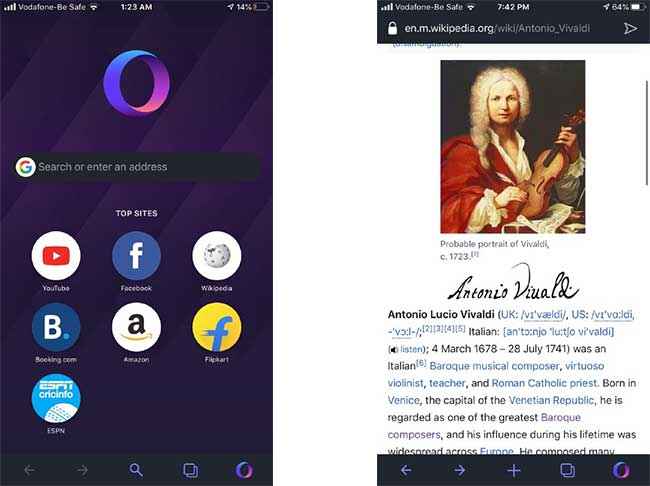 Download links:
Opera Mini: Android
Opera: Android
Opera Mini Beta: Android
Opera Beta: Android
Opera Touch: iOS
Firefox
Firefox is a fierce about protecting your privacy, so all the versions that they have block third party cookies, online trackers and ad delivery networks. All of this means that your browsing speed increases and your data consumption is reduced. The only thing getting on to your phone is the actual content that you want to access. It is like having private mode switched on by default. Another good thing about Firefox is that it works very well with the desktop version, allowing you to sync passwords, open tabs and bookmarks. It is very easy to move to the PC version from the phone and vice versa.
One of the good design aspects about this browser is that the tabs are very easy to navigate and switch between. They are displayed as a stack of cards, and inform you at a glance what website it is. Another really helpful feature is the ability to surf the web using a smart TV that supports streaming. This really changes the experience of surfing the web, especially if you have a large TV. You can move your surfing to the living room, and for video streaming sites or social media, or even interactive infographics, this is just an awesome feature that can entirely transform your web surfing experience.
Just like Opera, Firefox too has a number of versions available. There are Firefox and Firefox Lite, then there are the beta version, Firefox Beta. Additionally, you can also get the very latest features, as well as the buggy versions which are in the nightly builds, so that one is Firefox Nightly, which used to be known as Firefox Aurora. Then there is Firefox Focus, which has a more advanced version of private mode from the get go. It prevents a wide range of online trackers, so your browsing habits will not be recorded, and there wont be data machines building psychographic profiles based on your digital footprints to deliver targeted ads to you. Then, there is also a built in ad blocker. The Lite mode additionally allows you to browse using the text only, and nukes all images, making the surfing experience even faster, especially on spotty connections. Erasing your passwords and browsing history is also very easy, but for the sake of convenience you can choose to keep them. If you are worried about privacy or are very paranoid, then this is the browser to use. Firefox Focus has a very decluttered interface and if you find yourself wishing away the default links on the homescreen of every browser, then Firefox Focus is the only one on the list without them (these are the icons in the right side screenshots of most of the browsers here).
TL;DR: A browser geared towards privacy, works well with desktop versions, and allows you to surf the web using a smart TV.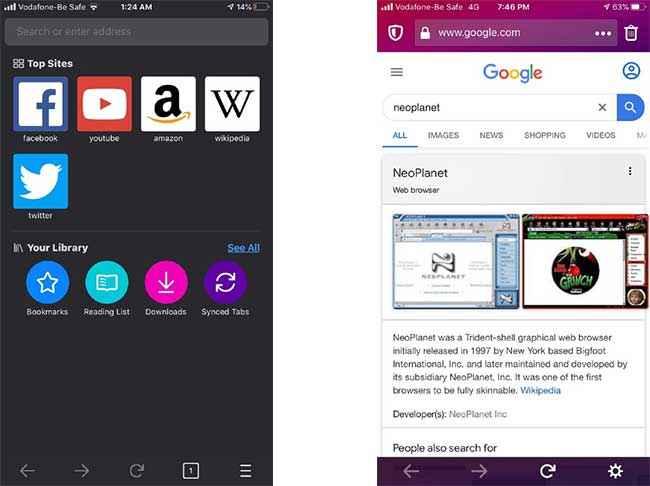 Download links:
Firefox: Android | iOS
Firefox Nightly: Android
Firefox Beta: Android
Firefox Lite: Android
Firefox Focus: Android | iOS
Chrome
Google Chrome is a fast browser for mobile platforms, and one of the best aspects about it is the tab viewing feature. It fits in more tabs in the available screen real estate than other browsers, taking advantage of newer smartphones with higher pixel densities. Syncing with the PC version is very easy, and allows you to use the same tabs, bookmarks and passwords. You can leave off on one platform and continue surfing on another. It only requires users to login with their Google accounts on all platforms. Google claims it uses AI to improve your news feeds, but this is clearly a sneaky way of delivering you more ads and getting more publishers on board their ad delivery network. This is a useless feature anyway.
Chrome allows you to download content from web pages, and this includes videos as well. Google uses its in house tech to compress the content before delivering them to you, which reduces data consumption. You can save pages for offline browsing. What all of this means is that by default, Chrome is like the lite versions of other browsers such as Opera or Firefox. Of course, all of Google's services work very well with the browser, but not as well as the dedicated apps such as Drive, Docs, Sheets or Keep. If you want to reduce the number of apps you have installed and still use Google services through the mobile device, then Google Chrome is the way to go. Another powerful feature is easy translation of all web pages using Google Translate. Like most other mobile browsers, Google Chrome also syncs easily with the PC version, allowing you to sync tabs, bookmarks and passwords. The cutting edge features are available in Chrome Beta, and the unstable version is called Canary, which is not nightly but updates a few times every week.
TL;DR: Probably comes pre-installed with your device anyway, is fast and lightweight, best option for having a lot of tabs open at same time.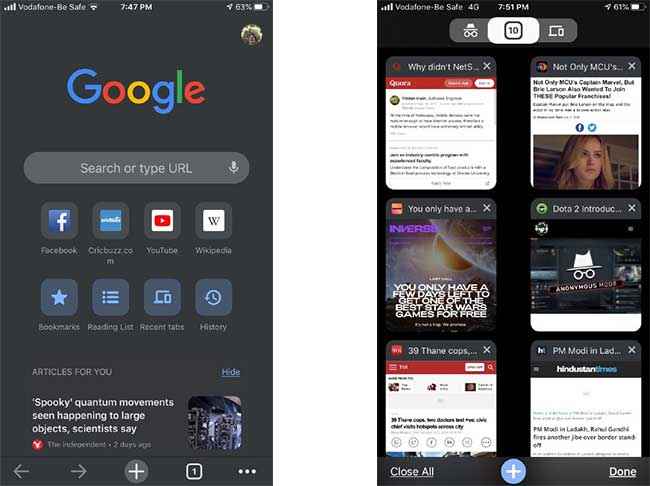 Download links:
Chrome: Android | iOS
Chrome Beta: Android
Chrome Canary: Android
Edge
Although coming from a major tech company, Edge can be considered as an alternative browser because of the negative associations with Internet Explorer. Edge is actually surprisingly good, and for those who have tried it, the experience with Bing is better than Google. For some reason Microsoft claims to have gamified the use of the search engine, and that it gives you rewards for using Bing, they have just become that desperate now. However, we use Bing a lot and could not find these rewards. Bing search is actually the strongest feature in the browser, as it shows you all the information you need at a glance, creating boxes of the relevant contents. For example, searching for "Corona" gives you stats of the confirmed cases, deaths and recoveries in the city, state, country and global levels. It also shows a map of the pandemic, and resources to get help. Then there is a box with news videos. The entire activity of search has been converted into an experience, and the best thing is, that the experience can directly be embedded. At the same time, the search does not give you what you want, for example a search for "Corona Go" will deliver the same Corona widget. Most of the time though, the widgets work beautifully. For example, if you search "Guardians of the Galaxy 2" you get a hotstar link first, a synopsis from the Wikipedia article, a soundtrack listing, critic reviews, a list of cast and characters, images, the IMDB link, and news related to the movie. In the end there is a handy list of additional searches. Seriously, the search experience is unparalleled.
Edge is almost as militant as Firefox when it comes to privacy, and takes measures to prevent tracking of your surfing habits. The tracking prevention tech is enabled by default, just like all Firefox browsers. There is also an integrated Ad Blocker, which is not turned on by default. The private mode does not save history or passwords.
TL;DR: The best search experience on mobile devices, strong privacy oriented features, is demanding in terms of data use.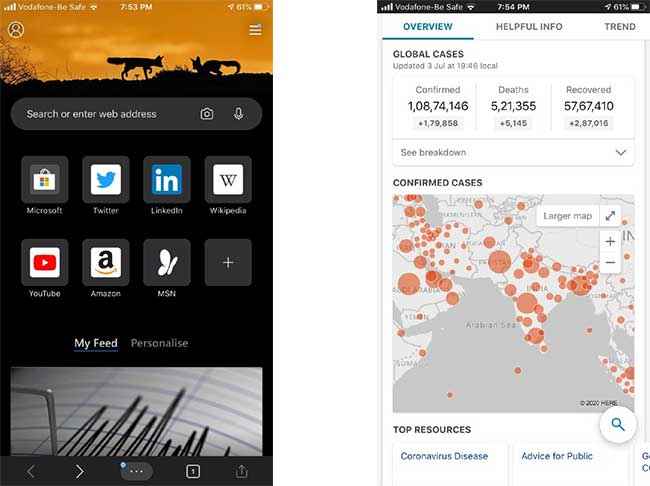 Download Links:
Microsoft Edge: Android | iOS
Dolphin
This is a strange little browser that has been built from the ground up for touchscreens, and does not have a desktop legacy behind it like most of the other browsers in the list. In the early days of smartphones, around 2010, Dolphin was the go to browser for a superior surfing experience on smartphones. It won a lot of awards back in the day, but has since then lost its lead. Dolphin is still heavily focused on delivering a great user experience on touchscreens.
That means that there are a lot of features that have been included keeping mobile devices in mind. One of these is the integrated voice search, but such a feature is there on other browsers as well. The differentiating feature here is the ability to create custom gestures to quickly open up web sites. For example, you can trace a "D" on the screen to fire up Digit.in. The speed dial is also very easy to use. Swiping switches between tabs, which is faster than the two taps required on most other browsers. The laser focus on usability on touchscreens is the best when it comes to Android, but you are better off using Opera Touch on iOS.
The browser also allows you to download videos for offline viewing. If you like to customise what little of the browser is visible during surfing, then there are options to add background images and tweak the colours, as well as themes. There are some other features for smartphones, such as a battery saving mode, a speed booster, and the ability to save web pages as PDF files.

TL;DR: If you want to use gestures for accessing web pages quickly, then go for this browser.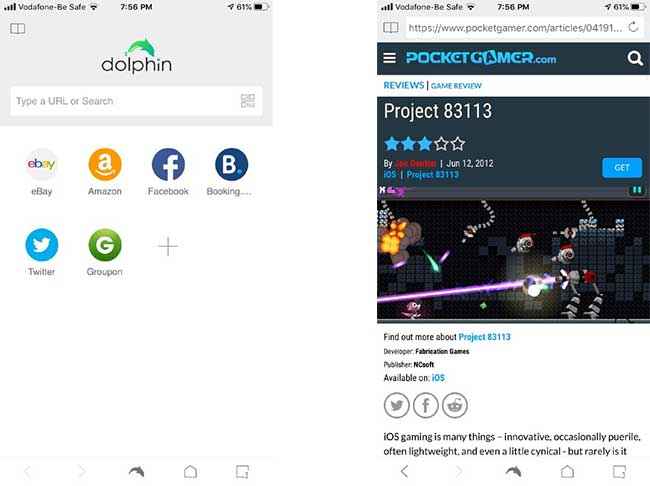 Download Links:
Dolphin: Android | iOS
JioBrowser
The browser is pushy about some content (mostly news and videos), but has some nifty little features. There is an integrated QR scanner to quickly access links, and a voice search feature as well. The browser also shows live cricket scores in a ticker, and actually has a quick search suggestion feature that is faster than Google. The quick search feature works really well when it does, but is otherwise useless. Users can download content through the integrated download manager, and even schedule downloads. All these extra features show that the browser has really been made keeping in mind the browsing habits of Indians, and the localisation goes beyond just supporting more languages. Another feature that is helpful for older people is that the browser allows you to zoom into content on web pages. The browser is made with an entirely mobile experience in mind though, and lacks the features for using it in tandem with a computer, such as exporting or importing bookmarks sending files from the device to a PC. Compared to all the other browsers on the list, it is also a little glitchy. That said, the user interface is very simple to use, and accessing even the advanced features is made easy. The expected features such as private browsing and night mode are there. There is no ad blocker though.
TL;DR: Skip this one unless you really want the live cricket score feature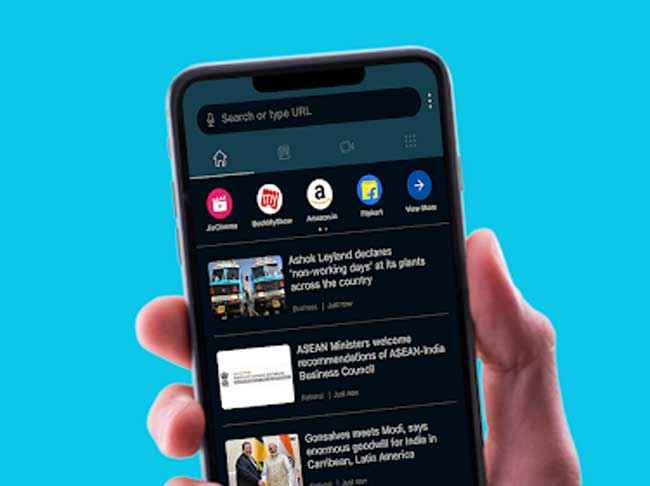 Download Link:
JioBrowser: Android