PUBG Mobile announced the Club Open 2019 tournament back in May this year with a total prize pool of $2.5 million (Rs 17.3 crores approx). The regional semifinals for the event took place recently, between May 10 and May 19, and the results are out. 16 Indian teams are advancing to the PUBG Mobile Club Open (PMCO) finals and the roster consists of Team Insidious leading the pack with maximum total points, followed by The Brawlers and Hydra. Team Insidious also became the first squad to come in at the number one spot in two consecutive weeks, beating the number two team, The Brawlers by just six points.
In the PMCO India semifinals week 1 standings, Team Insidious took the number one spot with 156 points (107 place pts, 49 kills pts). The Brawlers came in second with 150 points (109 place pts, 41 kills pts), while Hydra finished with 140 points (108 place pts, 32 kills pts). Other notable teams advancing to the regional finals include 8-Bit that was placed on the number six spot with 132 points and the team Gods Reign that secured the ninth spot with 123 points. The well-known PUBG player Mortal's Team Soul came 16th, at the last spot. Regional Finals will take place between May 20 and June 14, and between the 16 crews mentioned in the image below.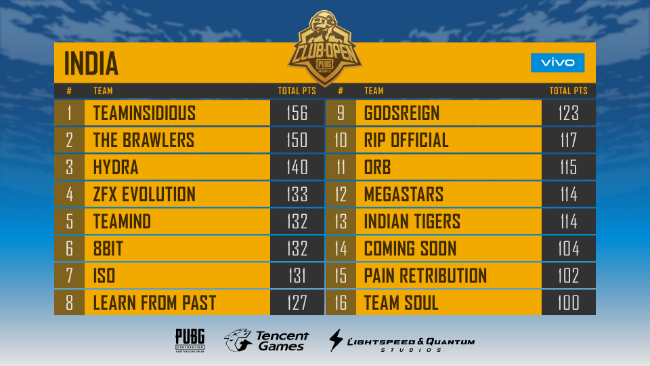 PUBG Mobile previously announced that the Regional Finals could be held online or offline. This means that the 16 teams mentioned above should be ready to travel for the finals. The venue and details of when the tournament will take place are yet to be announced. The Spring Split Global Finals will be offline only and will take place some time in July.
In other PUBG Mobile news, the online battle royale title has now hit 100 million monthly active users worldwide. The game also recently received version 0.12.5 update that marked the end of Season 6 and commencement of Season 7 of the game. The new update also adds Season 7 Royale Pass with EZ Mission License, which offers exclusive discounts and enables players to open crates immediately. There are also new exclusive outfits, emotes, and additional rewards for players. A new single-fire and semi-automatic machine pistol called Skorpion is now available in the game maps. The weapon uses 9mm rounds and features five attachment slots. You can read about what's new with the update and the new season in detail here.