Highlights:
PUBG Mobile Club Open 2019 registrations now open.
The tournament offeres players the chance to win $2 million.
PUBG Mobile players from India can also participate in the tournament.
PUBG Mobile India Series 2019 recently concluded with team S0UL winning the Rs 30 lakh prize money. Now, the game creators have announced another event, which is the biggest one yet for the mobile-based online game. PUBG Mobile creator Tencent Games and PUBG Corp. have now announced the PUBG Mobile Club Open 2019, which is a year-long event with a prize pool of $2 million (Rs 13.89 crores approx). The new challenge will be carried out in two sessions (Spring Split and Fall Split) over the span of 2019 and crews from 10 regions across the globe can participate. Indian PUBG Mobile players can also participate in the event and one is likely to observe both professional and semi-professionals competing for the prize money.
Eligibility rules for participating in PUBG Mobile Club Open 2019:
There are some rules and regulations one needs to follow to be eligible for participating in PUBG Mobile Club Open 2019. First off, all the players taking part in the tournament need to have reached at least Platinum rank at the end of the prior season. One also needs to be above the local age of majority (18 years old in India) to participate or obtain consent from their parents/guardians. At least three players in each team need to be from the region they are representing.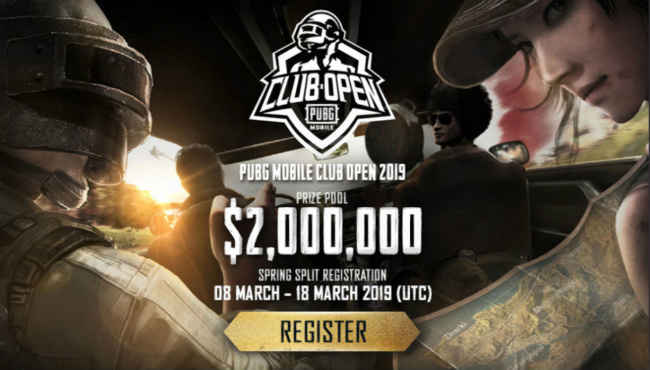 Tournament details:
Spring Split schedule: PUBG Mobile players can now register for the Spring Split, till March 18. The online qualification rounds called Crew Challenge will be held between March 22 to March 31. The Crew Challenge will be followed by Regional Group Round that will consists of 32 crews, which will be held between April 26 and May 5. Regional Semifinals between 24 crews will commence from May 10 and go on till May 19. Regional Finals will happen between May 20 and June 14, and amongst 16 crews. Do note that Regional Finals could be online or offline, meaning a team needs to be ready to travel during this match. The Spring Split Global Finals will be offline only and will take place some time in July.
Fall Split schedule: The Fall Split schedule features similar rounds as the Spring Split schedule. However, registrations will commence in August and the online qualification round and the Regional Group round will be held in the same month. Regional Semifinals are set to happen in October and will be followed by the Regional Finals in November. The Fall Split Global Finals, an offline only event, will take place in December.
Related Reads:
PUBG Mobile India Series 2019: Team S0UL wins Rs 30 Lakh prize money, God's Reign grabs second place
PUBG and Momo challenge now illegal in Gujarat's Bhavnagar and Gir Somnath districts: Report