It's the end of the month and pretty much like clockwork, Activision has started teasing the next big update to Call of Duty: Mobile's upcoming Season 13. The developers have teased a new map coming to the game, and as always, internet sleuths have already deduced that the next seasonal update will be the new version of the ever-popular Nuketown map. This time around, it looks like players will be treated to a Russian-themed version of the map that was seen in Call of Duty: Back Ops 4.
The tweet itself doesn't reveal much about what's to come, but the house shown in the image is a dead-ringer for the one used in the Russian-version of Nuketown. This version of Nuketown is functionally identical to the standard version of Nuketown, which is a Russian twist. So you get Russian-style buildings and instead of trucks and busses in the middle, players will find Russian locomotives. The map in Black Ops 4 also features snow, which would match the overall winter theme considering that the Season 13 update will run through December.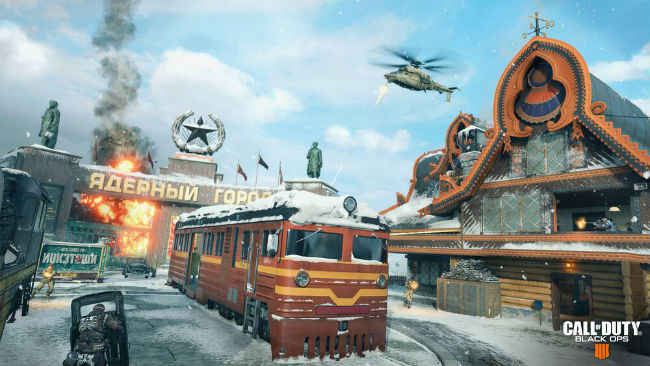 Nuketown as it appears in Call of Duty: Black Ops 4 (image credit: calllofduty.fandom.com)
It is not yet known if the new map will replace the existing Nuketown map, or will exist as a separate map. It is also not yet known if the new Nuketown will be a temporary addition or not, just like the Halloween-themed version of the Standoff map. It looks like we'll just have to wait and find out.
However, the Season 12 'Going Dark' update is still going on. As the name would imply, the update brought with it special night modes for Crash, Summit and the new Hackney Yard maps. The new mode makes it pretty much impossible to see anything without night vision goggles and as a result, colour and detail takes a hit, making it much harder to differentiate between friend and foe. Besides this and the aforementioned Hackney Yard map, players also got two new weapons. A new SMG and a new pistol. The SMG comes with the option to use 5.56mm ammunition, which lets users use it like an assault rifle, while the pistol comes with the 'akimbo' perk.