PUBG Mobile and Call of Duty: Mobile are among the most popular multiplayer shooters currently available on smartphones. While PUBG Mobile managed to amass quite a lead, it looks like Call of Duty: Mobile is catching up fast. According to a report by Sensor Tower, Call of Duty: Mobile managed to cross 250 million downloads since launch (265 days, to be precise). By comparison, PUBG Mobile had 236 million downloads in the same time frame while Fortnite only managed 78 million.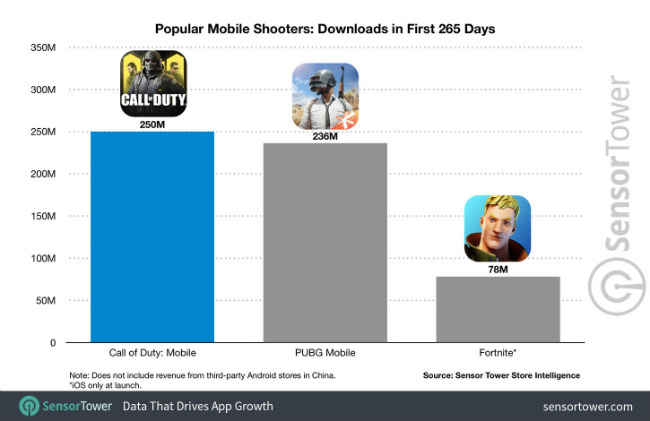 The report also noted that Call of Duty: Mobile was most popular in the United States, followed by India and Brazil. It also notes that the game accumulated about $327 million in player spend, globally. In fact, Sensor Tower noted that Call of Duty: Mobile saw an increase in spending since February, which the whole thing peaking in May at $53 million, which is a 62% increase since January. The total amount is said to be 78% more than the amount generated by PUBG Mobile in the same period after it started monetizing the game in April 2018. It is also 83% higher than the amount spent in the iOS version of Fortnite in the same period post-launch.
Interestingly though, Call of Duty: Mobile still has some ways to go before dethroning PUBG Mobile. According to a post made by the developers back in December 2019, the game had over 600 million downloads in total, and that number should have surely increased.
However, Garena Free Fire is also holding its own against these two behemoths. According to the Google Play Store, the app has been downloaded over 500,000,000 times on Android alone. By comparison, both Call of Duty: Mobile and PUBG Mobile only have over 100,000,000 downloads on Android.