Working from home?
Don't forget about the most important equipment in your arsenal
Click here to know more
Twitter has announced that it has started to roll out a redesign for Twitter for web, and once rolled out to all the users across the globe, there is no option to switch back to the old design. Thanks to the added features, the web version makeover makes it look a lot like the mobile app. While this development could make some users apprehensive, some might find it easy to use because of its resemblance to the mobile app.
While the company made the announcement on Twitter, a spokesperson told Mashable that "it will take a few days for the design to change for everyone on Twitter.com," and "there will be no going back." Further, Twitter hasn't introduced any way to edit the tweets. However, it brought the Dark Mode to the web as well.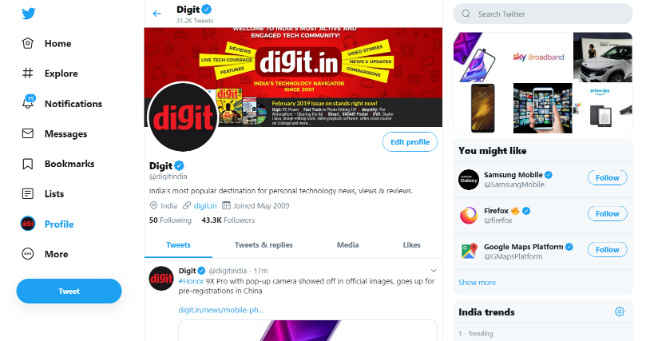 As far as the redesign is concerned, the platform's main navigation panel is on the left side of the Home page, where users can navigate between timeline, notifications, and direct messages. The trending section has been moved to the right column. A significant change has been brought to direct messages. From now on, there won't be a small box popping up, and instead a new chat-like interface opens up, where users can quickly navigate and send messages. Twitter has also brought the "sparkle" button to the web interface. The feature, first rolled out for iOS, lets users see tweets in chronological as well as reverse-chronological fashion.
Recently, Twitter announced that it is bringing back the standalone Twitter for Mac app soon. In June, the company said that the Twitter for Mac app would be in development this summer and that it would prepare for an early launch of the app on macOS 10.15 Catalina. The development is in accordance with Apple's Project Catalyst for the newest macOS iteration that it announced earlier this month. It enables developers to bring their iPad projects to macOS as native Mac apps.