OnePlus TV 32Y1 - Smarter TV
Android TV with superior craftsmanship and elegant design - Buy Now
Click here to know more
Advertisements
Google has already confirmed that the Android Q will not have Android Beam, the NFC-based file sharing method that was introduced in Android 4 Ice Cream Sandwich. The company now appears to be working on a new way to share files between Android devices and Chromebooks. Reportedly called "FastShare," the feature is likely to be introduced in Android Q instead of Android Beam, and is said to work like Apple's AirDrop feature on iOS and Mac.
Tech news publication 9to5google first spotted the feature and said that Fast Share on Android could be used to share images and other files on an Android phone "to nearby devices without internet." It says that the feature is available from the system share sheet and is currently using a blue diamond-shaped Nearby icon. To set up the process, users will be required to enter a "Device name" and tap "Turn on." After selecting the recipient from the list of "nearby devices," you will be notified about the files being shared and shown a progress indicator.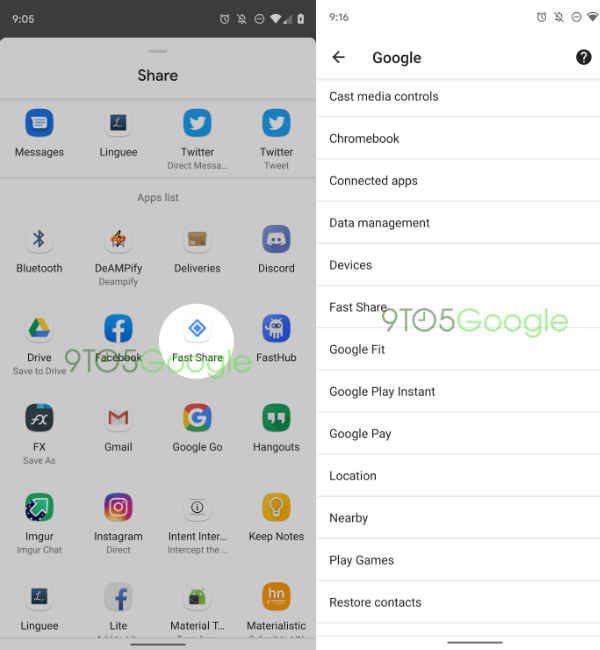 If you are a receiver, you will get a notification to "Accept" or "Decline" after the sender starts to share files with you. You will also be able to see details like "Device name" and "connection ID" of the sender. You can open the file once the transfer is complete. The phone will reportedly use Bluetooth for the initial handshake and then transfer files over a direct Wi-Fi connection. FastShare will also let users give "Preferred Visibility" to people who are frequent senders.
Google currently has the Google Files app that people can use to clean loads of junk from their phones as well as share files when there is no internet connection. Last year, the company introduced the "share" option and improved the connection protocol, claiming that it would take an average of five seconds for connecting two devices. Google also added some security measures for a secure connection establishment and encrypted transfers. The offline file sharing speed can use 5GHz Wi-Fi Direct for sharing files at speeds of up to 490Mbps, the company claimed.
The Files app was meant for low-end phones as a means to share files offline in areas with patchy internet connectivity, like in countries such as India. Recently, Google tried to encourage people to use its file manager, and offered people a chance to earn up to Rs 1000 by using the app.