People generally use Google's File manager to clean loads of junk from their phones as well as share files when there is no internet connection. Users can now use the app for another interesting purpose, that is, to earn some money. With an aim to encourage people to use its file manager, Google is offering a chance to earn up to Rs 1000, which can later be used to purchase items by using it as Google Pay credit.
After booting up the app, one will be greeted with a message, "Send a file to start earning rewards." In case you have multiple accounts, choose the account to link with the app and proceed to the next page. A text will appear saying, "Get friends to try sharing with you and earn up to Rs 1000. You'll claim your reward in Google Pay." We tried the same and won Rs 10 as a reward that can be claimed via Google Pay. Do note that only who gets the option to enrol in the reward program will get to earn money.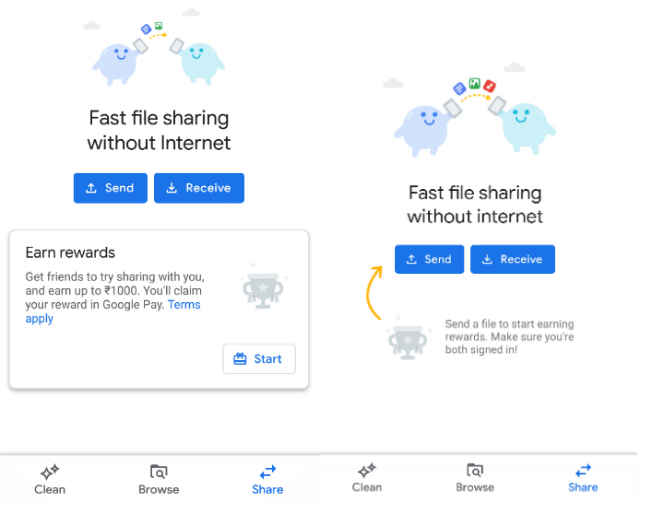 Reportedly, for every successful transfer, customers can earn a prize of up to Rs 100. The offer is limited to ten successful transfers, which essentially makes it Rs 1,000. The app passed more than 100 million downloads in January. Google rebranded its file management app Files Go to Files in November. The Files app was meant for low-end phones and as a means to share files in offline in areas with patchy internet connectivity like in countries such as India. In November, the app is also got a revamped user experience with a Material Theme design and the background colour theme has also changed to white.
The company had also improved the connection protocol and claimed that it would take an average of five seconds for connecting two devices. Google also added some security measures for secure connection establishment and encrypted transfers. The offline file sharing speed can use 5GHz Wi-Fi Direct for sharing files at speeds of up to 490Mbps.