Want to modernise your banking loan application?
Build an application that analyses credit risk with #IBMCloud Pak for Data on #RedHat #OpenShift
Click here to know more
Advertisements
Adobe had revealed Illustrator for iPad last year at Adobe Max and since then, there's been a lot of anticipation around its actual release. The app was made available earlier this year to a very select few as part of a beta, but now during Adobe Max 2020, the company has made Illustrator for iPad available to everyone.
Adobe Illustrator for the iPad has been created from the ground up keeping the tablet form factor and user interface in mind. At the heart of Illustrator for iPad is a collection of 18,000 fonts, which support OpenType Colour and can also be placed on paths to create interesting artwork. The other core feature of Illustrator happens to be the ability to draw anywhere, meaning you start your project by simply snapping a photo or importing one into your canvas and get going.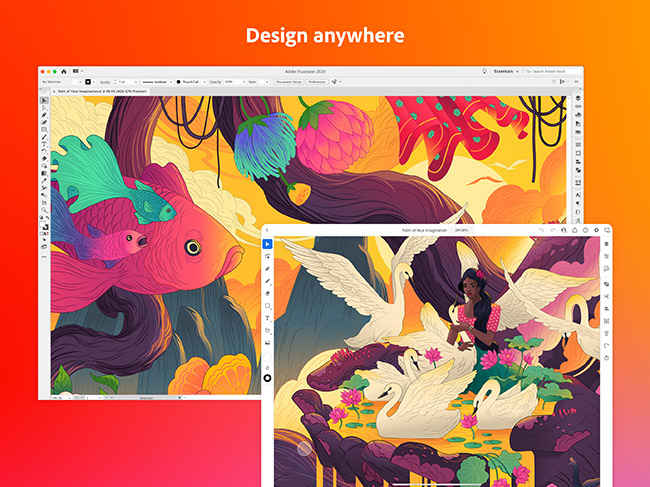 At launch, Illustrator for iPad is expected to ship with a limited feature set. Adobe says that the roadmap for Illustrator includes a lot more functionality in the months to come. For now, the company wants to focus on getting the basics right. Adobe says that the final launch features an functionality were based on the extensive feedback shared by the 5000 or so beta testers who were able to get their hands on the app.
In addition to finally releasing Illustrator for iPad, Adobe also announced major upgrades to the desktop version of the app as well. Adobe says that this is the biggest feature upgrade to Illustrator ever. New features include an improved Recolor Artwork Tool, the ability to syc documents over the cloud, Glyph snapping and significantly improved options to align and adjust text. Illustrator also leverages GPU acceleration on the desktop to now provide real-time previews of what you're drawing, instead of just showing you an outline.
Adobe's release of Illustrator for iPad and update to Illustrator comes alongside the many updates also announced for Photoshop, Lightroom and Premiere Pro.