Want to modernise your banking loan application?
Build an application that analyses credit risk with #IBMCloud Pak for Data on #RedHat #OpenShift
Click here to know more
Advertisements
Adobe Max this year is proving to be rather eventful, with some very impressive features being launched across the Adobe portfolio. Photoshop got a new plugins panel while Lightroom received a huge boost to speed and functionality. Adobe also announced the availability of Illustrator for iPad, and now finally, onto Adobe's video suite. Adobe has announced a number of new features and some improvements to Adobe Premiere Pro, After Effects and Premiere Rush for mobile.
Starting off with Premiere Pro, Adobe is bringing a very powerful tool to the disposal of editors who use this application. The Speech to Text feature will allow editors to quickly generate captions and subtitles. Adobe's Sensei AI engine is behind the feature, which will allow you to pick up spoken word and match it to the video timecode. There's also a new captions workflow which would make it easier to edit and stylize captions. The Speech to Text feature is currently in early access while the new captions workflow is in public beta.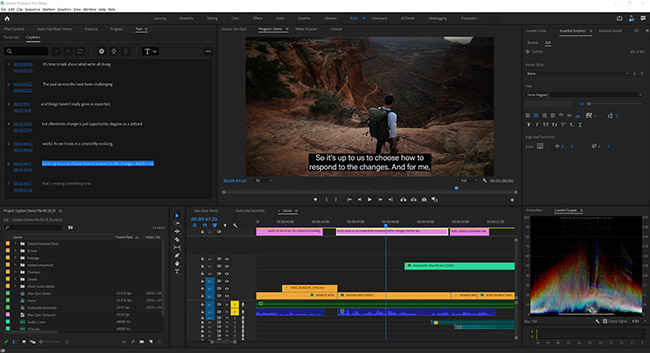 Other improvements across the video workflow include support for Rec2100PQ colour space in both Premiere Pro and After Effects. This will enable editors to work effectively in the HDR colour spaces. With respect to ProRes RAW, Premiere Pro and After Effects will both support importing the files for Intel and AMD GPUs. The ProRes RAW can also now be converted to LOG colour space in Premiere Pro, After Effects and Media Encoder. Adobe has also built a new hardware decoding pipeline on AMD and Nvidia GPUs for faster playback and more responsive timeline behaviour when using H.264 and HEVC formats.
All new features would be going live on builds of Premiere Pro, After Effects and Premiere Rush that will be released right after Adobe Max. Users will be able to get their hands on the new features if they're subscribers of Adobe's Creative Cloud subscription service.