Death Stranding has been available to gamers for quite some time now, but its initial launch made it a PS4 exclusive. Kojima had already announced that the game would eventually come to PC, so many gamers who had wanted to get a taste of Death Stranding didn't feel too compelled to go out and get a PS4. Despite some delays the game has finally landed on PC and it has been every bit worth the wait. We're not going to be reviewing the game in this article but taking a look at just how well the game is optimized to run on varying kinds of hardware. If you're curious about the game's storyline and how it plays, you can check out our review of the game here.
Now Death Stranding is a game that some would argue should have instead been a movie it takes complete liberty with its cut scenes, some being long enough for me to have finished eating my entire dinner. While you may be tempted to skip the cut scenes, they are the very fabric through which the story is woven. Skip the cut scenes and its very likely you wont be able to make head or tails of whats going on and the intricate mechanics that govern in-game action and consequences. Due to this, our benchmarking of the game ran north of four hours per machine that we tested it on. Our test machines were as follows
System 1: DIY PC
Processor: Intel Core i7-8700K (stock clocks)
RAM: 32GB DDR4 @ 3200MHz
GPU: Nvidia GeForce RTX 2070 Super
Storage: 1TB NVMe SSD
System 2: Dell G5 15 SE
Processor: AMD Ryzen 5 4600H
RAM: 8GB DDR4
GPU: AMD Radeon RX 5600m
Storage: 256GB NVMe SSD
System 3: Asus TUF Gaming A15
Processor: AMD Ryzen 7 4800H
RAM: 16GB DDR4
GPU: Nvidia GeForce GTX 1660Ti
Storage: 256GB NVMe
Gaming Performance
During the days leading up to the release of Death Stranding for PC, it was evident that the game was significantly enhanced for the PC. This wasn't just a PS4 port, but instead, purpose built for the gamer who relishes high resolution and high frame rates at the same time. Just a few days before the PC release, it was announced that the game would support Nvidia's DLSS 2.0 technology, an AI based upscaling method that allows RTX-based GPUs to deliver higher frame rate at higher resolutions, but without sacrificing visual fidelity. The best implementation of DLSS 2.0 was supposed to be found in Control, but Death Stranding was expected to take it a step further. For our test, we played roughly the first four hours of the game, since the first two hours are mostly just cinematic and story-telling, with barely 20 minutes of actual game play. Cinematic sequences are capped at 60fps, which would have thrown off our frame rate numbers.
System 1
This was the only machine we had at hand with an RTX GPU, so we fired the gamew off at its highest graphics setting and resolution set to 1440p. Our first run was conducted with DLSS turned off, during which we recorded an average frame rate of 122 fps. With DLSS turned on and set to Quality, the frame rate jumped up to 158fps, with no visible softening or loss in detail in the extremely detail rich environment. Nvidia promises that with even an RTX 2060, gamers can expect the game to pull of 4K at 60fps, something we were not able to verify due to the lack of an RTX 2060 in our inventory. However, seeing how the 2070 Super was able to deliver 158fps average at 1440p with the graphics at their very highest, we have no doubt about Nvidia's claims fo 4K at 60fps.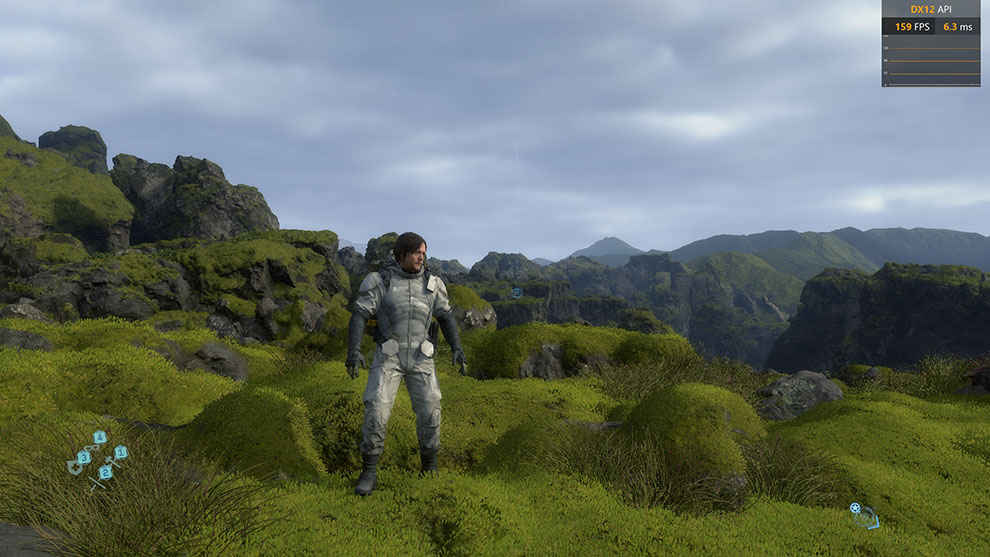 Death Stranding played at 1440p, DLSS turned off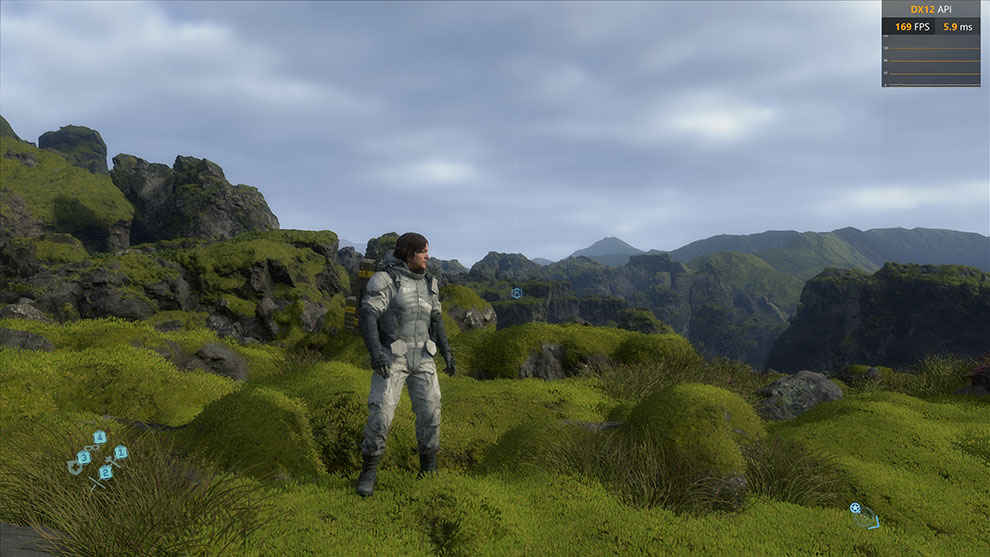 System 2: Dell G5 15 SE
We had the G5 15 SE for a very brief period of time, during which, we were able to test out Death Stranding's performance on this all-AMD superstar. The Dell G5 15 SE's claim to fame is Smartshift, an intelligent system that shifts power delivery between the CPU and GPU dynamically, in order to maximise performance output. While we didn't have the machine long enough to get into the nitty-gritties of Smartshift, but we did manage to clock an average of 81fps on the machine. The graphics were set to 1080p and the preset set to Very High. Given than that the G5 15 SE packs a full HD panel with a 60Hz refresh rate, you're pretty much getting the best possible visual fidelity from the game that the display can reproduce without any problems.
System 3: Asus TUF Gaming A15
A slightly higher spec'd laptop, the Asus TUF Gaming A15 (Review) is another Ryzen 4000-series powered machine, but houses an Nvidia GTX 1660Ti instead. Since there is a 144Hz display on this machine, we hoped to see higher frame rates, preferably north of high 90s and low an behold! Our 4 hour long run clocked us an average fps of 110 fps, and that's with again the highest graphics preset and the game running at 1080p.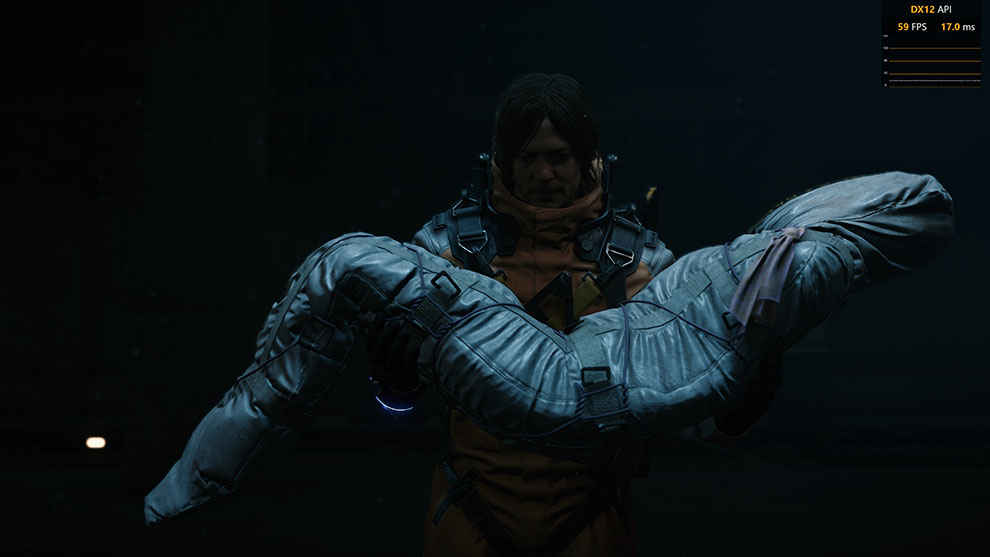 Verdict
While we will be running Death Stranding on more hardware to see exactly what kind of frame rates it can clock, what we're seeing so far is very promising. If you have entry level gaming hardware, you can definitely find a way to play the game at 1080p, 60fps. For those with top-of-the-line machines, going 4K should be a complete breeze. Those with an RTX GPU stand to benefit even more thanks to Nvidia's DLSS 2.0, which does offer a notable boost in performance, without any noticeable degradation in visual quality.