Samsung Galaxy Watch 4 is the company's latest smartwatch with which it wants to redeem its smart wearables portfolio. Samsung is currently the second-largest smartwatch maker after Apple which shipped over 9.5 million units by June 2021. In retrospect, Samsung only managed to ship 2 million units in the same time which gives Apple a lead of more than 7 million shipments which more than proves its popularity.
Samsung wants to change this with the Galaxy Watch 4 which is its first smartwatch to run 'WearOS Powered by Samsung', a new custom UI for smartwatch developed in close partnership with Google. Until the Samsung Galaxy Watch 3, Samsung smartwatches used Tizen OS but earlier this year Samsung announced that it will take the best features from Tizen OS and merge it with the next version of Google's WearOS. Does that make the Watch 4 worth its asking price? Here's what we found out.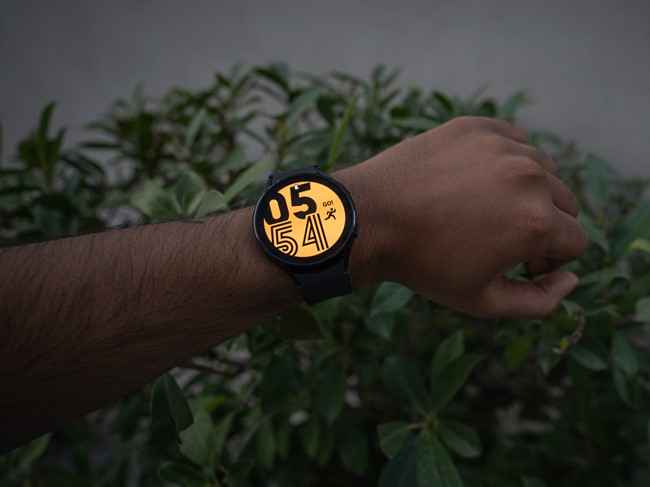 Samsung Galaxy Watch 4 pricing and availability
The Samsung Galaxy Watch 4 with Bluetooth is priced starting at Rs 23,999 in India for the 40mm band size and Rs 26,999 for the 44mm band size which is what Samsung sent us for this review. There are three colourways on offer: Black, Green and Silver and it is available to buy from the Samsung India store and Amazon India.
Samsung Galaxy Watch 4 Build and Design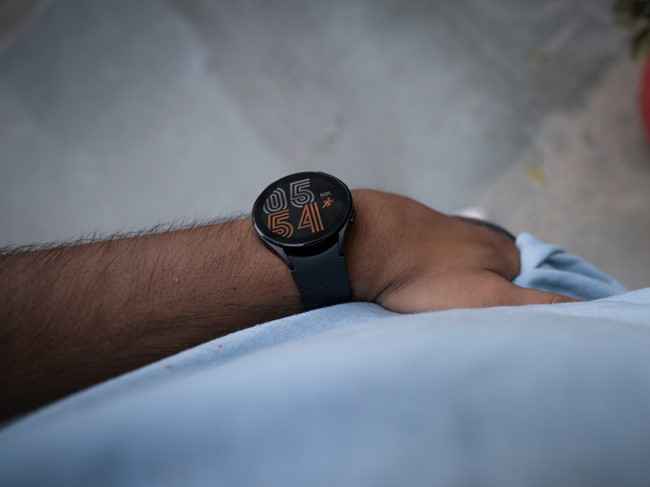 The Samsung Galaxy Watch 4 has a minimalist design and a solid build quality. The frame is made out of aluminium and is accompanied by a silicone sport band.
This 44mm version has a thickness of 9.8mm and weighs 30.3 grams which is pretty sleek and does not weigh down on your hand. In comparison, it is thinner and lighter than the Apple Watch SE and Series 6.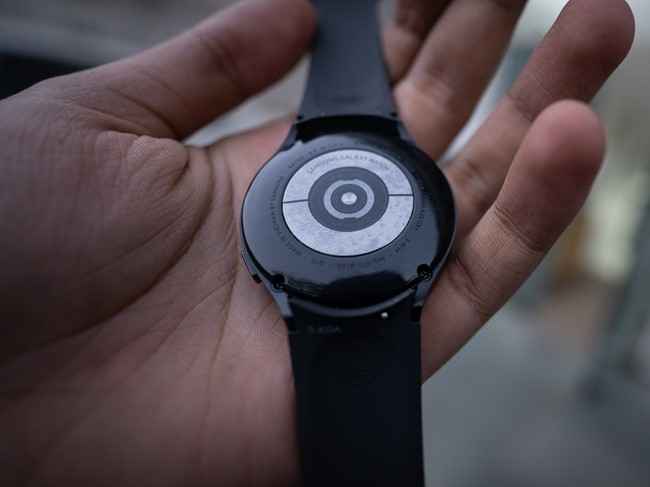 The design of the Watch 4 is reminiscent of the Galaxy Watch Active series and has modern looks with a flat display surrounded by chamfered edges. There is a home key with a red accent and a back key right below it.
The top edge of the Watch 4 has the atmospheric pressure sensor and at the back, you will find a host of sensors including an optical heart rate sensor, electrical biosensors and a pressure vent. There is a speaker unit on the left side as well.
The Watch 4 is also 5ATM and IP68 rated which makes it resistant to dust and water for upto 1.5 metres of freshwater for upto 30 minutes. Additionally, the Watch 4 is also resistant to water pressure at upto 50 meters depth. In my use, the Watch 4 was easily able to withstand splashes of water and though I did not take it along for a swim, I'm confident that it will survive under freshwater for long periods of time.
While the Watch 4 does not lend too much pressure to your hand and is comfortable to wear most of the time, there is a certain stiffness with the sport band where it bends along the lugs. This largely has to do with how Samsung has designed this watch where the strap is made to look like an extension to the lugs. However, this design choice does leave a little bit of space between the straps and your hand and at times it may feel that the watch has an irregular fit.
If you are someone with slim wrists, you should go for the 40mm model but for everyone else, the 44mm works just fine. It may not be the snuggliest smartwatch around, especially at night but otherwise, there is very little to complain about the design of the Watch 4.
Samsung Galaxy Watch 4 Display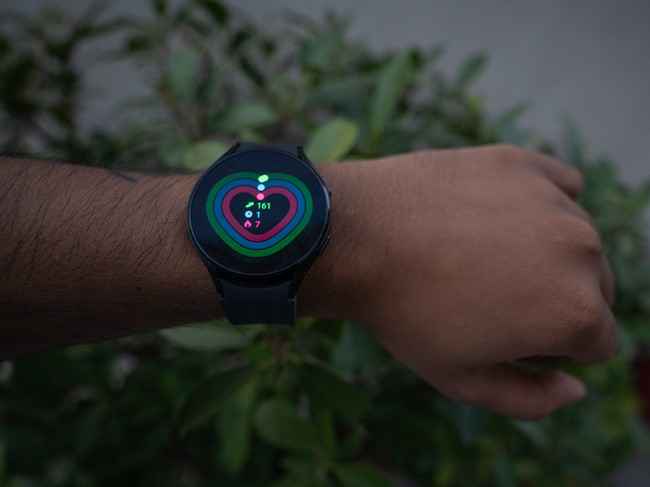 The 44mm Watch 4 features a 1.4-inch Super AMOLED display with 450x450 pixels resolution and has a layer of Gorilla Glass with DX+ which offers scratch resistance and enhances visibility and contrast ratio.
The bezel surrounding the screen is also touch-sensitive and acts as a virtual rotating bezel of sorts, where you can just swipe along the bezel to move along the home tiles. It's an intuitive feature and I'll give Samsung that, but the functionality isn't perfect because it's a flat display and a slightly curved screen would have been good here. Nevertheless, the physical rotating bezel that is on the Watch 4 Classic is the real deal.
The display on the Watch 4 gets pretty bright at full brightness levels but you can also set it to adjust automatically depending on the ambient lighting. The sunlight legibility is great and you can easily see and interact with the watch in harsh sunlight without any issues.
Some of the other features include an always-on display and increasing touch sensitivity for use while wearing gloves. There are tons of different watch faces that come pre-loaded and third-party apps can also be downloaded for more designs, thanks to Wear OS.
Samsung Galaxy Watch 4 performance
Samsung Galaxy Watch 4 is equipped with the Exynos W920 processor that has dual-core CPUs running at upto 1.18GHz. Since the Exynos chip is fabricated on a 5nm architecture and is paired with 1.5GB RAM, it is efficient and the One UI Watch 3 interface feels very smooth.
The swipe animations feel snappy and I did not face any lag in my time with it. There's 16GB storage which is decent for saving your playlist, apps, maps data and more.
A swipe up from the home screen lets you into the app drawer where the icons are arranged in a honeycomb-like grid. You can check out all the installed apps from the drawer; it's all very minimal and like clockwork.
When paired with your phone, you will get notifications on the Watch 4 and you can even receive calls, reply to messages and more from it. There is a recent apps icon in the app drawer that feels out of place and would have been useful if integrated into one of the physical buttons.
Samsung Galaxy Watch 4 tracking features
The Galaxy Watch 4 features a comprehensive set of sensors including the BioActive, accelerometer, Barometer, gyroscope, geomagnetic and light sensors. While it's a standard setup, the BioActive sensor is actually a combination of the optical heart rate sensor, ECG and Bioelectrical Impedance Analysis which helps the watch measure blood pressure and body composition.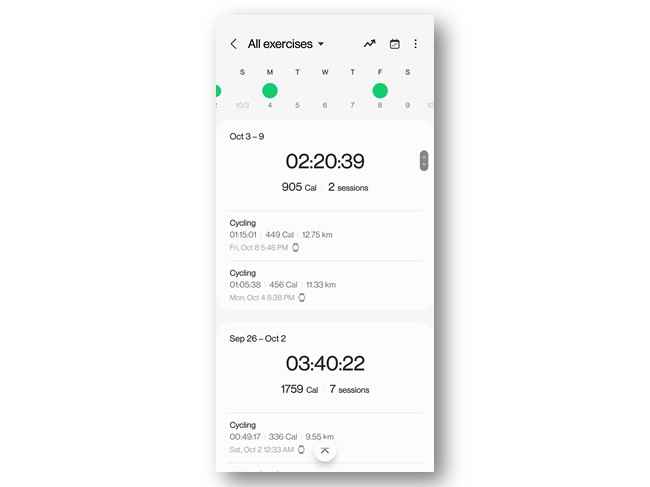 However, you can only measure the blood pressure and ECG if you use a Samsung smartphone which is a bummer but is nothing that the company cannot solve via an OTA update.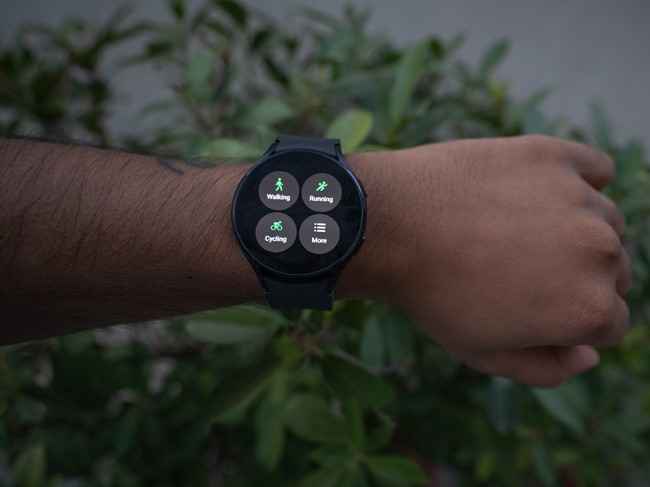 The Galaxy Watch 4 can track all your fitness activities very easily. It counts the number of steps you took in a day, the time you remained active and the calories burned during those activities. It supports over 90 exercise modes including swimming, running, circuit training, hiking, treadmill and bench press, to name a few. It also keeps a track of your sleep cycle, stress levels and blood oxygen saturation levels. Apart from this, the watch is also capable of detecting activities automatically.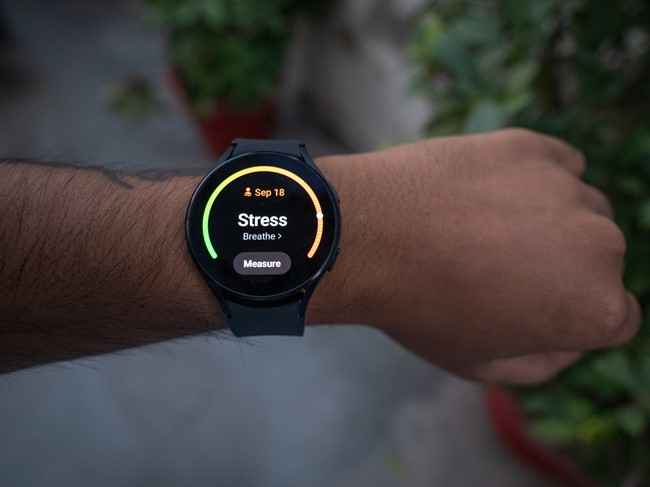 I used the Galaxy Watch 4 to track cycle rides and the Samsung Health app provided me with a holistic view of data points like a detailed GPS map of the stretch, speeds, elevation and heart rate.
I also had the Apple Watch Series 6 and the Amazfit GTR 2 strapped to my wrists and all three watches recorded more or less similar distance, speeds, duration and heart rates which only lends credence to the tracking features of the Watch 4.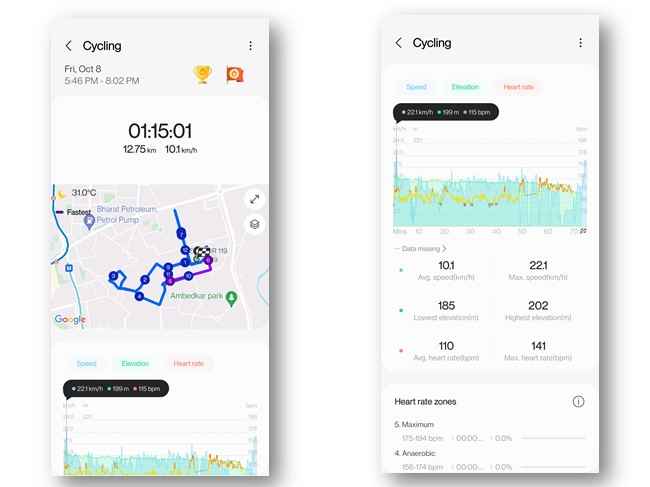 It also offers a split-view of your lap performance at every kilometer that you can filter by average speed or how much time it takes for you to complete a kilometer.
A similar analysis is available if you take up any other fitness activities like running, walking and hiking to name a few. In activities like running, the Watch 4 also offers advanced running metrics like analysing asymmetry, contact time, stiffness and more and gives you an overall score based on the run.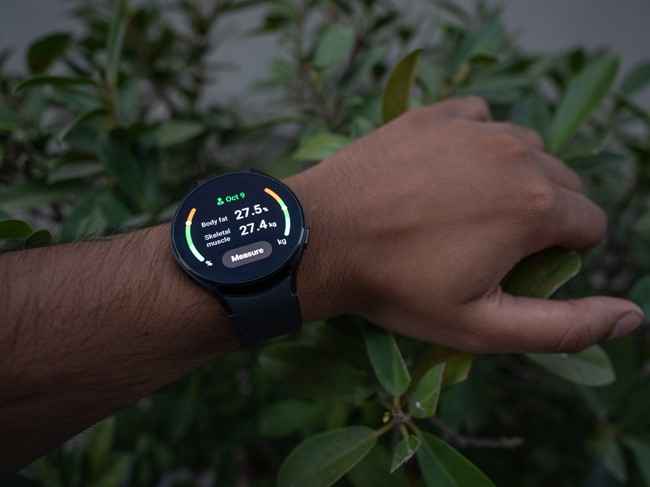 One of the highlighting features of this year's Watch 4 is the body composition or BMI (Body Mass Index) feature that measures your body fat, muscle mass, body water and more by sending an electric pulse that travels through your body. The home and back key should be in contact with the middle and the ring fingers for the entire duration the watch calculates the body composition. It takes just 15 seconds for the watch to capture 2,400 data points from your body to analyse fat mass, body fat percentage, body water, basal metabolic rate, weight, BMI and skeletal muscle.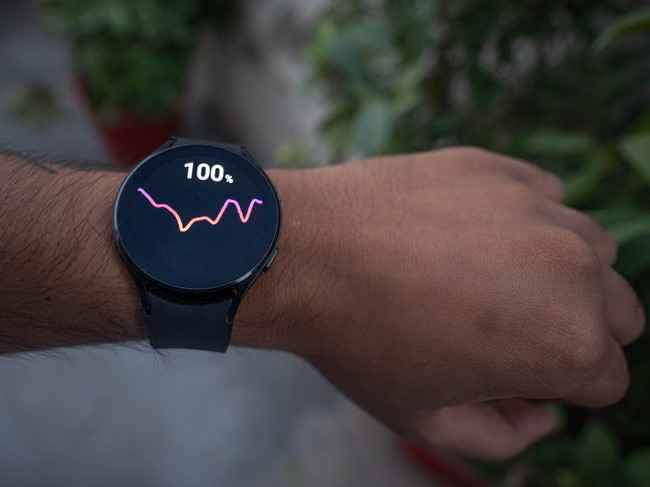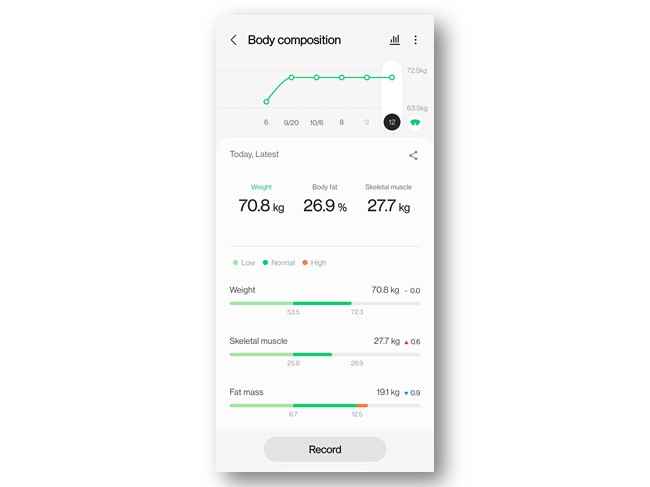 While we were not able to test the accuracy of the body composition feature, it should give you a baseline to start and examine the changes in your body fat over time. The Samsung Health app also plots a chart across all the BMI measurements and shows the changes in your skeletal muscle, body fat and more.
The Galaxy Watch 4 also tracked my sleep accurately and to the minute. The Samsung Health app shows the duration of the sleep, followed by blood oxygen levels during sleep and snoring data. You can also find a detailed chart of the sleep divided across REM, light and deep sleep durations.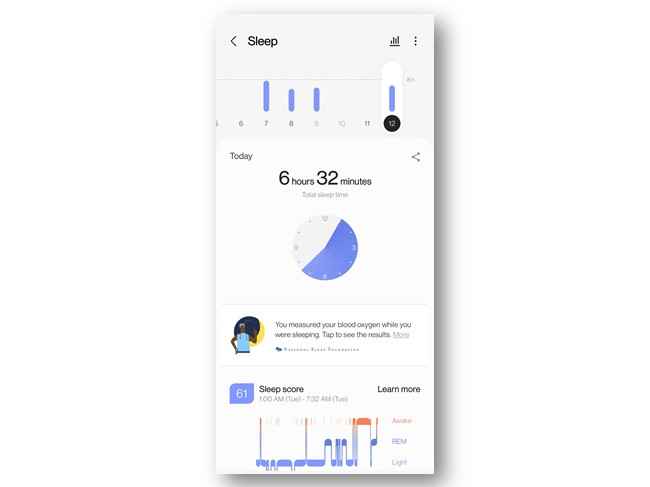 Samsung Galaxy Watch 4 Health app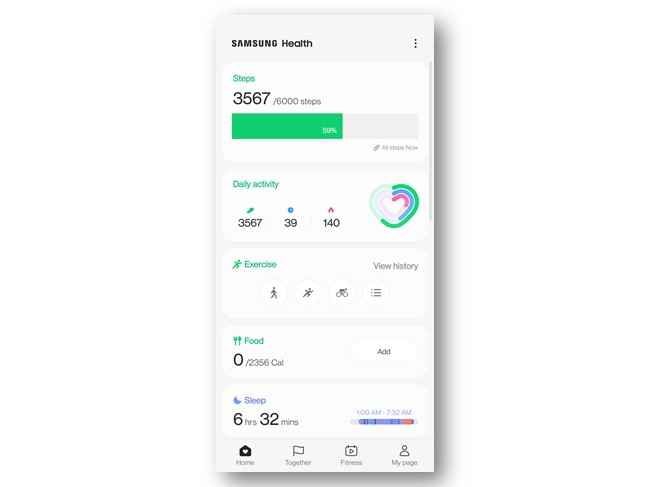 Pairing the Watch 4 with your phone is a fairly easy task. It uses Bluetooth 5.0 to connect to your smartphone and synchronizes data in real time. The app is easy to use and many data points are thoroughly explained in the app itself so you can read and understand exactly what the numbers mean with respect to your vital levels.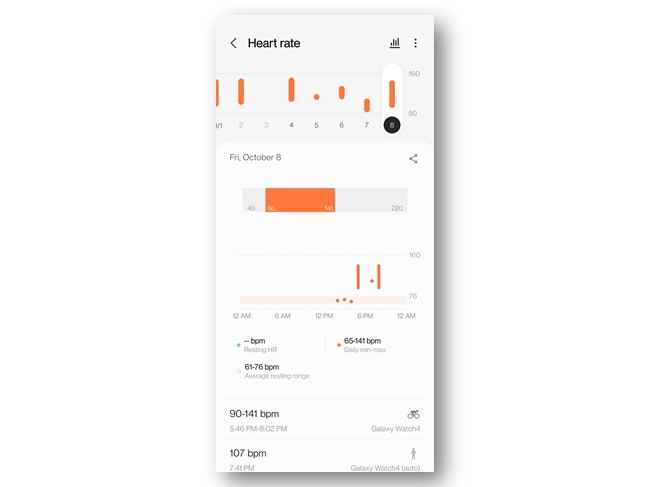 You can also connect the Samsung Health app with Strava and can also connect with your friends to share and accept workout challenges. The app is well designed and records all your exercise data that you can access by tapping a date on the calendar.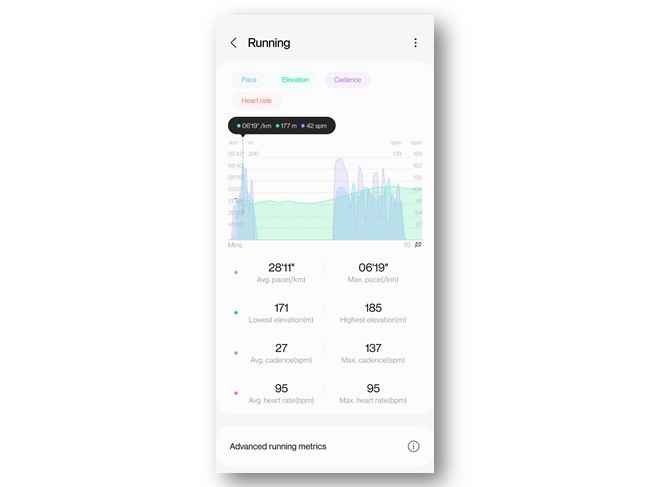 In body composition measurement, the Health app provides a detailed overview of how to measure BMI and the data collected and analyzed during body composition measurements based on your weight.
Samsung Galaxy Watch 4 Battery life
The Galaxy Watch 4 is equipped with a 361mAh battery which Samsung claims can last for over 2 days. In our use, however, we managed to get a day and a half worth of use on regular use with notifications, always-on display, Bluetooth and WiFi enabled. If you use it to track workouts, sleep and more, expect the battery life to drop to around a day or so which is just fine as far as Android smartwatches go. Even the Apple Watch Series 6 lasts for around 18-20 hours on a single charge but it costs twice as much.
When it comes to charging, the Watch 4 took over 2.5 hours to fully charge using the magnetic charger provided in the box which is a bummer because the watch is unusable for the duration it is plugged in, missing out on data points when you're resting or sleeping.
Samsung Galaxy Watch 4 Verdict
Samsung Galaxy Watch 4 is a versatile smartwatch that lets you keep a track of your vitals and activities throughout the day with very little effort from your side. Samsung's latest timepiece will appease those who love minimalist design. The display of the Watch 4 is sharp and vibrant but we would have liked a slightly curved screen instead.
The Watch 4 is a no-brainer for those who already own a Samsung smartphone as it is the perfect companion for it. You can still buy it if you don't have a Samsung phone and if you're looking for a good smartwatch that can track your fitness levels. Just remember that some features like ECG and blood pressure only work on Samsung phones for now.
Overall, the Galaxy Watch 4 is a solid step-up from previous generations and is almost like a spiritual successor to the Galaxy Watch Active 2. Don't buy it if you have an iPhone as the Watch 4 is not compatible with Apple devices but we expect Samsung to support it soon. If you're looking for something more elegant, check out the Samsung Galaxy Watch 4 Classic.