InFocus II-50EA800 126 cm (50) Full HD LED Television detailed review
There are two kinds of televisions in the market today -- one that you look and love, but can never buy, and second, those you do like, but you can't really imagine how they're as cheap as they are. The latter includes TVs like the Micromax Grande LED, a bunch of offerings from Vu, some from Intex and the newest entrant, known as the InFocus II 50EA800 FHD LED TV. It's part of the low-cost but high resolution bandwagon that has been gaining popularity in India for a while now.
The 50-inch model we reviewed, costs Rs. 34,999, but InFocus' range starts as low as Rs. 9,999 for a 24 inch HD TV. There's also a larger variant in the FHD range, which is priced at Rs. 69,999 and gives you a 60 inch screen (predictably called the 60EA800). The question to answer is whether the compromises that you make are worth the money you save. Let's find out.
Build and Design
It's evident that the focus here isn't in the looks, but for an affordable TV, it pretty much meets expectations. Personally, we would have preferred a matte-finish on the plastic frame, but it's not really irksome. Considering the fact that most of its competition, from Vu, Micromax and Intex, has the same outlook on design, there's little differentiating this TV from those others.
The true different though is in the imposing nature of the InFocus II 50EA800. The front bezels are really slim, making the TV feel gigantic. The front part is almost all screen and it'll take up a chunk of space in any media centre. It's also not very heavy or difficult to set up. As long as you have enough room to place it in your home, you should be fine. Even if you're wall-mounting it, prepare to have a large enough space taken away.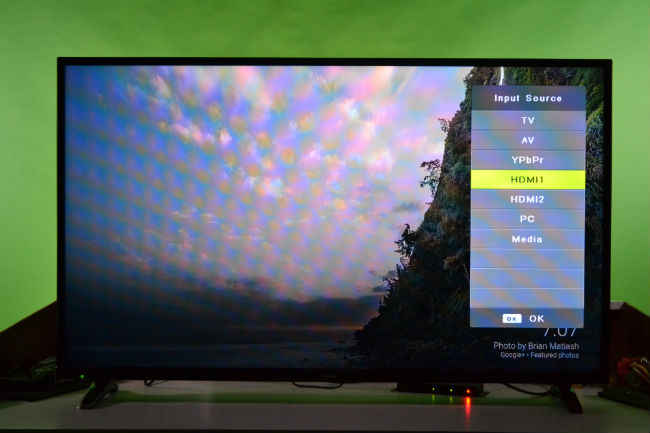 While the front and sides are slim, the InFocus TV bulges out near the middle of the back. This is where most of its ports are, and they often become a problem to reach. (More on this later).
By the way, this TV is manufactured by Foxconn at its plant in Chennai.
Ports
HDMI: 2
USB: 1
Component: 1
Composite: 1
Headphone Out: 1
Our first real complaint with the InFocus TV is in the fact that it has only one USB port. In this day and age, that's just not done, for any remotely smart television. Many may want to keep a hard drive connected to the TV permanently, while adding thumb drives later. In the Indian market, it does make for an important requirement, since many still rely on such options. In fact, if you're connecting a Chromecast, then you lose that USB port to it (for power) and can't attach anything else.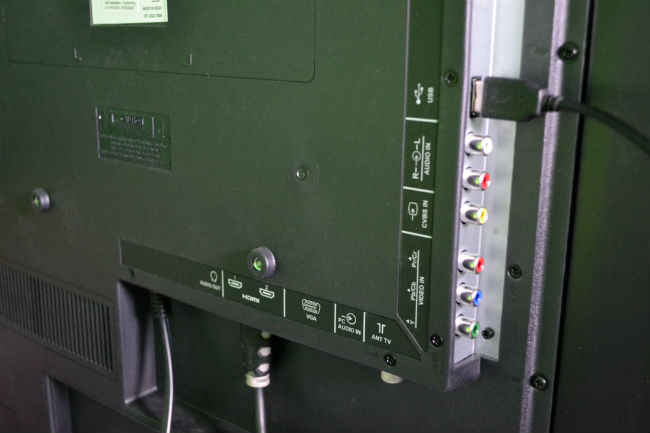 Speaking of attaching Chromecasts, the HDMI ports are awkwardly placed. We couldn't attach the first-gen Chromecast to this TV. Why? You see, the bulge on the back has a small section cut out in between. This is where the ports are. As a result, devices like the Chromecast are impossible to place, because there's just no space for them on the back. In addition, the fact that the HDMI ports are facing downwards makes them hard to reach when the TV is kept upright on a media centre. You're basically looking at permanent attachments here, like your set-top-boxes.
Lastly, the IR receiver on the InFocus II 50EA800 doesn't seem to function very well. The TV responded to the remote from specific angles and at most times, it was difficult to navigate around menus or control other aspects. That could be an issue with our particular unit though.
Picture Quality and Sound
Remember the no nonsense TVs of yore? They didn't offer you special features, focusing only on the picture quality. The InFocus II is something like that, but in the 'Smart' age. It doesn't have WiFi connectivity or smart features. The smartest it can get is to attach a Hard Drive to it, or maybe a Chromecast. It's basically a LED TV for your parents, who don't really care for many smart features.
First, the gigantic size of the TV doesn't really play well with 480p content. The upscaling engine takes a dig at making things better, but the picture tends to lose its sharpness. However, the InFocus II's main area of expertise is the colour reproduction. For HD content, like that streamed on Netflix, or moderately good quality movie/video files, this TV does quite well with the colour, at least for its price.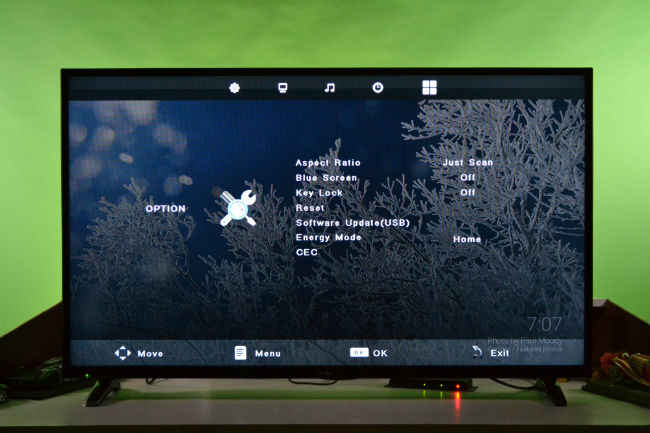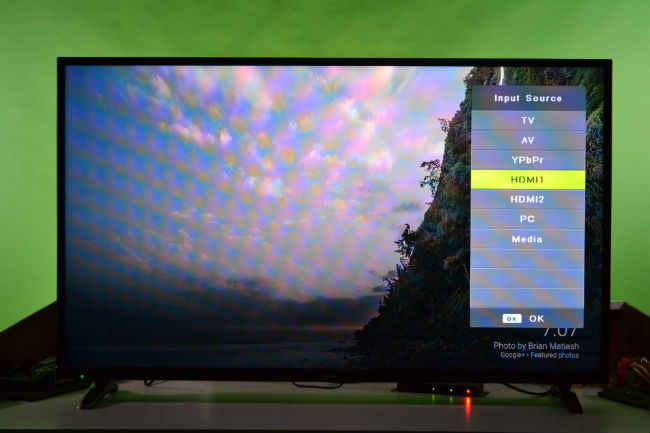 That said, for a Direct Lit LED TV, the blacks are really not as deep as you would expect. It's something you'd notice only if you've seen better or have a better TV to compare side-by-side, but the 5000:1 contrast ratio that InFocus markets, isn't really replicated in real life. At this price, you're getting pretty deep blacks, but Direct Lit LEDs are ideally capable of better. It's possibly because InFocus doesn't provide local dimming on this television.
Another flaw is in the fact that the TV's brightness is slightly low. At 250 candela per meter square, the marketed maximum brightness itself is lower than that in competitors like the Vu Play 50 inch FHD. That one comes with 450 candela per meter square, claimed brightness. Nevertheless, unless you have too much sunlight or other bright lights falling directly on the TV, you should do fine.
Another compromise is in the fact that the InFocus II 50EA800 doesn't have very loud speakers. The two 8 Watt speakers are often inadequate and we found ourselves wanting an external speaker source for this TV.
Bottomline
At Rs. 34,999, the InFocus II 50EA800 is a quintessential budget television. If you've read our review of the Micromax Grande LED television, you'd realise that this TV is pretty much the same as that one, at least in terms of picture quality. Given that neither brand is well known for TVs, it really becomes a pricing game. So, if you're looking for a low-cost FHD television, both of these do provide ample value for money and the compromises are expected. We can't wait to review the Vu Play 50 inch FHD TV, to find out which one the best out of the lot is.