In the past few months, we have seen some 4K HDR TVs launch with an interesting set of features. We have the Realme 43-inch 4K TV (review) priced at about Rs 31,000 as of writing this review. We also have the Amazon basics TV and while we have reviewed the 55-inch variant of the TV, we think the 43-inch variant could have a similar performance. We also recently reviewed the 55-inch Mi TV 5X which is also available in a 43-inch variant. Needless to say, there are a decent number of options to choose from when considering a 4K HDR 43-inch TV with support for features like Dolby Vision and HDR 10. While budget TVs don't offer the best HDR experience, TVs like the Realme 43-inch 4K TV and Mi TV 5X give an acceptable performance with HDR content. Today we have with us the Blaupunkt Cybersound 4K TV with support for 50W of sound output along with support for HDR 10 only and not Dolby Vision. Is it a worthy contender?
Blaupunkt Cybersound 43-inch 4K HDR TV Specs at a glance
Panel Size: 43-inch (also available in 50 and 55-inch screen size)
Panel Type: IPS
Panel Resolution: 3840 x 2160p - 4K
Panel Refresh Rate: 60Hz
HDR 10 support: Yes
Dolby Vision Support: No
Weight (with stand): 6.5 kgs
HDMI Ports: 3
USB Ports: 2
Bluetooth: Yes, 5.0
Wi-Fi: Yes, Dual-band
Ethernet: Yes
Speakers: 4 drivers with a total sound output of 50W
Built-in storage: 8GB
Price: 30,999
Blaupunkt Cybersound 43-inch 4K HDR TV: Display panel and picture quality
Let's kick things off with the thing that matters the most - the display. The TV supports HDR 10 only and does not support Dolby Vision. While Dolby Vision missing is a bummer, it would still be an acceptable tradeoff if the HDR performance of the TV were good. More on that in a bit. The TV is available in 43, 50 and 55-inch screen sizes and while we were told that the TV has 550 nits of brightness, we don't think that's the case with the 43-inch variant of the TV as the performance tells a different tale. In our Calman analysis, we found the TV has a peak brightness of about 320 nits. Let's dive in and see how the TV performs in our tests.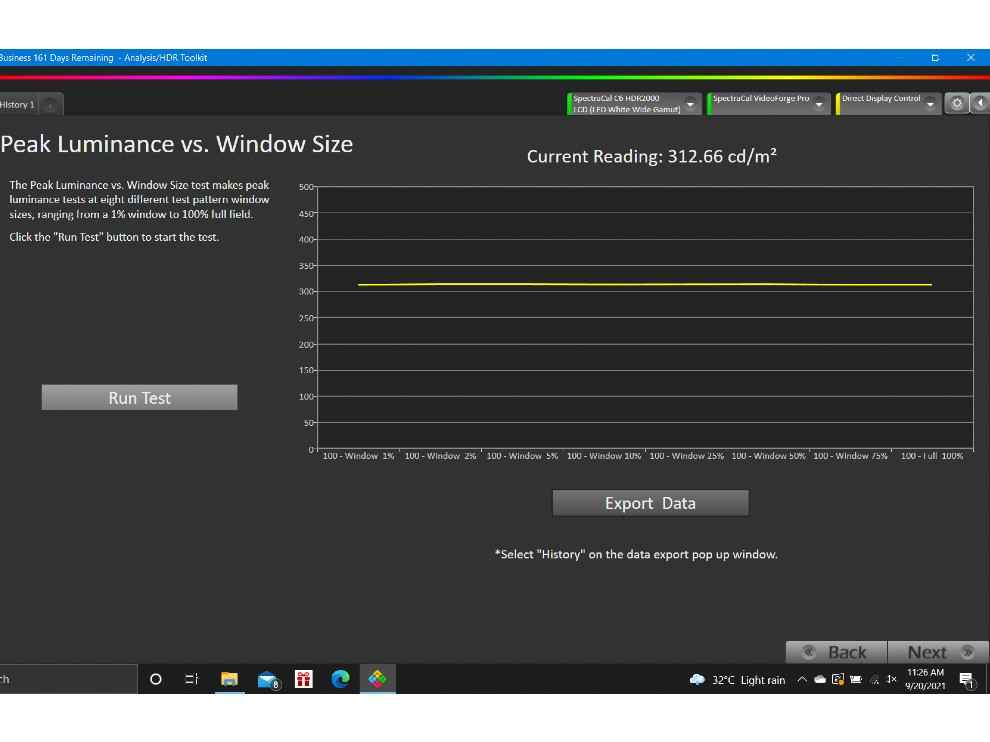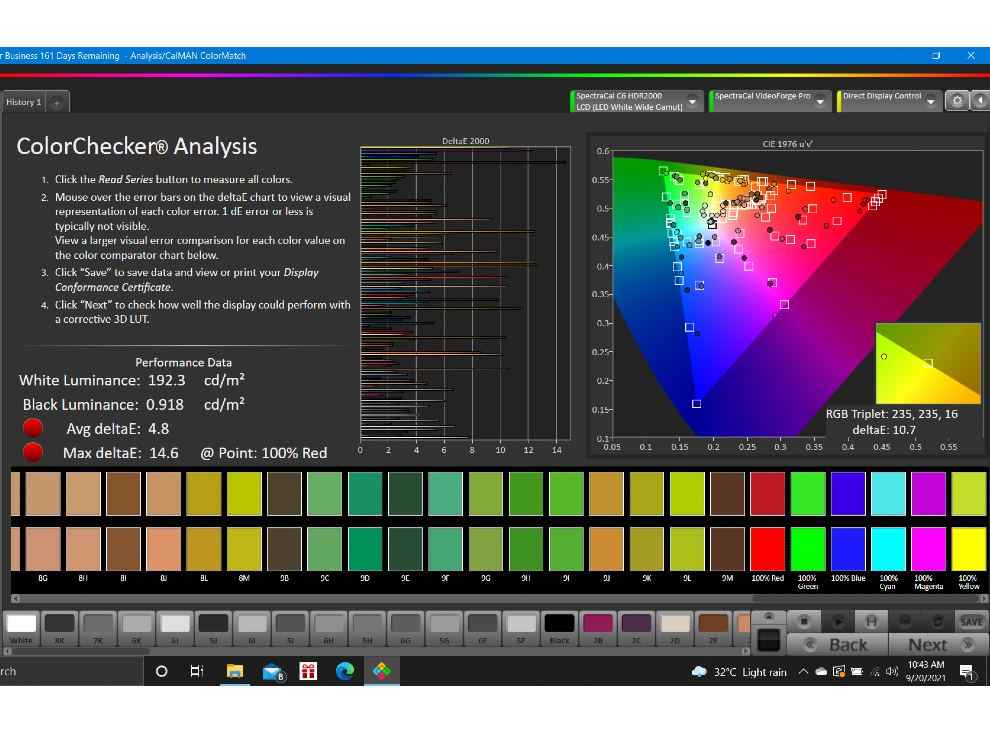 Above: ColorChecker Analysis for the movie preset in SDR
Below: ColorChecker Analysis for the Movie preset in HDR
Blaupunkt Cybersound 43-inch 4K HDR TV: HDR performance
We played our standard slew of content on the TV and the HDR content lacked the punch. The warehouse fight sequence in Altered Carbon Season 1, Our Planet, The Grand Tour and Jack Ryan lacked the punch one would expect from an HDR TV. We recently saw the Realme 43-inch TV and that TV, for the same price as the Blaupunkt one, delivers better HDR performance and also supports Dolby Vision. We connected an external device and switched off the HDMI 2.0 settings and played the same content in SDR and found a remarkable difference in the performance.
In a show like Jack Ryan, you can clearly see the difference in clarity, brightness and details in the dark sequences. The same level of difference can be seen in the details in a show like Our Planet. Needless to say, the shows we saw from streaming services that are in HDR had a better performance on this TV when viewed in SDR.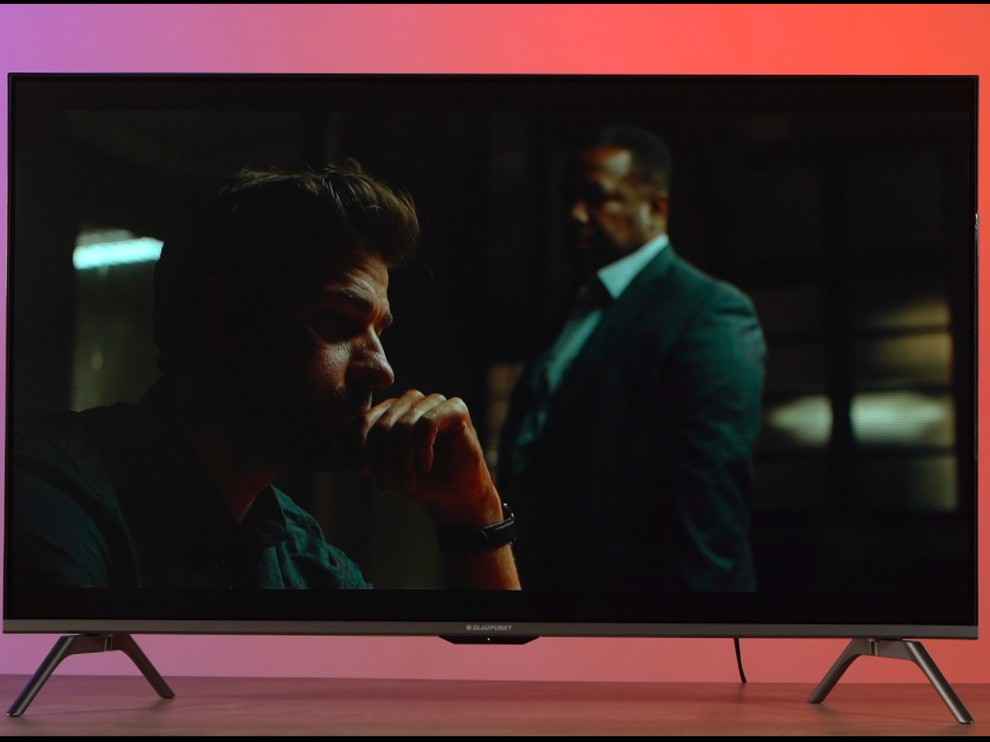 Above: Jack Ryan playing in HDR
Below: Jack Ryan playing in SDR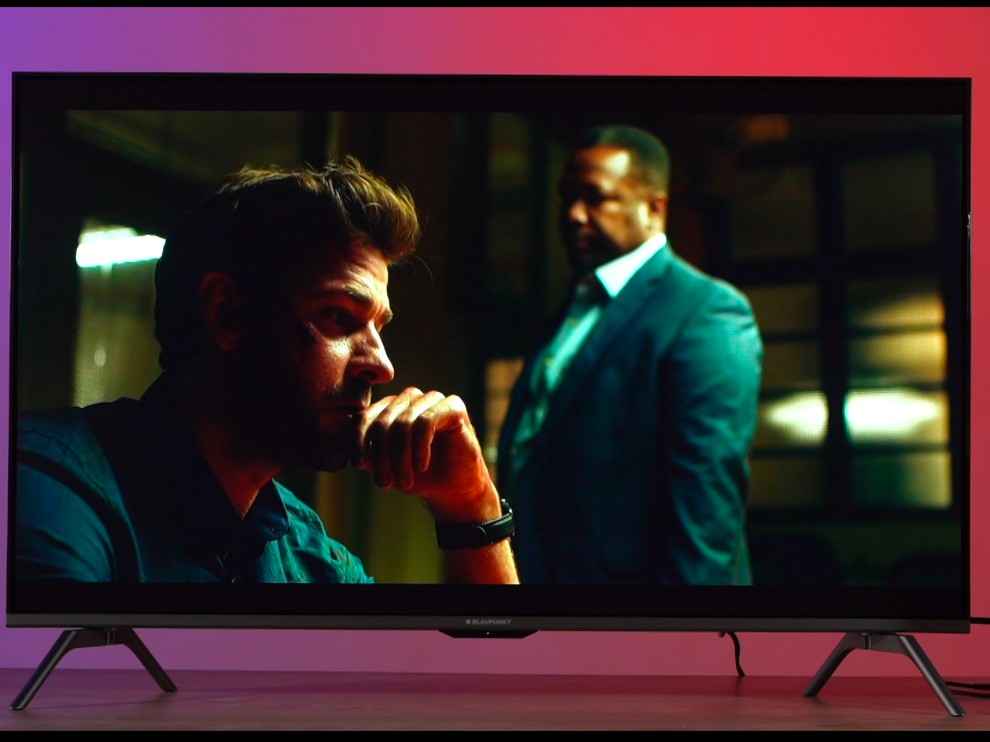 Blaupunkt Cybersound 43-inch 4K HDR TV: SDR performance
Speaking of the SDR performance, the TV is actually very good. In addition to playing the above HDR content in SDR, we also saw shows like Young Sheldon, Mission Impossible, Spider-Man Homecoming and more. Put simply, the SDR performance of the TV is quite good. You have a bunch of picture presets to choose from such as Vivid, Movie, Standard, etc. and I found the Vivid preset worked the best for most of the content consumed, followed by standard. I felt the Vivid and Standard profile has a cool colour bias to it and shifting the colour temperature to warm fixed this. The rest of the settings can be left as is, but if you are consuming content in a bright room, I suggest you pump the backlight to 100 and keep the dynamic backlighting off. Overall, the TV has good SDR playback producing a rich content consumption experience.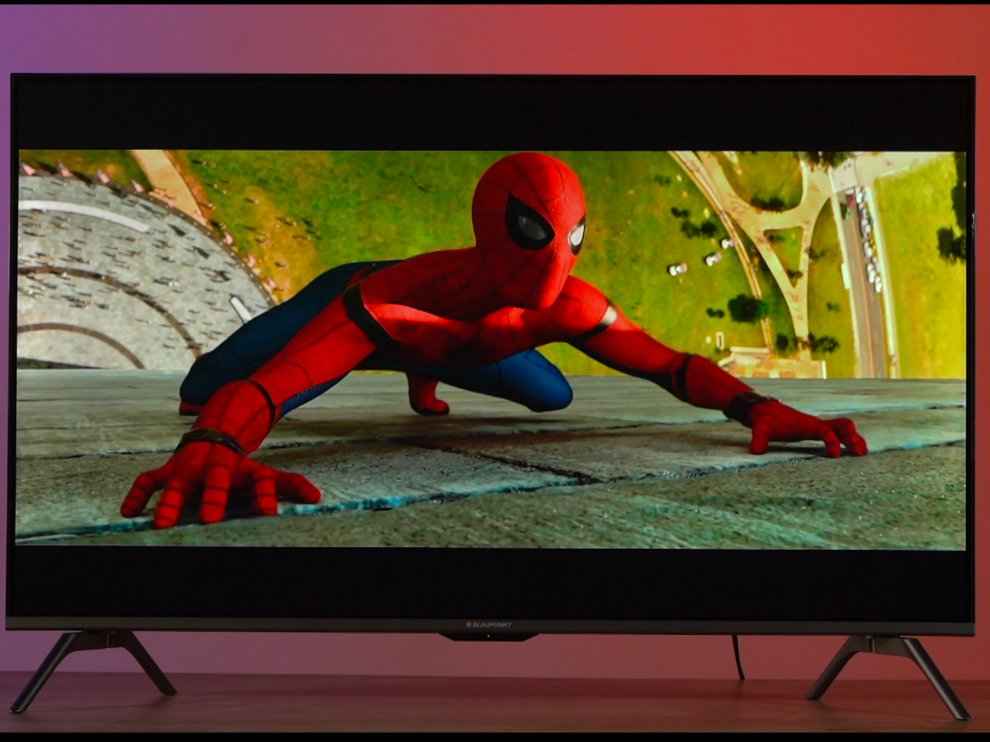 Blaupunkt Cybersound 43-inch 4K HDR TV: Gaming performance
Moving over to gaming, while the TV has a 'game mode' it didn't change the settings of the TV at all. For the best experience, I recommend keeping it on the Standard picture preset, bumping up the backlighting to 100 and switching off all other settings like DNR, MPEG NR, Local Contrast control, etc. Once again, here is recommend switching from HDMI 2.0 to the 1.4 settings to disable HDR to get a better picture experience. In our time with the TV, we played a bunch of games including Ghost of Tsushima, Star Wars Jedi Fallen Order, and Spider-Man Miles Morales and in all the games we found the same experience - switch off HDR and enjoy.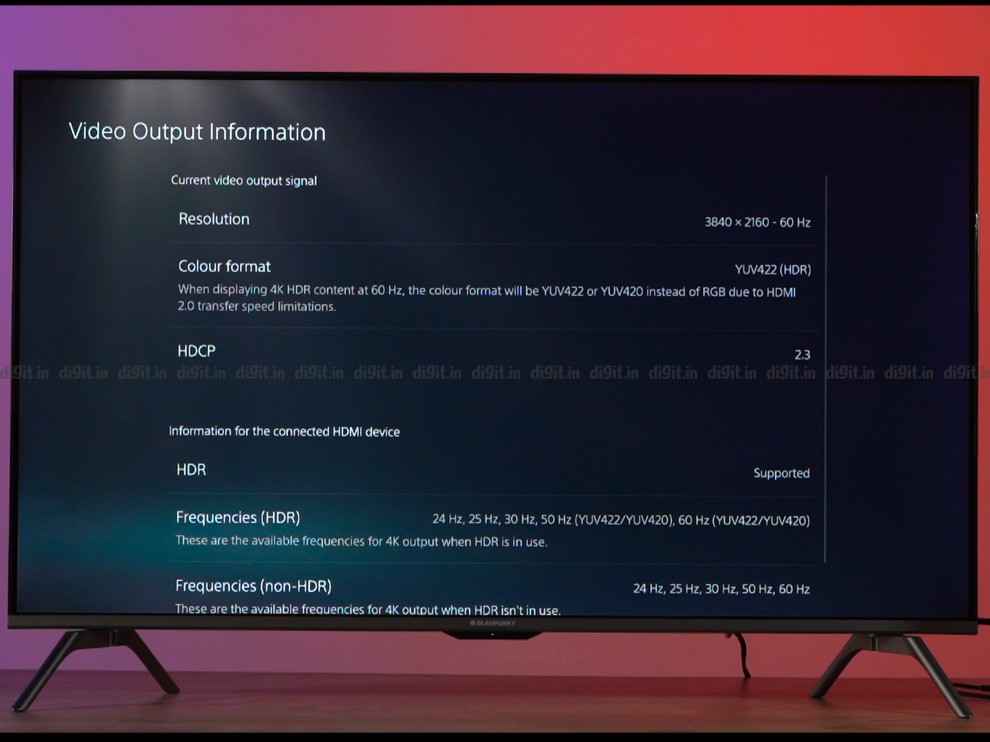 Blaupunkt Cybersound 43-inch 4K HDR TV: Audio performance
When it comes to audio, the Blaupunkt TV has 4 drivers with 50W of sound output. The TV can get really loud and we left it at about 40 per cent volume for everyday content consumption. Everyday content like watching the news, movies, TV shows, etc. the TV gets the job done quite well. While it lacks a punchy bass for action sequences, the vocals and performance of the mixed audio are fine for content consumption.
Blaupunkt Cybersound 43-inch 4K HDR TV: UI
Just like most TVs in this space, we get stock Android with the Blaupunkt TV. The UI is simple to navigate and works as you'd expect on an Android TV. We didn't notice any major lags or hiccups apart from the occasional stutter here and there which is good. However, there was one persistent problem. When I used the voice assistant to search for "Falcon and the Winter Soldier" I got a popup that asked me to give permission to "search across all your TV apps" and I was unable to "accept" no matter how hard I tried, which is a bummer. However, using the voice to search for things like weather, opening streaming apps and more worked fine.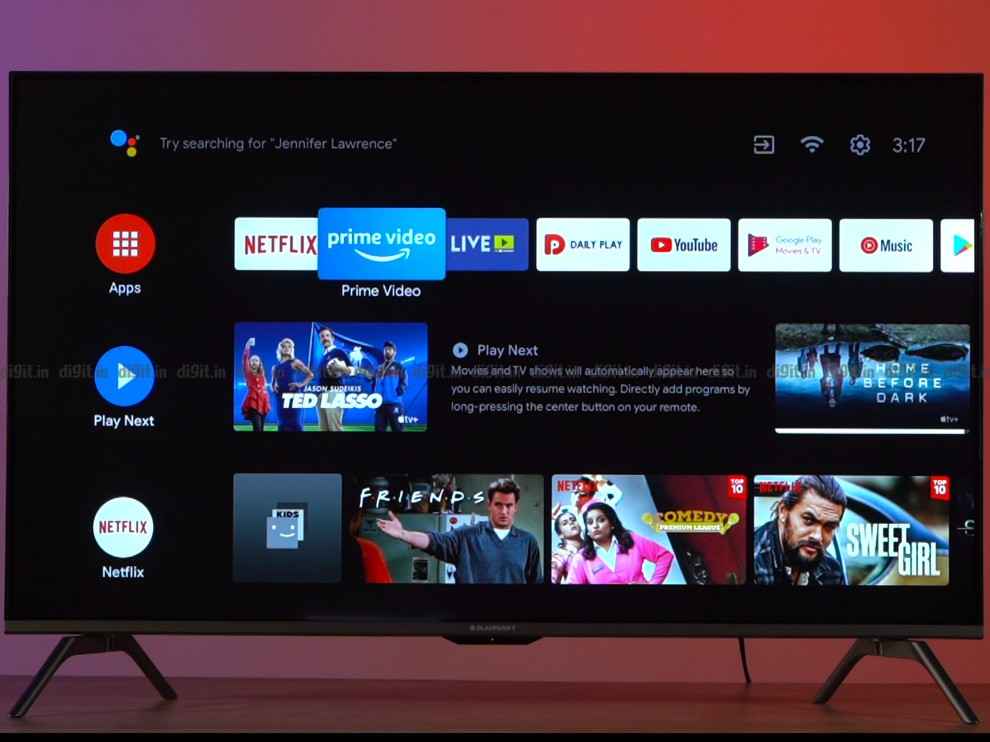 Blaupunkt Cybersound 43-inch 4K HDR TV: Remote control
The remote control that comes with the Blaupunkt TV is identical to the one we saw on the Nokia 43-inch TV (review). The remote control is overall comfortable to use. It does not have a minimalistic design like the one we saw on the Mi TV or Realme TV or even the AmazonBasics TV, but it gets the job done and will appeal to those that prefer a traditional remote control. It is comfortable to hold and easy to use.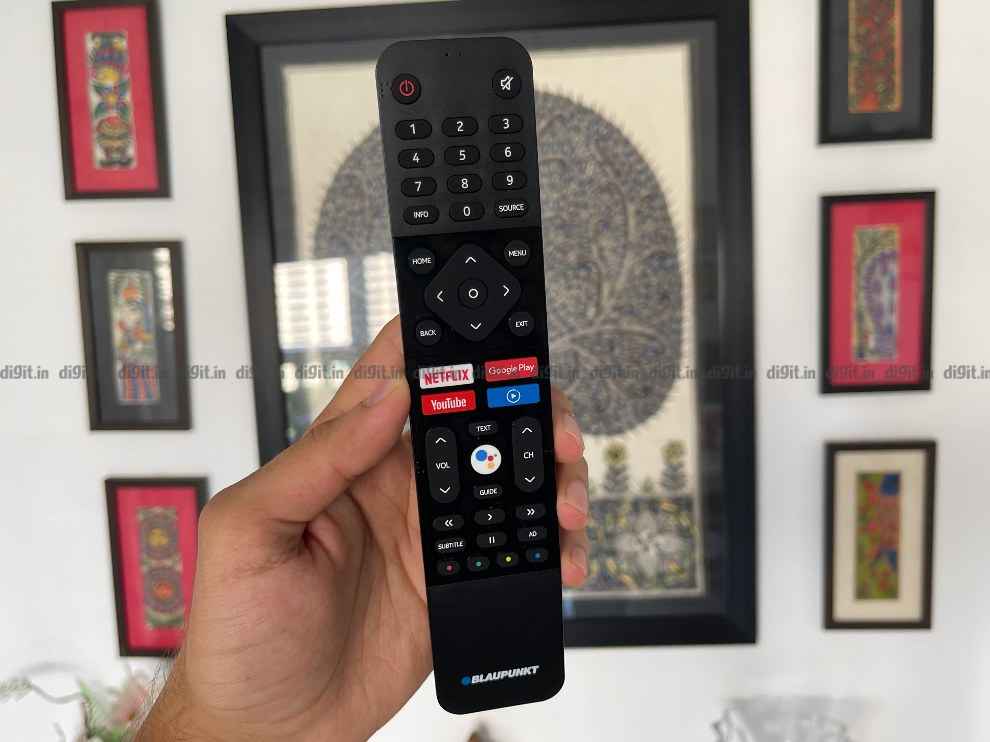 Blaupunkt Cybersound 43-inch 4K HDR TV: Build and design
This is where Blaupunkt TV distinguishes itself from its peers. It has two feet that hold the TV in a slightly elevated position giving you enough space to keep a soundbar or even a gaming console like the PS4 or Xbox One X comfortably below the TV without hampering your viewing experience. The feet have a unique design.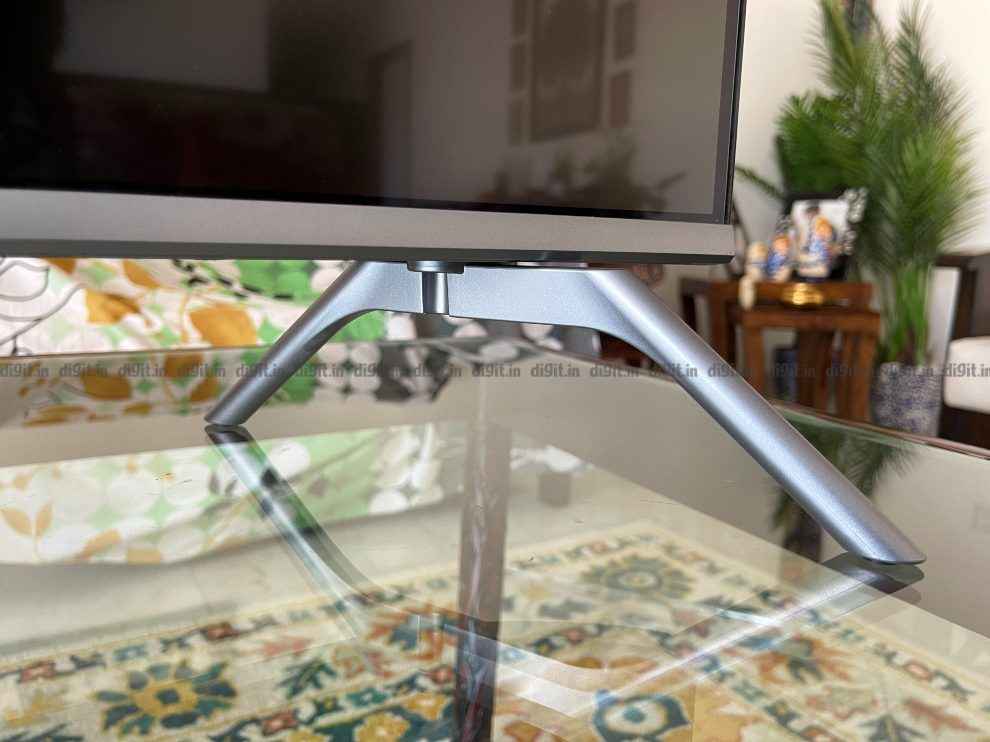 The rest of the TV is what we've come to expect from budget TVs. all the ports are conveniently laid out on one side and the TV has slim bezels on three sides with the chin being the thickest bezel.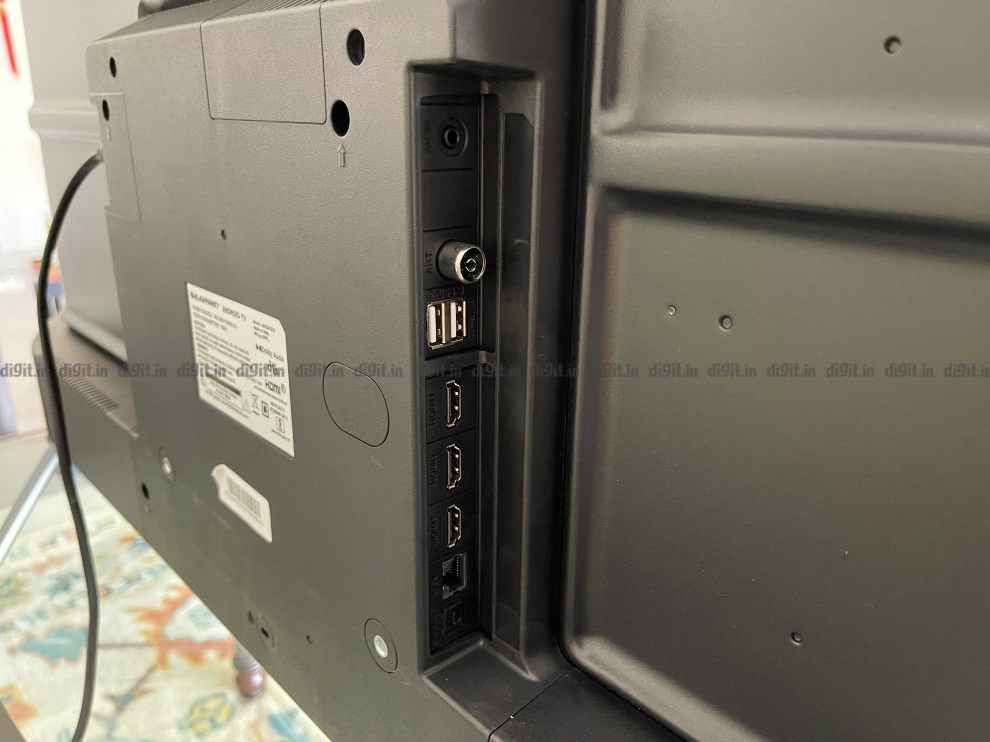 Blaupunkt Cybersound 43-inch 4K HDR TV: Bottom Line
What the Blaupunkt Cybersound TV has going for it is a good design, good SDR performance and decent sound. However, the lacklustre HDR performance makes it hard to recommend, especially when you have other 43-inch 4K HDR TVs in this price range like the Realme 43-inch 4K TV that come with decent HDR performance, support for Dolby Vision and added features like a far-field mic. While we've reviewed the larger screen size option, you can also check out the Hisense A71F and Mi TV 5X in its 43-inch avatar as well.