PC-BSD 8.1 detailed review
We always wonder why is it that Microsoft makes us pay to use its OS, so why not shift to Linux or UNIX which are open source and free to use. No doubt Microsoft has made it very easy for lay man to use a PC but we all know Linux is more secure than Windows. Also, off late Linux developers are concentrating on GUI to make Linux easy to use.
FreeBSD - a UNIX like operating system has evolved from AT&T UNIX via Berkely Software Distribution. FreeBSD has a text installer. PC-BSD was founded by FreeBSD professional named Kris Moore in 2005. Kris Moore's goal was to make FreeBSD easy for everyone to install on desktop. PC-BSD is aimed at users like you and me who are accustomed to Windows but would like a free OS. It has a graphical installation program which uses KDE SC graphical user interface.
The basic difference between BSD and Linux is that in FreeBSD the kernel, device drivers, and shell are held in the same source code whereas in Linux distributions the kernel, shell and applications are developed separately and then packaged together.
PC-BSD can be downloaded as a simple ISO file which is available in different versions. The PC-BSD comes in multiple architectures. You can choose to download a x86 or a x64 or a dual version of the distribution. We did not need a dual architecture version so we just downloaded the x86 one. Also you can choose to download using a mirror link or a torrent.
The PC-BSD has a graphical interface installation program which makes it easy to install on your system. The graphic interface is good and easy to understand. On first boot from CD, you get an option to run the Live CD or install PC-BSD on your HDD. The Live CD works fine but speed depends on your DVD drive.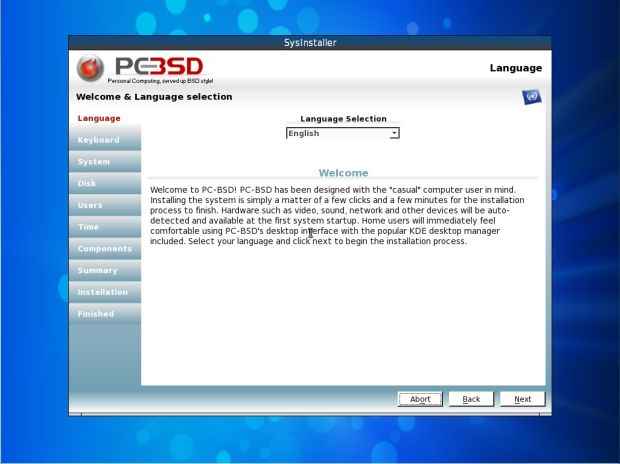 We installed PC-BSD on our system. During installation general information about date, language etc is asked like any other installation process. During installation you get an option to upgrade, restore backup and fresh install. We used the fresh install option.
During installation, a menu comes up to choose where to install PC-BSD. It also lets you create custom partitions. The custom partition option is strictly for those who have experience in Linux and know what they are doing. If you are new to Linux systems and don't know about file systems there is an option to create partitions automatically which is very convenient if you are using you entire HDD for PC-BSD.
While creating partitions various warnings pop up and assist you in creating partitions. If you have windows installed you have to be really careful while creating partitions and read every warning carefully. If you are careful enough you will be able to create partitions and install PC-BSD without any problem.
After selecting the partition, there is an option to select applications to install. Once that is done the installation process starts. We noticed that installation takes a lot of time even on a latest system. This problem might be due to hardware compatibility issue. Once installation was completed PC-BSD automatically detects the Intel chipset and NVIDIA graphic card and drivers for sound, video and Ethernet are not needed. (img Clean Windows like desktop)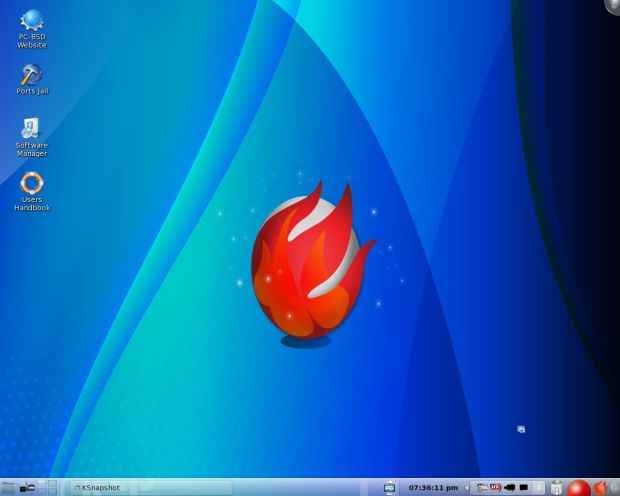 We used a system with Intel X58 motherboard, Intel core i7 processor 4 GB DDR3 RAM and a NVIDIA GTX 460 graphic card. It took us almost two hours to get PC-BSD up and running. This might be due to the fact that we used a latest configuration and PC-BSD8.1 does not fully support the hardware that we used. As soon as installation is over on first boot PC-BSD starts indexing all files on the PC for faster searches just like Windows 7.
On the left hand corner on the taskbar you will notice PC-BSD's logo similar to that in Windows 7. Also on the right side of taskbar you will notice volume control, clock, etc. just like Windows taskbar. The interface is similar to Windows but since we are so accustomed to Windows it takes time to get used to the new nomenclature that PC-BSD or for that matter any Linux distribution uses.
A menu pops up when you click on the logo just like Windows start menu. The menu has option for applications, favourite, computer, etc. The menu also has a search option just like Windows 7. Searches are very fast as PC-BSD indexes all files on your system. The various applications bundled with PC-BSD are more than sufficient for a home user. These applications are divided into options like Internet, Multimedia, Games, Graphics, Office, etc.
Internet package has web browser, BitTorrent client, download manager, IM client, feed reader, mail client, and many more. Multimedia package has music player, video player, etc. VLC player could have been a nice addition to the multimedia package. The graphic package has Paint, image viewers, image converters, etc. Office package includes open office, contact manager, document viewer, etc. Almost everything you need is include in the OS itself. (img Installed apps 1, img Installed apps 2)
Many other tools are included for developers. Also a lot of basic games are included with the distro. In terms of applications packages PC-BSD seems complete. If you need anything more software you can download from http://pbidir.com/. The website offers software in click and install form for PC-BSD. Downloading and installing software from this website is very simple using the System update utility. The community support is also very good. (img Simple update manager)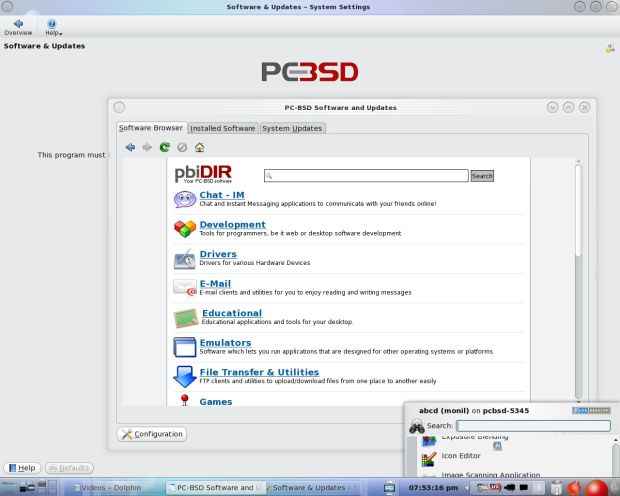 The PC-BSD comes with a wide range of useful widgets to choose from. These widgets are categorised according to use. A lots of useful widgets are available online which can be downloaded very easily. The GUI has multiple workspaces. The 3D desktop is a good feature. We tried running different HD movies on all 4 desktops and they run simultaneously without any lag of buffering. This gives an idea of the smart utilization of resources that PC-BSD does.
Although PC-BSD is fast, reliable and easy to use it might take some time getting used to the new interface. No doubt PC-BSD is very simple to install and use but those accustomed to Windows may still find it difficult to switch over. PC-BSD is surely here to stay but might take a few more releases to make it appealing for Windows users to switch over.