muvee Reveal - the ridiculously easy to use movie maker detailed review
muvee Reveal (Version 8) is certainly one of the best amateur audio-visual (AV) creators out there, and though it calls itself a video-editor, it doesn't really let you edit videos comprehensively, rather, it lets you create your own movies using audio, images, and other videos. It's truly easy to use with a simple interface that lets you do complicated things without a second thought. Powerful, it has a high-degree of functionality and features a wide range of personalization options, as well as good import/export compatibility. Sharing your muvee videos is also ridiculously easy, with direct options for Facebook, YouTube, and Shwup.

To get a good idea of what exactly muvee Reveal offers us, and how it works, let us take a run through the interface: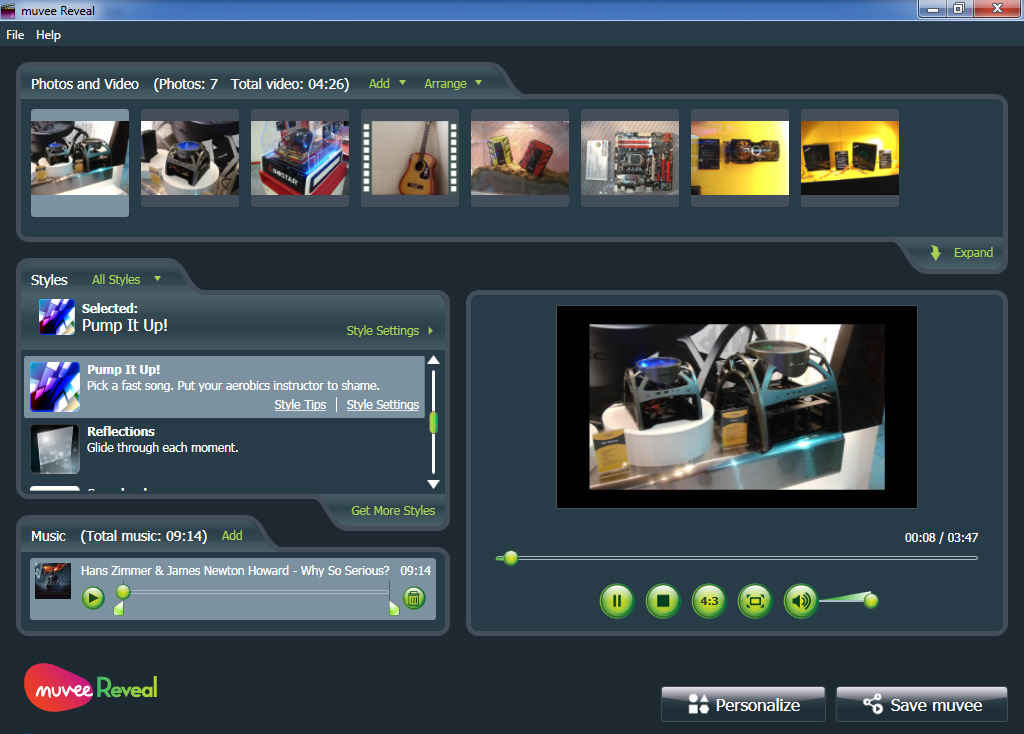 Add media from a variety of sources, in formats such as D-AVI, AVI, WMV, MPEG1, H.264, MPEG4, MPEG2, XVID, DivX (codec required on system), Quicktime (MOV), apart from HD formats such as WMV-HD, MOV-HD, AVCHD, HDV, and mobile formats such as MP4, 3GPP. It also supports such devices as the Flip, Flip Mino HD, Creative Vado, iPhone, iPod Nano, and DVD camcorders directly. Images of the following formats are supported: JPG, PNG, GIF, TIFF, BMP.
Add / Arrange Media

| | |
| --- | --- |
| | |
Read on to know more about muvee Reveal, and what you can do after you add and arrange your media...

Now that you have added your media, and arranged it either by dragging/dropping or the using the options (on the previous page), you can either edit the images or videos directly (see options below, including magicMoment and magicSpot), or proceed to choose a muvee Reveal video Style. Remember, you can always come back and make any changes you'd like, quickly and easily.
muvee Reveal comes with 10 preset styles, which range from "Ultra Plain – Concentrate on your photos and videos – nothing else", to "Pump it up! – Pick a fast song. Put your aerobics instructor to shame." These Styles have certain preset characteristics, and are basically meant for transitions between photographs as well as videos, apart from colour effects, animations, and other added features. All the preset Styles can be edited in Style Settings, allowing you to customize your video further. If you can't find what you are looking for there, you can download paid Style Packs from the muvee Reveal website, or free Single Styles. You can also use the automatic beat detection feature, and have your movie sync to your favourite music's beat.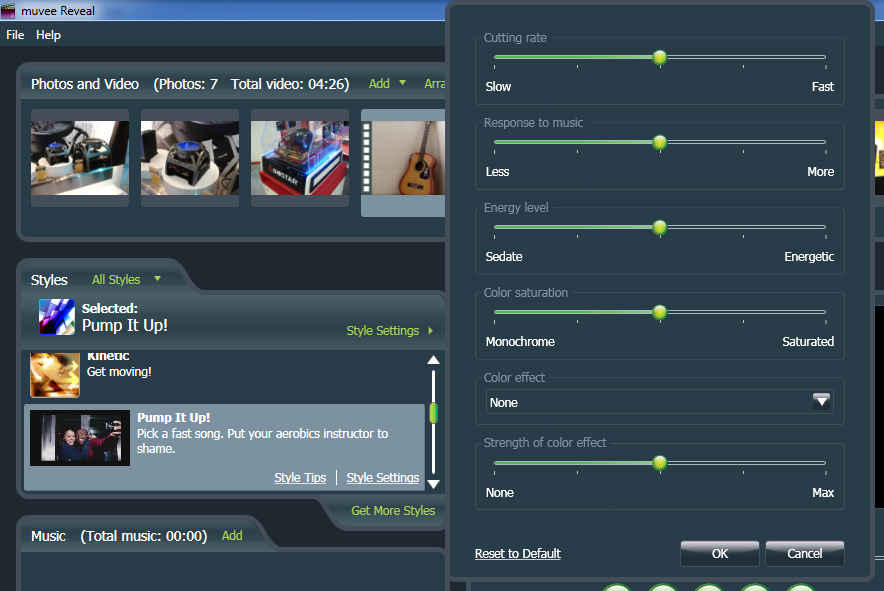 Once you have selected your video Style, you can choose to Add Music (also refer to the Settings and Voice Over sections of the Personalise menu for more sound, mixing, and voice-over features, including Music Trimming, cross fading, and more). Formats supported are all the major ones: MP3, WMA, WAV, and AAC (QT required).
Read on to know more about muvee Reveal, and how you can finally personalize and export your muvee movie..

You are now officially ready to preview your muvee, by simply pressing play. Depending on the size, duration and quality of the videos and images you've added, and if your computer has a minimum of 2GB RAM and at least 256MB of dedicated video RAM, the process of rendering is pretty snappy. No long waits here. After having checked out what your muvee video looks like, go ahead, make whatever changes you want, add more media, arrange it, change the music, choose another style, customize the style, anything. Next, proceed to Personalize, for the final fine tuning of your video, where you can also add Credits, Logos, Titles, record a Voice-Over, mix your music, choose your various video and image options.
Personalize settings (click to enlarge)

| | | |
| --- | --- | --- |
| | | |
| | | |

Take another preview, and if you like what you see, and want to make no more changes, go ahead, export that video by clicking on Save muvee. And, you could also always save the Project for future use, by clicking on the File tab. Export/sharing options are numerous, and you can choose from a variety of formats, qualities, audio types, and resolutions, to get a video most suited to your requirements in every way. Output formats include: WMV, MPEG-1 (incl. VCD), MPEG-2 (incl. DVD/SVCD), MPEG-4, 3GP, AVI, MOV, H.264, and special format presets for shwup, FaceBook, YouTube, iPhone, iPod, and the PSP. As you can also see, you can burn your video onto a DVD or VCD directly. Full 720p and 1080p HD video output is also supported. Note that muvee Reveal supports Nvidia CUDA hardware acceleration, which promises 8x faster movie creating and exporting.

Export options

| | |
| --- | --- |
| | |
Verdict:
Taking just 38.6MB disk space on your system, it's hard to believe that muvee Reveal (Version 8) can offer so many options and customizations, and be so speedily capable in importing, editing, and exporting your media. The price tag of $79.95 is quite high though, and free software such as Windows Movie Maker, Avid FreeDV, Wax, Zwei-Stein, Jahshaka, HyperEngine-AV, and many others, apart from free online video editing software like Jumpcut, and VideoSpin (AniMoto doesn't count, as it's "Free" aspect is truly limited), give muvee Reveal a lot of competition. But if you have the money, and are looking for a truly easy to use, speedy, and rather customizable software right on your desktop, the muvee Reveal is a good option.
Our Rating: 3.5/5
Tech specs:
| | |
| --- | --- |
| Supported Video | WMV, MOV, H.264, MPEG1, MPEG2, MPEG4, DV-AVI, MP4, AVCHD, AVCHD Lite, HDV |
| Supported Pictures | JPEG, PNG, GIF, BMP, TIF |
| Supported Music | MP3, WMA, AAC, WAV |
| Output video | WMV, WMV-HD, MOV, MOV-HD, H.264, MPEG1, MPEG2, MPEG4, AVI, DV-AVI, 3GPP, MP4, AVCHD |
| Supported languages | English, French, Italian, German, Spanish, Chinese (Simplified, Traditional), Japanese, Korean, Dutch, Portuguese (Portugal), Portuguese (Brazil), Russian, Swedish |
| System requirements | |
| Processor | Intel Pentium 4, AMD Athlon 64 (or equivalent), 2GHz or higher |
| Memory | 1GB RAM (Using High Definition video: 2GB RAM) |
| Video Memory | 128MB (Using High Definition video: 256MB & above) |
| Video Drivers | Must support Open GL 1.4 |
| Operating System | Microsoft Windows 7, Microsoft Windows Vista, Microsoft XP (Service Pack 2) |
| Other Requirements | Apple Quicktime is required for supporting MOV and iPhone/iPod formats |
| Price | $79.95 or approx Rs. 3,700 |