Thermaltake Ttesports Meka G1 Illuminated detailed review
Mechanical keyboards are something that are loved by many computer enthusiasts and gamers all around the world. We're slowly and steadily seeing more and more gamers going for a mechanical keyboard instead of a membrane one. For one thing, it's clear that mechanical keyboards are far more durable than membrane keyboards and the feedback that mechanical switches offer is unparalleled. Since mechanical keys snap back quicker than membrane or scissor-switch keys, they're great for gaming as well. Yes, mechanical keyboards are very expensive but the features that they offer easily justify their price.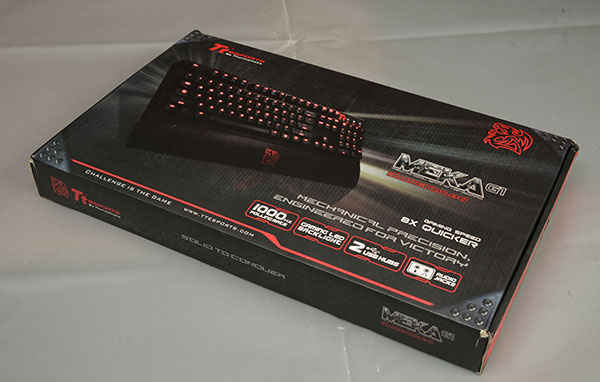 The Ttesports Meka G1 illuminated is the second keyboard by Ttesports to grace our test centre after the Ttesports Poseidon. The Poseidon came with Cherry MX Blue key switches instead of Cherry MX Black key switches as seen on the Meka G1. There is quite some difference between Cherry MX Blue and Black keys. For instance, the Blue keys use clicky switches that have a tactile bump or resistance at 1-2mm which is very similar to Cherry MX Brown keys. The low resistance of Blue key switches make them well suited for people who type a lot. Blue switches also make an audible click sound on each key press which adds to the key feedback and let's you know if your key press has been registered. Cherry MX Black key switches on the other hand have a linear characteristic that gives a smooth keystroke and a quicker key reset making it easier for you to press the keys repeatedly and that's why they're well suited for gaming. The only downpoint of Black key switches is that since they have a higher key resistance and there is good chance of users feeling fatigue building up in their fingers after prolonged use.
Design-wise, the Meka G1 illuminated looks like any other standard mechanical keyboard but it has red LED backlighting for each of its keys. The Meka G1 is built very well and it feels rightly so considering everything about the keyboard including the body, the wrist rest, the keys, the connectors and the cable are built to last. Though the wrist rest is strong, we didn't quite like the material that they've used for it because it's very plasticky and smooth. We would've liked to see something more grip friendly for the wrist rest. They've used a thick braided cable for the Meka G1 which separates into four smaller cables for ease of use. The keyboard has rubber feet which help in keeping the keyboard from moving while using it.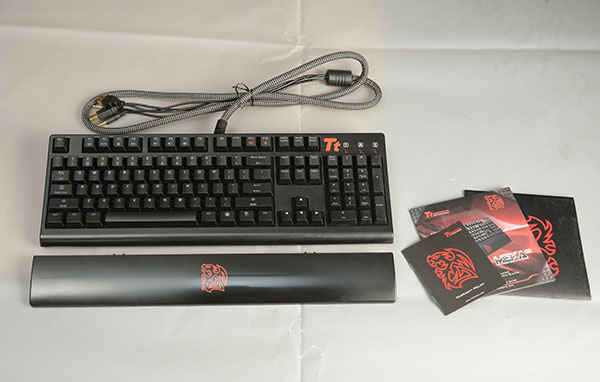 Speaking of backlighting, the Meka G1 has individual key-by-key backlighting with a red glow. We found the key brightness uniform across the keyboard except for the symbol keys that seemed a bit dull. We don't know whether this was a design decision or is just an anomaly but we would've actually liked a uniform brightness level for all types of keys. You have an option of increasing or decreasing the brightness level of all the keys using the key brightness button. Another Fn key combination lets you turn on only a particular section of the keyboard like "WASD keys", Arrow keys and the numpad direction keys. The backlighting on the Meka G1 also features a breathing effect that can be selected instead of keeping the backlight static.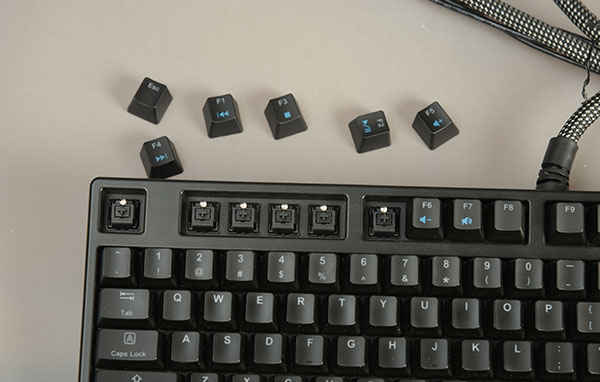 In terms of customisation, there is nothing you can do with the Meka G1 as none of the keys on the keyboard are programmable and so the keyboard doesn't come with any sort of software which is a downer. Multimedia keys exist but they are not separate and are therefore combined with the function keys and require the "Fn" key combination. What's silly here is the placement of the "Fn" key as the "Fn" is placed at the spot where the Windows "Start" key is normally seen. This is why we found it annoying to use windows key combinations on the Meka G1.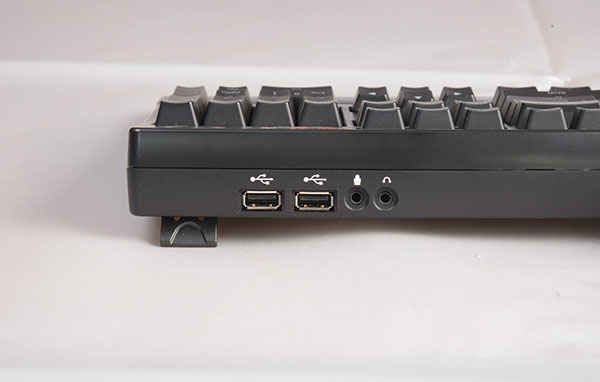 Feature wise, the Meka G1 illuminated includes two USB pass through ports on the keyboard that allow for easy and quick USB device connection right from the keyboard itself. They've also included a mic and headphone jack at a convenient place. The connectors that the Meka G1 uses are all gold-plated and so they won't tarnish easily and will last longer.
Since the Meka G1 uses Cherry MX Black keys, the keys provide some resistance when pressed. The key feedback is snappy and is great for gaming. The only qualms we have about the keys on the Meka G1 is that the resistance that the keys provide though feels nice while gaming but it isn't desirable for typing. Our fingers felt fatigued after typing on it for some time. But this is totally subjective as someone else might like this key resistance; but in our case, we're better off using keyboards with Cherry MX Red or Blue key switches.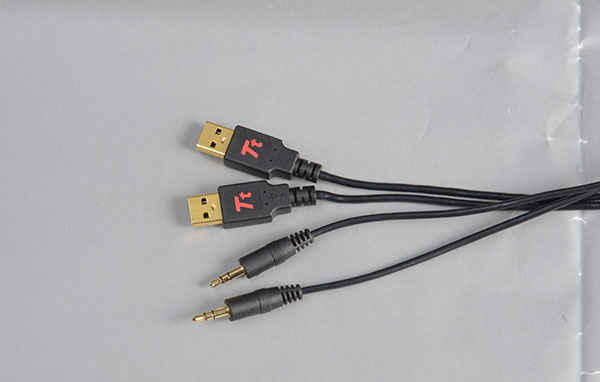 At about 11.5K, the Ttesports Meka G1 illuminated is a very expensive keyboard minus a few important features required on a gaming keyboard. Yes, it's a mechanical keyboard and we absolutely liked it's build quality and simple yet functional design. But the price that the Meka G1 asks for is steep and you can definitely consider some other mechanical keyboards from a bit lesser price segment.
You can also take a look at a
slideshow
of the Ttesports Meka G1 illuminated gaming keyboard.