GIGABYTE GA-890GPA-UD3H detailed review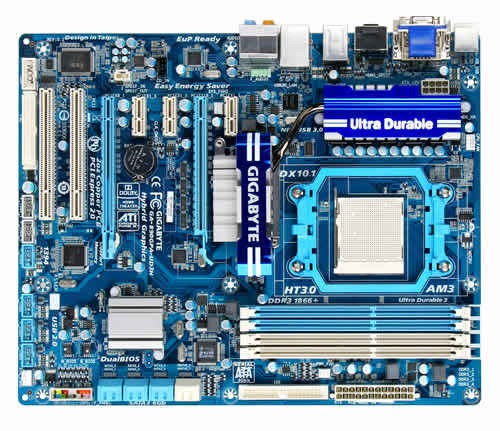 Gigabyte motherboard boxes are renowned for their wonderful feature listing, right on the box. The GA890GPA-UD3H is no different. One glance through the box gives you a good idea of what all to expect from the motherboard.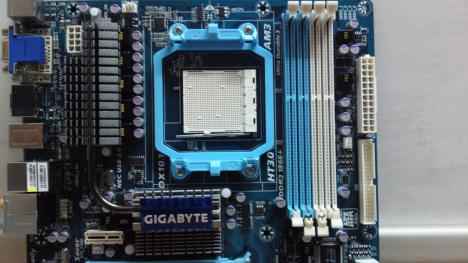 The Gigabyte GA890GPA-UD3H PCB sports the usual blue colour and boasts of their standard 2 oz copper layer design. Yet again, the layout of the board is very neat and tidy. The board has an AM3 socket which has the heatsink for the solid capacitors on one side along with the heatsink for the northbridge which is located adjacent to the capacitors, connected by a heat pipe. The design of the northbridge and southbridge heatsinks is quite intricate. As compared to the ECS Black series motherboard, this board's heatsinks have larger surface area thus allowing faster cooling. It's noticeable when you run the board through its paces. With larger coolers, there's very little space to insert memory into the first RAM slots. The Gigabyte GA890GPA-UD3H PCB has four DIMM slots which support DDR3 memory.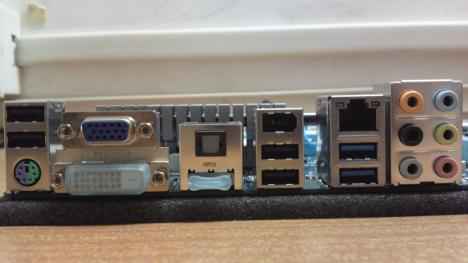 It has an eight channel audio supported by Realtek ALC892. The HDMI port is present on the motherboard thanks to the HD4290 integrated graphics solution. It also has a Firewire port that was missing in the ECS Blackseries motherboard. The ECS board however had two Ethernet ports. This board has support for USB3.0 thanks to the NEC USB 3.0 controller chip which is located just behind the ports. It has a shared PS2 port along with four USB2.0 ports and two USB 3.0 ports.
On the other side of the board we have six SATA 3.0 ports, supported by the SB850 which have a bandwidth of 6 Gb/s along with two SATA 2.0 ports which is supported by the SATA2 chipset. The SATA 3.0 support RAID connections as well taking data transfer speeds a notch higher than SATA 2.0. These SATA ports are pointing sideways and not upwards, thus giving enough space for the graphic card to accommodate themselves. The board has two PCI slots, two PCIe x16 slots with CrossfireX support and three PCIe x1 slots, although the topmost PCIe x1 slot is very close to the slightly raised northbridge heatsink.
Further reading: