Corsair Vengeance K60 Gaming Keyboard detailed review
The Corsair Vengeance K60 is one of two gaming keyboards from Corsair, priced at Rs. 5,900 (MRP). It has Cherry MX 'red' mechanical keys, a solid aluminium chassis, and user replaceable rubberized keys meant especially for FPS gaming.
Its sibling, the Vengeance K90, is priced at Rs. 6,500 (MRP), and features pretty much all that the K60 does not, for a marginal price difference. Thus, the Vengeance K60 is hard to recommend over its sibling, unless you are on a tight budget. Its two-year warranty is also notable.
Look, Feel and Features
The 104-key Corsair Vengeance K60 looks great, with its brushed aluminium chassis making it stand out on your desk, and FPS gaming keys highlighting the keyboard's true purpose – fragging. The weighted volume metal roller and wrist rest further stand out, making the keyboard seem unique amongst conventional ones.
The Corsair Vengeance K60 has a solid feel to it, with its warp-free aluminium chassis. It provides great tactile response to its Cherry MX 'red' mechanical keys, which get actuated at just 2mm and 45 grams of force, and get fully depressed at 4mm. The keys are rated for 50 million operations, and come with gold contacts for faster response times.
The keyboard comes with two sets of pegs, allowing users to raise the back, or the front of the keyboard, or both, depending on their preferred keyboard inclination. The gaming wrist rest sits comfortably on the left of the keyboard, perfect placed for reaching the WASD keys while resting your wrist. We only wish that a single, keyboard spanning wrist rest was provided, just like on the K90, to keep both wrists comfy while playing, typing, etc.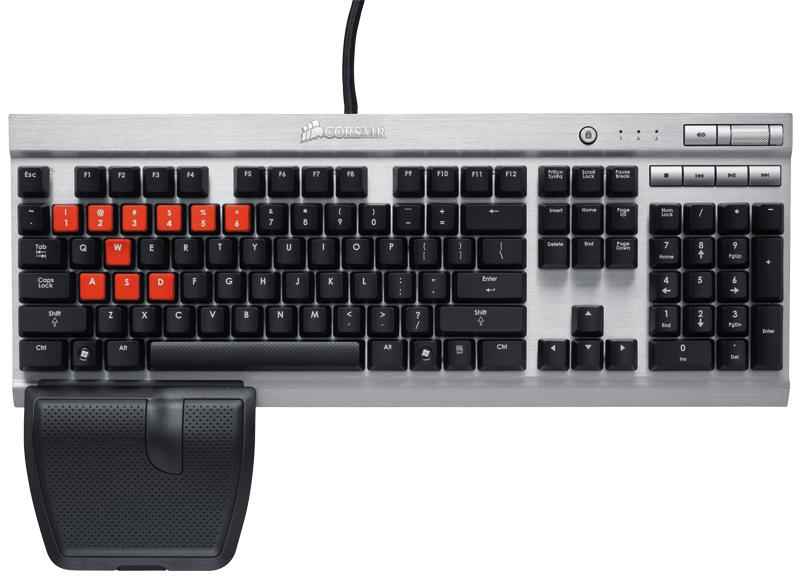 It has a thick mesh-covered 2-metre long USB wire, carrying two USB wires that have one connector each. This is to allow for a USB pass-through, letting users connect their mouse, USB speakers, etc., directly to the keyboard, as is convenient. The K60 also has a Windows Lock key on top.
The Vengeance K60 comes with 10 sculpted, rubberized FPS keys (WASD, 1-6). These keys are slightly taller than the regular keys provided, and, will help gamers hit and remain on the correct keys easily. The slight angles given to the A, D, 1, 6 keys will help users' fingers bounce back and forth easily, remaining within the bounds of the right keys without stepping out by mistake. The extra keys are stored within the wrist rest, and the K60 comes with a key extraction tool, for easy user replacement of these keys. Notably, the space key is also textured, for a better feel.
Unfortunately, and unlike cheaper alternatives in the market, the K60 comes with no programmable keys, something almost shocking on a gaming keyboard. Only if you don't intend to use programmable keys would we recommend the Vengeance K60.
Corsair promises 100% anti-ghosting on the Vengeance K60, using a full key matrix, with each key bearing its own dedicated diodes – reducing the chance of incorrect inputs, even when pressing multiple keys at once. In our time with the keyboard, we found this to be true.
Also interesting, and definitely a first amongst its price bracket, the Corsair Vengeance K60 has a 20-key rollover (KRO) feature. Most USB gaming keyboards only allow for a six-key rollover, such that, accepting only up to six inputs simultaneously.
To be noted, the Corsair Vengeance K60 (unlike the K90) does not come with backlit keys, once again something odd at the price range, and for a gaming keyboard.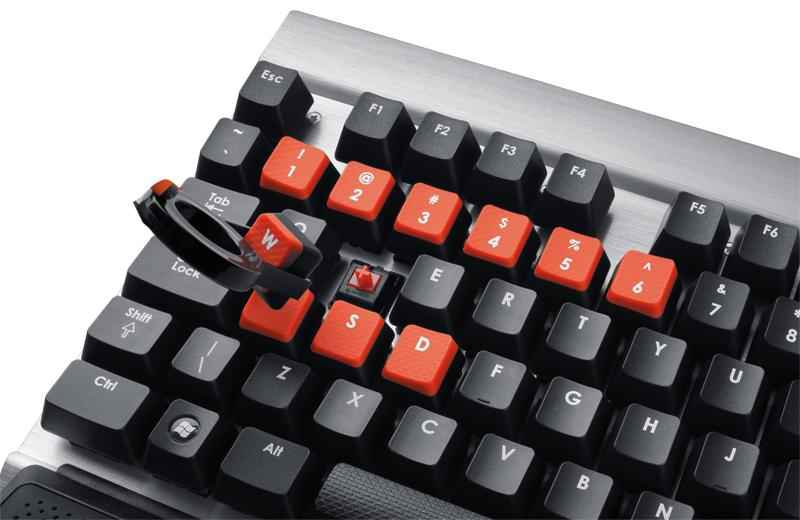 Performance
Overall, we found the Corsair Vengeance K60 delivered excellent performance in all aspects, with the keys providing great tactility, very little actuation force, and speedy response times. The weighted metal volume roller was also extremely useful, allowing us to adjust the volume precisely with the analogue control, letting us get the volume levels just right. Another advantage of the roller instead of the volume keys is that it does not suffer from the fatal flaw of a conventional volume key – it can get stuck.
Highlighting the anti-ghosting and 20-key rollover features of the Vengeance K60, we were impressed at the precise recognition of simultaneous inputs. We had no problem successfully button mashing on keyboard intensive games such as DMC 4, where multiple keys are required to be pressed at once. Racing games also had no problem, with nitrous, accelerate, and turn pressed simultaneously, along with little taps on the handbrake, all being easily recognized.
While Corsair says the mechanical switches are super silent, and we agree with them, we think they may have forgotten the keys rest on an aluminium chassis. Thus, every time you press a key the whole way, a solid click of it hitting the base is heard – this can get a little annoying during especially intense gaming sessions – unless of course, you wear headphones.

The keys are extremely easy to replace with the key extraction tool, allowing you to switch between your FPS layout and regular typing layout without too much time being wasted. The raised, sculpted, and rubberized FPS keys were also a boon for shooting games, and we were impressed how such a simple idea could actually transform into such a boost in gaming performance.
Verdict
Overall, the Corsair Vengeance K60 is solid gaming keyboard, with excellent build quality, great performance, and adjustable settings. However, at its price, Corsair really should have included a bank of programmable keys, as well as backlit keys, both of which can be found in its slightly more expensive sibling – the Vengeance K90 – as well as lower priced offerings from competitors.
If you are not looking for programmable keys and backlighting, the Vengeance K60 is a good buy, delivering top-notch performance at its price. Otherwise, pony up some more cash for the Vengeance K90, or settle for slighter lower overall performance with cheaper gaming keyboards that have these features.
Price: Rs. 5,900
Ratings (out of 5):
Features: 3
Build Quality: 4
Performance: 4
Value For Money: 2.5
Overall: 3.5
Check out the specs of the keyboard below:
Light, responsive Cherry MX Red mechanical switches for fast, efficient gaming action


45g actuation Force

2mm to actuation and 4mm to bottom

Rated for 50 million operations

Gold contacts


Tuned silicon dome keyswitches: F1 through F12, Esc, PrtScn, Scroll Lock, Pause/Break, Insert, Home, Page Up Page Down, Delete, and End

Ten (10) additional sculpted FPS keys (W, A, S, D and 1 to 6) for superior reaction and control — interchangeable with the standard keyboard keys Gaming palm rest with soft-touch surface for superior gaming comfort


Storage for ten (10) sculpted FPS keys

Key extraction tool included and storable in palm rest


Six multimedia keys — Stop, Previous, Play/Pause, Next, Mute, Volume Up/Down — with Solid metal, weighted volume "drum roller"

Windows Lock key for uninterrupted game play

Metal top plate for increased strength, durability and rigidity

USB pass-through connector giving easy access to a USB port on the back of the keyboard (USB 2.0/1.1/1.0)

USB Connector with gold plated contacts

Selectable report rate: 1000Hz/500Hz/250Hz/125Hz (1ms/2ms/4ms/8ms) response time

2m non-tangle cable