AMD Ryzen 7 1700X detailed review
It's been a couple of months since AMD's Zen core based Ryzen CPUs hit the market and going by what we've been hearing from the retailers at the ground level, these processors seem to be selling like hotcakes. With a 52 per cent IPC gain over the previous generation, these Zen based processors seem to have crawled into PC rig recommendations across the entire gamut. It's not just that these processors are at par with some of Intel's high-end processors but they also sell for a lot cheaper and thus end up giving the consumer more value for their hard-earned money. For those in the dark about these processaors, allow us to recap what has happened so far. For the consumer market, AMD has released three new series of processors – Ryzen 7, Ryzen 5 and Ryzen 3. These target the same segment as Intel's Core i7, Core i5 and Core i3. And both processor manufacturing companies have introduced an entirely new class to supercede the Core i7 / Ryzen 7 lineup. This new series from Intel will come under the Core i9 branding and AMD's offerings in the same space will fall under the Threadripper branding.
AMD Ryzen 7 CPU Lineup and Specifications
We've tested the AMD Ryzen 7 1800X at launch and we were quite impressed with its performance. It was found to be not at par with Intel's CPUs with respect to single-threaded applications and for most video games but since launch, there has been quite a lot of improvement. This time, we'll be looking at the other two SKUs in the Ryzen 7 lineup, namely the Ryzen 7 1700X and the Ryzen 7 1700.
CPU
Ryzen 7
1800X
Intel Core i7
6900K
Ryzen 7
1700X
Intel Core
i7 7700K
Ryzen 7
1700
Base Clock
3.6 GHz
3.2 GHz
3.4 GHz
4.2 GHz
3.0 GHz
Boost Clock
4.0 GHz
3.7 GHz
3.8 GHz
4.5 GHz
3.7 GHz
XFR / Turbo
4.1 GHz
4.0 GHz
3.9 GHz
NA
3.75 GHz
Process Node
14 nm
14 nm
14 nm
14 nm
14 nm
Cores
8
8
8
4
8
Threads
16
16
16
8
16
L3 Cache
16 MB
20 MB
16 MB
8 MB
16 MB
TDP
95 W
140 W
95 W
91 W
65 W
Price
$499
$1089
$399
$350
$329
You should have noted that all three processors under the Ryzen 7 branding at 8-core / 16-threaded SKUs. The Ryzen 7 1800X is obviously the better binned SKU which is attested to by the higher clocks as well as greater XFR boost. The Ryzen 7 1700X is practically identical to the Ryzen 7 1800X except for a 200 MHz lower clock speed across the board. And the Ryzen 7 1700 stands apart from these since its TDP / clock speed and XFR are significantly lower in comparison to the others. Based on the SKU pricing, the Ryzen 7 1700 is supposed to compete with the Intel Core i7 7700K and the Ryzen 7 1700X is supposed to compete with the Intel Core i7 6800K. Let's see how well they perform.
AMD Ryzen 7 1700X performance
We don't have the Intel Core i7 6800K for reference but we do have the Core i7 5960X as well as the Core i7 7700K to compare the Ryzen 7 1700X and 1700 against. For the purposes of this review, we sourced several components to form the test rig.
AMD RYZEN TEST RIG
CPU: AMD Ryzen 7 1800X, Ryzen 7 1700X, Ryzen 7 1700
Motherboard: GIGABYTE Aorus AX370 Gaming 5
SSD: Kingston HyperX Predator 480 GB
HDD: Western Digital Red 3 TB
RAM: Corsair Vengeance DDR4 3000 MHz clocked at 2667 and 3000 MHz G.Skill Trident Z DDR4 3200 MHz clocked at 2667 and 2998 MHz for compatibility
Cooler: Noctua NH-U12S SE-AM4
PSU: Corsair HX1050

Our benchmarks began with Cinebench R15 wherein we looked at both single threaded as well as multi-threaded performance. It appears that in the single threaded run, both the Ryzen 7 1700X and the 1700 perform better than the Core i7 5960X but the Intel Core i7 7700K outdoes them all. Even the flagship Ryzen 7 1800X is left in the lurch by the Intel Core i7 7700K.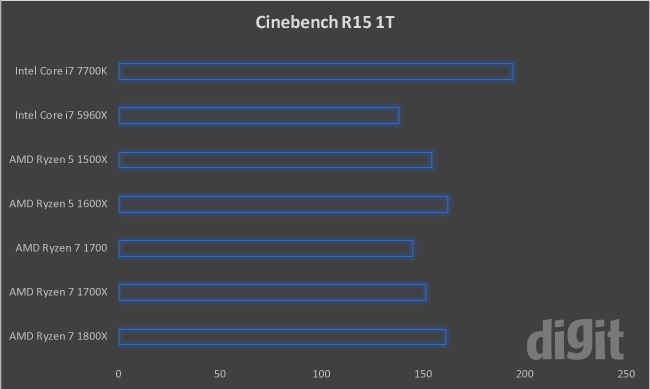 Then we moved onto the multithreaded run of Cinebench R15 and then we see the tables have turned in the favour of the AMD Ryzen processors. The Ryzen 7 1800X, 1700X and 1700 all perform better than the competition and we can see a pattern of linear progression which ties in with the way the clock speed goes up through the AMD SKU stack.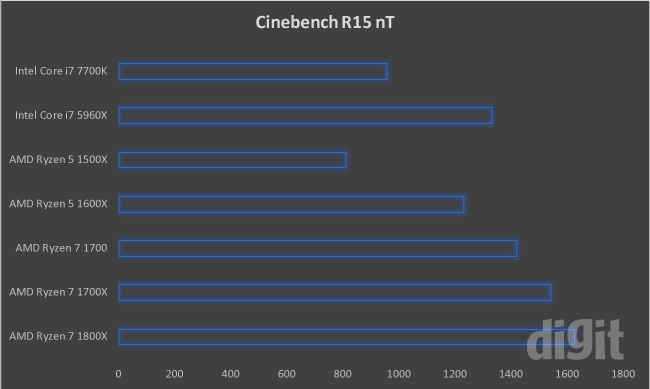 Productivity and Office
Next up are productivity benchmarks to determine how well these processors fare in everyday operations. These benchmarks indicate how well the AMD Ryzen SKUs will perform for the majority of its active time.
Our first tests involve WinRAR and 7-Zip. As far as compression goes, it appears that 7-zip has a more optimised algorithm since it replicates the performance graphs that we've seen with other benchmarks while WinRAR seems to get capped on both the Ryzen 7 as well as Intel Core i7 7700K. The remarkably low score on the Core i7 5960X seems to be related to this very same issue. On the other hand , 7-Zip shows us how well it can handle all the cores it gets access to. In this case, we see that the Ryzen 7 processors have an obvious advantage over Intel's offerings. The Core i7 5960X is pretty much at par with the Ryzen 7 1700X despite being two generations older. However, the price gap between the two is very large and pegs the 1700X as a more economical choice.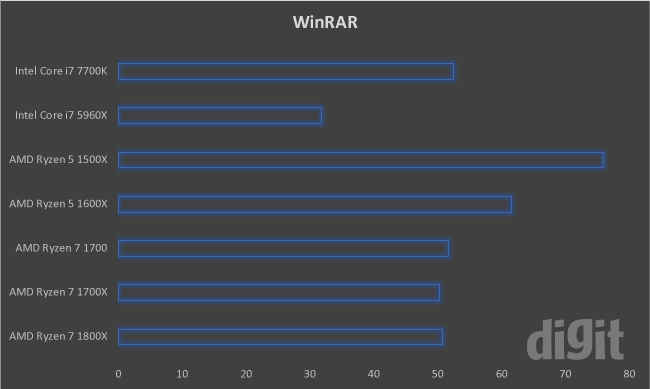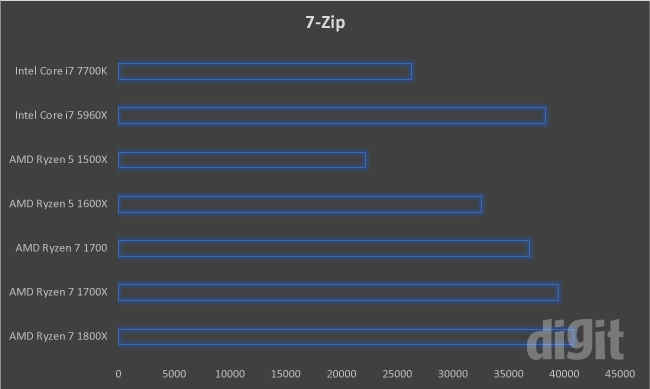 We then move on to the industry standard PCMark8 to run its bevy of trace-based benchmarks. With most of the average user's applications being single threaded, we see PCMark8 too favouring the Intel processors as they have much better single threaded optimisation. The Intel Core i7 5960X which was shown to have lower performance in the 1T benchmark shows a similar performance here as well. Here too, we can see the Ryzen 7 1800X having a minor advantage over the 5960X. However, the Ryzen 7 1700X and 1700, however, do not come close to the Core i7 7700K.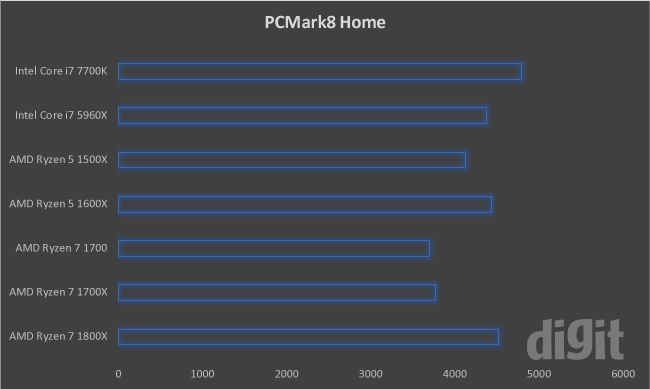 Then we looked at the PCMark8 Work benchmark which turned out to show a similar pattern with the Core i7 7700K still maintaining a lead over the Ryzen 7 1700X and 1700. And it sticks out quite obviously from the rest of the SKUs because of this 340 point lead.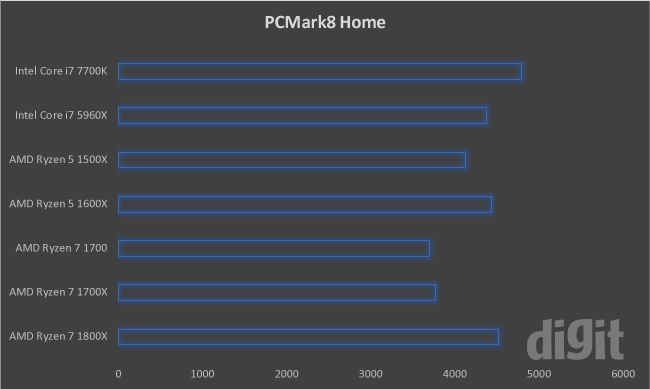 Encoding and Rendering
One of the key reasons that people opt for more cores is the obvious advantage gained in video editing and encoding. Even tasks like playing around with CAD software is aided to an extent by the CPU before having the need to offload the more intensive tasks to specialised accelerators like NVIDIA Quadro or AMD Radeon Pro series.
We ran Handbrake to encode a 4K video from Main to High under the Very Fast preset. The 8-core Intel Core i7 5960X performs better than the Ryzen 7 1700X and the 1700 with a 10 per cent lead. This 10 per cent lead comes for roughly twice the price so we see that the 1700X is still an economical option.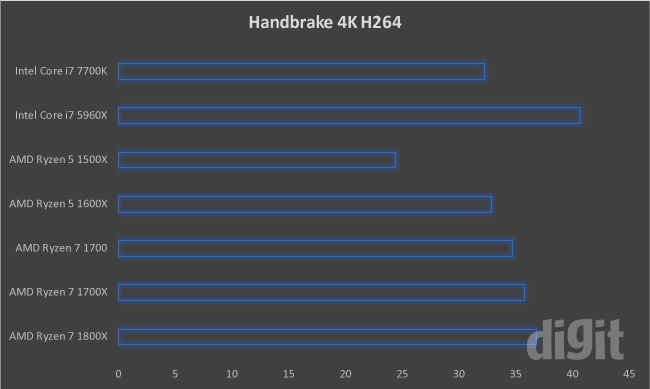 Next up, is an OpenCL based CPU rendering test using Blender. Another anomaly that we see here is with the Ryzen 5 1600X run which surprisingly has a lead over every other processor. We checked to see if the RAM frequency was off or if the BCLK was set higher but that wasn't the case.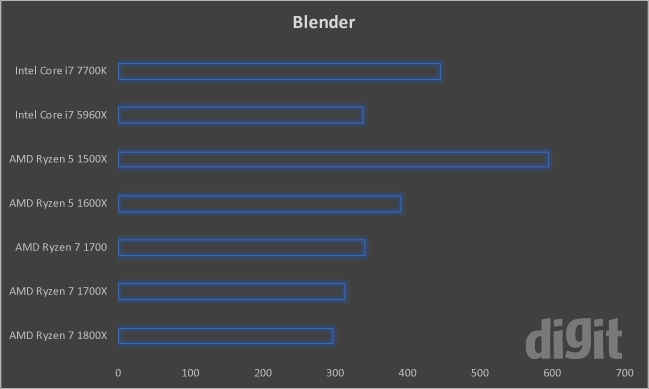 The last benchmark is POV-Ray which again scales with respect to core counts and clock speeds. The 1700X and the 1700 perform better than both Intel CPUs.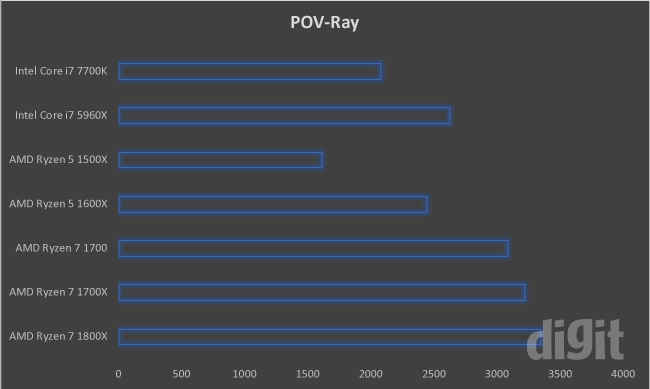 Gaming
One of the situations where the Ryzen processors did not do so well at launch was gaming. AMD did mention that they were working with game developers and game engine developers to optimise their tools to better utilise AMD hardware. Both in Rise of the Tomb Raider and HITMAN we see that the Ryzen 7 processors don't do so well but the Ryzen 5 CPUs that came out a couple of months after the Ryzen 7 seem to do way better in comparison.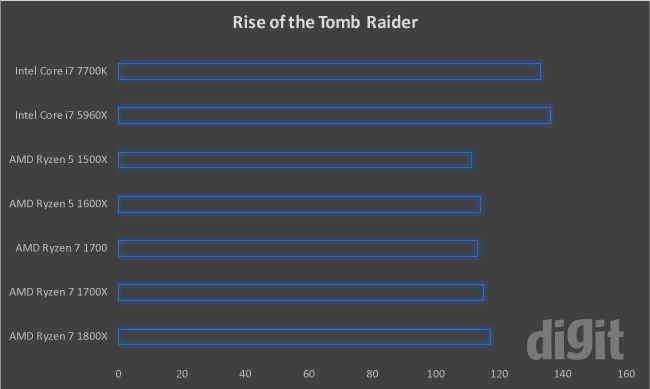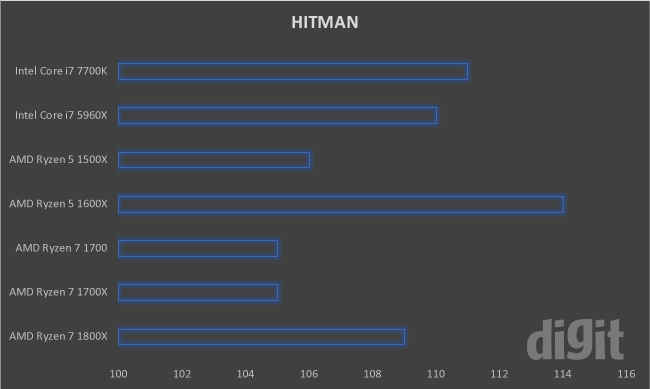 The last benchmark is yet another industry standard i.e. 3DMark FireStrike which again, tilts the scale in favour of Intel. And again we see that the Ryzen 5 CPUs seem to perform way better than their Ryzen 7 counterparts. It would be interesting to revisit these benchmarks one year down the line to see how far AMD's optimisation efforts have paid off.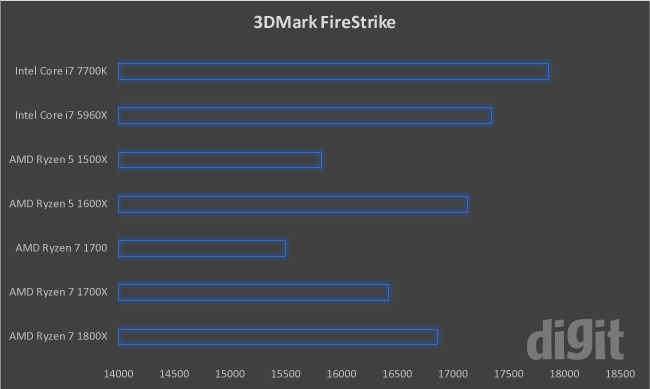 Verdict - AMD Ryzen 7 1700X
From what we've seen with the benchmarks, AMD's Ryzen 7 series offer a lot better performance given their much lower price point. Anomalies were plenty with some of the newer benchmarks with the Ryzen 5 processors which proved to be better. AMD's gain is clearly with their competitive pricing and higher core counts which seems to have really brought a new benchmark for performance in the sub-$400 segment. While Indian pricing is clearly off thanks to lower shipments leading to inflation, they still to have very good performance. Another key noteworthy aspect is that the Ryzen 7 1700X offers a very similar performance as that of the 1800X for a much lower price tag. There isn't as much overclocking headroom with the 1700X but for the majority, that's a pretty good SKU to go with. And now, with Ryzen 3 series just around the corner, we're hoping that AMD's optimisation efforts will lead to a more balanced performance even in single threaded applications.