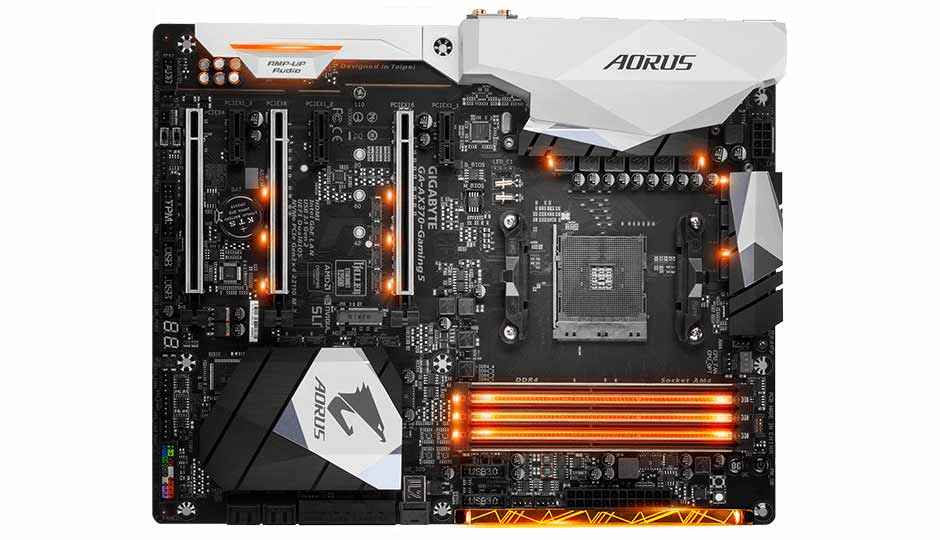 All aboard the Ryzen express
GIGABYTE AORUS AX370-GAMING 5 Rating

80

100
Our Verdict
With a lot of customizability options, the GIGABYTE AX370-GAMING 5 is a great motherboard for those jumping onto the Ryzen bandwagon. It scores quite well in our benchmarks and we see no reason to not recommend it to be paired with an AMD Ryzen 7 1800X CPU.
PROS
Dual BIOS
Plenty of customisation options
Dual ethernet ports
CONS
No audio chipset shielding
Minor quirks with the BIOS
GIGABYTE AORUS AX370-GAMING 5: Detailed Review
One of the high-end motherboards for AMD's new Ryzen processors, the GIGABYTE AORUS AX370-GAMING 5, as they name indicates has the X370 chipset. This means that you'll be able to not only play around with the CPU multiplier but get the most out of your new AMD Ryzen CPU as the X370 is one of the chipsets which enables the Ryzen CPU's XFR clocks. The AX370-GAMING 5 is completely the same as the AX370-GAMING K7 except for one difference, the K7 comes with the Tube B-CLOCK chip which facilitates a wider range of BCLK frequencies. This particular IC is also present on GIGABYTE's Z170 and Z270 motherboards where they allow you to tweak the BCLK from 90-to-200 MHz. On the AX370-GAMING K7 motherboard, it allows an even wider range of 100-to-300 MHz. Messing around with the BCLK does affect the PCIe and memory clocks so it's for the more advanced overclockers. Let's see what the board comes with.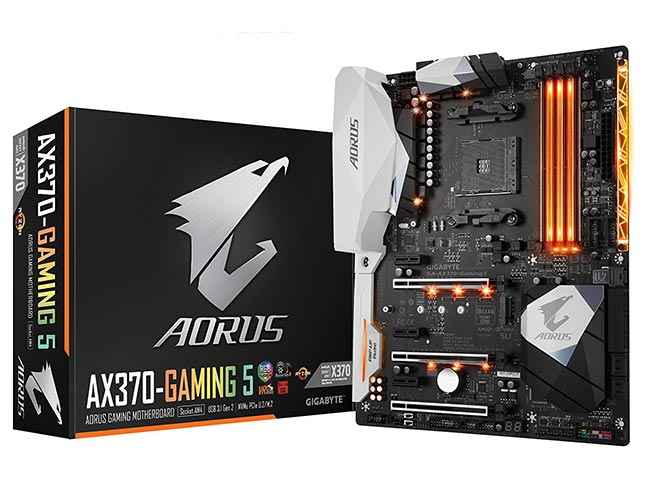 Packaging
Ever since GIGABYTE came up with the new AORUS brand, they've opted for a more versatile colour scheme – RGB and black. With all the LED's turned off, it has a very monotone look which goes well with minimalist designed cabinets or you can turn on the RGB LEDs and go crazy. Something we're quite frankly getting fed up of. However, the fact that you can customise these to your heart's delight it all that we care for. The packaging is average but there are plenty of freebies on the inside. We really don't know what more to say about the packaging other than the fact that it doesn't look tacky.
The board comes with RGB Fusion which is basically an LED controller that can handle multiple outputs, so you can have a lot of different colours coming from independent RGB/RGBW strips. The other things which stand out are the audio chipset and the Killer LAN, we'll look at these in detail later.
Specifications
To view the detailed specification list for different versions of the motherboard, please refer to GIGABYTE's official website.
CPUs Supported
AMD Ryzen™ processor
AMD 7th Generation A-series/ Athlon™ processor
Socket
AM4
Memory Supported
4 x DIMM, Max. 64 GB, up to DDR4-3200+(OC)
Chipset
AMD X370
VRM Design

CPU Power: 6.+4 Phase
Memory Power: 2 Phase

BIOS
AMI UEFI BIOS
Expansion
3 x PCIe 3.0 x16 slots (x16, x8/x8, x8/x8/x4)
3 x PCIe 3.0 x1 slots (Shared with x4 PCIe 3.0 slot)
Storage
8 x SATA 6.0 Gb/s (supports RAID 0/1/10)
2 x SATAe ports (PCIe 3.0 x2)
1 x M.2 slots (PCIe 3.0 x4 and SATA 6 Gb/s)
1 x U.2 connector
Networking
1 x Killer E2500 Gigabit LAN
1 x Intel I211 Gigabit LAN
I/O
4 x USB 3.1 Gen2 ports (3x Type-A, 1x Type-C)
6 x USB 3.1 Gen1 ports
1 x PS/2 Mouse/Keyboard Port
5 x Audio jacks
1 x HDMI port
1 x Optical S/PDIF OUT Port
2 x USB 3.1 Gen1 Headers
2 x USB 2.0 Headers
2 x Temperature sensors
1 x OC button
1 x Front panel audio header
1 x Front panel header
1 x RGB Header, 1 x RGBW Header
2 x BIOS Switches
Audio
Realtek ALC1220 7.1 Channel High Definition Audio CODEC
Fan headers
8 x 4-pin PWM
Form Factor
ATX Form Factor (305 mm x 244 mm)
Miscellaneous Features
@BIOS
3D OSD
AutoGreen
Cloud Station
Color Temperature
EasyTune
Contents
Like we mentioned earlier, the GIGABYTE AX370-GAMING 5 comes with quite a few freebies (not exactly free since you are paying good money for the board). There's the usual driver CD, manual and SATA cables in the package. And the ones that matter are the thermocouples, velcro cable ties, G-connector and an SLI bridge. It's a hard PCB 2P SLI bridge with none of the fancy metal housing or programmable LEDs. Maybe that's an oversight by the RGB committee.
Here's the list of the entire contents of the box.
Motherboard
User Manual
Rear I/O panel
1x Hard SLI Connector
4 x SATA cables
1 x Easy header connectors
Driver disk
SATA cable labels
RGBW LED extension cable
AORUS Badge
2 x Velcro cable tie
2 x Thermistors

Board Layout
We see there's plenty of open space around the CPU socket. The capacitors for the power phases lie neatly packed to the side and there's no component infringing the space around the sockets. The crystal oscillators do appear to be a little close to one of the mounting holes but we don't see that being a problem as long you pick an aftermarket cooler that isn't too outlandish in design.
As mentioned previously, the GIGABYTE AX370-GAMING 5 has a 6+4 power phase design for the CPU and the memory is handled by two power phases. The heat sinks mounted on the MOSFETs are quite rigid ensuring proper contact at all times. Before we installed the motherboard, we felt that the CPU power connector in the corner wouldn't be easily accessible but that wasn't the case. Especially if you have a PSU with detachable cables for the 12V CPU ATX connector then clip the motherboard end first before routing it to your PSU.
The RAM slots have some groovy looking plastic inserts to disperse light and they're reinforced with a metal bracket. RAM isn't a heavy component which would require reinforcement but if you were to attach a water block on top of the RAM modules then these might help with durability.
In the top right corner, we see all the onboard buttons like power, reset, clear CMOS and on the fly OC. A good thing here is that the reset button and clear CMOS button have different coloured caps which help avoid confusion. You don't want to accidentally lose all your BIOS settings, do you?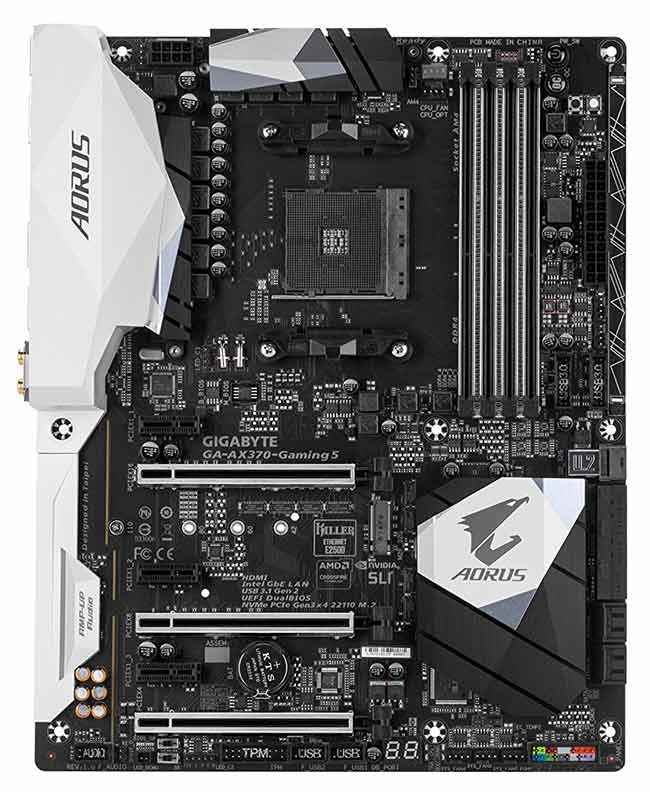 As for the RGB enthusiasts, you have a flat acrylic bar which is easily removable and you can customise it to your liking. We'd have preferred if the acrylic bar was plain and not with the design that we see here. This way we can easily customise the existing bar and not get a new plain one. If you prefer to have the stock design then the same can be overlaid as an adhesive tape.
The placement of a PCIe x1 slot at the very beginning is a welcome design decision. This results in the longer PCIe x16 slot being further away from the CPU allowing better compatibility with aftermarket CPU coolers. It's all fine if you install the cooler first and then the card but if you have to fiddle with the cooler post assembly, then this arrangement of PCIe ports is more favourable.
Towards the edge of the PCH we see four ADM1480 multiplexer chips that allow for more interfaces to be added to the board. The M.2 and U.2 slots share bandwidth. Similarly, so do the three PCIe x1 slots share bandwidth with the third PCIe x16 slot (which runs at x4).
The M.2 slot is compatible with 110 mm cards which is how long most SSDs are these days. But yes, once you install a graphics card, you no longer can play around with the M.2 slot. Most graphics cards do have openings on all sides, so the M.2 card is going to be subjected to a lot of hot air. However, if you were to get reference design graphics cards like the Founders Edition from NVIDIA or say a Sapphire RX card then they don't have vents at the bottom and your M.2 slot will not have to bear the extra heat.
The X370 chipset has a pretty huge heatsink on it. Ever since chipsets have moved to smaller process nodes they've not needed active cooling. However, this also meant that the passive heatsinks ended up being quite wide. This has been the case with Intel motherboards as well. Over time, we've seen more components being moved away from the chipset area including all the buttons that are now present beside the RAM slots. What we'd like are to have properly labelled SATA ports to indicate which are coming from the chipset and which are coming from third-party chips like ASMedia.
Until the last generation of motherboards, the go to audio chipset was the Realtek ALC1150 which ended up being a considerable improvement over the 888. And it seems the new ALC1220 is all set to dethrone the incumbent. The GIGABYTE AX370-GAMING 5 has not one but two of these CODECs underneath the plastic casing. However, upon removing the casing we noticed that there's no shielding on either chipset. While the audio section is separated on the PCB, the lack of shielding does make the chipset susceptible to EMI. We'll know more during the rightmark analysis.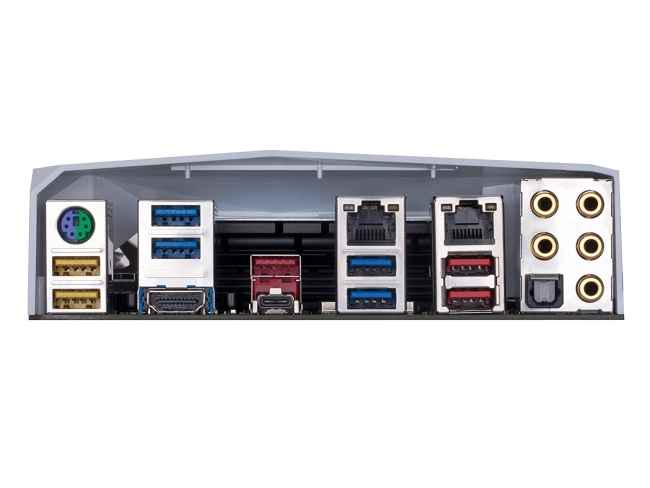 There's an ample number of USB ports on the rear I/O, 10, to be precise. Most of which are USB 3.0 with four red coloured ones being USB 3.1 Gen2 and the rest USB 3.1 Gen1. Two of the USB ports beneath the PS/2 port make use of GIGABYTE's DAC-UP feature which allow varying the voltage levels to ensure that the output at the end-point, be it the rear I/O or your cabinet's front panel, at up to spec.
The audio ports and ethernet ports have gold plated contacts but everything else is steel. Essentially, the connectors which are most susceptible to oxidation have been covered. Moving on, we have the ethernet ports, both of which are Gigabit capable with one being an Intel I211-AT and the other being a Killer E2500 port. We didn't try the Killer DoubleShot software for a long period so we didn't experience any untoward behaviour so far. We've heard reports of the software messing up priorities sometimes resulting in higher ping in some games. However, you can always fix the QoS mess ups.
The rear I/O panel is pretty good looking with foam padding on the inside. Each interface is labelled properly and we can't say anything more about it. There's no illumination, so here lies another opportunity to slap on some RGB LEDs. (We're joking.)
With more beefy power hungry liquid AIO coolers becoming commonplace, we're seeing more and more motherboards featuring fan headers with higher amperage. The AX370-GAMING 5 has eight such headers, however, the manual does not mention what amperage these headers are rated for.
Since the AX370-GAMING 5 is from the first batch of Ryzen motherboards, we expected some bugs to be present in the BIOS. The first was with the memory profile. We used a Corsair Vengeance 3200 MHz kit and while the XMP profile had no issues turning on, there was an issue when you had to modify the clock timings manually. No matter what you did, the RAM modules would always stick to the XMP profile. So while benchmarking the AMD Ryzen processors, we had to use the Ryzen Master software to vary the memory clock timings.
Aside from that, the BIOS seemed fairly simple but the lack of descriptions for some of the options would make it a little less beginner friendly.
Performance
Motherboards don't make much of a difference when it comes to normal day-to-day operation. It's the premium features like a better VRM or support for BCLK overclocking that add value. We only test those parameters which might make a difference should you stretch your machine to the limits.
The GIGABYTE AORUS AX370-GAMING 5 seems to score a little less in AIDA64's memory benchmark with the memory copy and read bandwidth being behind some of the other motherboards we've tested. The bandwidth for write operations seems to be better than what we've seen among the others having the X370 chipset. However, overclocking the memory from the default 2666 MHz to 3000 MHz or 3200 MHz seems to provide increasing returns in comparison to the competition.
Looks like the AX370-GAMING 5 is fairly average in the audio department. The frequency response is pretty spot on with minor deviation from source and stereo crosstalk is low enough to be compared against other high-end motherboards.
Verdict
With a lot of customizability options, the GIGABYTE AX370-GAMING 5 is a great motherboard for those jumping onto the Ryzen bandwagon. There's a lot of open space around the CPU area, allowing compatibility with more aftermarket coolers and there are plenty of headers to balance the power load should you go for a lot of cooling fans/pumps/controllers. Both, the RAM and the PCIe slots have metal shielding to add rigidity and we didn't find any worrisome issues with the component placement.
The audio section makes use of two ALC1220 chipsets but neither of them are shielded which seems to be a slight oversight. The BIOS has some minor issues which we expect to be ironed out in the coming months as more Ryzen CPUs hit the market and more bugs get reported. A much welcome feature is the dual BIOS and U.2 ports. It comes with plenty of accessories including multiple thermistors, a 1-year XSplit license and even an SLI bridge. Overall, the GIGABYTE AX370-GAMING 5 scores quite well in our benchmarks and we see no reason to not recommend it to be paired with an AMD Ryzen 7 1800X CPU.
Other Popular Deals
Moto G5s Plus Gold 64gb

Rs. 12049 *

Buy Now

Moto G5s Plus (Lunar Grey, 64GB)

Rs. 16999

Buy Now

10.or E (Beyond Black, 3GB...

Rs. 9999

Buy Now
*Includes Cashback