Xiaomi Redmi 7 detailed review
If it rained in New Delhi as often as Xiaomi launched a new smartphone model, the capital city would be a whole lot cooler, don't you think? Only last month, the Chinese electronics giant launched two new budget models under the Redmi brand name (Redmi Y3 and Redmi 7) with one more to follow (Redmi 7A). A little before that, it launched the Redmi Go, Xiaomi's cheapest smartphone as of today, with Android Go running the show. While the Redmi Y3 was picked up for a review by my esteemed colleague Subhrojit, the Redmi 7 found its way to me. Having bid goodbye to the rather likeable Nokia 4.2, I picked it up to give it a proper go.
Redmi 7 in Lunar Red
Labelling it "the ultimate all-rounder", Xiaomi has blessed the Redmi 7 with a Qualcomm Snapdragon 632 chipset, up to 3GB of RAM, and 32GB of internal storage space as standard. The screen measures 6.26 inches diagonally and sports a "dot notch" at the top for the selfie camera. Starting at a price of Rs 7,999 at the time of writing this review, the Redmi 7 comes in three colour options: Eclipse Black, Comet Blue, and Lunar Red. The latter two come with a gradient finish on the back. Read on to see how our Lunar Red review unit fared.
Build and Design
The Redmi 7's front face gets Corning Gorilla Glass 5 to protect the display against minor scratches, while the back panel gets what appears to be a regular glossy plastic panel (Xiaomi hasn't disclosed any specifics). A black plastic beading keeps the two panels together and houses all the ports and buttons. According to Xiaomi, the Redmi 7's body comes with a P2i nano-coating that makes it splash-resistant but not waterproof, so it goes without saying that it does not get an IP rating. What this means for you is that you can call your Ola driver under a light spell of rain but not expose the Redmi 7 to a swimming pool.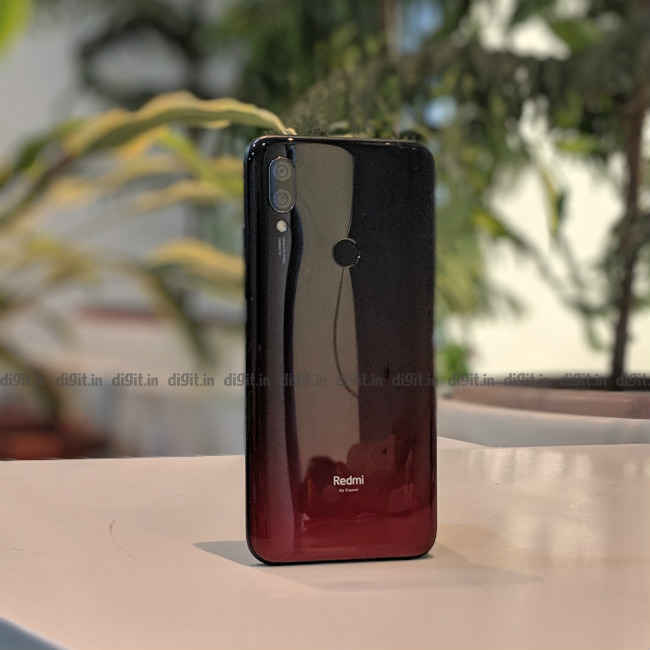 Back panel is a fingerprint magnet
Though the review unit appeared to be built fairly well, there was one critical detail that occurred to me the minute I held it up in my hand: the rear panel didn't fit the plastic frame very well, leaving just a bit of its sharp edge exposed on one side. It wasn't sharp enough to cut a finger running over it but the poor fit made me wonder if the panel would ever come off in the future or weaken the phone's structure greatly. In terms of build alone, the Redmi 7 could do better.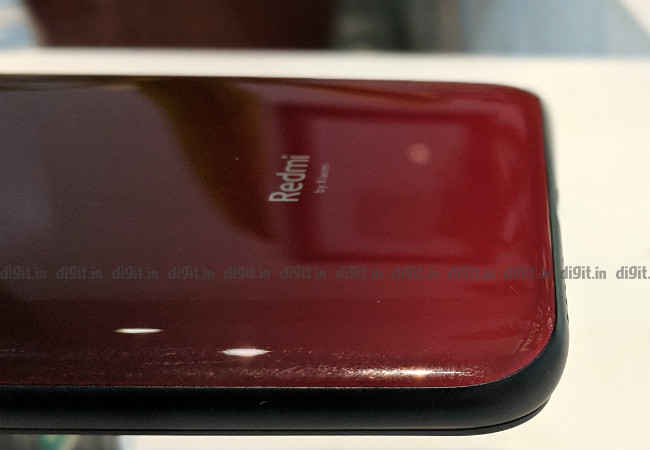 Back panel on left edge was too sharp
A fair number of budget smartphones come with a gradient finish on the back panel these days and the Redmi 7 is no different. It gives the phone a bit of much-needed class. Sadly, the glossy front and back panels of the Redmi 7 act as a powerful magnet for fingerprints and smudges. The top side of the phone is home to a 3.5mm audio jack, a secondary microphone, and an IR blaster. The left side houses just the SIM/microSD card tray.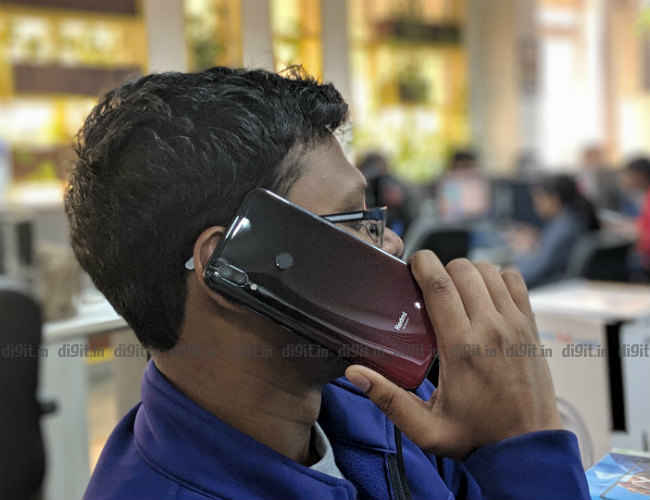 Shrey loves showing off the two-tone back panel of the Redmi 7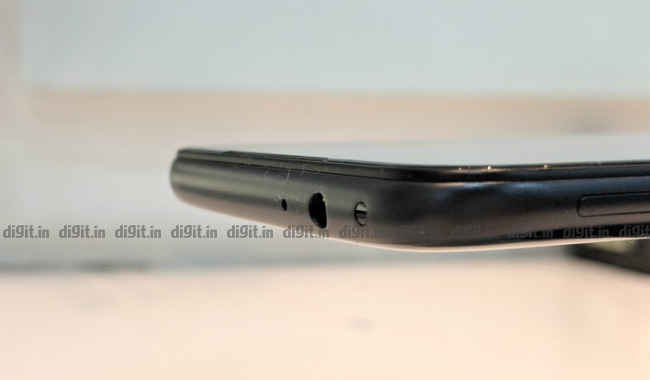 3.5mm audio jack and Xiaomi-standard IR blaster
The bottom side reveals a microUSB port (for charging and data transfer) and loudspeaker grilles on either side of the port. Predictably, sound emanates from only one of those two grilles. The right side gets the power button and a volume rocker, both of which are sturdy and tactile. On the back, we see a dual camera setup with a visible camera bump and a fingerprint scanner, which, although positioned way too high up, works well for screen unlocks.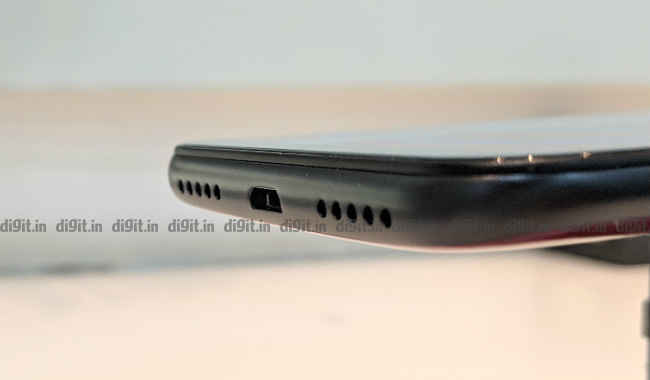 No USB-C here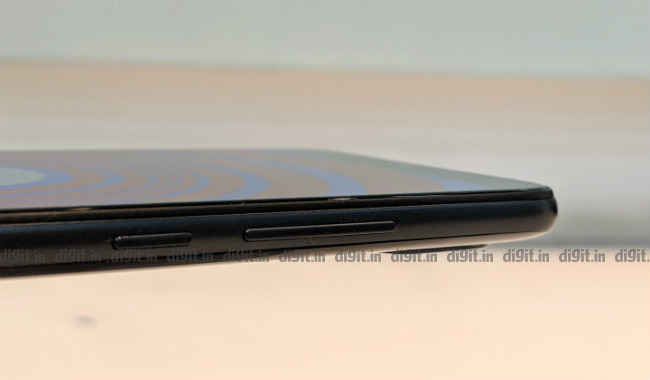 Buttons feel good to press
Display and Audio
The IPS LCD screen on the Redmi 7 measures 6.26 inches diagonally. It has an aspect ratio of 19:9 and a resolution of 1520 x 720 pixels. According to Xiaomi, it has a contrast ratio of 1500:1 and a screen-to-body ratio of nearly 87 percent. The pixel density sits at a decent 269 pixels per inch. According to our test kit, the review unit's screen brightness went all the way up to 353 LUX, which is the going figure for phones of its segment. In comparison, the recently launched Nokia 4.2's display brightness maxed out at 333 LUX. Colours on the screen appeared vivid but seemed to have a light cool tinge about them. Maximum horizontal viewing angle sat somewhere close to a respectable 170 degrees. Surprisingly, there was almost no indication of light bleed from the LCD panel's backlight. All in all, the Redmi 7's display is well worth its salt.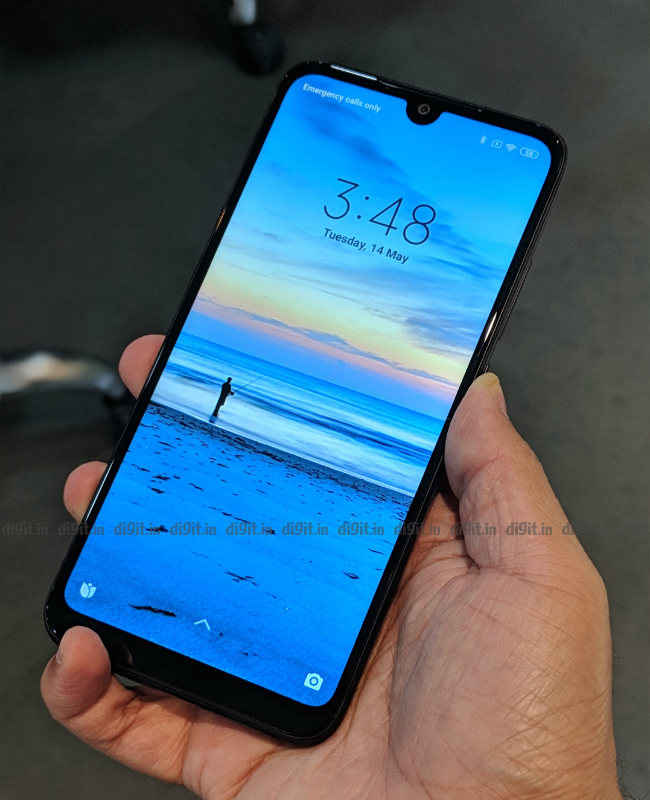 Sound from the single down-firing loudspeaker is both loud and clear. Songs like The Weeknd's Starboy played with a surprising amount of clarity across all three frequencies on the review unit. Low frequency sounds too were reproduced in the form of mild artificial thumps. Understandably, none of the low frequency sounds were felt from the tiny driver. In summary, the loudspeaker on the Redmi 7 does the job if you're with your friends and want to show them a new song you've recently discovered. The earpiece, on the other hand, could do with a bit more volume for calls.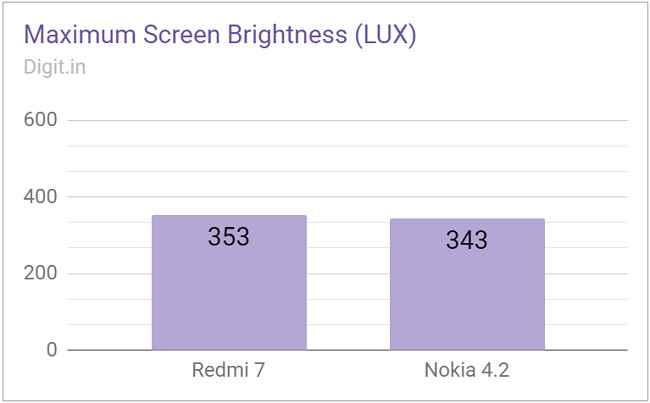 Performance and Gaming
The Redmi 7 is powered by a Qualcomm Snapdragon 632 chipset. First announced in June last year, the chip has a 14-nanometre octa-core processor, which consists of four Kryo 250 Gold processor cores and four Kryo 250 Silver processor cores, all clocking at 1.8GHz. The budget Xiaomi phone is offered in two variants: one with 2GB of RAM (at Rs 7,999) and another with 3GB of RAM (at Rs 8,999). Our review unit was the latter. Internal storage on both variants is a standard 32GB. External storage in the form of a microSD card goes all the way up to 512GB.
In our benchmark tests, the Redmi 7 review unit fared pretty well. On AnTuTu 7.0, it scored 104809. In comparison, the costlier Nokia 4.2 (with a Qualcomm Snapdragon 439 chipset and 3GB of RAM) scored 62985 in the same test. On Geekbench Single-Core and Multi-Core tests, the Redmi 7 bagged 1240 and 4370 respectively. In comparison, the Nokia 4.2 managed 894 and 3338 in the same two tests respectively.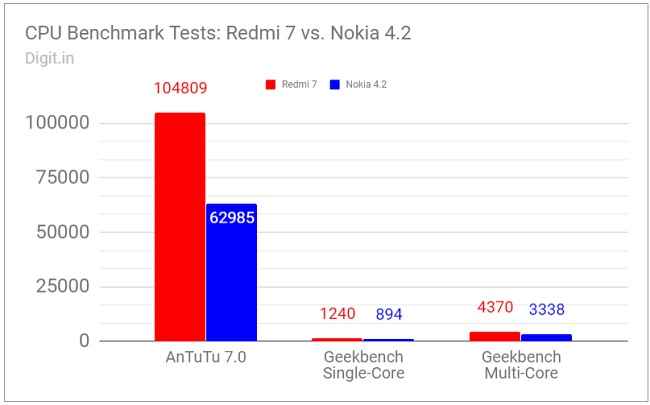 In everyday use scenarios, the Redmi 7 review unit performed satisfactorily. Launching, minimising, closing, and switching between apps was a trouble-free experience. There was no visible sign of lag or delay while jumping between numerous tabs in Chrome or while multitasking in general. I was able to browse and play videos online even comfortably even where there was some background activity going on, like app installations and game updates. If anything, there was that occasional stutter in animation while minimising and jumping between apps. But these hiccups didn't necessarily slow the phone down; they only exposed the GPU's limitation.
The Redmi 7 review unit scored 916 in 3DMark's Sling Shot GPU benchmark test. In comparison, the Nokia 4.2 scored 821. During our gaming sessions, Asphalt 9 ran at a median frame rate of 29 frames per second on the Redmi 7. PUBG Mobile, on the other hand, ran on forced Low graphics settings at a median frame rate of 26 frames per second. During actual gameplay, some elements in Asphalt 9 (like the car's spoiler) were slightly pixelated but the animation seemed mostly consistent and stutter-free. The metrics for Asphalt 9 and PUBG Mobile were recorded using GameBench. To sum it up, the Redmi 7 is not for serious gamers but isn't a terrible choice if you're looking to play popular titles like PUBG Mobile on a budget.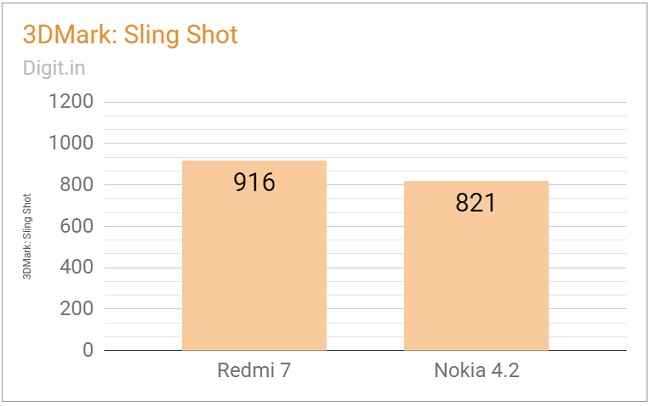 Camera
The Redmi 7 comes with a dual camera setup on the back and a single selfie shooter in the front. The rear cameras consist of a 12-megapixel 1.25μm primary sensor with an aperture of f/2.2 and a 2-megapixel depth sensor for portrait shots. They're accompanied by a single LED flash. The selfie shooter is an 8-megapixel 1.12μm sensor with an aperture of f/2.0. According to Xiaomi, the shooters on the back feature "AI" for scene detection, portrait mode, and a function called Beautify 4.0.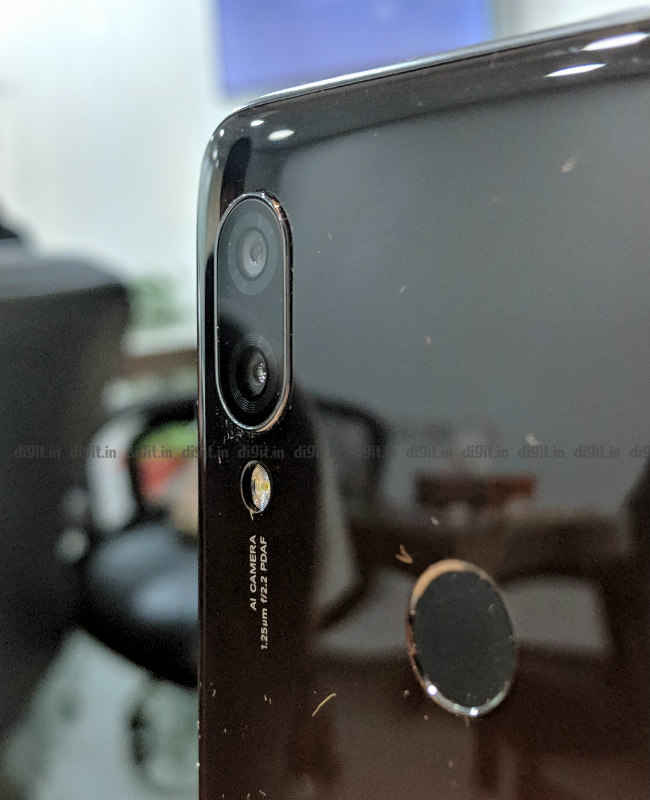 Photos taken through the Redmi 7's primary rear camera in daylight appear to be rich in colour even if the colours are a tad bit on the warmer side. Photos taken through Portrait mode in daylight are rendered quite well without any glaring errors in blurring the foreground subject. Selfies come out bright in daylight but suffer from a fair amount of noise when taken indoors. The camera app is eager to "beautify" faces but the beauty level can be turned down or even switched off altogether. Lowlight photos shot through the primary camera are bright but appear distorted around sources of light. Lowlight selfies, on the other hand, suffer from a good amount of noise.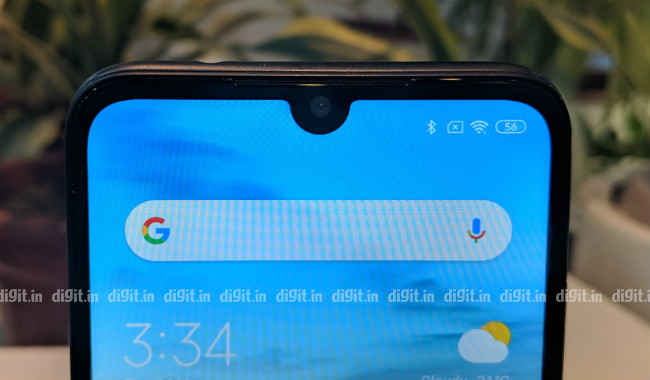 The default camera app is both easy to use and quick to react. Unlike the Nokia 4.2, whose default camera app is unbearably slow and ungainly, the Redmi 7 doesn't suffer from unexpected stalls and hiccups while running the camera app. It even has options to take square photos (so they're Instagram-ready) and a Pro mode (which allows digital tweaking of ISO speed, aperture, shutter speed, and white balance). To sum it up, the Redmi 7 churns out surprisingly respectable photos, given the phone's modest price tag.
Disclaimer: Photos below have been resized for the web. Please visit our Flickr gallery for full-res camera samples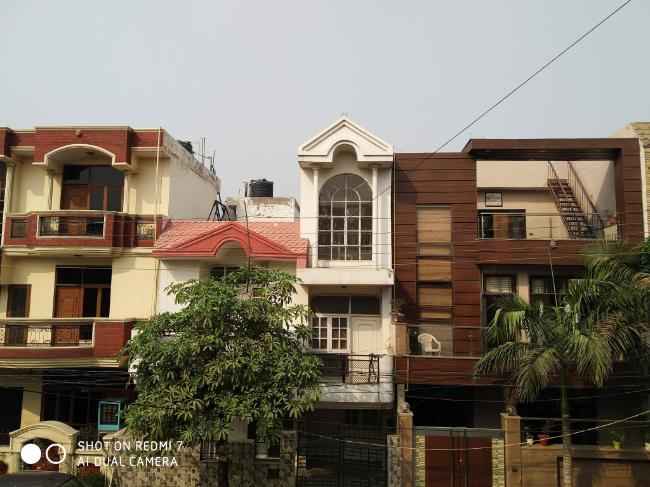 Primary camera, normal mode, daytime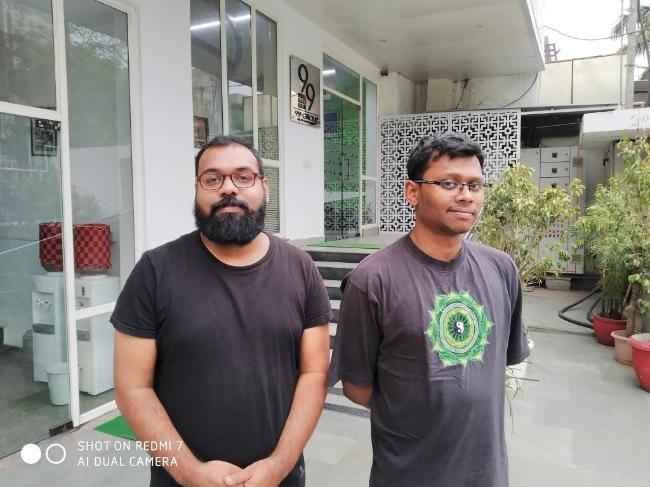 Primary camera, normal mode, daytime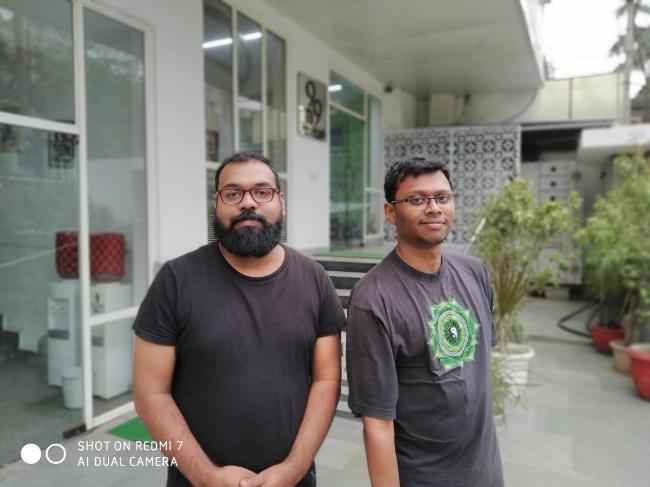 Primary camera, portrait mode, daytime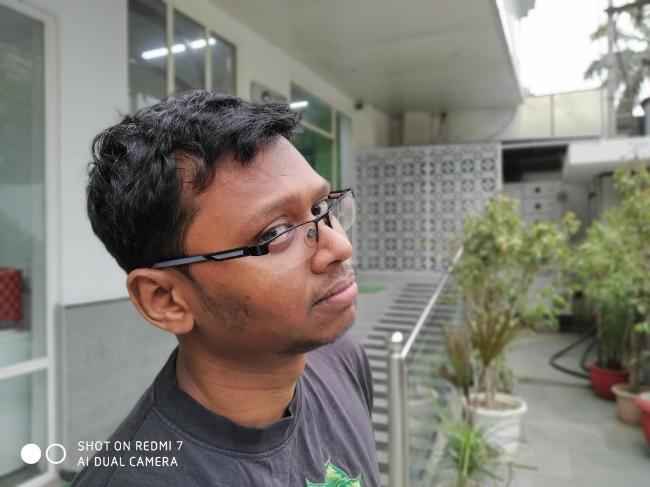 The portrait mode on Redmi 7 is good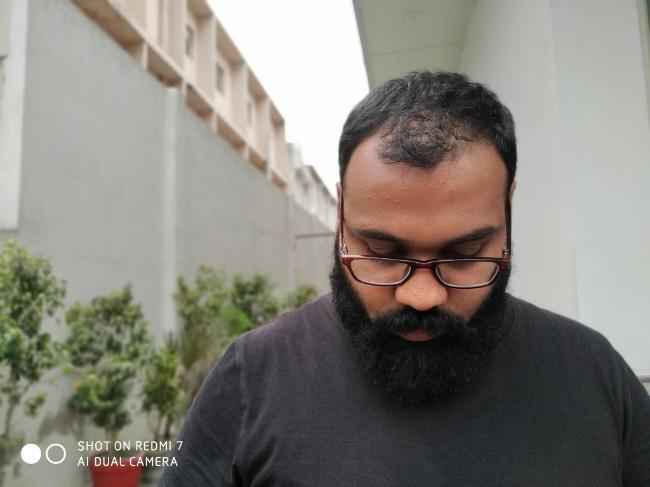 Really good for its price tag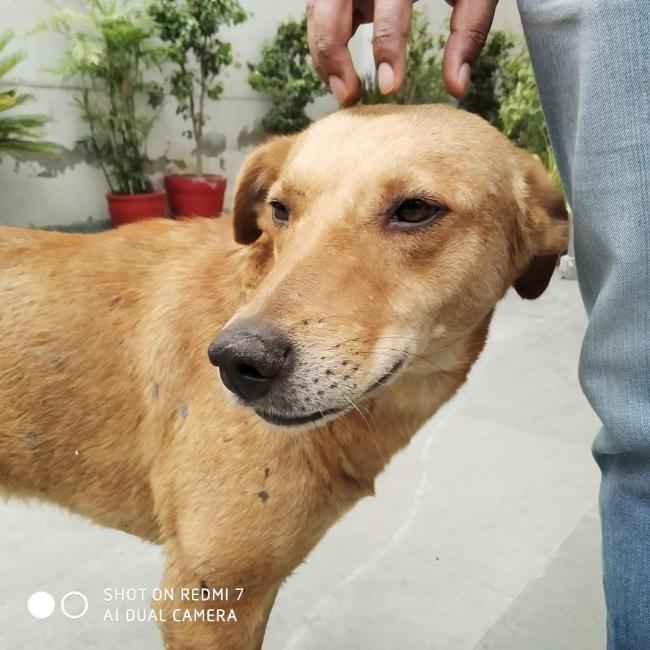 Square mode for easy 'Instagramming'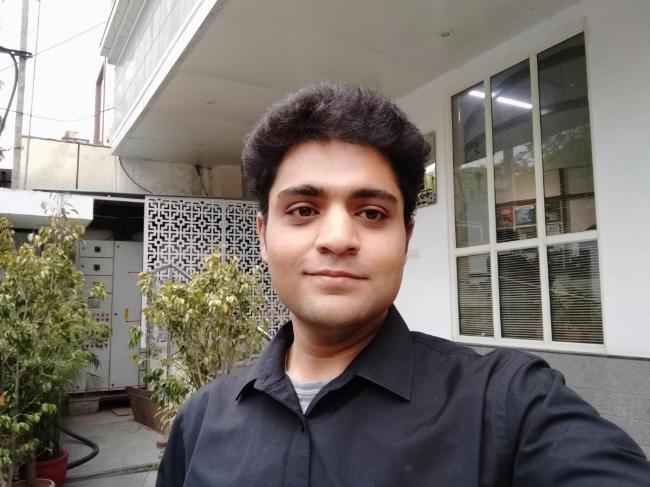 Selfie camera, normal mode, medium beauty, daytime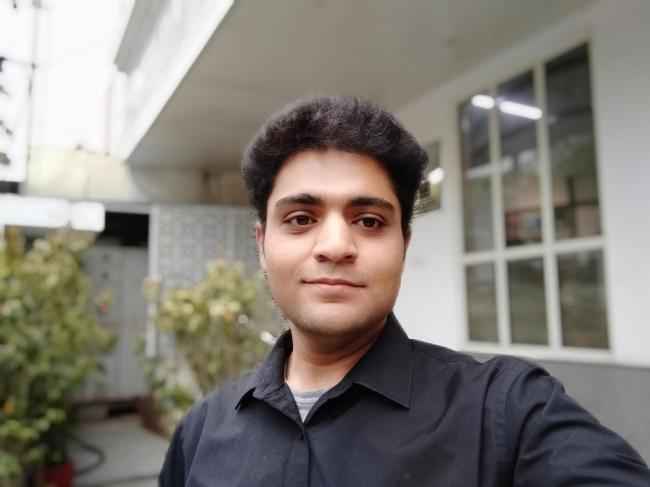 Selfie camera, portrait mode, medium beauty, daytime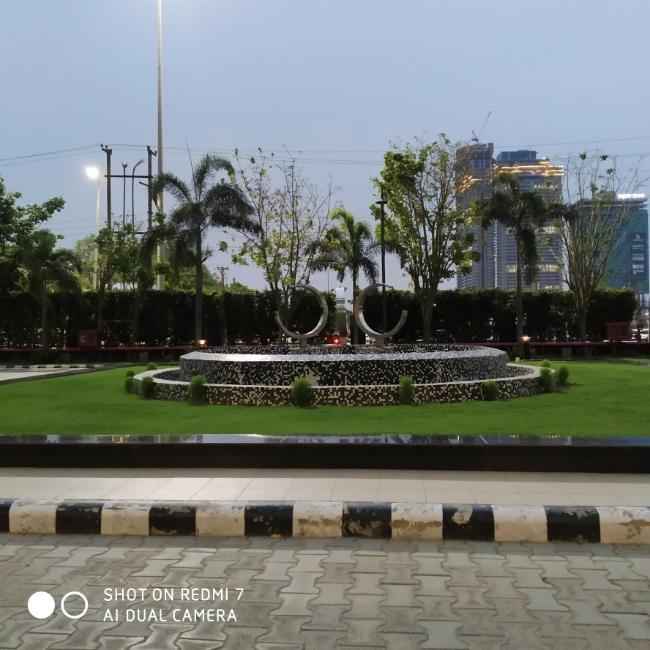 Primary camera, square mode, lowlight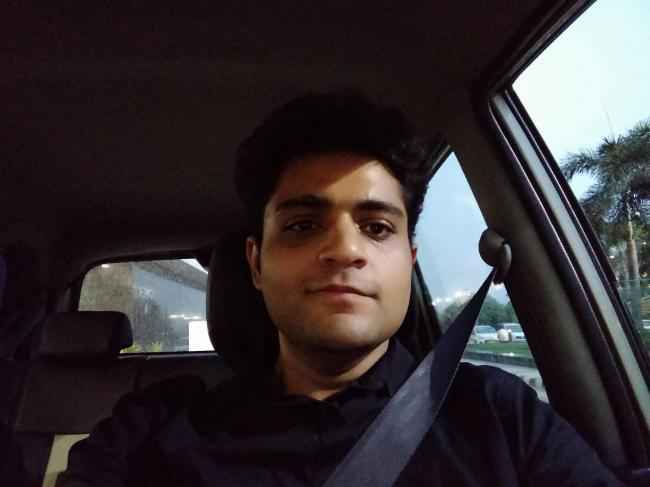 Selfie camera, normal mode, lowlight
Software
Like its brethren, the Redmi 7 comes with MIUI 10.2, the latest version of Xiaomi's proprietary smartphone firmware that's slapped on top of Android 9 Pie. The UI is fairly intuitive and easy to use for new and seasoned smartphone users alike. Like the previous iterations of the UI, MIUI 10 doesn't have a definite app drawer; all the apps can be launched straight from the home screen. As an optional feature, MIUI comes with the latest form of gestures for navigation, which is identical to the one seen on iPhones and to the one Android Q is supposed to feature. It also comes with numerous theme and wallpaper options. Despite that and the many features MIUI brings (its own set of everyday tools, like a calendar, calculator, etc.), I am personally not a fan of MIUI for one big reason: it comes filled with a tonne of ads and bloatware.
Battery
The Redmi 7 sports a 4,000mAh non-removable battery. On our standard battery benchmark test, the review unit lasted 545 minutes, which exceeds the Nokia 4.2's score by only 15 minutes on the same test. For your reference, the Nokia 4.2 sports a much smaller 3,000mAh battery. In everyday use scenarios, the Redmi 7 review unit lasted somewhere close to two full days on a single charge.
During the tests, the phone was put through many sessions of web browsing, gaming, online video playback, and simultaneous app installs and downloads. Even after a day of medium-to-heavy use, the battery only fell from 100 to 60 percent. Leaving the phone unattended for nearly an entire day didn't seem to have too big an impact on the battery (less than a 5-percent drop), which means standby battery consumption on the Redmi 7 is fairly meagre. The Redmi 7 should last you up to one and a half days even with fairly heavy use.
Bottom Line
The Redmi 7 offers a good load of value for its price. The budget Xiaomi phone does surprisingly well on the display and camera fronts. Its performance too is up to the mark. PUBG Mobile players on a budget should be quite happy with its ability to push pixels. All things considered, the Redmi 7 really is a fairly good all-rounder. What's its Achilles heel then? Build quality, easily, especially on the back. I wish the edge of the rear panel didn't threaten to scratch my finger every time I lifted the phone up.
Xiaomi Redmi 7 Key Specs, Price and Launch Date
Price:
Release Date:
24 Apr 2019
Variant:

16GB

,

32GB

,

64GB

Market Status:
Launched
Key Specs
Screen Size

6.26" (720 X 1520)

Camera

12 + 2 | 8 MP

Memory

32 GB/2GB

Battery

4000 mAh