Tonino Lamborghini 88 Tauri detailed review
How much should a high-end smartphone cost? Well, not Rs. 4,00,000 for sure. In fact, no smartphone should ever cost this much. Unless of course, it's the Tonino Lamborghini 88 Tauri. The phone belongs to that ultra-luxury segment, where dealers like Vertu do business. Unlike many Vertu phones though, this phone is not just about using premium materials on a phone, it also offers a lot in terms of the specifications.
So, a review for this phone is ideally not possible. There's no comparison in terms of the price, since it makes even the most expensive variant of the iPhone 6 Plus look like a budget device, but still let's give it a shot. It's an ultra-luxury smartphone, which most of us will only ever see in pictures (and some, like us, will get to touch).
Build and Design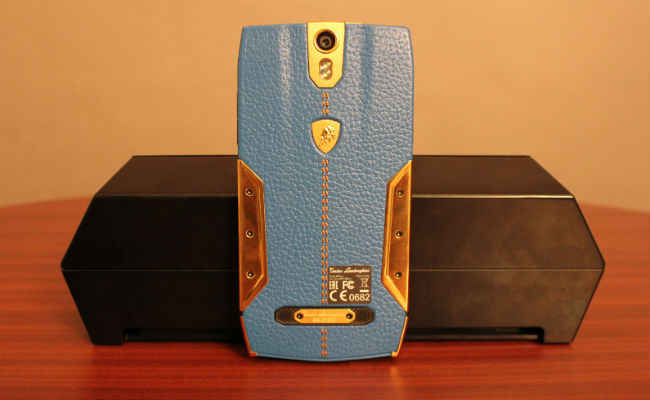 Manufacturers often use metal, wood and many other things for a phone's body, and we call many of these premium. The ultra-luxury segment though is a whole new ball game. The 88 Tauri is made using calfskin leather and automotive grade stainless steel, which is gold plated. To say that the phone's design is premium would be a massive understatement.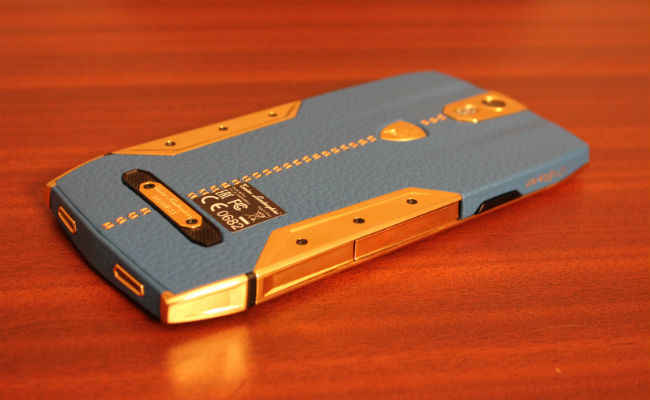 That said, the blue gold version we got is really not a good looking phone. Of course, the looks of a phone is a matter of perception, but the blue gold version pales in comparison to its red black or full black versions.
There's a lot of automobile-like design elements. For example, the noise cancelling microphone has been put in a headlight shaped casing on the bottom of the phone, while the flaps for the SIM cards and charging port, open like car doors. Moreover, the overall design draws a lot of inspiration from Lamborghini automobiles that, like the phone, we see only in pictures.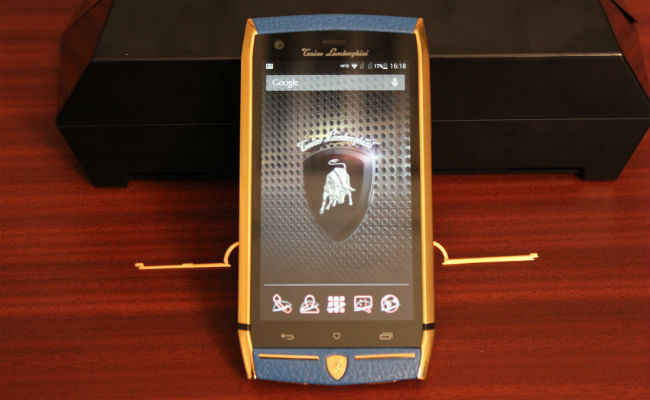 Even though the design elements are quite stylish, they are a nightmare in terms of ergonomics. For example, you will find it very difficult to hold this phone when the flap(s) are open for charging etc. It is also very big, which means you're going to carry it around in your hand, but let's face it, this phone isn't meant to be put in the pocket anyway. The stainless steel on the body though is quite slippery.
One thing we have to admit though is that the phone is built like a tank. It's heavy, yes, but sturdier than almost any other phone that we've used till date.
Display
We've often talked about how 2K displays don't make sense for smartphones, since the human eye can't discern the difference beyond 1080p on such a small display. So, the 1080p display on the 88 Tauri is more than enough for the regular smartphone user. It's not meant for the regular smartphone user though is it?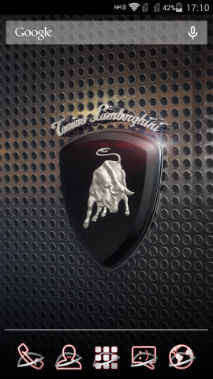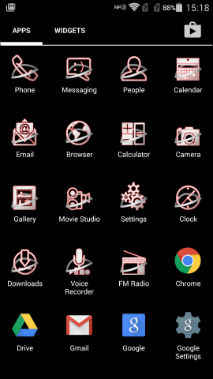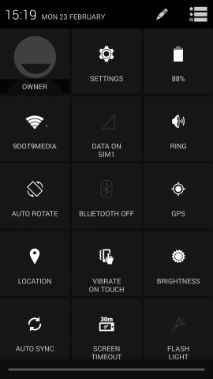 A Samsung-like 2K display would have been more than welcome on a phone like this. The lack of a good looking UI anyway makes the display seem dull for an ultra-luxury product. While we're on the UI, what's up with the stock Android UI on such a product? While almost every manufacturer is working on creating good-looking UIs to achieve product differentiation, this phone comes with a regular stock UI. In fact, the little change that has been made to some icons is pretty ugly. There's nothing that you get on that front, which is a massive disappointment from a phone like this.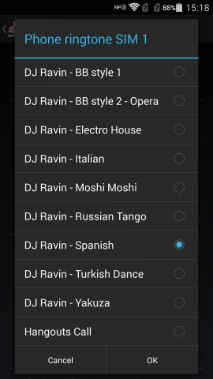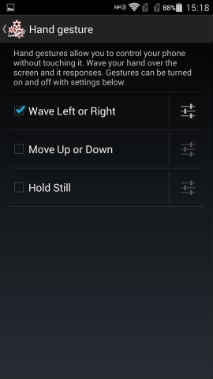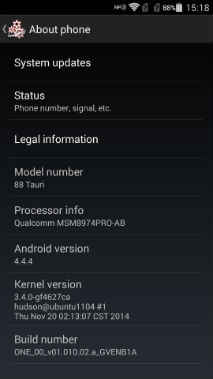 There are a bunch of ringtones created exclusively for this phone, by DJ Ravin, but that's about it in terms of UI additions.
Performance
Remember how we said this phone is not just about using premium materials for the body? Well, the 88 Tauri runs on a Snapdragon 801 SoC, clocked at 2.5 GHz, along with 3GB of RAM. That puts it right up there with the most powerful devices in the market today. The same is also reflected in its benchmark numbers and overall performance. The phone shows absolutely no lags or stutters during the most resource intensive task. Of course, that is no surprise, considering the specs.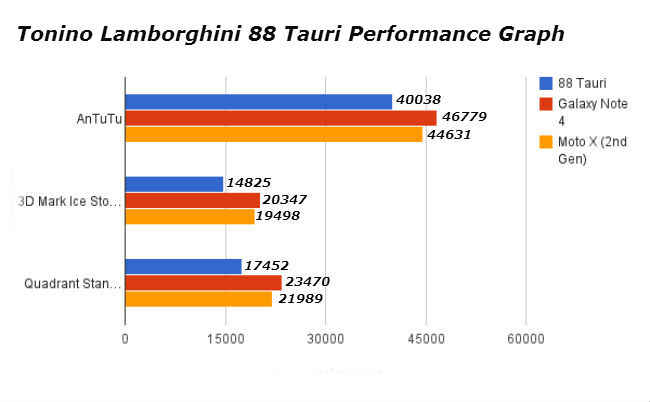 What is surprising though is that it shows lower benchmark scores than the likes of the Moto X (2nd Gen). It doesn't affect the overall performance, of course, but if you go strictly by the numbers, this phone is below many of the flagships we have in the market today.
Battery
Where it matches up to and even outdoes some flagships though is in the battery department. The 3400 mAh battery lasts for 14 hours in our battery test, which is just two hours short of the Galaxy Note 4. The Tonino Lamborghini 88 Tauri will easily last you about one and a half days, which is good for any smartphone.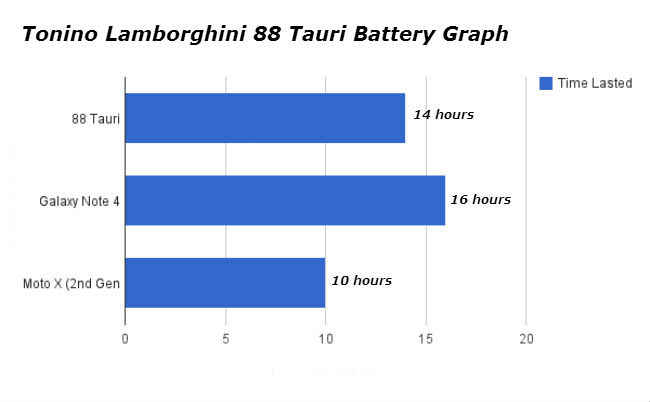 Camera
Another area where the 88 Tauri got things right is in the camera. The 20MP rear snapper takes great images under optimal light conditions and performs well even under low light. That said, it still can't beat the likes of the Galaxy Note 4 and iPhone 6. Why do we say that? Because in this day and age, taking merely good shots is not enough. The auto-focus on the Tauri is a little slower than what we would have liked and the both the front (8MP) and rear cameras sometimes struggle under fluorescent lighting.
Bottomline
Can we really end this review with a 'to buy or not to buy' verdict? The Tonino Lamborghini 88 Tauri is in a class of its own. If you have the money to buy this phone, then you're really not going to read a review to buy it. Moreover, it is not a bad phone either. If this were a flagship device with a 'normal' price-tag, we would all have liked it. It's worth noting though that the only thing this phone really has an advantage in over any other flagship phone today is the build quality. Everything else is pretty much what any other flagship phone (that costs less than a fourth of this phone) offers.