Sony Ericsson Aspen - The Green phone detailed review
With the growing concerns of our environment and how the manufacturing of various gadgets today inflict adverse affects on the environment, many companies are now "going green" in an attempt to reduce the harm caused to our environment. Thus they are attempting to reduce the use of natural resources that may be running short by using recycled materials to produce a lot of goods. And Sony Ericsson did not want
to stay behind in this, so they are now using recycled plastics basically attained from discarded bottles and optical discs to produce the plastic needed for their phones. Overall the phone has been well built and feels sturdy, even with its all plastic construction. The back cover clings on pretty tightly and the buttons feel in place and don't have any unnecessary free play.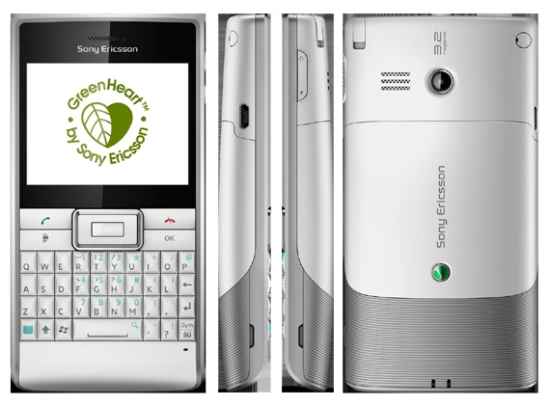 Look and Feel
One phone that has become a part of the "Green Heart" series the Aspen, that is a Windows Mobile 6 based phone that has a resistive touch display with a full QWERTY keypad. A first look at the phone reveals a nice 2.4 inch display with a relatively highly beveled qwerty keypad with big bright letters, with a 5-way navigational pad and 4 other buttons on the front side with a volume up/down button on the rightside, a micro USB port on the left side and a 3.2-megapixel camera on the back, with the speaker next to it and a power/standby button on the top. The keypad on this phone, although beveled, doesn't provide a very comfortable or quick typing interface. The keys are very hard and provide very less tactile feedback, which coupled with sever beveling can be strenuous on the thumbs if you are typing a long sms or email, which should be taken into consideration, especially if you are buying this phone primarily because of its QWERTY keypad. The phone does lack a dedicate camera key.
The Aspen is a Windows Mobile-based phone and it comes loaded with the windows mobile 6.5.3 professional version of the OS. It is rather slow and laggy, like for example, when ending a call, it takes about 3 to 4 seconds to return to the standby menu. Even though it has a 600 MHz processor the OS makes runs much slower. It does however pack a lot of preloaded software like Skype, Facebook and Twitter, with Google latitude maps for navigation and a pocket office suite for those who would like to edit any attachments they might receive in mails. The OS offer six panels, or basically 6 different home screens that can be customised according to the users choice and its shortcut button which is placed under the call receive button also offers a few shortcuts to your disposal. This interface is similar to the XPERIA series of Sony Ericsson phones. And since this is a Java-based phone once can choose from a plethora of java applications designed for the WM platform. The touch interface is pretty comfortable when using the stylus but not very finger friendly, so if you want to perform a quick operation without having to pull the stylus out it may not be all that easy, since resistive touch display require a precision and a slight force. The interface is however gesture controlled so you may find kinetic scrolling when navigating menus, or options. On the default standby menu, you get information like the date/time, weather, communication summary that include messages and call records, and a launcher button that shows the recently opened applications.
The call tests performed on this phone provided some disappointing results. The earpiece volume even at its max is ridiculously low, even when we were stressing our voice to be audible, the aspen was just unable to provide a clear sound, and in zone two it just could not sustain a call, most of the time it showed no network so it was struggling to even keep a sustained network, let alone a call. The ringer too is very soft and in loud environments one cannot hear the phone ringing, so there's a high probability of missing a call unless the user feels the phone vibrate. So even the loudspeaker wasn't that impressive, overall it had a very poor call performance.
The multimedia features of this phone are pretty good, although it does take some time to load applications or build up lists, once loaded the media player works very well and has a simple, easy to use interface, and supports almost all windows audio formats, same with the video player. The bundled earphones are pretty basic and provide no special features or sound quality,
The camera is a 3.2 megapixel camera without autofocus or a flash, so its more or less a basic camera with nothing much to offer. The picture quality is average and so is the video capture quality. The phone uses a micro USB port to transfer data, at a rate of about 3 mb/s which is pretty reasonable and about 80kb/s via Bluetooth which could have been a little faster. It comes with an onboard usable memory of about 230 MB and a hot swappable microSD slot that can support a card up to 16 GB. Wi-Fi on this phone was not as easy as 1-2-3 and one. It required us to know what kind of encryption the router was using, and then we had to uncheck a box where it enabled the pass code box. Browsing the net on the phone was fast and smooth. It comes loaded with the internet explorer browser. The wifi connectivity was good and did not lose connection when we went far from the router or to a different room. The battery provides a fair amount of backup thanks to its 1500mAh lithium polymer battery.
Conclusion:
Overall, priced at Rs. 16,744, the Aspen is not exactly great value for money, and neither does it stand out as a special handset. It's a fairly middling phone and, for the price, there are better options available.
Specifications:
Network: 3G HSDPA, GSM ; Display: 2.4-inch, 320 x 240 pixels, 65K colours; Memory: 230 MB inbuilt, microSD expandable; Camera: 3.2 MP; weight: 130 grams
| | |
| --- | --- |
| Brand | Sony Ericsson |
| Model | Aspen |
| Features | |
| Physical Specs | |
| Form Factor | Bar |
| 2G Network Bands | GSM 850 / 900 / 1800 / 1900 |
| 3G Network Bands | HSDPA 900 / 2100 |
| Screen Resolution | 320 x 240 pixels |
| Screen Size | 2.4 inches |
| Maximum Screen colours | 65k |
| Touchscreen / Dual Screen (Y/N) | Y/N |
| Battery Rating | 1500 mAh |
| Dimensions (L x W x H) | 117 x 60 x 12.5 mm |
| Weight | 130 g |
| Expandable Memory Type | Micro Sd |
| Hot Swappable | Yes |
| Available Colours | Iconic Black, White Silver |
| Other Features | |
| Operating System | WM 6.5.3 Professional |
| Charging via USB (Y/N) | Yes |
| Hardware Keypad (Regular/QWERTY) | QWERTY |
| Accelerometer (For auto rotate) | |
| Address Book Capacity | Practically unlimited |
| No of calls in register | Practically unlimited |
| Talk Time / Standby Time * | 8 to 10 hours/ 450 to 600 hours |
| No of Profiles # / Customisable | |
| Offline Opearability (Y/N) | Y |
| Inbuilt GPS / A-GPS support (Y / N) | Y |
| Connectivity | |
| Browsing (GPRS/HSCSD/EDGE/3G) | Y/N/Y/Y |
| EDGE max speed | Class 10, 236.8 kbps |
| 3G max speed | Class 10, 236.8 kbps |
| Connectivity (WiFi/Bluetooth/IR/USB) | Y/Y/N/Y |
| Bluetooth Version/A2DP support | v2.1 with A2DP |
| Accessories | |
| Bundled Accessories | Charger, USB cable, Headphones, Manual. |
| Size of memory card provided | N/A |
| Overall Build Quality (So 10) | 8 |
| Overall Ergonomics (So 10) | 6 |
| Keypad Design (So 10) | 4 |
| Camera Specs | |
| Camera Resolution (Mega Pixels) | 3.15 MP |
| Video Capture Resolution | 400×600 |
| Dual Cameras / Auto Focus / Flash (Y/N) | N/Y/N |
| Mirror for self portrait (Y / N) | N |
| Camera Settings (So 10) | 7 |
| Zoom (Optical/Digital) | Optical |
| Multimedia | |
| Music Formats supported | MP3/eAAC /WAV/WMA |
| Video formats supported | MP4/H.264/H.263/WMV |
| FM Radio (Y/N) | Stereo FM radio with RDS |
| Performance | |
| Signal Reception and Voice Clarity (So 10) | |
| Zone 1 | 6 |
| Zone 2 | 2 |
| Device Earpiece Volume | 4 |
| Device Loudspeaker clarity | 6 |
| Handsfree Clarity | 6 |
| Speaker Volume (on call) | 5 |
| Bluetooth Transfer Speed | 80 kbps |
| WiFi signal strength (Zone 2) | 7 |
| Captured Photo Quality (So 10) | |
| Captured Photo Colour | 8 |
| Captured Photo Crispness | 6 |
| Captured Video Quality | 6 |
| Loudspeaker Audio Quality | 8 |
| Bundled Earphones Quality | 6 |
| Video Playback Quality (So 10) | 8 |
| Price (MRP, Rs) | Rs. 16, 744 |
| | |
| * Manufacturer Rated | |
Rating:
Features: 7
Performance: 5.5
Build Quality: 8
Value for money: 5
Overall: 6
Contact: Sony Ericsson
Phone : 1800111800
E-mail : NA
Website : www.sonyericsson.com
Price : Rs 16,744