Samsung Galaxy J7 Max detailed review
As a reviewer, I've stood witness to Samsung's evolution in the smartphone market. From low-end devices like the Galaxy Y to the class-leading Galaxy S8, Samsung has done a lot. It's rise to a market leading position came somewhat easily, but remaining there has proved to be quite difficult. Believe it or not, a large number of consumers trust Samsung, even after the Note 7 debacle. But while devices like the Galaxy S8 and Note series may make sense overseas, India is a different monster altogether, and the Galaxy J series is arguably more important, including the Samsung Galaxy J7 Max.
In a lot of ways, the Galaxy J7 Max is the epitomy of Samsung's evolution, while retaining some of the things the company isn't liked for. It doesn't bring you class-leading specifications, but it's evidently a result of extensive market research. It will do best in retail stores, where you touch and feel the device, you take it for a short spin even, and make your decision on the spot. And if you indeed do that, the Galaxy J7 Max would convince you against many other devices. Of course, that doesn't meant Samsung isn't selling the Galaxy J7 Max online, which is probably why you're reading this review.
Build and Design
As mentioned above, Samsung is playing the consumer's emotion here. The J7 Max is about how the phone feels, rather than what it is on paper. To that end, it has a unibody metallic design, rounded near the corners, but more or less slab-like. It "feels" premium, more so than the Moto G5 Plus, it's chief competitor. It's built solidly with no creaks or crevices to speak of. As far as the sub-20k market is concerned, the Galaxy J7 Max is up to industry standards today.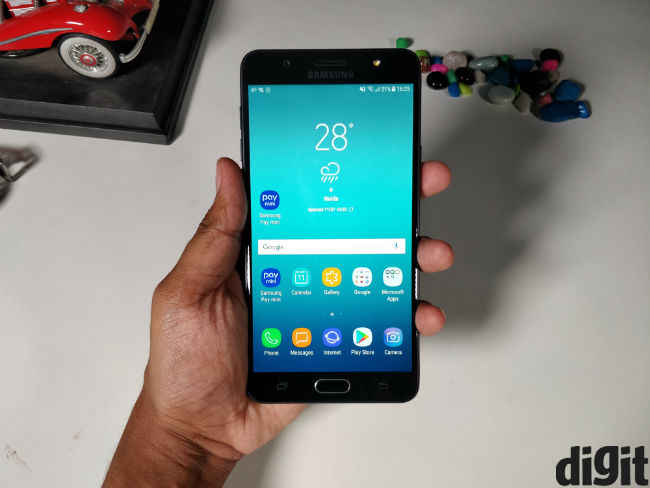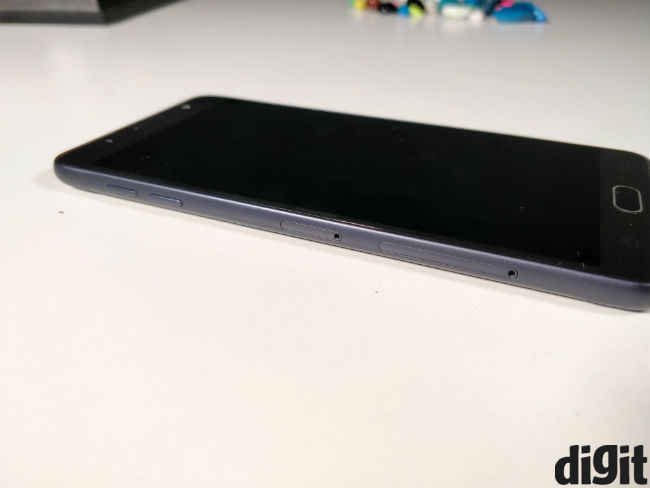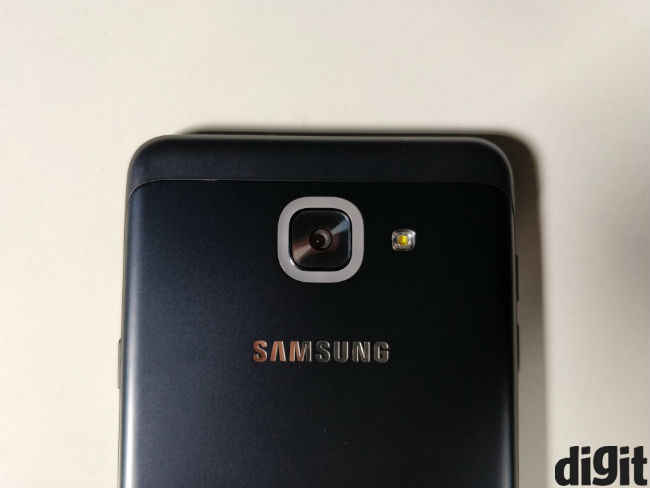 On the other hand, it has a large footprint and is meant for big phone lovers. You will also need large pockets to carry it around, while your grip will have to shift often when using the phone with one hand. From a build and design purview, the Samsung Galaxy J7 Max is no better than the best in this range, but no worse either. I personally find the looks plain, which isn't necessarily bad.
The power button is on the left and falls below your thumb, as long you have medium to large hands. You will be shifting your grip to reach the volume rocket, that lies on the upper half of the right. The phone is slightly curved near the rear edges, with stylised plastic strips on the top and bottom. Samsung's oval fingerprint sensor-cum home button is on the front, with touch-based back and recents keys on either side.
Display
The slightly more expensive Galaxy J7 Pro has an AMOLED display panel, which makes one wonder why Samsung couldn't do the same on the J7 Max. That said, the company is using one of its other technologies for the 5.7 inch panel on this device. It's a TFT display, using Samsung's PLS technology.
Plane-Line Switching (PLS) follows almost the same principles as IPS panels, which allows Samsung to avoid the viewing angle issues commonly associated with TFT displays. Black levels are up to IPS standards, although they're far behind AMOLED panels. The Galaxy J7 Max's display looks very slightly washed out, with decent colour saturation and black levels. The glass feels premium to touch, but you could indeed get a much better display, on phones like the Moto G5 Plus, Xiaomi Redmi Note 4 and many others.
Also, I faced some touch issues with the Galaxy J7 Max, similar to what we noticed on the Galaxy A5 earlier. The phone sometimes doesn't respond to touches, requiring you to tap an app/button repeatedly. While the display isn't the J7 Max's strong suit, it's actually better than every TFT panel I've tested recently.
UI
Spec-to-spec the Galaxy J7 Max would fall behind almost every phone in this price range. But even so, it has a huge advantage over phones produced by Xiaomi, Huawei, Lenovo and almost all others, barring Motorola. The Galaxy J7 Max runs on Android Nougat out-of-the-box, and is one of the few phones in this price, that runs on Nougat. Samsung's history with updates on its budget devices isn't great, but by the looks of it, no one in this price range is interested in giving consumers an up to date operating system. The fact that the Galaxy J7 Max at least runs on Nougat makes it more trustworthy than any phone, except the Moto G5 Plus.
The Galaxy J7 Max also has the same UI as on the Galaxy S8, minus the capacitive navigation keys and edge functions of course. The UI looks and feels good and premium, but it has a sluggish feel to it. That's possibly because of a weaker chipset than the Snapdragon 625, and one does wish Samsung could have done better here.
The Galaxy J7 Max also has Samsung Pay Mini, a stripped down version of Samsung Pay, running on the Galaxy A and S series. You can link your PayTM and UPI accounts to this, and make payments at places that support the same. Samsung Pay still has a ways to go before it's adopted in India, but it's good to see Samsung provide such a service in its cheaper phones.
The social camera feature gives you access to some filters and allows instant sharing via Facebook and WhatsApp. It's a gimmick that some may like, but truthfully, don't we have enough filters everywhere already?
Performance
For me, the Samsung Galaxy J7 Max's downfall is thanks to the MediaTek Helio P20. The chipset is simply not powerful enough to take on the Snapdragon 625 or its more powerful counterparts. The Galaxy J7 Max is a slow phone and it doesn't feel as snappy as phones today should. At nearly Rs. 18,000, you should be able buy something faster.
App load times are high and the phone doesn't feel responsive enough on regular usage. Apps like Facebook, Twitter and many others feel slow. Games run at playable frame rates, but in-game menus and loading times will be higher than reasonable. Games like Injustice 2 are frustrating because of how often you have to wait at a loading screen.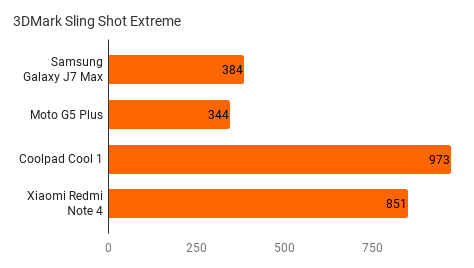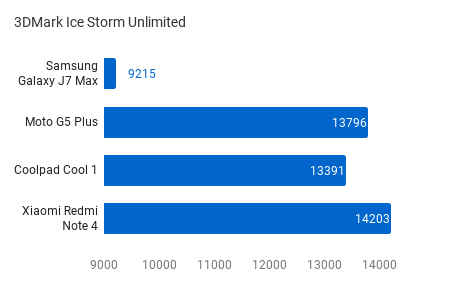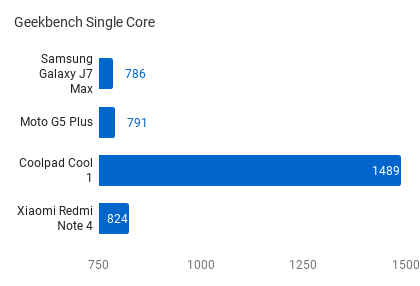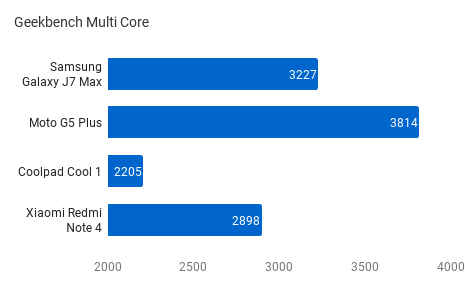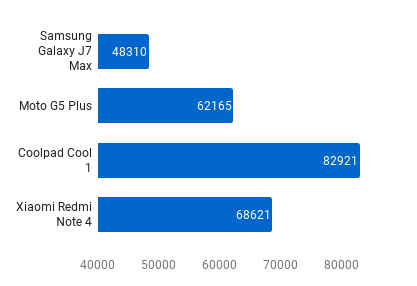 While there are no heating issues on the device, you don't expect excessive heating on such performance any way. The Galaxy J7 Max is an Android phone after all, so you can expect it to keep getting slower over time.
Camera
If performance is its downfall, the camera is where the Galaxy J7 Max redeems itself. It's got a 13MP rear camera on the back and f/1.7 aperture. The UI remains the same as other Samsung phones running on Nougat, and image quality is amongst the best in this price range.
The Galaxy J7 Max takes great photos regardless of how the light conditions are. White balance is good for the most part, and the Galaxy J7 Max produces well detailed photos as well. You see shades of Samsung's low light algorithms (from the Galaxy S8) here, with brighter than usual photos under low light.
Comparing to the Moto G5 Plus (our top camera in this price range), the Galaxy J7 Max fares very well. It's actually better in low light at times, producing slightly brighter photos. The two phones are mostly at par in most other cases. The Moto G5 Plus (review) tends to produce slightly warmer photos, whereas the Galaxy J7 Max is more towards the cooler side.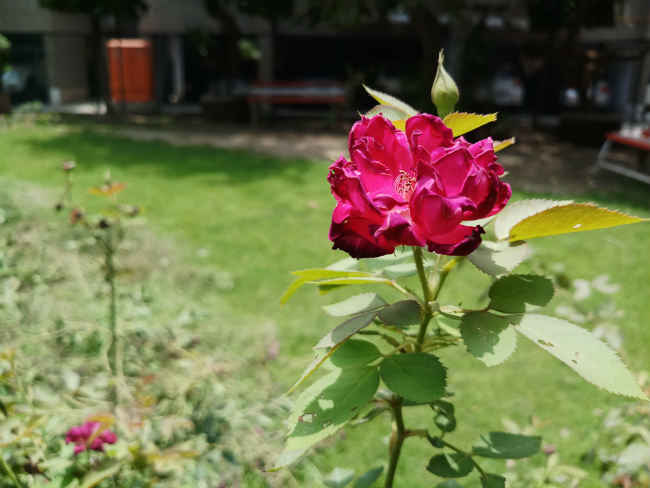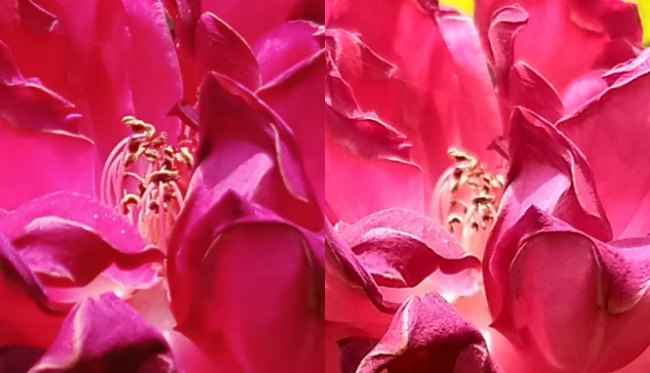 100% crop: Samsung Galaxy J7 Max (Left) vs Moto G5 Plus (Right)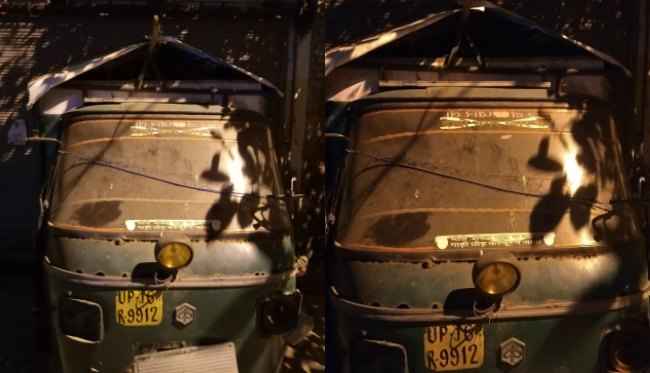 Low Light: Samsung Galaxy J7 Max (Left) vs Moto G5 Plus (Right)
The Galaxy J7 Max has issues focusing on subjects when they're too close to the camera, so the Moto G5 Plus is often the pick for this. But other than that, the two cameras are essentially of the same quality. They even have some of the same issues, with slow focus speeds in low light. The Galaxy J7 Max is the faster one at processing though. It's also better at video stabilisation than the G5 Plus.

Samsung Galaxy J7 Max Camera Samples
Battery
Given the phone's large footprint, a 3300 mAh battery seems little by today's standards. Our regular battery test wasn't compatible with this device, but regular usage tests suggest that the phone will easily last a full work-day. I could stream HD video on the J7 Max for over 7 hours at a time, while gaming didn't drain the battery very easily either. You can expect 14-16 hours worth of battery life from the Galaxy J7 Max.
How it stacks up against competition
The Moto G5 Plus is indeed the chief competitor for the Samsung Galaxy J7 Max, and compared to that device, the phone is indeed inferior. While the two phones have similar cameras, the Moto phone is faster, has a smoother stock Android Nougat software and better display.
The Galaxy J7 Max has a better camera than most other smartphones in this range, but the Xiaomi Redmi Note 4 (review), Coolpad Cool 1 (review) and Honor 6X (review) are considerably faster than this device. That leads us to the conclusion for this review.
Bottomline
There are two reasons to buy the Galaxy J7 Max — a great camera and Android Nougat. Unfortunately for Samsung, those are also the reasons for purchasing the Moto G5 Plus. Motorola's phone is also faster and a few thousand bucks cheaper. So, while the Moto G5 Plus is indeed the best buy in this price range, the Samsung Galaxy J7 Max is worth considering if updated software and a great camera are your priorities.