Ringing Bells Freedom 251 detailed review
By now, we all know what the world's cheapest smartphone looks like. The question that needs answering is how much compromise is justified for a phone priced at Rs. 251. With the Freedom 251, the popular consensus seems to be that its price justifies almost every flaw it may have. The company was off to an awful start, which further reduced people's expectations. But as reviewers, the most important factor for any phone, that we look for, is whether it is usable.
Based on our website's analytics, if you're reading this, you most probably don't qualify as a buyer for the Freedom 251. We get most of our traffic from people clicking on links on their mobiles, and the Freedom 251 is for those who have neither a phone, nor any access to the Internet. So, if you happen to give advice to one of these people, tell them this.
Battery
The first requirement for a phone to be usable is battery life. Indeed, even the poorest performance can be justified by good battery life. The Freedom 251 apparently has a 1450 mAh battery, which is justified at this price, size, and specifications. The battery only lasts for about 3-4 hours, though, which reminds you of the early days of smartphones.
The battery on the Freedom 251 concerns me, and it is the single point of failure, even if you overlook every other issue. The battery on the phone, notably, isn't meant for it. Ringing Bells has actually placed a plastic strip to keep the battery in place. Even then, with the back cover off, the battery will simply fall out.
Many would probably say this is acceptable and expected at this price, but the battery is one thing that's never to be trifled with. The results of using wrong/faulty batteries are evident from Samsung's recent recall of the Galaxy Note 7. Samsung's product standards are obviously higher than Ringing Bells, but it's still a good example of what a slight misstep can lead to. Exploding batteries have been known to cause third degree burns.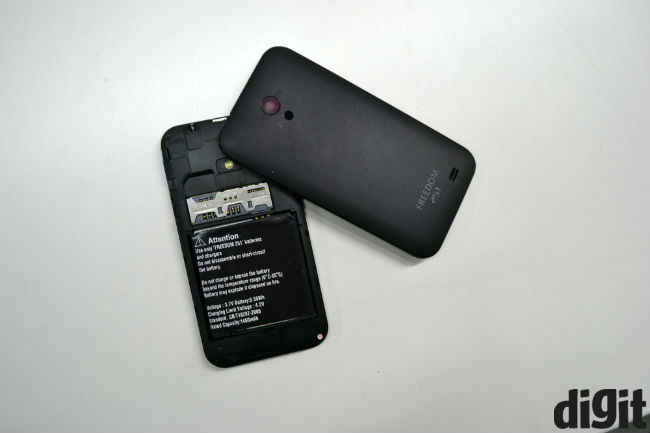 The battery has a lot of things written on it, but it is evidently not meant for this phone
This, combined with the fact that the battery discharges in less than 24 hours even if the phone is off, leads me to believe that Ringing Bells has used one of the aftermarket, non-standardised batteries. The company's name is still unavailable on the BIS' list of certified companies, which further warrants my suspicion. I've also written to Ringing Bells seeking answers.
Update: Answering our query on BIS Certification, Ringing Bells confirmed that the Freedom 251 is certified. The registration number is R-9300051.
Interestingly, battery monitors peg the capacity at 1000 mAh against Ringing Bells' claims of 1450 mAh. It's worth noting that battery monitor's aren't the best sources for determining battery capacity, but I tend to believe it in this case because it isn't the only discrepancy.
Storage
Storage is another bone of contention. Ringing Bells has, and continues to advertise 8GB of storage on the phone. The Freedom 251 actually has only 4GB inside. Not only are customers being misled here, 4GB is just not usable, no matter how basic the user.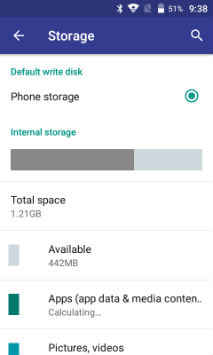 Out of the box, you get a mere 1.2GB of usable space, which will be used up by app updates over a short time. The micro-SD expansion will add 32GB more, for songs and photos, but in the long run, app updates are enough to make the phone obsolete. You may say that's expected off a phone, but you don't want to buy a phone thinking you'll get 8GB of storage space, and end up with only half, do you?
While we're on the subject, the Freedom 251 has 1GB of usable space without any of the pre-loaded apps the company promised. Ringing Bells said pre-loaded apps are an integral part of its business, but none of them are on our test units, including Hike, which was discussed at its TV launch. One can only imagine how much space you'll be able to use.
Camera
You probably catch the drift by now, but there's yet another fallacy with the advertised specifications of the Freedom 251. The company says the phone has a 3.2MP camera, whereas it actually has only a 2MP sensor.
Suffice to say, the camera is pretty much unusable as well. If you still want to see sample photos and an analysis, though, click here.
Performance
The Freedom 251 has a MediaTek MT6580 SoC, clocked at 1.3GHz. It will punch above its weight on benchmarks, but don't go about telling people you can play games on it. It's surprising that this phone can run apps, which is perhaps more than what you bargained for any way.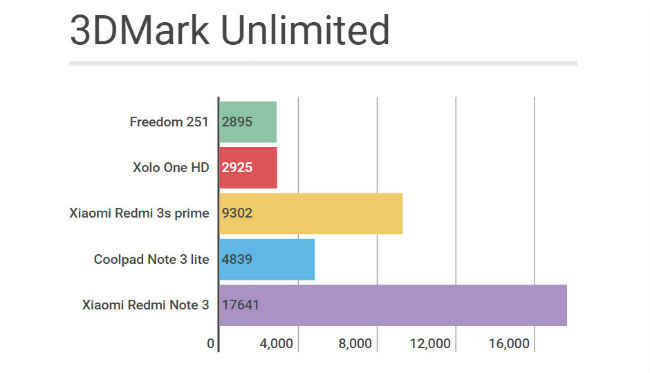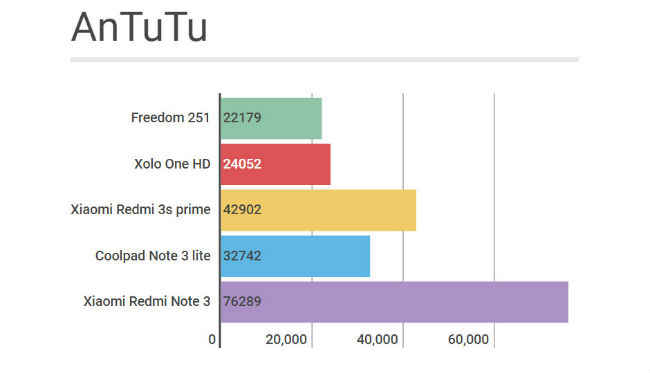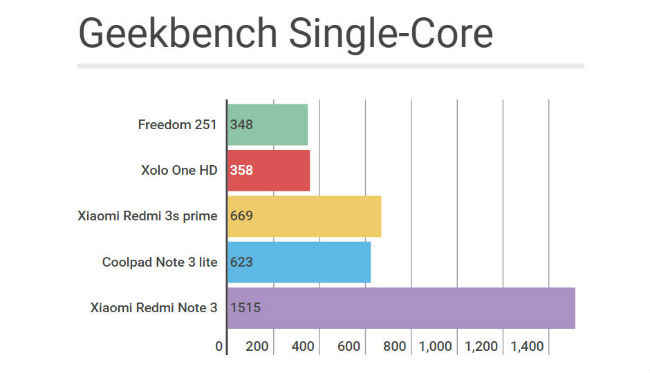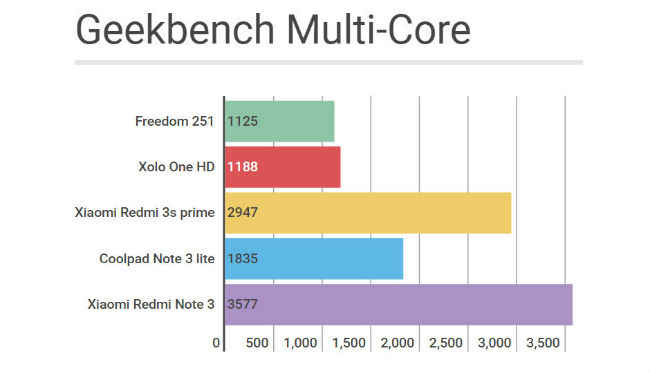 However, remember that most apps will just make the phone obscenely slow. It makes you wonder what state this phone will be in when it comes with a bunch of pre-loaded applications.
Note: Some reports have said that the Freedom 251 has 512MB of RAM. Our unit however shows the promised 1GB of RAM.
The internal temperature seems to rise pretty easily, although I couldn't get it past 40 degrees. The battery discrepancy I talked about earlier, though, makes me wary of even the smallest fluctuations.
Display
Like the performance, the display is another acceptable element of the Freedom 251. While 480p is practically unheard of nowadays, at Rs. 251, it still works. The display is washed out, and there is no point in mentioning the colours or black levels. Suffice to say, it's a display that we got on budget phones over five years ago, and a first time user won't be disappointed. It beats a feature phone easily with a maximum screen brightness of 396 Lux.
That said, Ringing Bells says the phone has a qHD display, but it's true resolution is nearer to WVGA, at 480x800 pixels.
Build and Design
Perhaps the best aspect of the Freedom 251 is its design (design mind you, not the build. There's not much by way of aesthetics, but the plastic build is quite similar to any phone sold at less than Rs. 5000. Our review unit is black, and there's not much to complain about.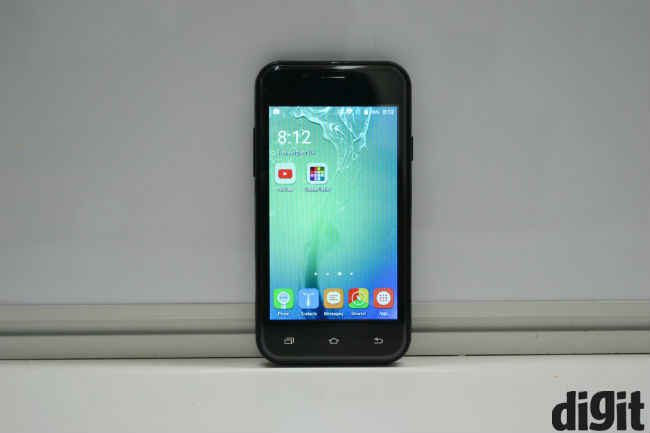 The Freedom 251 is small, and quite compact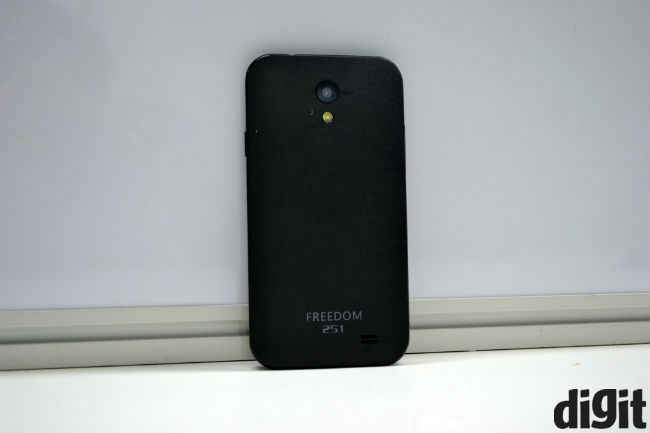 The plastic back is nothing to complain about at this price
The volume keys lie on the left side, with the power on/off button on the right. Both are quite tactile, and pretty much suited to industry standards. There are three capacitive keys below the screen as well and barring the fact that the phone itself is slow, they're quite responsive. As a lover of compact phones, I personally like how compact this phone is, too.
It's only when you open the phone that you see the battery issue, and that the finishing isn't really well done. Overall, while the looks are easily appreciable at this price, the build quality isn't.
Bottomline
The Freedom 251 is obviously meant for those who can't afford smartphones. However, you don't deserve this and it shouldn't be your first smartphone experience. It's cheap, but the battery oversight and misleading specifications are too tough to ignore.
Phones like these are meant to push the buyer towards buying better ones. However, the prospect of a potentially exploding smartphone may put you off them completely. If you need a cheap phone, go for something that Reliance Jio is selling, or one of the phones from Micromax. It's not that the phone isn't worth the money. After all, what really is worth Rs. 251 today, right? As a reviewer, I just can't recommend a phone that could be a possible health hazard.