Nokia X5-01 - palm sized QWERTY detailed review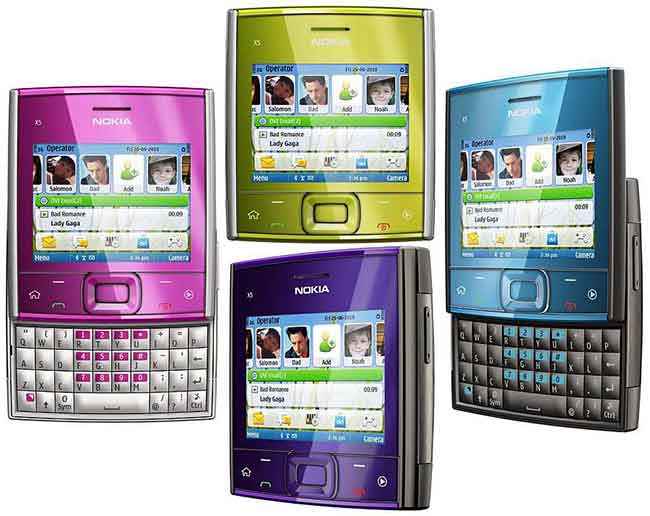 Build Quality & Ergonomics
At first glance, the Nokia X5 is certainly a looker, with a small form factor and interesting colour scheme that does catch your attention - the X5's entire glossy front is shaded in a single, vibrant colour. It's built out of two parts, the screen's square segment with its wide bezel, and the lower button panel rectangle, both of which are bound by raised edges on three sides. You are immediately surprised at the size of the phone, not believing that it would fit on your face and still be able to pickup your voice clearly. You wouldn't be wrong, as it slides open to operate a voice call. Sliding it open doesn't make it much bigger though, and the phone's primary USP – its vertical sliding small form factor – remains strong.
The main keys on the button panel below the screen comprise dedicated home and music keys, as well as call, disconnect, select and back, apart from the central navigation button set. The entire button panel does a decent job, giving good tactile feedback and well-mapped areas to access each function. The slider is smooth and solid, with nary a flimsy moment, and opens to reveal a 4-line QWERTY keyboard in matte silver/grey, also bounded by slightly raised edges. The keys on the QWERTY pad are well rounded with solid feedback, and are also easy to access, though it might take some getting used to the screen raised just above the top row. The dialler number buttons are arranged conventionally on the central R-U,V-M square, and are also easy to get at.
The back of the phone has a brushed metal battery cover adding style to the entire package, with a 5MP camera plus LED flash just on top of it. The phone's loudspeaker is at the bottom, with the 3.5mm audio jack and microUSB port (it charges via the same port) on top, and the volume rocker on the right side - keyboard level.
Interface
[RELATED_ARTICLE]Once you turn the Nokia X5 on, you can be forgiven for thinking this is a Series 40 operating system you are seeing. It's actually the Symbian OS 9.3 Series 60 operating system. On the whole, the homescreen interface while cluttered is actually quite useful and open to personalization, and available in five different modes: horizontal icon bar, active, basic, vertical icon bar, and contacts bar. Each of these have their own way of providing quick access. For further customization, you can also choose from Calendar, WLAN, and Contacts on Ovi as your homescreeen applications, add an e-mail notification bar, and choose from a variety of shortcuts. Key shortcuts for left and right keys on the homescreen can also be user-defined.
Pressing the disconnect button on the homescreen calls up Profiles and power options, including Power Saving Mode and Offline mode. This is quite useful, and saves you the redundant effort of assigning a shortcut to Profiles. Calendar, phonebook, messaging, browser, etc., are all classic Series 60, and so are the 12-standard Menu icons.
On the performance side, the phone's interface is snappy, making full use of the 600MHz processor on the low resolution (320x240) display. It offers pseudo-multitasking without the ability to kill or switch from tasks directly, which isn't too bad as there are 'still open' notifications visible from the main Menu.
Apps bundled on the phone include Facebook, Twitter, Active notes, Quickoffice, Zip, Ovi Sync, and SmartConnect.
Read on the see the phone's performance, as well as test scores and specifications...
Performance
The phone performed without a hiccup on all our call clarity tests, with distortion free handsfree and loudspeaker output, however, the loudspeaker on call could have been a bit louder. Audio pickup was also clear for the listener in all modes.
Audio playback was good, with the bundled handsfree lacking a little bass, but otherwise providing solid output, wanting only a higher maximum volume. Video playback was also exceptional with our MP4 320x240 sample, possibly a sign of the 600MHz ARM 11 processor not being overworked at such resolutions.
[RELATED_ARTICLE]Battery performance was exceptional, with the phone lasting nearly 72 hours on a single charge, with a fair bit of voice call and messaging use. Its diminutive 950 mAh battery is rated to provide a talk time of 5 hours in 2G mode, and that's certainly believable. Expect battery life to reach more credible plateaus if Wi-Fi and media consumption is frequent. The phone's 5MP camera was also quite good, with decent colour accuracy and sharpness, and nearly no noise in good and medium light. Low light makes it rear its noisy head, but then again, we don't expect any better from a phone camera. The LED flash is not very effective, but useful enough in short range.
Verdict
With a good build quality and 3G connectivity, the Nokia X5 is a solid messaging/social networking phone at its price, with robust voice call performance. It is also great for someone looking for a good QWERTY phone in a diminutive form factor, as well as someone looking for a trendy and eye-catching design, all with Wi-Fi and 3G connectivity to boot.
Ratings
Features: 6.5
Performance: 7.5
Build Quality: 7
Value for Money: 6.5
Overall: 7
Price: Rs. 10,499
Website: www.nokia.co.in
Nokia X5-01 logsheet and specifications

Brand

Nokia

Model

X5

Features

Physical Specs

Form Factor

Vertical slider

2G Network Bands

GSM 850 / 900 / 1800 / 1900

3G Network Bands

HSDPA 850 / 1900 / 2100
HSDPA 900 / 1900 / 2100

Screen Resolution

320x240

Screen Size (in inches)

2.36

Maximum Screen colours

256K

Touchscreen / Dual Screen (Y/N)

N/N

Battery Rating

950 mAh

Dimensions (L x W x H) (in mm)

74.3 x 66.4 x 16.9 mm

Weight (in grams)

129

Expandable Memory Type

microSD

Hot Swappable (Y/N)

N

Available Colours

Pink, Azure, Graphite Black, Yellow Green, Purple

Other Features

Operating System

Symbian OS 9.3, Series 60 v3.2 UI

Charging via USB (Y/N)

Y

Hardware Keypad (Regular/QWERTY)

QWERTY

Accelerometer (For auto rotate)

N

Address Book Capacity

Practically unlimited entries and fields

No of calls in register

Detailed, max 30 days

Talk Time / Standby Time * (hrs, min)

Up to 5 h (2G) & up to 3 h 30 min (3G) / Up to 384 h (2G) & up to 384 h (3G)

No of Profiles / Customisable (Y/N)

6/Y

Offline Opearability (Y/N)

Y

Inbuilt GPS / A-GPS support (Y / N)

N/N

Connectivity

Browsing (GPRS/EDGE/3G)

Y/Y/Y

EDGE max speed

Class 32

3G max speed

HSDPA

Connectivity (WiFi/Bluetooth/IR/USB)

Y/Y/N/Y

Bluetooth Version/A2DP support

v2.1 with A2DP

Accessories

Bundled Accessories

Handsfree, data cable, AC adapter

Size of memory card provided

2GB

Overall Build Quality (So 10)

7

Overall Ergonomics (So 10)

7.5

Keypad Design, ergonomics, usability (So 10)

7.5

Camera Specs

Camera Resolution (Mega Pixels)

5MP

Video Capture Resolution

640x480

Dual Cameras / Auto Focus / Flash (Y/N)

N/N/Y

Mirror for self portrait (Y / N)

N

Camera Settings (So 10)

7

Zoom (Optical/Digital)

Digital

Multimedia

Music Formats supported

MP3/WMA/WAV/eAAC

Video formats supported

MP4/H.264/H.263

FM Radio / RDS (Y/N)

Y/Y

Performance

Signal Reception and Voice Clarity (So 10)

Zone 1

7

Zone 2

7

Zone 3

7

Device Earpiece Volume (on call)

7.5

Device Loudspeaker clarity (on call)

7

Handsfree Clarity (on call)

6.5

Loudspeaker Volume (on call)

7

Bluetooth Transfer Speed (in Mbps)

0.61

WiFi signal strength (Zone 2) (%)

100%

Captured Photo Quality (So 10)

Captured Photo Colour

7

Captured Photo Crispness

6

Captured Video Quality

6

Effectiveness of integrated flash

5

Loudspeaker Audio Quality

7

Bundled Earphones Quality

6.5

Display

Quality of display

6

Viewing angle of display

6

Legibility in bright sunlight

6

Video Playback Quality (So 10)

7

Price (MRP, Rs)

Rs. 10,499

* Manufacturer Rated