Nokia Lumia 630 Dual SIM detailed review
The Lumia 630 is the first smartphone that runs on the latest Windows Phone 8.1 update. Nokia has made a valiant move to showcase the new OS on a budget phone instead of a high-end Lumia device. The message imparted through this bold move was that if this OS works so efficiently on budget hardware, it would be a marvel on high end phones. However, to preserve the budget pricing, Nokia has also had to cut down on some features, as you'll find out in this review. The Lumia 630 is now available with a base price of Rs.11,500 in India, although some online stores are selling it for less.
The Lumia 630 shares its looks with its predecessor, the Lumia 620 and offers a competitive set of specifications along with a good enough performance package. So, let's check out this new Windows Phone.
SPECIFICATIONS
Display: 4.5-inch IPS display, 854x480 pixel resolution with Gorilla Glass 3
Battery: 1830mAh
Storage: 8 GB, expandable via microSD card slot
Camera: 5MP rear fixed focus
SoC: Qualcomm Snapdragon 400
CPU: Quad-core 1.2 GHz
GPU: Adreno 305
RAM: 512 MB
Operating system: Windows Phone 8.1
Connectivity: 3G, Dual-SIM, Wi-Fi, Bluetooth
BODY AND DESIGN
Nokia's handset division may have been acquired by Microsoft but this phone here looks like a trademark Nokia device. The looks are quite similar to past Lumia handsets and the 630 is compact, trendy looking and lightweight. The back panel is changeable and one can choose from a variety of colours. Under the back panel, there are two microSIM card slots, a microSD card slot and the removable battery. The back houses the 5MP camera, but the important thing to note here is that it does not come with a flash. The bizarre omission of the dedicated camera shutter button is also perplexing.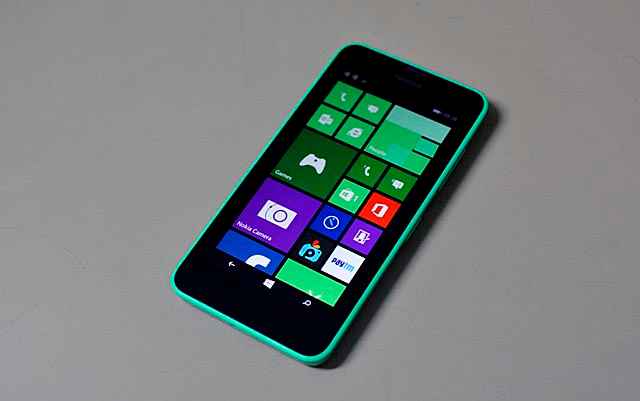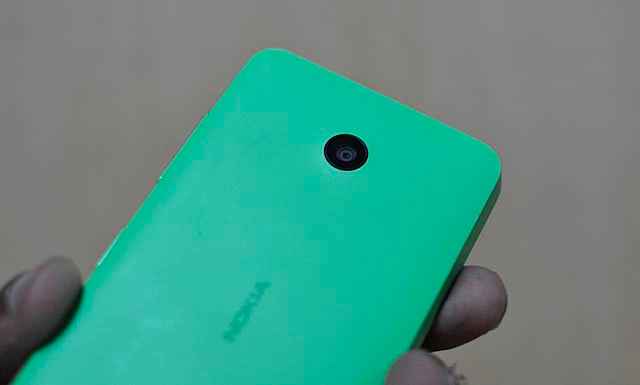 Coming to the display, we have a 4.5-inch IPS LCD with a resolution of 854x480 pixels with Gorilla Glass 3 and Clear Back Technology which makes it better than the Nokia Lumia 620 both in size and quality. But overall, the display still remains disappointing when compared to some smartphones of this price range.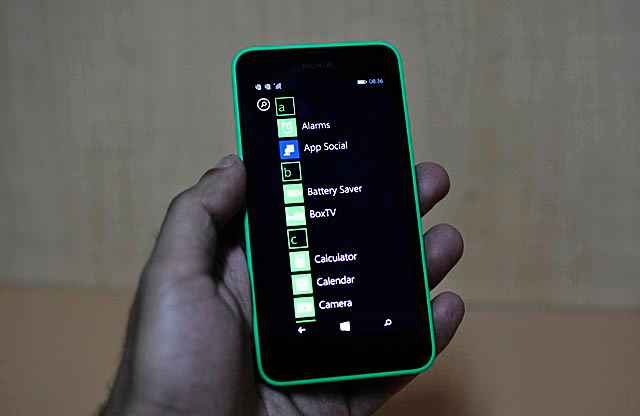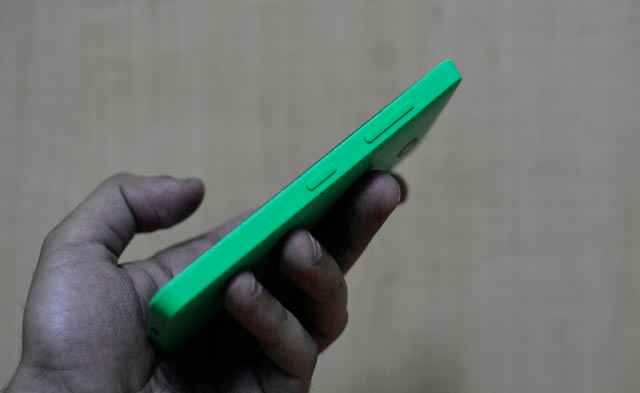 Despite losing the capacitive touch buttons, the bezel on the Lumia 630 is fairly the same size as on the 620, which means there's a lot of wasted space. The volume and lock/power key are on the right edge and the 3.5mm audio jack lies on the top. The bottom has the microUSB port for charging and data syncing.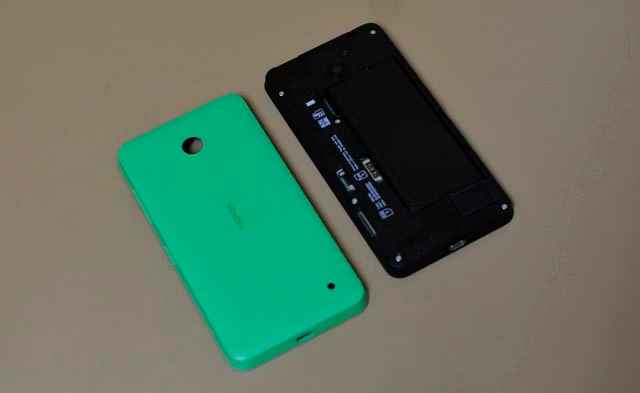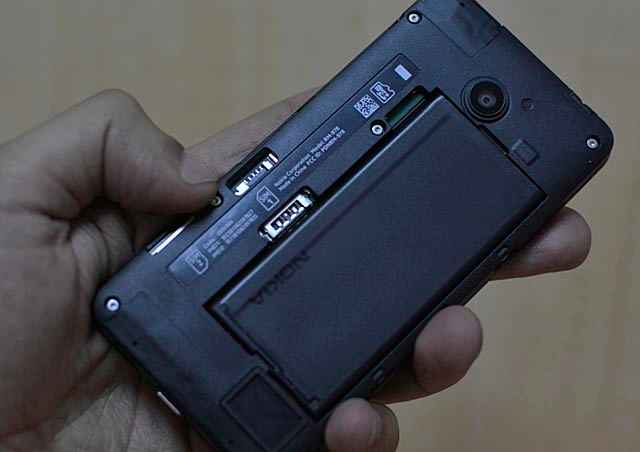 The overall design of this Lumia isn't that different from its predecessors and for a 11.5K handset, it looks way better than most of the smartphones out there. Overall, the quality and finish of the handset is well worth the money.
UI AND PERFORMANCE
Thanks to the Windows 8.1 update, the Lumia 630's interface, sports the flexible Start screen which allows users to use custom backgrounds that slide on the transparent tiles. Taking a leaf out of Android's book, this phone also comes with an action centre which gives you quick access to Wi-Fi, Flight Mode, Bluetooth and Rotation Lock toggles. The brightness tool, surprisingly doesn't come with a slider but with three modes: low, medium and high.
Over the past year, the Windows Phone apps department has improved which was evident from the preloaded apps including Here Drive and Here maps, the various Nokia camera apps, Nokia Mix Radio, Office, OneDrive, Paytm, Evernote, BoxTV, Zomato and so on. You also get all the new features of the WP 8.1 update which makes the user experience on the device quite satisfying.
To get an idea about the performance of the Lumia 630, we ran some benchmark tests and compared them with other Lumia devices.
| | | | |
| --- | --- | --- | --- |
| | Lumia 630 | Lumia 720 | Lumia 1020 |
| Antutu | 11312 | 7135 | 12064 |
| Basemark OS II | 449 | 332 | 526 |
| HTML 5 Test | 368 | 368 | 368 |
We ran a battery test on this device wherein we charged the device to a 100% and then ran a full HD video for an hour which consumed 20% battery. Hence, during HD playback the battery is expected to run for about 5 hours or so which is pretty decent enough for a phone in this segment.
Camera
The Lumia 630 sports a low-end 5MP snapper. But thankfully, it has autofocus, which means pictures are not out of focus. Therefore, in optimal conditions the phone is able to produce some decent shots but the slight lack of details was disappointing. Colours are very punchy and contrast seems a bit high as well. In low light conditions, the camera manages to get decent shots although the pictures are grainy. The saturation level and dynamic range are quite low as well. Focusing is fairly fast and and there isn't a huge shutter lag - which is a relief. If compared to the Moto G, the camera on the Lumia 630 is way better.
Check out some camera sample shots below:
In the video department, things are similar as well. Low light conditions are a bit of an issue as the video is grainy and colour quality goes for a toss. The camera has some hiccups when dealing with exposure. So, in certain situations the videos have large highlight areas or large shadow areas.
Conclusion
If you don't want to buy an Android phone and are looking for other suitable options at a budget, then this phone is for you. The Lumia 630 is a budget Windows Phone that in spite of its glaring budget cut down is a viable option for non-Android lovers. When compared to other smartphones in the same price bracket, the Lumia 630 does fall short on features. The smarpthone offers a solid and stable OS, great battery life and the best camera in its class but falls short due to its sub-standard display quality and the meager 512MB of RAM.