Motorola Moto X Force detailed review
When it comes to destroying smartphones, the only thing more common than water damage is a broken screen. So, when Motorola announced a shatterproof screen on its Moto X Force, we all took notice. The company wants you to shell out 50,000 bucks for it though, which makes it a tougher decision. Perhaps the idea is that if you buy a phone worth Rs. 30,000 and break the screen, the repairs end up costing another 15-20k, putting the final price at Rs. 50,000 any way. So, is that much money worth it for a screen that doesn't give in? Here's the Moto X Force review.
The shattershield display
Motorola is being quite serious when it says the Moto X Force's screen is nearly impossible to break. Regular falls, like those that happen when your phone falls off your lap while getting out of a car, or when it slips down to the floor while you're on a call, are nothing for this device. In many cases, the Moto X Force can even survive falling from the first floor of a building. It'll suffice to say that the display just won't break, no matter what you put it through.
Having said that, there are some compromises. Motorola has been known for the crisp AMOLED panels, and even IPS (Moto X Play and Style) displays. The five-layer screen on the Moto X Force though, doesn't feel the same. There's a visible gap between the top layer and the AMOLED panel, and it doesn't feel as smooth to touch. This is because, instead of Gorilla Glass, there's an interior and exterior lens on the Moto X Force, which makes for good protection, but a different touch feel that some may find unnatural, if not bad. Motorola has added two touch panels, just in case you end up damaging one and the AMOLED panel is buried deep below the two lenses and touch panels. There's even an aluminium chassis framework at the bottom, to absorb shocks.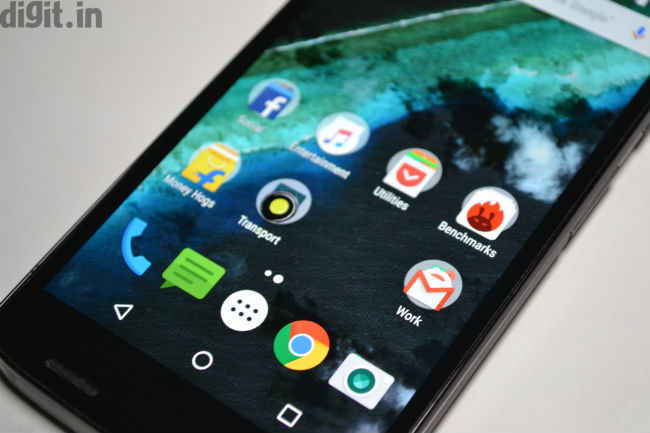 In addition, the AMOLED warmth is missing because of all those layers. While you can still see warmer colours in some images, it's nowhere close to being as warm as we've seen on the Moto X (2nd Gen) and Moto Turbo, before this. The brightness also takes a hit because of the layers. The Moto X Force's screen, though bright enough, isn't as bright as other high-end devices around it.
Overall, the trade-offs seem fine if the result is a display that just doesn't break. The Moto X Force still has a display that looks good enough and would work for most. At best, you can get a dent on the display, leading to dead pixels at one point, but that's about the most you can destroy on regular usage.
Moto X Force: A quick look & drop test

Posted by Digit on Tuesday, 9 February 2016
Build and Design
The ballistic nylon back that we saw on the Moto Turbo makes another appearance on the Moto X Force. It doesn't quite feel as good and seamless as it did on that phone though, and that's because of the design. The Moto Turbo looked different from any other phone because of its design. The Moto X Force, however, takes cues from that phone and the Moto X series, which I personally don't like. It has curves near the edges, just like the Turbo, but the top and bottom are more like phones in the Moto X series. The Turbo, on the other hand, had a slight bump at the bottom, which gave it a very unique look.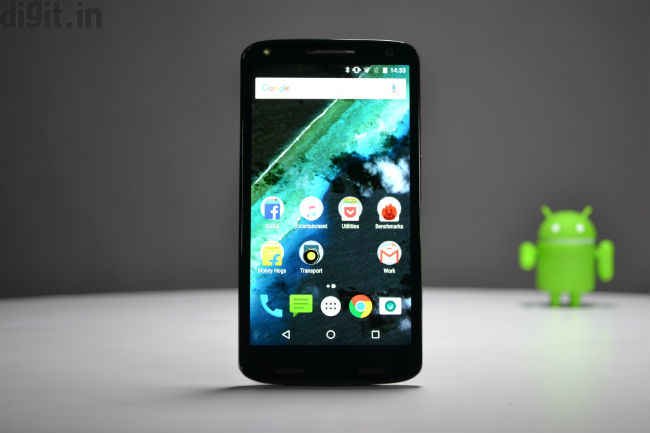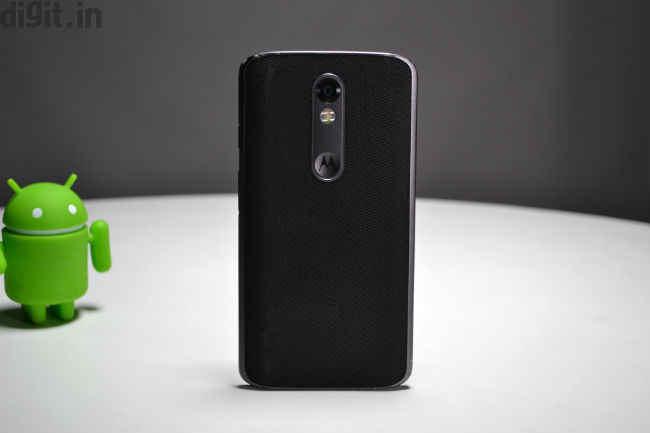 I've been a fan of Motorola's designs, using every smartphone it has launched till date. The Moto X Force, in my opinion, should have had its own design language, just like the Turbo did.
What's absolutely undeniable, though, is that Motorola has nailed it once again from the ergonomics point of view. The 5.4-inch display doesn't make this phone any bigger than it needs to be, and it is really easy to use with one hand, or to slip into your pocket at any time. It's worth noting that the sides and back of the device will scratch and chip if you're dropping the phone too often.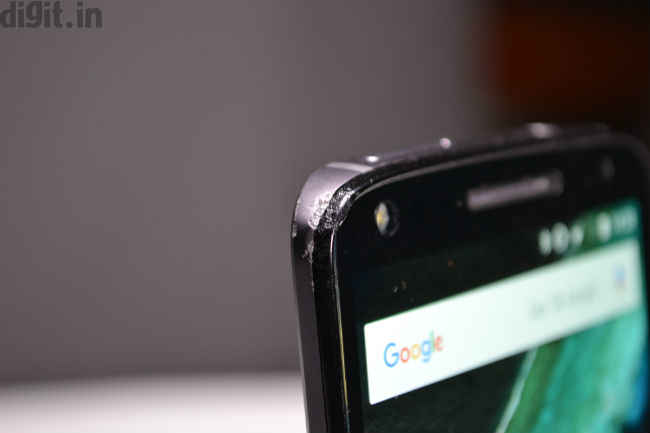 Performance
It's all Motorola from here. The Snapdragon 810 on the Moto X Force did tend to heat up while charging or downloading a lot of apps at the same time, but never unnaturally. While gaming, the phone can go as high as nearly 1100 frames per second, which is what you expect in the flagship range. The Samsung Galaxy S6, for example, does about 1000 frames with its QHD display, while the Xperia Z5 can go up to 1600 frames, but with an FHD panel. Of course, that's just the pure graphics.
On regular performance as well, the Moto X Force has improved upon the shortcomings of the Moto X Style and those before it. The split second lags between when you press the call button and the transition animation that takes you to the in-call screen, are gone. The phone even has the Android 6.0 Marshmallow update now, which gives it some of the newer features of Android.
There's little to complain about when it comes to the performance of the Moto X Force.
Camera
When it first started selling the high performance at a reasonable price story, the only things that Motorola phones really lacked were good cameras. That has changed with phones like the Moto X Play and Style, and the Moto X Force follows with the same. The 21MP rear camera on the device does just as well as the Moto X Play and Style, which means that it takes really good photos under most light conditions. While noise does creep in under low light, images are still respectable.





(L-R) Studio Bright White Lights, Outdoor Bright Sunlight (2), Indoor Fluorescent Lights, Low Lights (Click images to enlarge)
This is where the pricing affects the Moto X Force. While it does have a good camera, it's nothing compared to a Samsung Galaxy Note 5 and other phones that lie in this price range, especially in terms of the low light performance. So, if you're a camera lover, you're getting a phone that's good, but not the best.
Battery
The 3760mAh battery on the Moto X Force also lasts reasonably long. I keep my phones on full brightness, with a lot of screen-on time. This means that my phones can ideally last me as much as 30% less than those going for lower brightness. Even though the Moto X Force's screen isn't the brightest, it doesn't need to be at full brightness unless you personally choose to do so.
On a regular day's usage, with about 10 phone calls, lots of IMs, about half-an-hour's worth of music streaming and 20 minutes of gaming, the phone easily lasts for over a day.
Bottomline
Many have called the Moto X Force overpriced, and in a way, it is. The company is expected to bring phones that are inexpensive, which means that the premium 50k price point always raises doubts in the consumer's mind. That said, while you and I may be calling the Moto X Force an overpriced phone, neither of us can say it's not a good phone. So, for those with a severe case of butter fingers, this may be the best phone to buy out there. It's a complete package, with a screen that never gives in. Unfortunately, though, it just doesn't match up to the likes of the Samsung Galaxy Note 5 etc. in terms of premiumness.