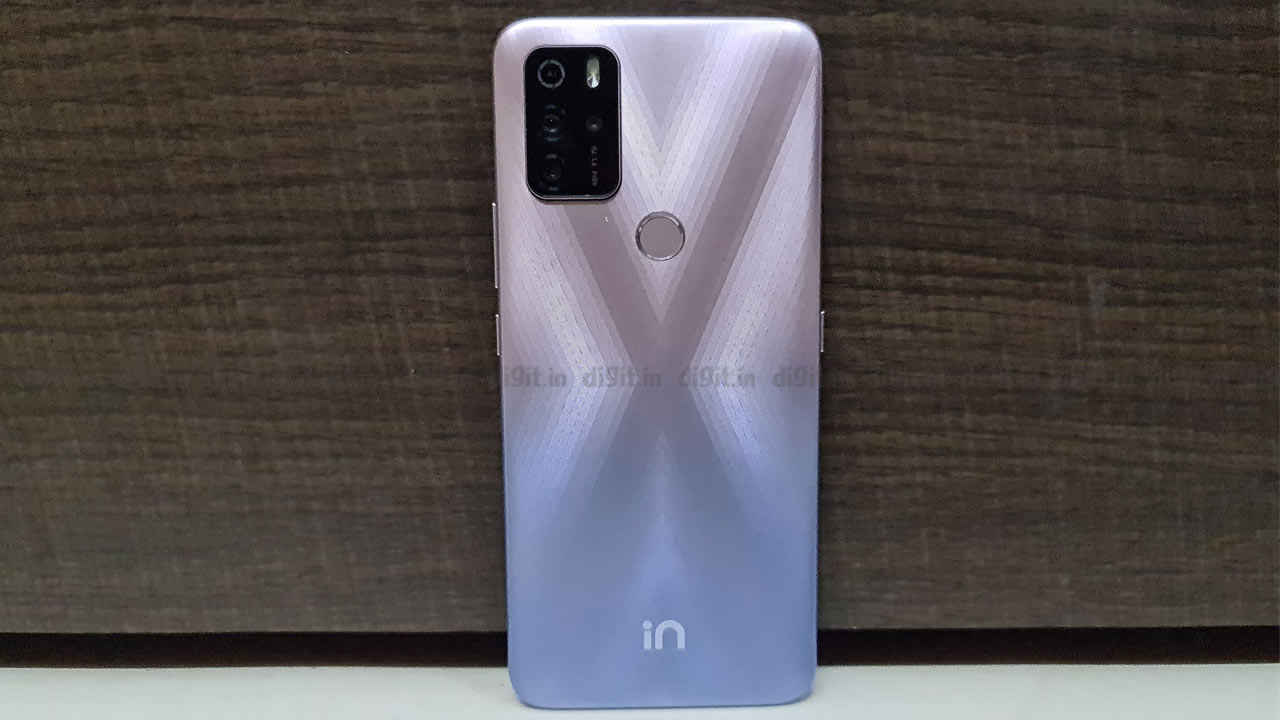 VERDICT:
The Micromax In 1 is a decent affordable phone that faces stiff competition from the likes of the Realme Narzo 30A, Poco M3, and a few others. The device offers some impressive features and specs such as a Full HD+ display with Widevine L1 certification, an eye-catching design, a 5,000mAh battery, and a powerful MediaTek Helio G80 processor. However, it does falter in some areas such as low light photography, lack of stereo speakers, and slow charging speeds.
Micromax has clawed its way back into the smartphone market vying to give Chinese smartphone manufacturers a run for their money when it comes to budget phones. Inexpensive smartphones that offer an appealing feature-set are extremely popular in a price-conscious society like in India and Micromax is doing their best to capitalise on that, as well as the growing anti-Chinese sentiment for some. The company launched the new Micromax In 1 that sits neatly between its In-series siblings, the Micromax In 1b and the Micromax In Note 1. The company has priced the In 1 relatively competitively, with the base 4GB RAM + 64GB storage variant costing Rs 10,499 (Rs 9,999 as an introductory offer for a limited time period). The higher-end 6GB RAM + 128GB storage variant costs Rs 11,999 (Rs 11,499 as an introductory price). This puts the newly-unveiled device right up against competitors such as the Poco M3, the Redmi 9 Power, and even the newly-launched Redmi Note 10. The competition in the sub-15K price bracket is taking flight and showing no signs of slowing down whatsoever, let's see how the Micromax In 1 fares in this gruelling segment.
Micromax In 1: Specifications
Chipset: MediaTek Helio G80
CPU Frequency: Octa-core CPU : 2x A-75 2.0 GHz + 6x A-55 1.8 GHz CPU (12nm)
GPU: Mali G52 MC2 950MHz
RAM: 6GB
ROM: 128GB eMMC 5.1
Display Size: 16.9cm (6.67)
Resolution: FHD+ (1080 x 2400)
Rear Camera: 48MP + 2MP Depth + 2MP Macro
Front Camera: 8MP
Battery Capacity: 5000mAh
USB Type: Type C
Charger: 18W fast charger
Weight: 195g
OS: Android 10
Micromax In 1: Build and design
The Micromax In 1 heavily borrows inspiration for its design language from the In Note 1. The phone features a similar 'X-shaped' pattern on the back panel that has an iridescent effect. There's a subtle 'In' branding at the bottom of the back panel which we found less obtrusive than the branding on a few other budget phones' back panels. The back has a matte finish and the company claims that it comes with an oleophobic coating that prevents fingerprints and smudges from appearing. In our testing period, we were pretty pleased by how fingerprint-resistant the back panel proved to be.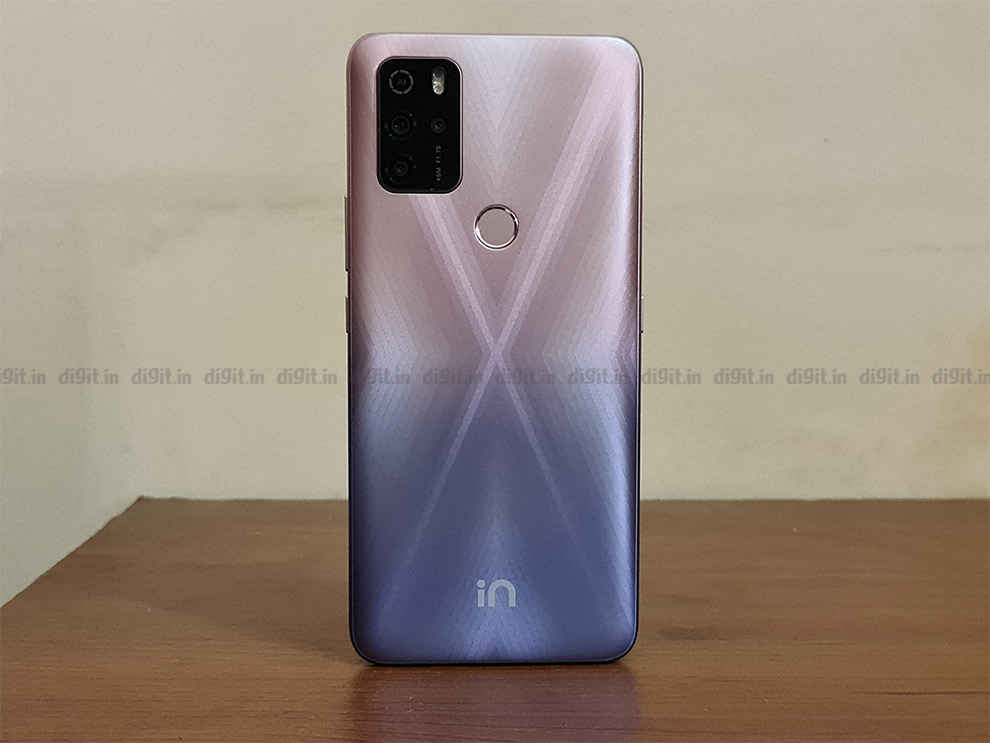 Now, the Micromax In 1 isn't the slimmest and lightest budget phone out there, measuring 8.99mm in thickness and weighing 195g but, surprisingly, it doesn't feel too bulky and heavy when held in hand. The back panel also houses a rear-mounted fingerprint sensor and the triple camera setup in a rectangular module. The fingerprint sensor isn't the most responsive one we've tested in this price range and can feel slightly sluggish at times. The camera module is glossy black and does attract fingerprints unlike the rest of the matte back panel.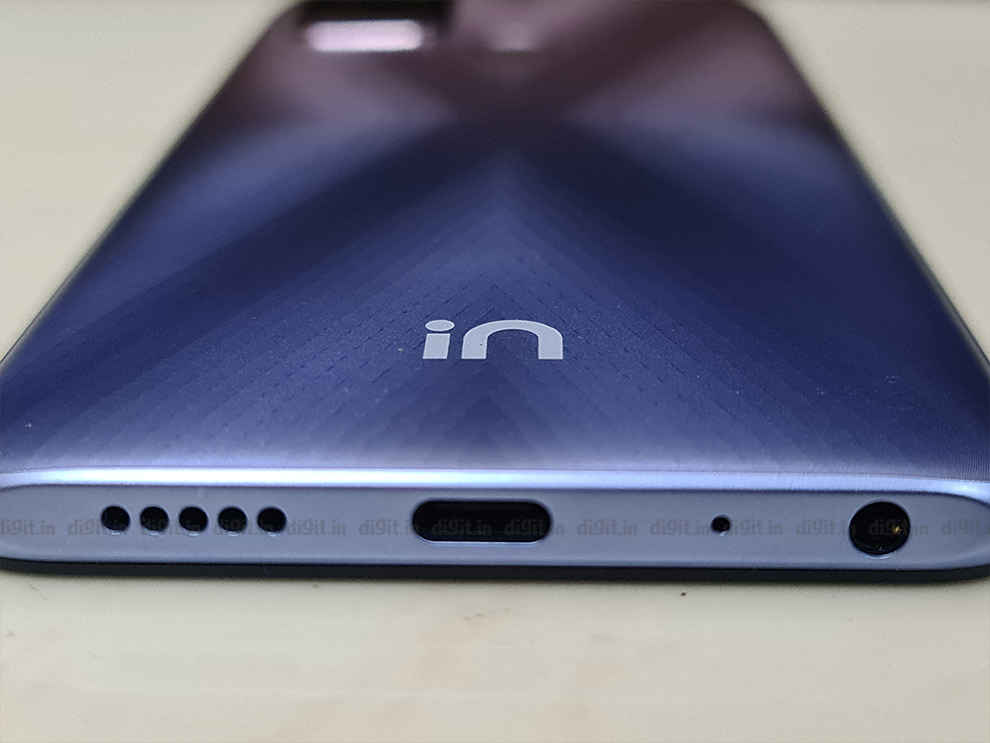 The rectangular camera module is pretty common in smartphones now, however, we would have liked to have seen Micromax opt for a more distinguished design for this as the Poco M3 did. There are three lenses in the camera module, and a dummy circle, with the word 'AI' in it, to give the impression of a fourth lens. At the bottom of the phone, you have a 3.5mm audio jack, a USB-C charging port, the phone's solitary speaker, and a microphone. Stereo speakers are being adopted more often even in this price range, so it was a tad disappointing to see a single speaker on the In 1. The speaker certainly lacks the audio chops of the Poco M3 or the Redmi 9 Power, both of which come with dual stereo speakers, but it's loud enough to pass off as decent.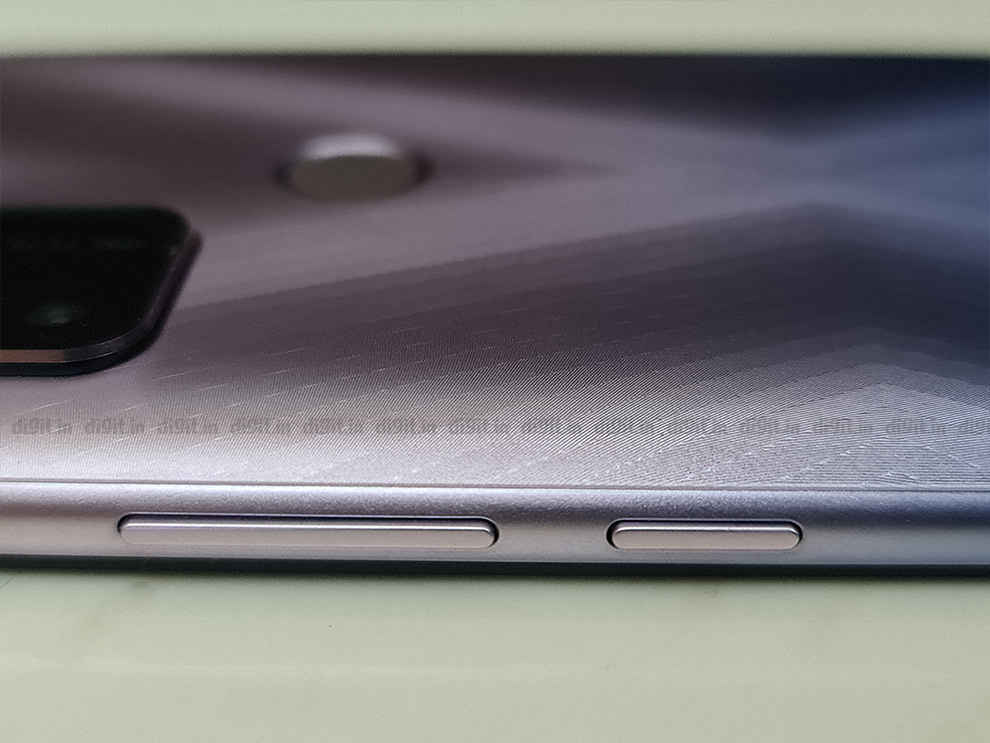 As for the buttons, you have the power and volume buttons on the right side and a solitary Google Assistant dedicated button on the left. The buttons are tactile and responsive, no complaints there. On the left, you also have the SIM tray that can house two NANO SIMs and a microSD card. Our review device is the 6GB RAM + 64GB storage variant, but if you want to increase the storage further, it can be expanded up to 256GB via microSD card. Overall, the phone has a satisfactory build with an eye-catching, fingerprint-resistant back panel, tactile buttons, but a mediocre fingerprint sensor. The phone is available in two colours – Purple and Blue (we received the Purple coloured unit for review).
Micromax In 1: Display
The Micromax In 1 comes with a no-nonsense display that is pleasant to look at but doesn't stand out on paper since it's a simple IPS LCD panel and there's no fast refresh rate support. In comparison phones such as the Redmi Note 10 and the Motorola Moto G30 provide some eye-catching display specs at a similar or slightly higher price, with the Note 10 sporting a Super AMOLED display and the Moto G30 featuring a 90Hz refresh rate display. However, the Micromax In 1's display is no slouch. It's a pretty decent 6.67-inch IPS LCD display with Full HD+ (2400 x 1080) resolution. These specs are similar to the Poco M3 and Redmi 9 Power that are some of its toughest competitors, so that bodes well for the In 1.
Furthermore, the Micromax In 1 one-ups the aforementioned phones by housing a punch-hole cutout for the selfie camera instead of the dew-drop notch. While the punch-hole cutout is not exactly diminutive in size as seen on higher-end phones, it does provide a more immersive experience than dew-drop notches do.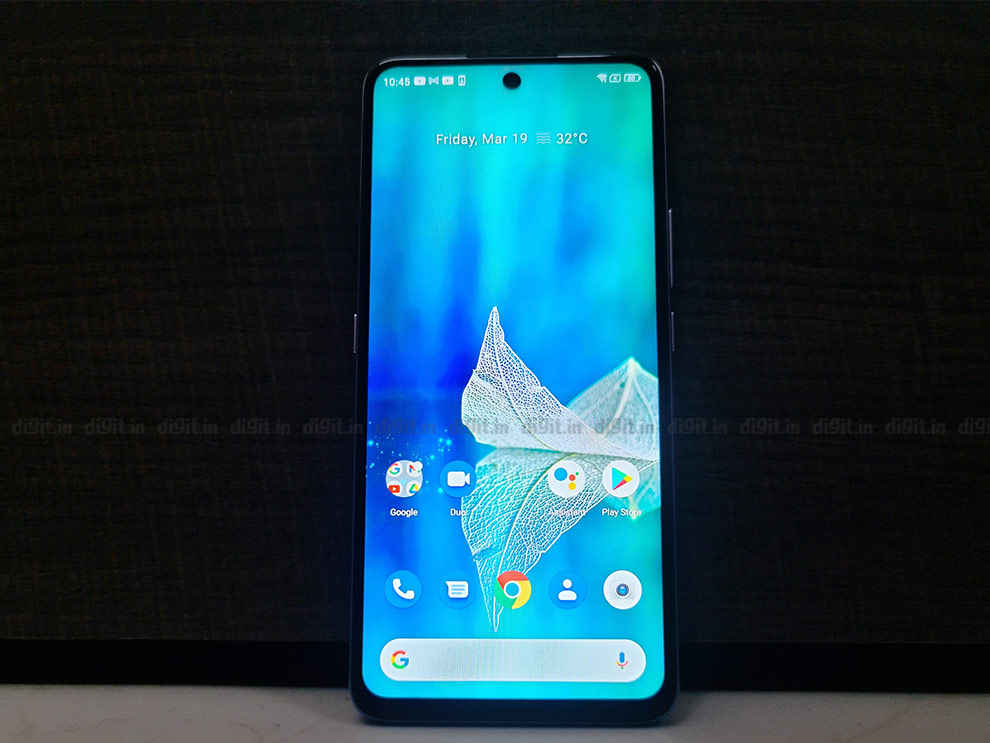 The Full HD+ display on the Micromax In 1 impressed us a fair bit due to its brightness and vivid representation of colours. The vivid colours, while not accurate, do make content look great on the phone. You can also choose between three presets for display colours – Standard, Vivid or Cool. Micromax has even snuck in a customisation option that allows users to slide between warm and cool display colour tones. There's also a baked-in dark theme. The blacks on the In 1's display aren't the deepest, so the blacks in the dark mode end up looking dark grey, but that didn't bother us too much.
The display also works surprisingly well in bright sunlight. We were able to read texts, scroll through social media and browse websites even in bright daylight, which is pretty good for this price range. Micromax has also provided Widevine L1 support for the display so you can watch content on OTT platforms in HD. Overall, the display works as well as you'd expect one to in this price range. There's very little to complain about, except for maybe the lack of a fast refresh rate.
Micromax In 1: Performance
The Micromax In 1 is powered by MediaTek's Helio G80 chipset which is pretty similar to the Qualcomm Snapdragon 662 SoC found on numerous devices in and around the 10K price range. This is paired with up to 6GB RAM and up to 128GB internal storage. Now, the MediaTek Helio G80 is a good SoC for the price (ranging from Rs 10,499 to 11,999), but the Realme Narzo 30A is available for Rs 500 less than the base variant of the Micromax In 1, and comes with the slightly more powerful MediaTek Helio G85 SoC. Here's how the Micromax In 1 fared in comparison to a couple of its competitors.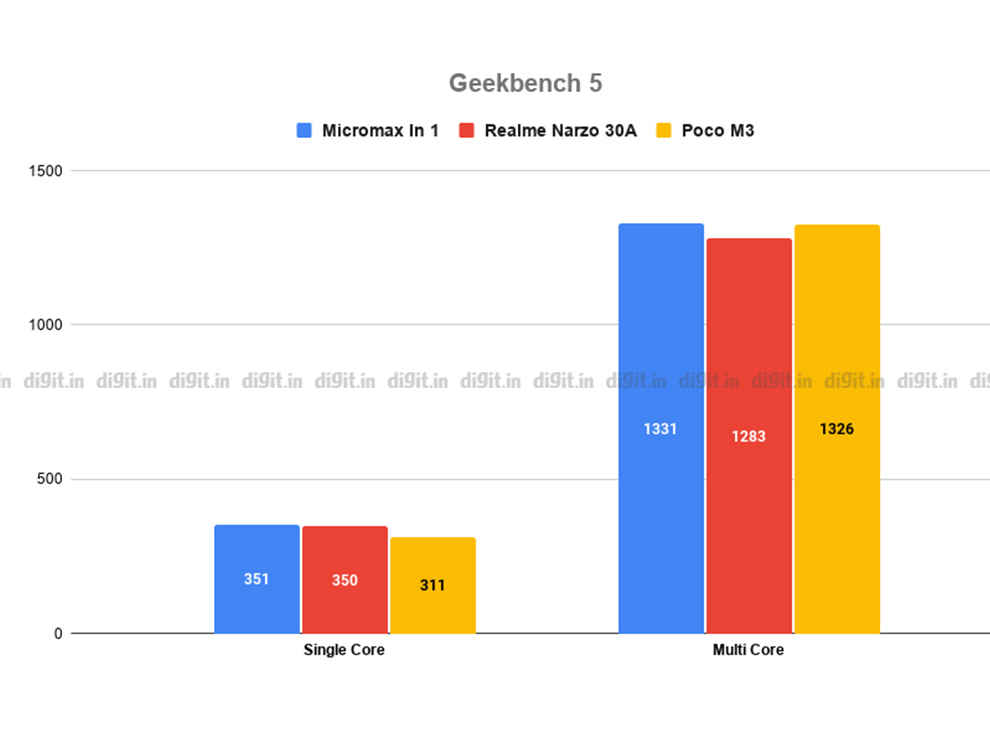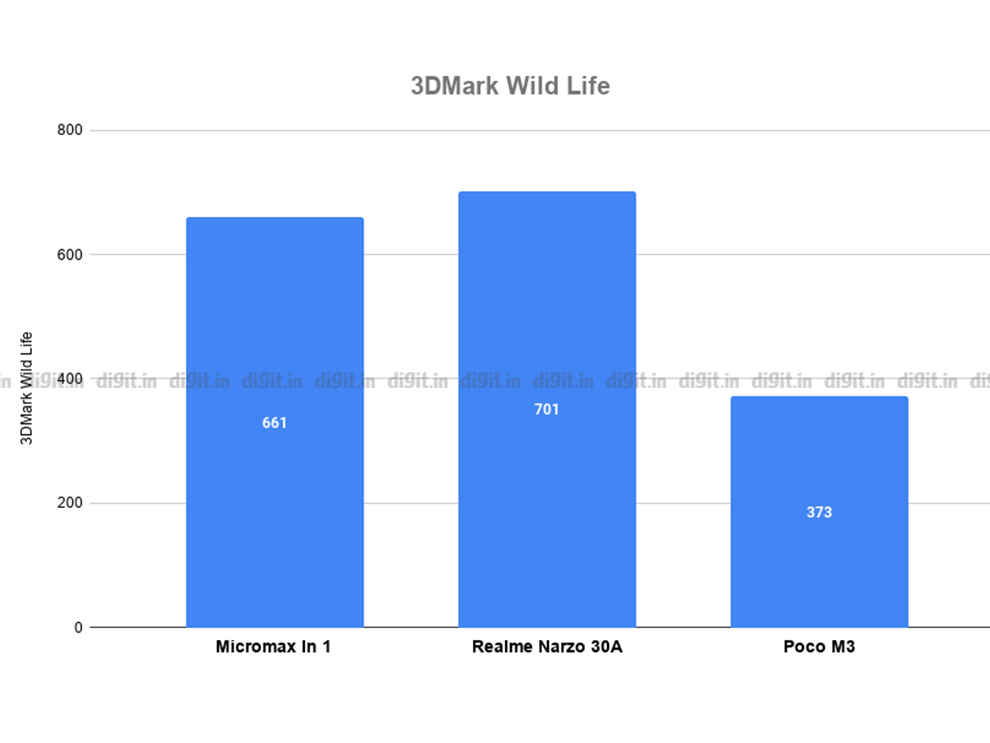 The Micromax In 1 performs pretty well in benchmarks when compared to similarly-priced competitors. The MediaTek Helio G80 chipset alongside the Mali G52 GPU pulled out some decent numbers in our usual benchmarking tests. In AnTuTu 8.0, the Micromax In 1 clocked a score of 195545 which was higher than the Poco M3's 181207 but slightly lower than the Realme Narzo 30A's score of 201637. In PCMark Work 2.0, we recorded a similar trend, with the Micromax In 1 performing better than the Snapdragon 662-powered Poco M3 but underperforming in comparison to the Realme Narzo 30A. In Geekbench 5, however, we saw the Micromax In 1 beat both the Realme Narzo 30A and the Poco M3 by a slight margin in Single-Core as well as Multi-Core tests.
Moving onto 3DMark's Wild Life test for GPU performance, the Micromax In 1 beat the Poco M3 convincingly while lagging behind the Realme Narzo 30A slightly. In GFXBench's Aztec Ruins, Car Chase and Manhattan 3.1 tests, the Micromax In 1 was convincingly beaten by the Narzo 30A but the Poco M3 lagged behind it yet again. It's safe to say that according to benchmarks, the Micromax In 1 performs much better than the Poco M3, however, it does fall behind the Realme Narzo 30A in most benchmarks.
Moving on to real-world performance, the Micromax In 1 comes with stock Android with no ads or bloatware, which is one of its biggest selling points. The phone runs on Android 10 and is expected to get the Android 11 update by May 2021, according to Micromax. The software is clean and clutter-free which is vastly different from other budget phones that come with their own skin and preloaded apps. You just get the essential apps, alongside a couple of Google apps on the phone, and that's it.
The phone runs all basic tasks such as texting, calling, scrolling through social media, visiting websites, and using the camera without a hitch. Multitasking was pretty good on our 6GB review unit with almost no perceivable lag. The drawn-out animations can sometimes make the phone feel slightly slower than it is though.
The phone, as per Micromax, is well suited to gaming. We are happy to conclude that our tests verify this claim as long as you keep the graphics on the default setting (low). When playing Call of Duty: Mobile, we recorded an average FPS of 60 which ran at 84 percent stability, which is pretty good. We played other graphically-intensive games such as Asphalt 9 too and the game worked without too many stutters and lags. However, the phone does get toasty when gaming. We recorded a temperature of 43-degrees Celsius when playing COD Mobile for 15 minutes. It's not scalding hot though, but warm enough for you to feel it. Overall, the phone performs admirably well for its price and the lack of bloatware is an absolute plus point.
Micromax In 1: Camera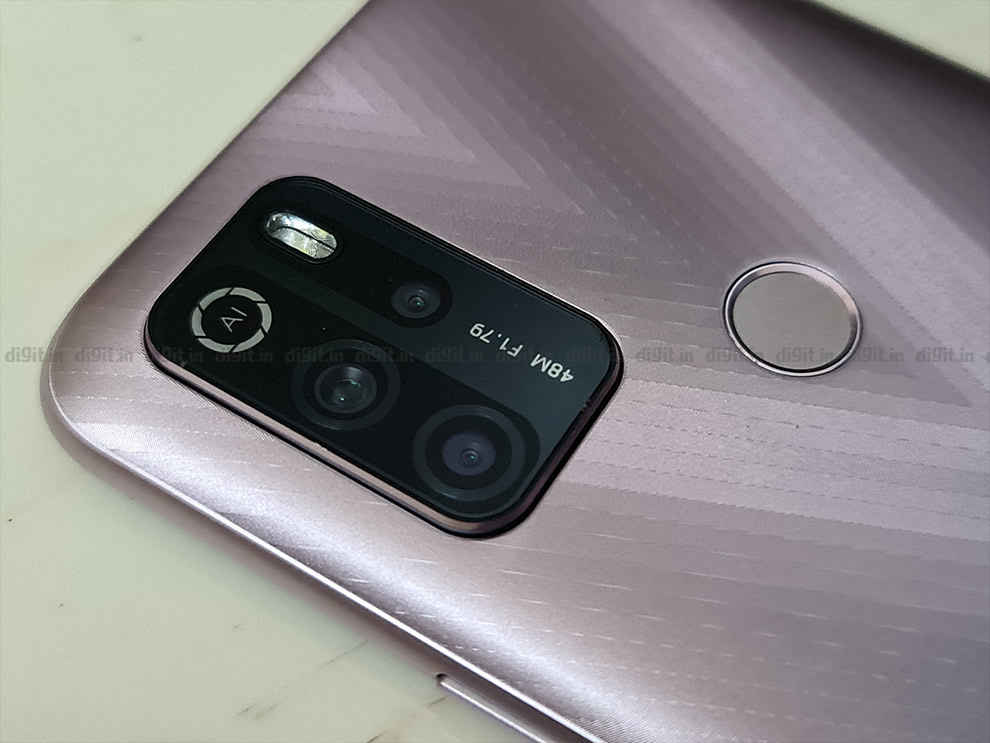 The Micromax In 1 houses a triple rear camera stack featuring a 48-megapixel primary lens with an f/1.79 aperture, a 2-megapixel macro sensor with an f/2.4 aperture and a 2-megapixel depth sensor with an f/2.4 aperture as well. There's no ultrawide camera, which is slightly disappointing. Housed in a punch-hole cutout is an 8-megapixel selfie shooter with an f/2.0 aperture. Now, the camera app is not Google's camera app, but Micromax's own solution that is home to a fair number of photography modes, AI smarts, and other features. Within the camera app, you get HDR mode, AI assistance, Night mode, Macro mode, and a few other modes and features. The camera samples we've added below have been resized for the web.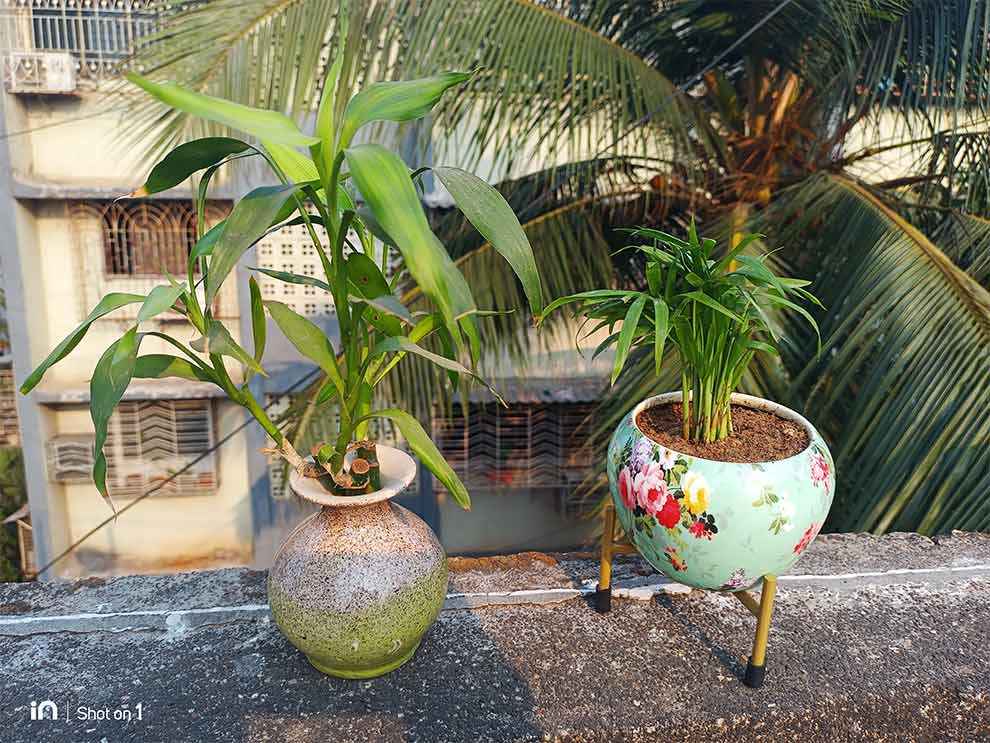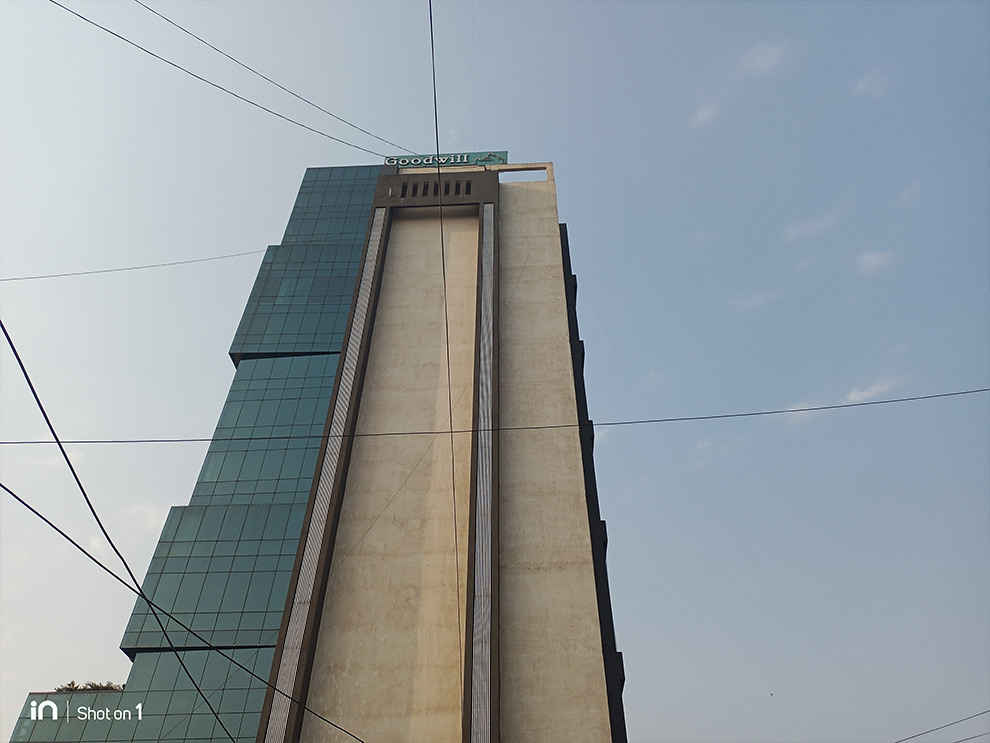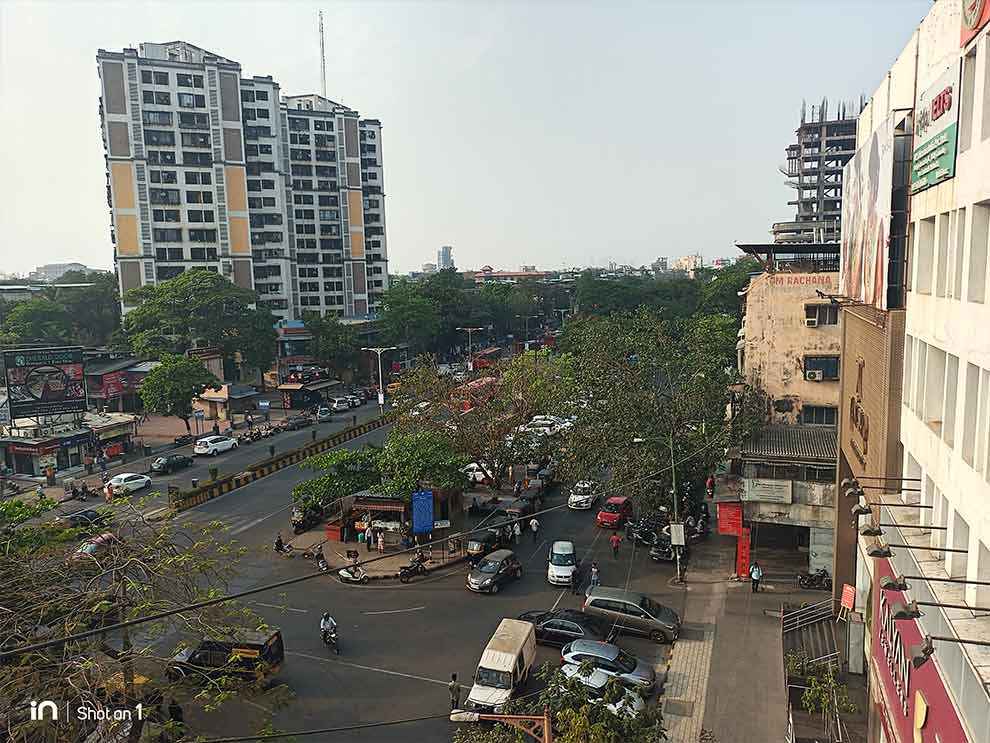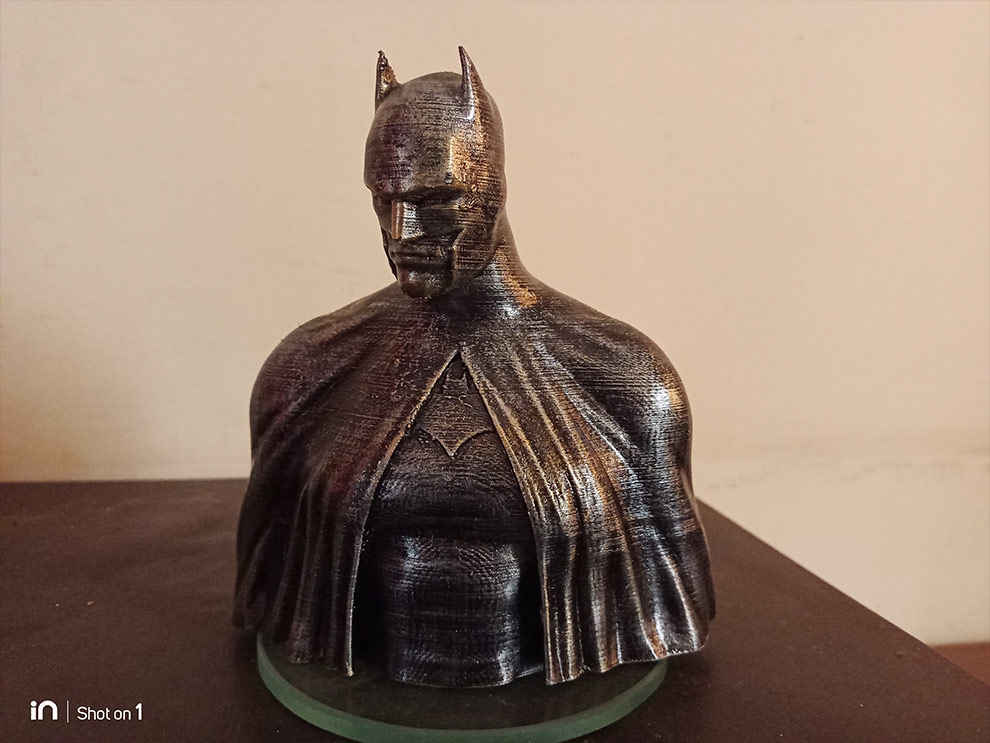 The 48-megapixel primary lens produces pretty satisfactory shots in bright daylight with good colour and contrast. However, the dynamic range and detail aren't the best. In some tricky situations with bright sunlight, the highlights are pretty overexposed and there's a lack of detail in the shadows. HDR makes this only slightly better. Close up shots with the main camera, however, are pretty good with ample detail and vivid colours that pop. Micromax's AI mode doesn't overdo the colour saturation and contrast levels, but keeps it at a pleasant, digestible level. There's also a decent amount of background blur even without portrait mode.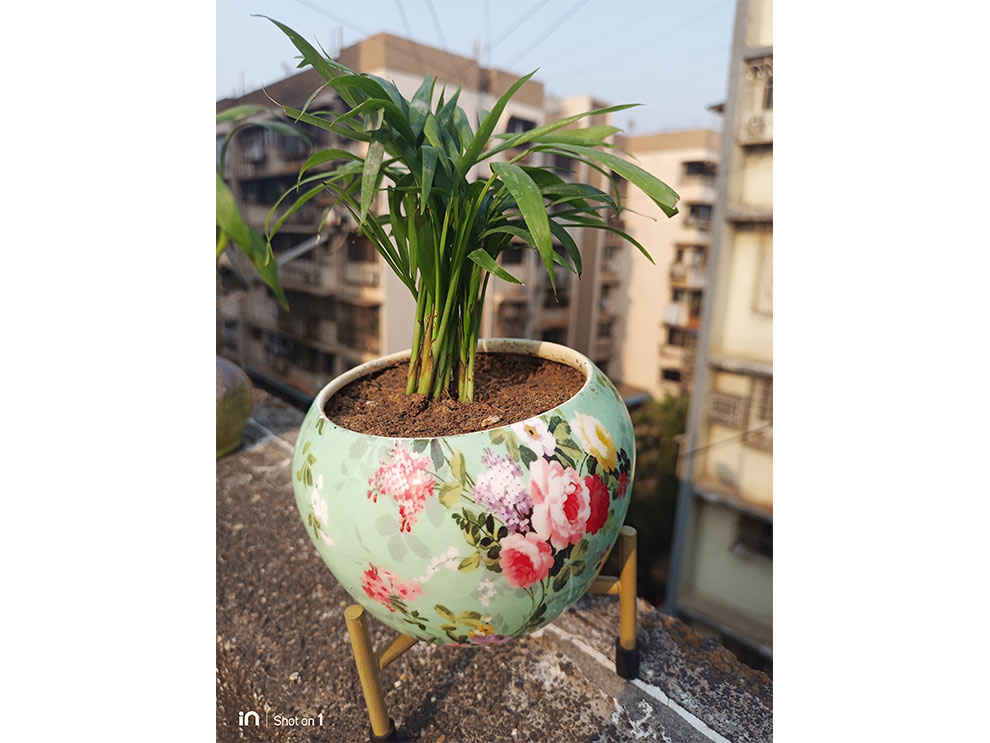 The phone also comes with a Portrait mode that makes use of the 2-megapixel depth sensor. Portrait mode isn't very convincing on the Micromax In 1 since the background blur looks slightly unnatural in some shots and the edge detection is less than ideal. The levels of background blur can be adjusted before taking the photo though. Portrait mode on the selfie camera suffers from the same issues as well. There's also a 2-megapixel macro lens that is mediocre. Since there's no autofocus, the sensor struggles to focus on objects and there's generally a lack of detail in the macro shots.
The 8-megapixel selfie shooter takes decent shots in daylight but falters in low light where the shots are extremely soft and suffer from a lot of noise. You can take Night Mode selfies, however, they aren't a big improvement over the shots with no Night Mode.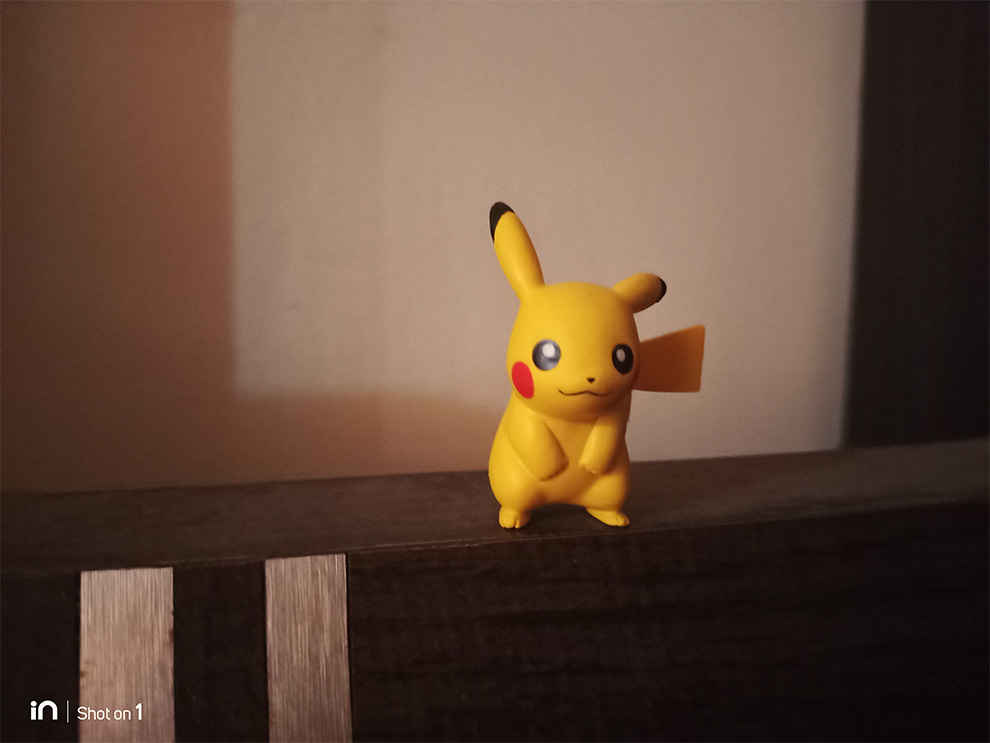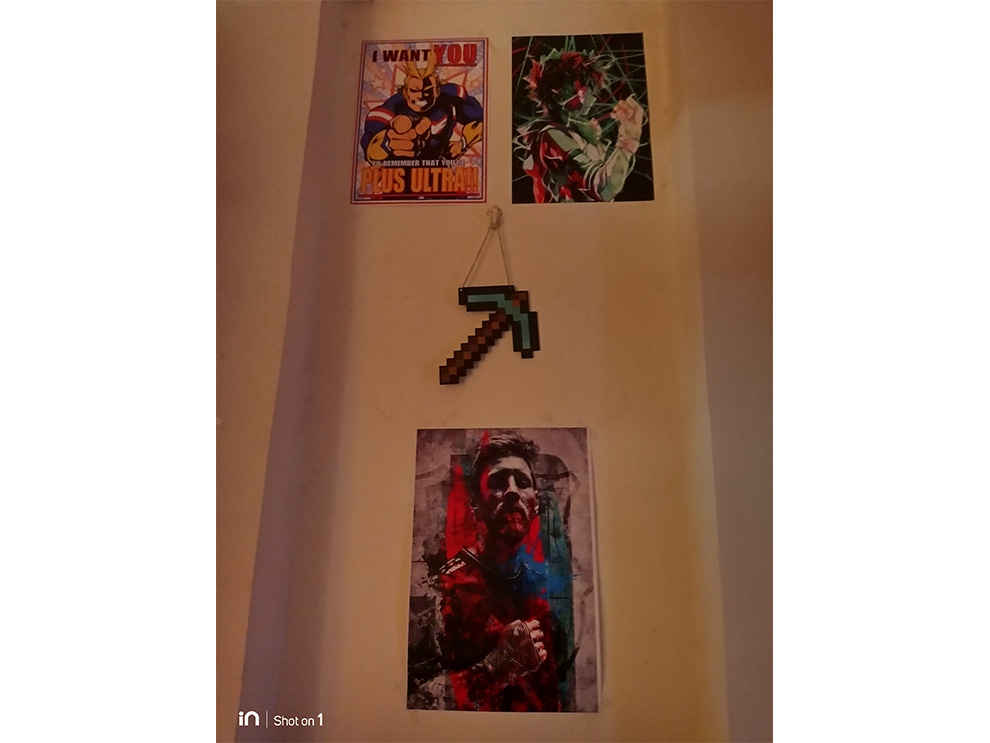 Moving on to low light photography, the main camera returns noisy and soft shots in such situations, however, Night Mode does make things slightly better. There's less overall noise and more detail in the shots with Night Mode turned on. Another issue we faced with low light photography was focusing. The phone struggled to focus on the object we were attempting to shoot several times ending up in blurry shots.
As per the company, video recording tops off at 1080p on both cameras but we didn't find a mention of this in the spec-sheet on Micromax's website. Videos taken from the primary lens have decent detail but suffer from shake due to lack of stabilisation. Overall, the cameras on the Micromax In 1 are mediocre. You can get some half-decent daylight shots but low light photography is extremely poor.
Micromax In 1: Battery life
The Micromax In 1 is no slouch when it comes to battery life. The phone houses a sizable 5,000mAh cell that keeps the phone powered for over a full day of usage. There are phones in this price range that come with larger 6,000mAh batteries, but the Micromax In 1 does pretty well for its capacity. In a day with extensive setup processes, running benchmarks, playing graphically-intensive games, browsing through social media, and the works, the phone managed to end that day with 25 percent battery remaining, which is pretty impressive.
In our usual battery tests, 30 minutes of streaming Netflix dropped the battery percentage by 6 percent, and playing Call of Duty: Mobile for 15 minutes dropped it by 5 percent. This is on par with some phones we've tested that house 6,000mAh batteries. When you do need to charge the phone, there's 18W fast charging support on the Micromax In 1. However, it does take quite a bit of time to fully charge the device. It took us 2 hours and 15 minutes to charge the device from an empty battery to 100 percent.
Micromax In 1: Verdict
The Micromax In 1 is a decent affordable phone that faces stiff competition from the likes of the Realme Narzo 30A, Poco M3, and a few others. The device offers some impressive features and specs such as a Full HD+ display with Widevine L1 certification, an eye-catching design, a 5,000mAh battery, and a powerful MediaTek Helio G80 processor. However, it does falter in some areas such as low light photography, lack of stereo speakers, and slow charging speeds. Nevertheless, stock Android does make the experience of using the phone pleasurable, even though it doesn't run the latest version of Android. Overall, if you're looking for a phone that's Made in India that also comes with good battery life and performance, the Micromax In 1 is a pretty good option under 12K.