LG Optimus One P500 - Value for money Froyo detailed review
Build Quality and Ergonomics
Solidly built, the phone has a hefty feel at 129 grams - slightly on the heavier side looking at its size. The black rubberized plastic body has metal trimming along the edge, which also comprises the microUSB port at the bottom of the phone, the volume rocker on the right side, the power/lock button on the top alongside with the 3.5mm jack.
The 3.2-inch screen has a wide bezel, with a groove for the speaker on top, alongside the proximity sensor and the prominent LG branding. Below the screen bezel lie the Android buttons, with home and return grouped on a single large centre button, with options and search beside it on separate buttons. The Android buttons have a solid tactility to them, and the volume rocker and power/lock button, curved, are ergonomically located and provide crispy feedback.
The 3.2-inch screen is bright and gives good contrast for images and text, with the 320x480 (HVGA) resolution quite high for the screen size, far better than the identically sized Galaxy 3. Sunlight legibility however, is not too great, though most text remains legible despite the apparent colour fading and loss of contrast.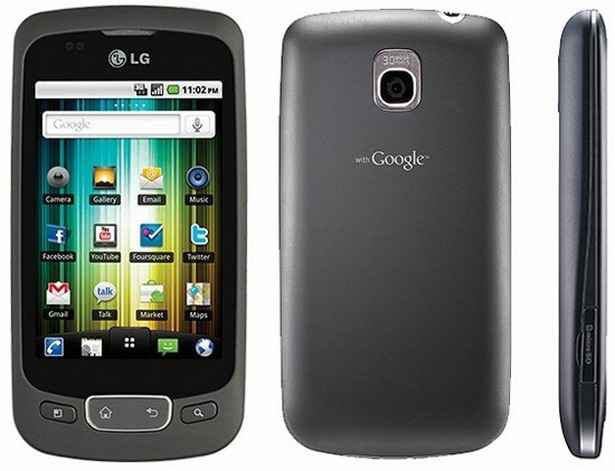 Interface
Its 600MHz CPU is surprisingly snappy, barely showing any lag even when running several third party and native apps, and this is undoubtedly where the phone's 512MB RAM and Froyo (a much speedier OS) make it shine over most of its competitors, including the Galaxy 3. One thing that must be mentioned though is the often experienced lag from the moment when one clicks the call button to the time it takes for the calling begin, occurring when plenty of apps are hogging the memory.
LG's skin/customization of Froyo is quite minimal, with the Call, Contacts, Menu/Home, Messaging and Browser featuring as the homescreen and menu bottom panes. Up to 7 homescreens are allowed, but unfortunately, there's just one wallpaper to rule them all. Of course, live wallpapers are also available.
[RELATED_ARTICLE]The phone sports the official Twitter and Facebook apps, as well as such bundled apps as Taskiller, AG Indian Newspaper (to view a wide collection of online newsprint media), Bollywoodji (for the latest Bollywood news), Ndrive, Layar, Photofunia, ThinkFree Office (viewer, no editing), YouTube, PNR Status Checker, Indian Music, and the Aldiko e-reader.
The native Froyo browser is another major advantage over Android 2.1 devices, with inbuilt Flash support and excellent performance. Opera Mobile for Android can also be downloaded, and offers a great interface, including multi-tabs.
Lastly, the LG Optimus One P500's Froyo ability to install applications on the SD card is another boon over phones with Android 2.1, and it does allow for a wide variety of apps that you need never worry about deleting.
Performance
Call: The LG Optimus One P500 did not drop any calls during our testing. The device earpiece volume was sufficient, but could have been louder. Call clarity for both parties is good in both handset and handsfree mode, but in loudspeaker mode, some distortion is evident at high volumes, and the audio pickup is not very strong. Handsfree volume could have been louder as well.
Audio: Audio playback has balanced bass and treble levels, and is quite good with both the loudspeaker and with the bundled handsfree. However, some distortion in the loudspeaker's output is audible at high volumes.

Video: The 256K colour limitation of the screen is not very often apparent, but slight banding can be seen in certain videos. Both Xvid and DivX are supported, and in our testing, almost all the videos played flawlessly, except for some stuttering with some AVI files.
Battery: Battery life is better than average for an Android, probably due to a slower than common CPU and the more efficient Froyo OS. The phone lasted about 18 hours with average use.
Camera: Picture sharpness, colour accuracy (slight red hue), and noise levels are all quite good for a 3MP camera, and the settings though basic are quite sufficient. Under low light, with no flash onboard, quite a lot of noise is evident, but then again, what do you expect from a sensor that size? Video recording is rather poor, but is tolerable when one considers the sensor again. Check out some sample pics below:
Verdict
Among the low/mid-range Android devices in the market, the LG Optimus One P500 stands out for its up-to-date OS (Froyo), snappy performance, and bundled apps. Full-featured, the only real compromises a buyer has to make for getting Android 2.2 at roughly Rs. 13,000 are the relatively low resolution camera (3MP without flash) and the lack of free Office document editing.
Rating:
Features: 6.5
Performance: 7
Build quality: 7
Value for money: 7.25
Overall: 7

Price: 13,000 (MRP)
Website: http://www.lgmobiles.com/
E-mail: krishnendubanerjee@lgindia.com
Check out the LG Optimus One P500's test scores on the next page...
| | |
| --- | --- |
| Brand | LG |
| Model | P500 |
| Features | |
| Physical Specs | |
| Form Factor | Bar |
| 2G Network Bands | GSM 850 / 900 / 1800 / 1900 |
| 3G Network Bands | HSDPA 900 / 2100 |
| Screen Resolution | 320x480 |
| Screen Size | 3.2 inches |
| Maximum Screen colours | 256K |
| Touchscreen / Dual Screen (Y/N) | Y (capacitive) / N |
| Battery Rating | 1500 mAh |
| Dimensions (L x W x H) | 113.5 x 59 x 13.3 mm |
| Weight | 129 grams |
| Expandable Memory Type | microSD (up to 32 GB) |
| Hot Swappable | N |
| Available Colours | Black |
| Other Features | |
| Operating System | Android 2.2 |
| Charging via USB (Y/N) | Y |
| Hardware Keypad (Regular/QWERTY) | NA |
| Accelerometer (For auto rotate) | Y |
| Address Book Capacity | Unlimited |
| No of calls in register | Unlimited |
| Talk Time / Standby Time * (3G Networks) | 7 hrs, 30 min / 550 hrs |
| No of Profiles # / Customisable | 1/Y |
| Offline Opearability (Y/N) | Y |
| Inbuilt GPS / A-GPS support (Y / N) | Y / Y |
| Connectivity | |
| Browsing (GPRS/EDGE/3G) | Y / Y / Y / Y |
| EDGE max speed | 236 kbps |
| 3G max speed | 7.2 mbps |
| Connectivity (WiFi/Bluetooth/IR/USB) | Y / Y / N / Y |
| Bluetooth Version/A2DP support | 2.1 / Y |
| Accessories | |
| Bundled Accessories | Handsfree, data cable, charger |
| Size of memory card provided | 2GB |
| Overall Build Quality (So 10) | 7.5 |
| Overall Ergonomics (So 10) | 7 |
| Keypad Design (So 10) | 7.5 |
| Camera Specs | |
| Camera Resolution (Mega Pixels) | 3 |
| Video Capture Resolution | VGA@18fps |
| Dual Cameras / Auto Focus / Flash (Y/N) | N/Y/N |
| Type of Flash | NA |
| Mirror for self portrait (Y / N) | N |
| Camera Settings (So 10) | 6.5 |
| Zoom (Optical/Digital) | Digital |
| Multimedia | |
| Music Formats supported | MP3/WAV/WMA/eAAC |
| Video formats supported | DivX/Xvid/MP4/H.264/H.263/WMV |
| FM Radio (Y/N) | Y |
| Performance | |
| Signal Reception and Voice Clarity (So 10) | |
| Zone 1 | 7 |
| Zone 2 | 7 |
| Zone 3 | 6.5 |
| Device Earpiece Volume | 7 |
| Device Loudspeaker clarity (on call) | 5 |
| Handsfree Clarity (on call) | 7 |
| Loudspeaker Volume (on call) | 6 |
| Bluetooth Transfer Speed (KBps) | 175.4 |
| WiFi signal strength (Zone 2) (%) | 83% |
| Captured Photo Quality (So 10) | |
| Captured Photo Colour | 6 |
| Captured Photo Crispness | 7 |
| Captured Video Quality | 6 |
| Effectiveness of integrated flash | NA |
| Loudspeaker Audio Quality | 6 |
| Bundled Earphones Quality | 7 |
| Display | |
| Quality of display | 7.5 |
| Viewing angle of display | 7.5 |
| Legibility in bright sunlight | 6 |
| Video Playback Quality (So 10) | 5.5 |
| Price (MRP/MOP, Rs) | 13,000 |
| | |
| * Manufacturer Rated | |