Lenovo Vibe K5 detailed review
Lenovo's K series smartphones reached new heights of popularity when the company announced the K3 Note - a smartphone that quickly went on to become popular based on fluid, reliable everyday performance. Then came the K4 Note, which, despite attempting to look different and present good audio and a beginner's experience of Virtual Reality, failed to deliver the ideal, seamless smartphone experience.
The Vibe K5 here, meanwhile, is notably not of the same league as Lenovo's budget 'Note' series. Lenovo has treated this particular lineup as its budget flagship of sorts, and the Vibe K5 is noticeable built to be a notch lower than the recently-launched Vibe K5 Note. For starters, it has a smaller display than Lenovo's budget Note devices, uses more plastic in its build and lacks a fingerprint scanner. And, while the K Note smartphones are usually priced between Rs. 10,000 and Rs. 15,000, the Vibe K5 costs only Rs. 6,999. Is this budget smartphone worth what you pay? Here's what we found.
Build and Design
There's nothing that particularly strikes you about the Lenovo Vibe K5, and the design is very commonplace. That, though, is not bad. The Vibe K5's candybar form factor makes it look very similar to the Xiaomi Redmi 3s Prime, but in place of rounded edges at the rear, the Vibe K5 has more rectangular edges, and a broader metallic rim runs around the edges of the front panel. Both the microUSB and audio ports are placed at the top, something that I'm not too used to. Ergonomically, while the 5-inch form ensures that the Vibe K5 remains fairly easy to hold and use, the top-hosted charging port means you'll pick up the smartphone in an inverted position when you're charging it from your bedside wall socket. It is not a major deterrent, but does cause slight annoyance.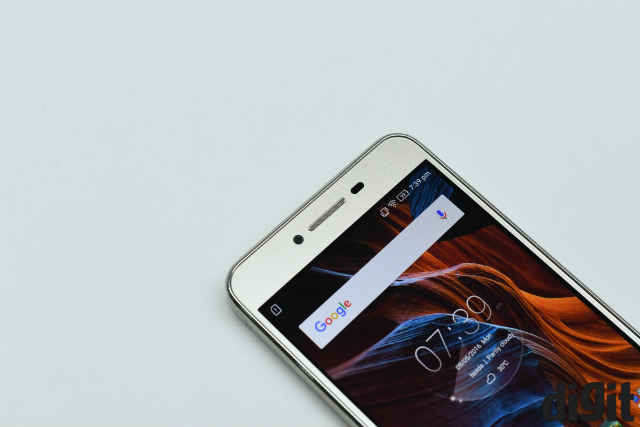 The Vibe K5 is also one of the few devices where the two micro-SIM slots and the dedicated memory card slot are housed underneath the rear casing, and the battery is removable. To insert/remove SIMs and memory card, and the lack of hot-swappable SIM slots do seem yesteryear. Build-wise, the Lenovo Vibe K5 has a reassuring quality about it, which makes it feel very nice in hand. The plastic feels smooth, and although it is no great looker, the simplicity is appreciable. The device weighs 150 grams, and measures 8.2mm in thickness, all of which is pretty standard for a 5-inch smartphone of today.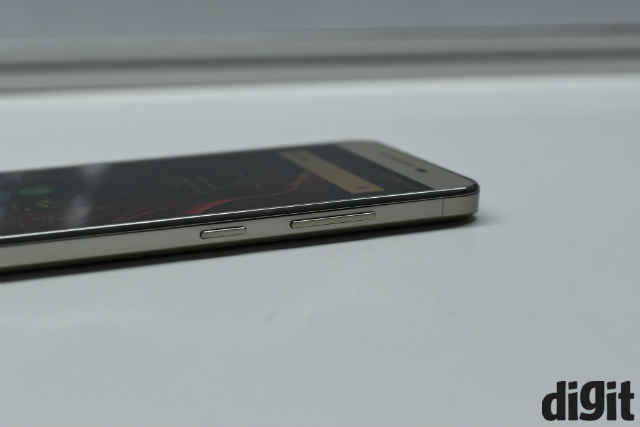 The only thing that is really amiss in the Lenovo Vibe K5 is screen protection, which leaves the display prone to cracking if you drop it accidentally. The phone also misses a fingerprint scanner, but for its price, we would have been more surprised had it featured one. Overall, the Vibe K5 is fairly decent for a budget smartphone, and although there is nothing striking to write about it, there's nothing really wrong with it, either.
Display and UI
The 5-inch, IPS LCD display features screen resolution of 720x1280 pixels, which is regular for this price point. The display does not really look bad, and does fairly well with colour accuracy. At 340 Lux, the screen is not the brightest of the lot, and the Xiaomi Redmi 3s Prime presents a brighter display panel. Despite the comparatively lower brightness level, the Vibe K5 presents crisp colours, and good contrast and saturation levels.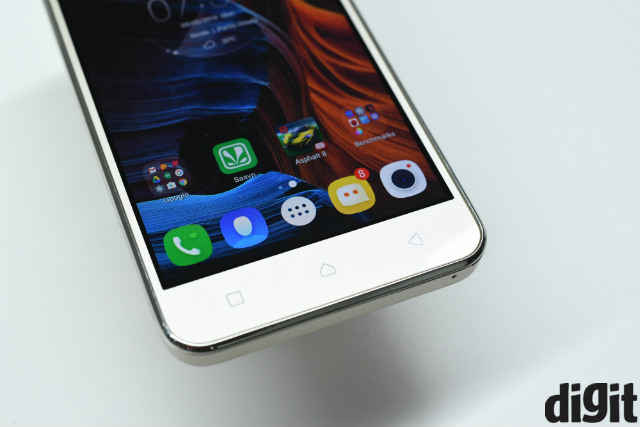 While this essentially means that viewing under direct sunlight is somewhat compromised, watching movies on it when indoors is reasonably enjoyable. Lenovo has also presented Dolby Atmos-powered speakers on the Vibe K5, which further enhances the movie-watching experience. The display is reasonably fluid and touch response is fairly accurate, although I am not really a fan of Lenovo's own UI. The interface admittedly feels cleaner and lighter than its predecessors (K3 Note, Vibe K4 Note, etc.), but the customisations do not really contribute to the ease of usage. It is easily identifiable, and a number of preinstalled apps as McAfee Security and UC Browser can be uninstalled. On overall terms, here again, the Vibe K5 fares reasonably well, particularly considering its pricing.
Performance
Powered by the octa-core Qualcomm Snapdragon 415 SoC clocked at 1.4GHz, the Vibe K5 now presents 2GB of RAM to abet performance lags. This works to a major extent, and the Vibe K5 is indeed one of the better-performing budget smartphones around at the moment. This system-on-chipset (SoC) is already about a year-and-half old, and the Adreno 405 graphics chip takes care of visual duties. In real life, the smartphone delivers reasonably fluid day-to-day performance, and even fairly reliable gaming performance.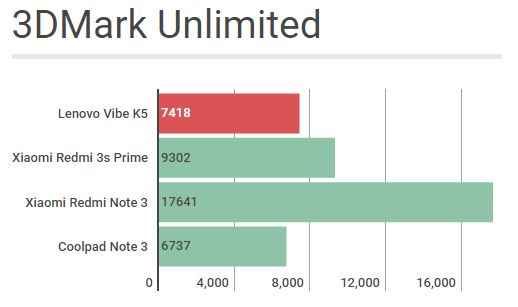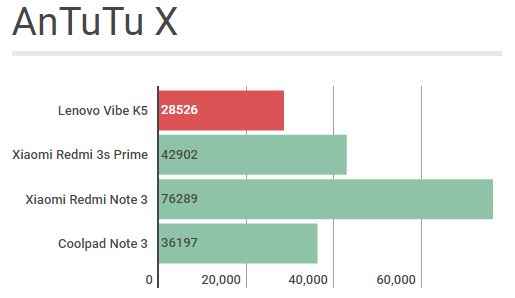 In terms of multitasking, apps like WhatsApp, Facebook and email load without too much delay. There is a noticeable, split-second delay in opening and switching of almost every app, but for its price, the performance does not present any major dent as per expectations. In fact, the phone feels quite zippy, and is quite reliable in terms of overall usage. I could easily load up to six apps and the phone did not lag unnaturally. Even in terms of gaming, in heavy games like Asphalt 8: Airborne, while navigating through in-game menus do present notable lags and stutters, the gameplay itself is fairly smooth. There are dropped frames, but games are fluently playable here. After about 15 minutes of gaming with WiFi on and apps updating in the background, the smartphone rose to body temperature of 39.1 degree Celsius. The body feels quite hot in hand, but the device cools down reasonably fast, too.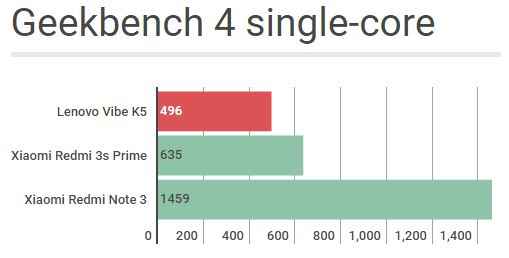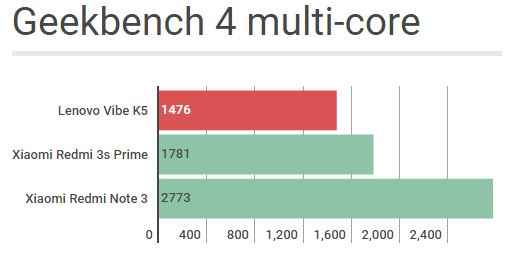 It is also important to note that heavy games crash once in a while, particularly if you get stuck in between game menus and inflict multiple touches in your haste. On overall terms, though, the Lenovo Vibe K5 is a fairly decent performer, when it comes to core performance. Focussing on audio, the Dolby Atmos engine-powered speakers do sound brighter and more wholesome than usual smartphone speakers. The speakers are loud enough, and the dual-speaker placement presents stereo audio, which is excellent for its category.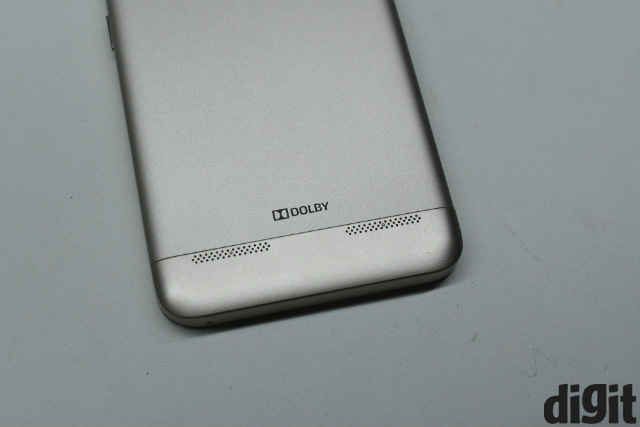 Calling and network retention quality is reliable, although in-ear call quality is not that great. It may be a device-specific issue, but in-call audio seemed to fluctuate in terms of audibility and quality time and again. Everything else in terms of network retention and performance seems fairly standard, and on overall terms, the Lenovo Vibe K5 is certainly among the best-performing budget smartphones available in India right now.
Camera
The 13-megapixel primary shooter is actually quite impressive, and for its price, the Vibe K5 is one of the best budget smartphone cameras that you can get your hands on. The camera app takes a split second too long to open, and there is a notable lag between tapping on capture and the photograph being captured and saved on your device.
View post on imgur.com
That aside, the Vibe K5 snaps impressively well-balanced photographs, and does particularly well with colours, white balance and saturation. The level of details is not great, and there is noticeable pixel noise even in shots taken under bright daylight, but for basic snapping of impromptu moments and posting on social media, the Vibe K5 suffices, particularly so for its price.
By default, the Vibe K5 shoots slightly dimmer photographs, but the reasonably flat colours will allow you marginal post-processing without making images look burnt or completely pixelated. The camera suffers under low light, and the level of noise rendered is a bit too high for photographs to be used for anything. It is slightly inconvenient, but for what you pay, this is almost as good as it can get.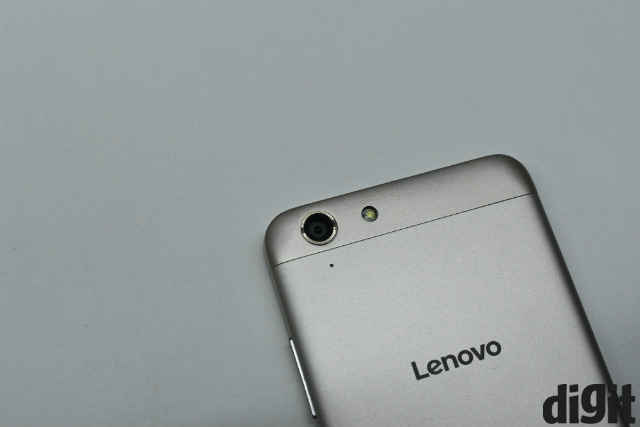 The 5-megapixel front camera is not too impressive, and shots are softened a bit too much to enhance skin tones. While we did not really expect crisp details and stunning colours, a bit more controlled softening of skin edges would have been better.
Battery Life
The 2750mAh battery offers fairly reliable battery life, and with ample IMs, social media and web browsing, 10 minutes of navigation, 15 minutes of video streaming, an hour and half of music streaming and 30 minutes of gaming, the Vibe K5 lasted from 10am to midnight. On an average, you will easily get 12 hours of battery life, and battery consumption seems well optimised to ensure that you do not run out of charge in the middle of your day. The Vibe K5 lasted for 9 hours and 15 minutes on the PCMark battery test, while the Xiaomi Redmi 3s Prime, our leading battery performer in the budget segment, lasted for about 9 hours and 30 minutes. The Redmi 3s Prime actually lasts you longer in real life, but the Vibe K5 is reliable enough, too.
Bottomline
The Lenovo Vibe K5 is actually fairly reliable, presenting a simple layout with reasonably dependable performance, a good camera and fairly decent battery life. At Rs. 6,999, while the Xiaomi Redmi 3s Prime is indeed the better overall budget smartphone, the Lenovo Vibe K5 is also a good alternative to consider.