HTC Touch HD2 - Win Mo speed champ detailed review
We finally managed to catch the elusive HTC Touch HD2...We know what you're thinking, but while the HTC Touch HD2 is not a very new phone, we got a test sample months after we asked for it, with scarcity of large screens and the accompanying shortage of units, and a technical recall, keeping it out of our hands for the better part of this year. Better late than never, we said, and the fact the phone's specifications are still very relevant so late in the year did help its cause. It didn't slip our minds that Windows Phone 7 is now officially out, but until it actually comes knocking the Touch HD2 still deserves an appraisal. In fact, some of the most criticized missing features in Windows Phone 7, including a system-wide file manager and copy/paste functionality, are very much present in the Windows Mobile 6.5 Professional and 6.5.3.
The hardware of the HTC Touch HD2 has led people to try out newer, more demanding operating systems on it, such as, Windows Mobile 6.5.3, Android 2.1 and Android 2.2. The device is open enough, and not requiring a jailbreak to uploading Desire ROMs, complete with HTC Sense – a user interface that's usually an exceptionally capable overlay on Windows, Android, and even Brew operating systems. Who knows, we might even see a Windows Phone 7 port on the device soon enough. But we digress...
Let's take a look at those specifications again: 1GHz Snapdragon QSD8250 processor, 448MB RAM, 512MB ROM, and of course, the massive 4.3-inch screen. It's got the works alright, a Wi-Fi router, HSUPA, a 5MP camera with dual LED flash and touch focus, multi-touch and stereo FM with RDS. The 4.3-inch screen might justify the phone's current MSRP, Rs. 29,000, but we'll have to see if anything else makes the phone worthy when newer phones with newer operating systems are around for roughly the same price.
Build Quality & Ergonomics
The Touch HD2 bears its monstrous screen well, and is a better looking phone than the HTC Desire. It's wide, sure, but can fit in both pockets and hands comfortably enough. The screen has a 2.5mm bezel on either side, with a nice groove for the ear speaker on the top, and smooth ovular Windows Mobile 6.5 buttons at the bottom. The buttons aren't flimsy, and though they aren't raised much more, are quite distinct and tactile. The back and the sides of the phone are made up of hard rubber-like plastic, except for the large battery cover, which is built out of metal with a dull sheen. The left side of the phone has the volume rocker, while the right features the indentation required to slip the metal battery cover out. Above the battery cover is the 5MP camera, slightly raised, with the loudspeaker and dual LED flash on either side.
The screen's size makes it a little hard to be able to reach everywhere on it with just your thumb, nor is reaching the call button very easy. However, the tradeoff is acceptable, you got what you wanted – a large screen. Capacitive, the screen is very responsive and quite fluid, with pretty good accuracy as well. The phone offers a four-line QWERTY onscreen keyboard in both landscape and portrait orientations, which are plenty accessible. Haptic feedback is also good, and adjustable. As for screen brightness and colours, this is where the phone's age shows, with newer display technologies like SuperAMOLED, OLED, Retina Display and SuperLCD making it seem pale in comparison. However, the screen is bright and colourful enough indoors, with a good contrast. It's only outdoors that the screen's lack of sunlight legibility becomes apparent.
Interface
Windows Mobile 6.5 Professional
did have a few flaws, and compared to most modern operating systems, isn't much eye-candy. HTC Sense though, while very functional, really beautifies it all, giving you multi-touch as a bonus. 6.5 also has great productivity features, like Office Mobile, and is also a great platform for business apps. Multimedia support is also good, apart from the fact that Xvid and DivX formats aren't supported straight out of the box. The 65K colour limitation of the OS does take away from video appeal, though the playback ability was smooth. While HTC hasn't released an official upgrade to
Windows Mobile 6.5.3
yet, there are plenty of homebrewed ROMs out there that work just fine, complete with Sense UI. There's much hope that HTC will release one soon though, as Microsoft has made it clear it plans to help the process of converting 6.5 Professional phones to 6.5.3, before it's branded Windows Phone Classic to coexist alongside Windows Phone 7.
Apart from the standard clock and animated weather widgets on the homescreen, there are homescreen tabs below, which includes everything from calendar to people, internet to photos, mail to music player, settings to Twitter, weather to stocks, footprints and Facebook. These can be swiped directly from the bottom, or, you could just swipe the screen itself. These homescreen tabs can be rearranged and selected independently.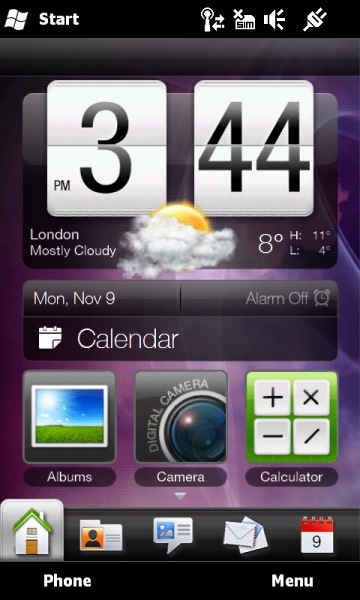 There are only four types of profiles, which are Normal, Vibrate, Silent, and Automatic. These can of course be customized. The Automatic profile can be set to vibrate for appointments. Other features include the pocket mode, which will automatically increase the volume of the ringer in volume mode when the phone is in your pocket. There is also the 'quiet ring on pickup' option. Another feature is how the ringer gets muted when you turn the phone around from on its back onto the screen. As for alarms, the phone lets you set three different alarms, each of which can be made set on used-defined weekly patterns.
[RELATED_ARTICLE]Contact management is excellent, and HTC Sense does a good job here as well, with smart search, and well arranged data, apart from favourites and groups. As for messaging, you will find threaded conversations, and as mentioned earlier, you'll find great onscreen keyboards, with several types of input options, from HTC's own QWERTY layout, to the standard WinMo QWERTY layout. While the phone supports handwriting recognition, our handset had Chinese character recognition built in.
The phone also features Facebook and Twitter integration, with the Facebook integration also bringing Friends onto your phone as contacts, with updates and events showing up, and your Facebook photos into the HTC Albums app. As for the video, audio and FM radio interfaces, they're all very user friendly and eye-candy. The calling feature is also well-built, with smart dialling and a conference mode built in. No voice dialling though!
The native browser is not bad, but doesn't deal with Flash too well. Pinch to zoom is great though, as well as the pinpoint accuracy of the touch interface, which doesn't make you reach for the defunct stylus. Opera Mini was also loaded onboard, which provided slightly better support all around, but Flash support was still a little jerky.
Importantly, the task manager can't be accessed by holding down the Windows key like other Win Mo handets, but you'll have to find it in Settings>Other Settings>Task Manager. Overall, the interface is very snappy, of the sort that almost no other Win Mo 6.5 phone can offer, because of the speedy 1GHz processor, adequate RAM, and uber-responsive touchscreen.
Read on to know more about the HTC Touch HD2 and its performance...
Performance
Battery
The phone's 1230 mAh battery holds up surprisingly well even with the strain of powering the massive 4.3-inch screen and the 1GHz processor. It handles Wi-Fi well, it handles video and audio playback well, it handles flash photography well, and it handles calling and multi-tasking well. It lasted almost two days on a single charge, with moderate use. With near constant use of Wi-Fi and more than two hours of calling, we managed to whittle the battery life down to a still respectable 15 hours. As for video playback, the phone stayed on for nearly 4 hours with the video looping continuously.
Call
Call clarity is overall good, though some unexpected squeaks were experienced. Earpiece volume was good, as was loudspeaker and handsfree volume. Call dropping was not experienced, and both parties
experienced clear voice reception in both handsfree and loudspeaker modes.
Audio
Audio playback is also good, with the supplied earphones providing some tolerable bass, and none-too sharp treble. The loudspeaker also handles music playback well, with barely any distortion.
Video
[RELATED_ARTICLE]While playback and touch support is good, the lack of format support apart from MP4 and 3GP is bit galling on the native Windows Media Player. However, you can download third-party apps such Core for playing other formats including
Xvid
and
DivX
. The screen, though it can support 16M colours, is only able to display 65K colours because of the operating system. The phone's ability to playback 720p HD video from the native player is not especially good, and though it improves with the Core player, is still well behind modern competition.
Camera
The 5MP camera doesn't make for very sharp pictures, but most well-lit shots have surprisingly little noise in them. Colour accuracy is a bit off as well, with the
HTC Desire
providing much better images all around. The dual LED flash is powerful enough. The phone doesn't handle low light very well, and is quite below average compared to some recent 5MP offerings from HTC. There are sufficient options like white balance, brightness, and ISO to play around with. Touch focus also works like a charm, when you don't trust the normal autofocus. As for video recording, the phone only offers VGA resolution at 30 fps, and not much quality recording can be expected from it. Also to be noted, there is no secondary (front-facing) camera on board. Check out some sample images below (the night shot was taken on ISO 800 with flash on).
Verdict
The HTC Touch HD2 has a lot of features and HTC Sense, all packed into its large well-built frame, as well as a super-snappy interface. Its 4.3-inch screen is definitely the best thing about the phone, but unfortunately, it's no longer the best screen around. The 65K colour gamut and poor sunlight legibility are also serious limitations, as is the mediocre video playback experience. We'd recommend you wait till
Windows Phone 7
comes along, and the
HTC HD7
might just be what you're looking for. You could also check out other large screened phones such as the Galaxy S, Desire (HD), and the Milestone XT720. However, if apart from a large screen, you are also looking for a phone that will be able to handle whatever OS you throw at it, then this might just be your thing. t's price however, should make you think twice.
Ratings
Features: 7
Performance: 7.5
Build: 7.5
Value: 6
Overall: 7

Contact: Bright Point India
Phone No: 9910821100
E-mail ID: nitin.pandita@brightpoint.com
Website: www.htc.com/in
Price: Rs. 29,000 (MSRP)
Written with inputs from Michael Browne
Read on to see the HTC Touch HD2's test scores...
| | |
| --- | --- |
| Brand | HTC |
| Model | Touch HD 2 |
| Price (MRP/MOP, Rs) | 29,000 |
| Features (Out of 40) | 31.76 |
| Performance | 40.87 |
| Grand Totals (Out of 100) | 72.63 |
| Plus ( ) | Solid build, huge display |
| Minus (-) | Screen lacks colours, interface not as intuitive as Android |
| Features | |
| Physical Specs | |
| Form Factor | Bar |
| 2G Network Bands | GSM 850 / 900 / 1800 / 1900 |
| 3G Network Bands | HSDPA 900 / 2100 |
| Screen Resolution | 480 x 800 pixels |
| Screen Size | 4.3 inches |
| Maximum Screen colours | 65K |
| Touchscreen / Dual Screen (Y/N) | Y (Capacitive) / N |
| Battery Rating | 1230 mAh |
| Dimensions (L x W x H) | 120.5 x 67 x 11 mm |
| Weight | 157 grams |
| Expandable Memory Type | microSD |
| Hot Swappable | XXX |
| Available Colours | Black |
| Other Features | |
| Operating System | WM 6.5 Pro |
| Charging via USB (Y/N) | Y |
| Hardware Keypad (Regular/QWERTY) | - |
| Accelerometer (For auto rotate) | Y |
| Address Book Capacity | Unlimited |
| No of calls in register | Unlimited |
| Talk Time / Standby Time * (3G Networks) | 5 hrs, 40 min / 390 hrs |
| No of Profiles # / Customisable | - |
| Offline Opearability (Y/N) | Y |
| Inbuilt GPS / A-GPS support (Y / N) | Y / Y |
| Connectivity | |
| Browsing (GPRS/EDGE/3G) | Y / Y / Y |
| EDGE max speed | 236.6 kbps |
| 3G max speed | 7.2 mbps (HSDPA) |
| Connectivity (WiFi/Bluetooth/IR/USB) | Y / Y / N / Y |
| Bluetooth Version/A2DP support | 2.1 / Y |
| Accessories | |
| Bundled Accessories | Charger, handsfree, data cable |
| Size of memory card provided | - |
| Overall Build Quality (So 10) | 7.5 |
| Overall Ergonomics (So 10) | 7.5 |
| Keypad Design (So 10) | 7.5 |
| Camera Specs | |
| Camera Resolution (Mega Pixels) | 5 |
| Video Capture Resolution | 640 x 480 (VGA) |
| Dual Cameras / Auto Focus / Flash (Y/N) | Y / Y / Y |
| Type of Flash | LED |
| Mirror for self portrait (Y / N) | N |
| Camera Settings (So 10) | 6 |
| Zoom (Optical/Digital) | Digital |
| Multimedia | |
| Music Formats supported | MP3, WAV, WMA, eAAC |
| Video formats supported | MP4, WMV, H.264, H.263 |
| FM Radio (Y/N) | Y |
| Performance | |
| Signal Reception and Voice Clarity (So 10) | |
| Zone 1 | 7.5 |
| Zone 2 | 6.75 |
| Zone 3 | 6 |
| Device Earpiece Volume | 8 |
| Device Loudspeaker clarity (on call) | 7 |
| Handsfree Clarity (on call) | 7.5 |
| Loudspeaker Volume (on call) | 7.5 |
| Bluetooth Transfer Speed (KBps) | 171.5 |
| WiFi signal strength (Zone 2) (%) | 36 |
| Captured Photo Quality (So 10) | |
| Captured Photo Colour | 7 |
| Captured Photo Crispness | 6.5 |
| Captured Video Quality | 5 |
| Effectiveness of integrated flash | 7 |
| Loudspeaker Audio Quality | 6.5 |
| Bundled Earphones Quality | 7.25 |
| Display | |
| Quality of display | 7 |
| Viewing angle of display | 7 |
| Legibility in bright sunlight | 4.75 |
| Video Playback Quality (So 10) | 6.5 |
| Price (MRP/MOP, Rs) | 29,000 |
| | |
| * Manufacturer Rated | |