HTC Desire HD - Almost desirable...again detailed review
The HTC Desire HD is a device that needs no introduction. Think of it as the larger, full monty (if you will) version of the older HTC Desire (reviewed here) and the latest Desire Z, which we have reviewed here. A 4.3-inch capacitive touchscreen means a larger phone, and the Desire HD has the innards to go with its large(r) persona. Think of it as HTC's flagship Android smartphone till the Sensation gets here, and yet as a device it has a few minor, yet aggravating flaws that when added up play spoilsport with our final verdict.
Look and feel
Once again, we received a review sample that came in a simple anaemic-white box, the retail packaging will surely be prettier. At 4.3-inches, nobody expected the Desire HD to be compact, after all how do you conceal a massive display? HTC didn't even try, and the Desire HD is large, but handsomely so as the bezel on three sides of the phone is quite slim, causing most of your attention to be drawn on to the wide expanse of glass before you. The bezel beneath the display is wider than on the other three sides, and understandably so, for it doubles as a backdrop for four touch-based capacitive controls. There is plenty of space around these buttons unlike the Desire Z, and the backlighting is even and subtle, but more than sufficient for visibility in total darkness. Above the display is a narrow but horizontally long slash of chrome that houses a marginally less shiny mesh grille - the earpiece. The loudspeaker port is on the rear of the phone and has a similar grille. Overall the Desire HD is a large phone, and while some will find it bulky in-hand or to pocket, we reckon it is just about manageable - any larger though, and it would be a bit cumbersome to carry around.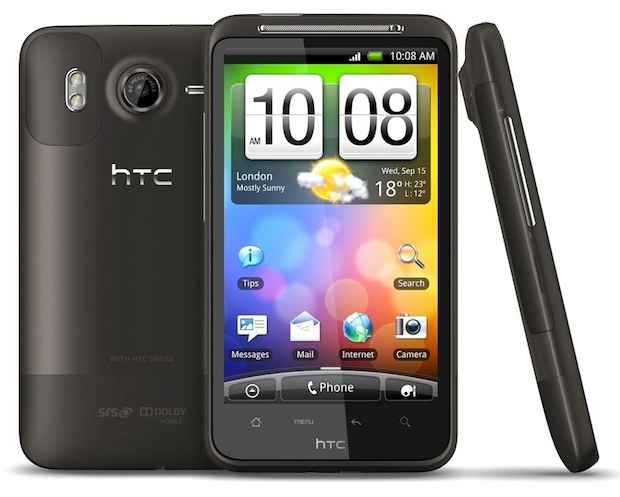 The Desire HD has a metal unibody and this wraps around the front of the phone. While this looks smart, there is a slight gap between the glass panel on the front and the metal body and at certain parts minor dust particles get into this crevice. These particles are especially visible since they're basically on a black background and this is super annoying since once settled you cannot pry them out. And while we're on topic of niggles, the Desire HD does without a Gorilla glass display - it got a couple of minor scratches from mundane use, which made us resist pocketing it with keys - care to imagine what would happen? With a lot of glass and metal happening, the HTC Desire HD is expected to tilt the scales, and it does at 164 grams, although this is slightly lighter than the HTC Desire Z (180 grams). It's not too heavy, but you'll feel it in your pocket, unlike the Samsung Galaxy S that virtually disappears.
[RELATED_ARTICLE]The power button is long, chromed and so tightly set within the body that it takes concentration to use. The volume rocker has minimal feedback but makes up for this by being sensitive and generally works well. The rounded bottom houses the 3.5mm jack and a microUSB charging/data port. Flip the phone over and you're greeted by an 8-megapixel camera with a dual-LED flash. Surely this phone needed a dediated camera button more than the HTC Desire Z, though to be perfectly honest, HTCs onscreen click button works quite well. The SIM and memory card share a bay and while installation of both is very simple, the cover which is built of thick plastic develops some play after a few removals - shoddy and not expected from a flagship device. The battery cover is on the left side and needs to be lifted up, it fits pretty tightly, but is also plastic like the SIM cover. The battery is housed inside the unibody therefore it is impossible to get a dramatically larger battery into the Desire HD - something this phone needs given its paltry 1,230 mAh rated powerplant.
The touchscreen is very sensitive and being larger than the Desire Z, it is also that much more usable. Gestures and such have more space to accomplish, and the QWERTY keypad is pretty spaced out, thereby being more usable, especially in portrait mode. HTC's Sense UI is a pleasure to use, and the numerous iterations over the past year have resulted in a highly customisable, slick and intuitive interface.
Features
If you're looking at a loaded phone, the Desire HD is pretty hard to ignore. Premium hardware confirms its flagship status - a 1 GHz CPU on the Qualcomm MSM8255 chipset, with 768 MB of RAM. The MSM8255 SoC includes the Adreno 205 GPU, which we also saw on the HTC Desire Z. The extra bit of CPU clock speed and RAM make the Desire HD a slightly more potent package on paper. The 8-megapixel clicker with a wealth of settings will keep shooters happy.
Overall, in terms of features, other than a QWERTY keypad, the Desire HD doesn't miss a trick. And we'd rather have a great onscreen keypad than a shoddy hardware-based one. The metal body will attract attention, but we feel dropping this phone is more likely to result in a cracked display on account of the rigidity of the chassis and the weight. We also missed a carry case, and in conjuction with the display that is prone to picking up scratches, we feel HTC missed a trick here.
In terms of applications, the Desire HD is loaded, and there is more available at the Android store. A document and spreadsheet creator/editor is included. Besides a bunch of well rounded social networking apps, you get Friend Stream - a really neat, useful tool for collectively keeping an eye of what is going on across social networking sites by giving you a single feed for FB status updates, messages, wall posts, tweets and such. Although the Desire HD boasts of 1.5 GB of inbuilt storage, none of this can be used to store personal stuff like music and photos - rather this is used for installing applications, although this isn't a minus with the Desire HD supporting cards up to 32 GB.
Click next to read about the HTC Desire HD's performance, and our verdict...
Performance
In-call clarity was very good. Even in zone 3, the Desire HD did a good job with minor, sporadic clarity issues; its earpiece is plenty loud. The loudspeaker sounds tinny, but is powerful and pretty effective for use in-call. The handsfree unit offers excellent voice quality too and a very good volume level. Using the Desire HD for music is very much possible, although the handsfree lacks bass, unlike the excellent unit bundled with the Samsung Galaxy S. The loudspeaker is less usable for music owing to its tinny sound, and the fact that it is quite directional, and you need it to face you pretty much all the time. Volume levels are good though.
On auto settings, the camera on the Desire HD seemed to produce somewhat overexposed results. There seemed to be too much light in the photo and therefore colours seemed a bit washed out, but there is good detail visible even when viewing 100 % crops. Obviously, as with all cellphone cameras, you get more detail when you focus on closer objects and the lens will not resolve as much detail from objects that are further away. The integrated flash is powerful, but not as good as a Xenon unit. Video recording at 720p is a fun affair with a fair bit of clarity to the videos. In fact videos look only a couple of steps removed from the video quality on the Canon SX30IS - although the difference is noticeable it is not glaring - this is high praise for a cellphone camera.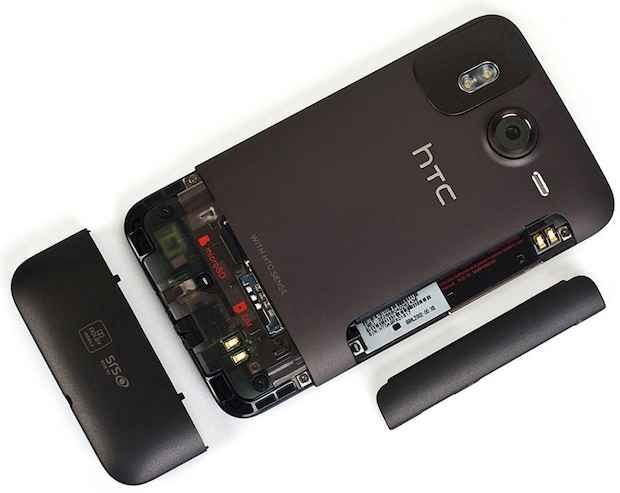 The HTC Desire HD is a snappy phone, and we didn't find any issues with processing speed - quick menus, quick homescreen changes, everything happens quickly and without noticeable lag, and the Desire HD also boots up around 5 seconds quicker than the HTC Desire Z. The display is very crisp, and the fonts are well rendered, in fact for some reason the Desire HD renders crisper fonts than the HTC Desire Z. However, it is a regular LCD and while it has a decent contrast, the colours are not as splendid and rich as the colours on displays like the HTC Desire Z and Samsung Galaxy S. The Desire HD is marginally more legible in sunlight, but no touchscreen phone is really usable outdoors.
Our take
The HTC Desire HD is not the perfect phone we'd wish it to be and a couple of us were disappointed at the minor niggles mentioned in places in this review, for these besmirch what is a very good, balanced handset that offers great all round hardware, a very usable interface and a good experience. Some might find it too large, but we like the extra screen area - useful when browsing and for multimedia content, although we'd love at least an S-LCD display.
We'd also definitely like a bigger battery, but that's something that has been remedied with the Incredible S, although that's another story for another time. There's also the fact that a cloud of doubt looms over the future of single core Android phones, and at the price point, and for a flagship device, one cannot help but comparing the Desire HD to the likes of the Samsung Galaxy S II and LG Optimus 2X and find the HTC wanting. However, as it stands, if you're shopping for a flashy, functional high-end Android device, there's little the Desire HD won't do today, but that might just change!
Specifications: screen size: 4.3-inches; resolution: 480 x 800 pixels; hardware: Qualcomm MSM8255; RAM: 768 MB; battery: 1,230 mAh; weight: 164 grams;
Rating:
Features: 7.5
Performance: 8
Build: 7.5
Value: 6.5
Overall: 7.25
| | |
| --- | --- |
| Brand | HTC |
| Model | Desire HD |
| Price (Rs) | 26990 (MRP) |
| Features | |
| Physical Specs | |
| Form Factor | Bar |
| 2G Network Bands | GSM 850 / 900 / 1800 / 1900 |
| 3G Network Bands | HSDPA 900 / 2100 |
| Screen Resolution | 480 x 800 pixels |
| Screen Size (inches) | 4.3-inches |
| Maximum Screen colours | 16M |
| Touchscreen / Dual Screen (Y/N) | Y / N |
| Battery Rating | 1230 mAh |
| Dimensions (L x W x H) | 123 x 68 x 11.8 mm |
| Weight | 164 grams |
| Expandable Memory Type | microSD |
| Hot Swappable (Y/N) | Y |
| Available Colours | Black, brown |
| Other Features | |
| Operating System (Tested with) | Android 2.2 (Gingerbread ready) |
| Charging via USB (Y/N) | Y |
| Hardware Keypad (Regular/QWERTY) | N |
| Accelerometer (For auto rotate) | Y |
| Address Book Capacity | Unlimited |
| No of calls in register | Unlimited |
| Talk Time / Standby Time * | Up to 490 h (2G) / Up to 420 h (3G) / Up to 9 h 15 min (2G) / Up to 5 h 30 min (3G) |
| No of Profiles / Customisable | 2 / Y |
| Offline Opearability (Y/N) | Y |
| Inbuilt GPS / A-GPS support (Y / N) | Y / Y |
| Connectivity | |
| Browsing (GPRS/EDGE/3G) | Y / Y / Y |
| EDGE max speed (in kbps) | 296.6 kbps |
| 3G max speed (in mbps) | 14.4 mbps |
| Connectivity (WiFi/Bluetooth/IR/USB) | Y / Y / N / Y |
| Bluetooth Version/A2DP support | 2.1 / Y |
| Camera Specs | |
| Camera Resolution (Mega Pixels) | 8 |
| Video Capture Resolution | 1280 x 720 |
| Dual Cameras / Auto Focus / Flash (Y/N) | N / Y / Y |
| Mirror for self portrait (Y / N) | N |
| Camera Settings (So 10) | 7.5 |
| Zoom (Optical/Digital) | Digital |
| Multimedia | |
| Music Formats supported | MP3, AAC , WAV, WMA9 |
| Video formats supported | DivX, Xvid, MP4, H.263, H.264, WMV9 |
| FM Radio (Y/N) | Y |
| Accessories | |
| Bundled Accessories | Data cable, charger, handsfree |
| Size of memory card provided | 8 GB |
| Build and Ergonomics (So 10) | |
| Surface materials used | 8 |
| Overall build and in-hand feel | 8 |
| Quality of moving parts | 7.5 |
| Design and ergonomics | 7.5 |
| Keypad design (on-screen or hardware) | 7.5 |
| Menu and interface | 8 |
| Settings and ease of navigating menus | 7.5 |
| Camera menu options | 7.5 |
| Performance | |
| Signal Reception and Voice Clarity (So 10) | |
| Zone 1 | 8.25 |
| Zone 2 | 7.5 |
| Zone 3 | 7 |
| Handsfree Clarity | 8 |
| Loudspeaker Clarity | 7.5 |
| Earpiece Clarity | 8 |
| Handsfree Volume | 8.5 |
| Loudspeaker Volume | 7.5 |
| Earpiece Volume | 8.5 |
| Bluetooth Transfer Speed (in KBps) | 140.8 |
| Imaging and multimedia tests | |
| Captured Photo Colour | 7.5 |
| Captured Photo Crispness | 8 |
| Captuted Photo Detail | 8 |
| Captured Video Quality | 7.25 |
| Effectiveness of integrated flash | 7.5 |
| Music Quality (loudspeaker) | 6.25 |
| Music Quality (handsfree) | 7.5 |
| Volume levels (loudspeaker) | 7.5 |
| Volume levels (handsfree) | 8 |
| Display (So 10) | |
| Crispness | 7.5 |
| Colour | 7 |
| Font rendition | 8.25 |
| Legibility in bright sunlight | 5 |
| Video playback | 8 |
| | |
| * Manufacturer Rated | |
Contact: Bright Point India
Phone No: 9910821100
E-mail ID: nitin.pandita@brightpoint.com
Website: www.htc.com/in
Price: Rs. 26,990 (MRP)