Coolpad Note 3 detailed review
Smartphone technology is getting better everyday, and with it, top tier hardware from yesteryear phones is now becoming available in budget phones. This has made a significant change on how these budget smartphones perform. Though they still lack the proper firepower to go head-on against flagship devices, they won't let you down if everyday tasks are the primary concern. To quantify, in today's sub-10K smartphone bracket, an octa-core processor, 2GB of RAM and 13MP camera have become somewhat standard.
While there are many contenders in the sub-10K category with more or less the same specs and performance, we belive that there is room for improvement. This brings us to the Coolpad Note 3. The third phone in six months from the Chinese manufacturer brings a couple of new aspects to the table in the sub-10k price bracket – a fingerprint sensor and 3GB of RAM. Will this be enough to make it a recommendable phone?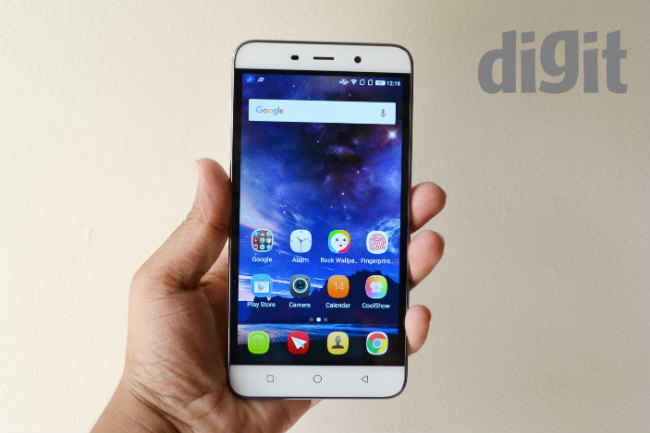 Build and Design
When we first unboxed the phone in our offices, there was a unanimous call that it looks very similar to the Micromax Canvas Doodle 4 that we had reviewed earlier. It is safe to say that the design is nothing new. However, the similarities end there. The Note 3 features a 5.5-inch display, and the overall feel of the phone is much better than the Canvas Doodle 4. The matte back with a slight curve offers comfortable grip on the phone, but it still feels big for one-handed usage. Moreover, the three capacitive navigation keys which lie under the display are not backlit, which requires some getting-used-to.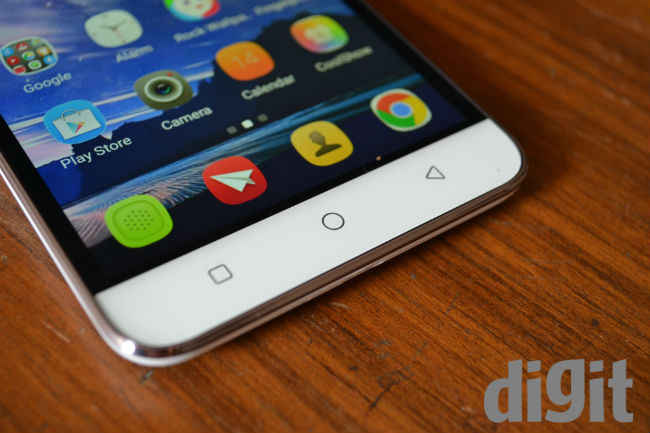 Build quality, however, is somewhat better. Along the edge runs a metal band which looks good, and gives it some sturdiness. There is an aluminum frame inside, which makes the phone feel rigid in hand. There are two physical keys, a power button to the right and a volume rocker to the left, which offer satisfying depression when pressed. The back is removable, but the battery is sealed in, which further adds to its sturdy build. Overall, even though most of the build is plastic, at an asking price of Rs. 8,999, the Coolpad Note 3 offers a reliable build quality.
Display and UI
The 5.5-inch display on the Coolpad Note 3 is good. It offers vibrant, true-to-source colours. It is adequately bright and offers good touch response. However, the visibility degrades to just reflections as soon as you view it in direct light conditions. We should also add that the omission of a full HD display is certainly evident, and the phone could have done much better with it.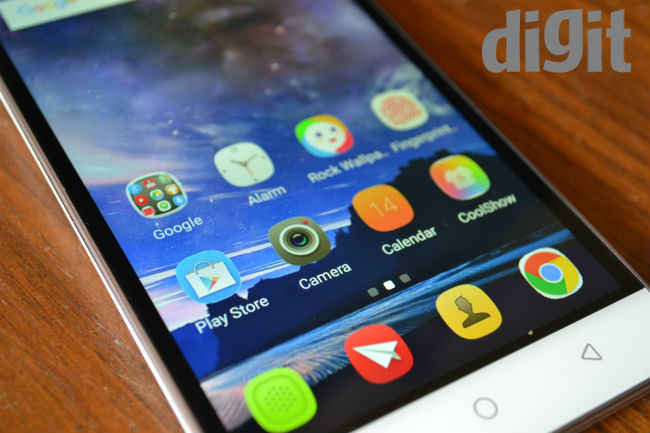 On the UI front, we were greeted by Coolpad's Cool UI, which offers bright and colourful icons. The whole UI is simple to navigate through, and the phone offers a simple, single-tab settings menu – no customisations here, apart from the vibrant colour scheme. The main attraction of the UI experience is the new fingerprint sensor which works like a charm. It is one of the fastest fingerprint scanners we have come across, and in our tests, it turned out to be quite accurate too. We tried to unlock the phone with wet fingers and in different orientations, and it worked perfectly. The fingerprint sensor can also be used to lock individual apps which is quite handy, if you store sensitive information on your phone. However, there is one black spot here, which is the pre-installed keyboard – Xploree. This keyboard keeps on accumulating advert cards on the side, related to whatever you type, and these occasionally pop up like unwanted insurance brokers.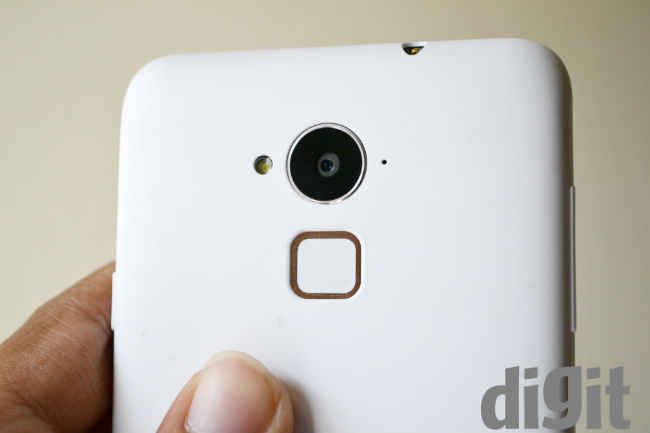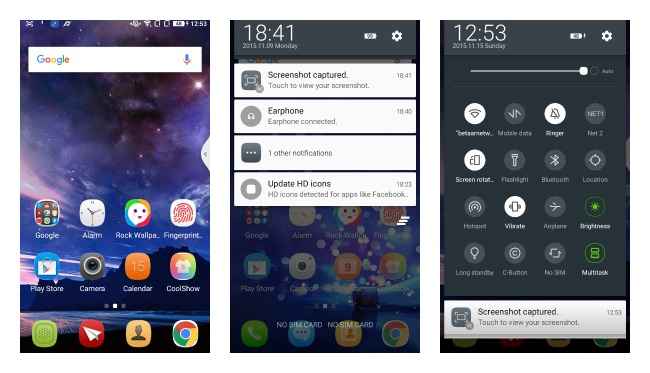 Performance
The MediaTek chip inside provides plenty of grunt to make the phone work. Add to it the 3GB of RAM, and we have a good combo for the price. The phone is quite capable in handling everyday tasks. However, it does stutter if you open a few heavy apps back-to-back, and is rather inconsistent at times. Gaming on the phone is decent, but prolonged gaming does make it lag at times. However, the phone doesn't heat up too much, and remains relatively cooler than the competing YU Yureka Plus, under similar circumstances. Here are the synthetic benchmarks, in comparison to its competitors.
Even though these benchmarks suggest that the phone is a good performer, but considering other phones as Yu Yureka Plus and Meizu M2 Note, the overall performance was not as streamlined as the others.
Battery
What good is a phone, if it cannot offer good battery life? The Coolpad Note 3 offers about a day's worth. Using the phone as a daily driver, without any gaming, the phone was able to get me through an entire day, without any compromise. However, gaming burns the battery much faster, and an hour of gaming burnt almost 23% of the charge. In our standard battery test where we loop a 1080p video till the battery dies, the phone achived almost 10 hours of playback, which is quite good.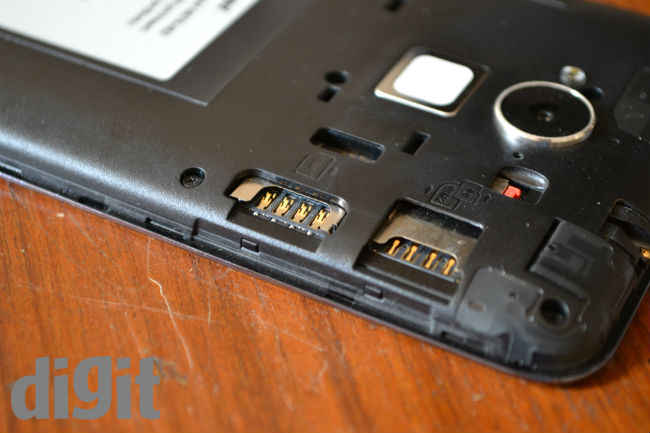 Camera
The 13MP rear camera on the Coolpad Note 3 is not one of the best shooters in this category, but it gets really close. In bright daylight conditions, images rendered decent amount of details, and true-to-source colour reproduction. However, in situations with sharp contrast of lighting, subjects appeared dark in situations with bright backgrounds, leading to overall lack of detail on an image. Images taken in low lighting conditions were good – the noise reducing algorithm keeps noise at minimal, without compromising in details.
Coolpad Note 3
Bottomline
The Coolpad Note 3 has everything that you might need from an entry level smartphone. A decent display, reliable performance and a workable camera. On top of that, this is the first and only phone which offers fingerprint security at this price point. However, Coolpad has left too many rough edges which need to be polished out. It could easily have been the best phone in its category, but loses on making the whole smartphone experience complete. So, if you are paranoid about your privacy and want to buy a phone in the sub-10K range, this is the phone to buy. But, if security is not your priority, the Meizu M2 Note is still the best phone to buy.
Watch Coolpad Note 3 Review Video
Watch Coolpad Note 3 Lite First Impressions Video