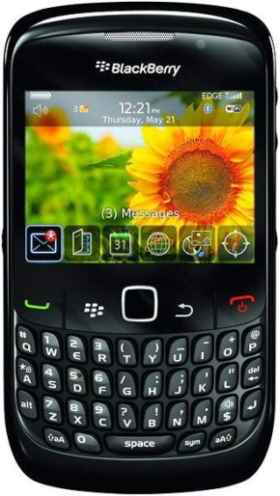 The Curve 8520 is Blackberry's answer to the masses that clamoured for a more affordable morsel. Unfortunately, its price, or rather, lack of it, shows. The Curve 8520 cannot hold a candle to the other Blackberry phones in terms of materials used in construction or build quality. It's not shoddy by any means, but the partially translucent material used on the body isn't the most appealing. The battery cover is decent and while it's not as sturdy as some of the other Blackberry devices (that aren't know for well built battery covers), it should suffice, as long as you're not too rough on it. There's no chrome bezel too – while this might be a good thing for longevity, for the pesky things are known for fall off after a couple of years of daily wear and tear, but this is fond goodbye to some much needed eye-candy as well.
The keypad on the Curve 8520 is identical to the one on the Curve 8900 – these keypads actually feel better than the ones on the costlier models, thanks to the slight segregation of the keys, although after awhile of using both, we seemed to get similar speeds.
The Curve 8520 offers good signal reception, but it's not as good as the other Blackberry handsets, and way behind our benchmark Nokia handsets – we noticed slight distortion in zone 2. The loudspeaker is plain mediocre – distortion even at lower volumes is not very acceptable and it's only mildly worse than the other Blackberry handsets. The handsfree kit offers decent clarity. Music quality on the handsfree kit is good, but not up to the mark compared to some multimedia phones.

Verdict
Its main plus point is the price – at Rs. 15,000, the Curve 8520 is a dream come true for those wanting the goodness of a sweet QWERTY keypad and Blackberry Messenger and their famous pop mail service, but not willing to pay above Rs. 20,000 for such a device. Sure, the body isn't typical Blackberry in terms of look and build, but it's a good chunk of dough less and not a bad deal at that. Although, we figure the likes of the Nokia E71/E72 will have something to say about that.

Our Ratings:

| | |
| --- | --- |
| Features | 8 |
| Ergonomics | 7.5 |
| Build Quality | 7 |
| Performance | 5 |
| Value for Money | 9 |
| Overall | 7 |